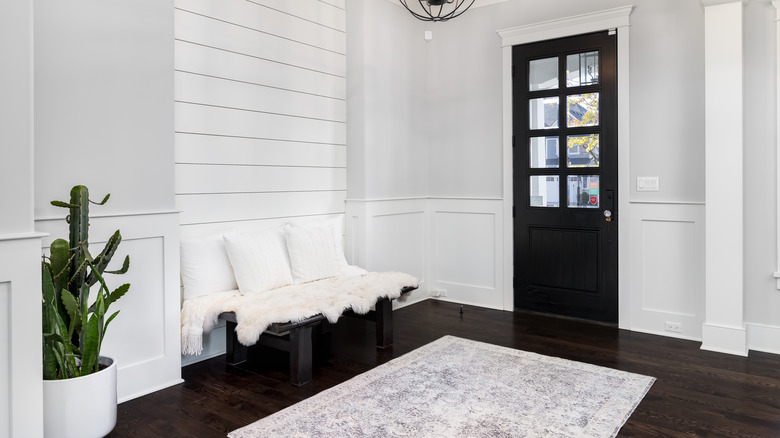 We may receive a commission on purchases made from links.
The entryway of your home is like a sneak peek of what's to come. It should be a space that ties in the design of your entire home, showcasing the different colors, textures, and finishes your guests should expect to see. Luckily, various décor items are available to make your entryway shine. For example, it's quite popular now to pair a console table with a decorative mirror to create an inviting first impression. Also, many homeowners have enjoyed using woven baskets as a stylish method of storing shoes and other accessories.
However, your entryway is incomplete without the addition of an area rug. According to Rug Knots, there are many things to consider before purchasing a floor covering. Size, shape, color, material, design, and durability are all important factors to analyze before making a decision. We understand it can be hard finding the perfect area rug, so we've created a list of 20 fashionable options that are sure to blow you away.
1. Navy blue and white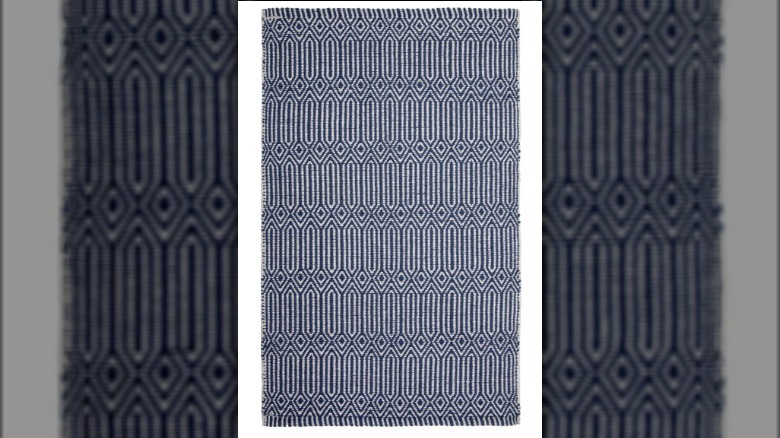 You can never go wrong with a classic navy blue and white combo, such as this one from Hook and Loom. It has a neutral yet contrasting color scheme, and the simple pattern is perfect for complementing an entryway rather than attracting too much attention.
2. Perfectly modern
If you're looking to achieve an organic modern aesthetic, then the Jason Wu Maize area rug from All Modern may be more your style. The deep yet vibrant orange rectangles are sure to complement other similar tones throughout the space, or they can be used to introduce a pop of color in an entryway full of neutrals.
3. A touch of brightness
The Redondo Brassica rug from Article can be used to create a bright and welcoming ambiance in your entryway. Additionally, the saturation of the yellow hue is low, making it a perfect option to go with natural tones and finishes.
4. Different textures
Introducing different textures is a sure fire way to create visual interest in your entryway. When your space seems a bit bland, the Markell rug from All Modern will give it all the texture it needs. We adore the pattern of blocks of different textures presented in various sizes.
5. Intense contrast
It's easy for a space to appear dull when it's lacking contrast. So if your entryway is full of light colors, the Adetoun from Wayfair may fit the bill. Its deep, black shade will look great next to complementary light hues, and the faded pattern creates just enough interest.
6. Circular
Depending on the shape and size of your entryway, a circular rug may be just the right fit. The soft, whimsical design of this rug from Sweater Picks is also perfect for homes featuring a minimalist design aesthetic.
7. Abstract shapes
For those who love eclectic designs, you may want to check out this Blooming Flower rug we found on Etsy. The different colors and fun overall shape are sure to impress your guests as they enter your home.
8. Perfect for a long space
If your entryway is long and rectangular, then the Stalnaker Abstract rug from Wayfair can be used to nicely fit that shape. We enjoy its neutral salmon color as well as the interesting wavy texture.
9. Oval
The oval Handwoven Palma Jute rug from Anthropologie is a beautiful and unique option for those who want to stray from the typical rectangular and circular shapes. Additionally, the abstract, cheerful sky pattern can be used to make a simple entryway feel playful and energetic.
10. Traditional floral
Craving something more traditional? Check out this floral Mughal Garden rug from Meadow Blu because it may be exactly what you've been looking for. The design is simple, yet the placement and shapes of the flowers make it a beautiful décor piece that will catch the eyes of your guests.
11. Plaid
This neutral plaid area rug from Wayfair will be right at home in a farmhouse or rustic aesthetic. It's a simple pattern yet the various line weights keep the rug looking interesting. The light tone color palette can be used to contrast darker wood tones.
12. Forest green
Forest green became popular last year, and we predict it will continue to be a classic choice. We suggest taking a look at the Shepler Braided rug from Wayfair. The braided design and deep, rich color can be used to complement different design schemes and finishes, particularly wood tones.
13. Natural material
Natural materials will also be a trend this year, so we're highlighting this seagrass rug from Pottery Barn. Not only can it be used to introduce texture into a space, but the black border can both complement and contrast surrounding décor.
14. Industrial
This handmade flatweave wool rug from Wayfair is a fun option for those with industrial-styled homes. The staircase pattern and combination of light and dark colors are an interesting substitution for the solid gray and black rugs that are typically relied upon for this aesthetic.
15. Multi-colored
This Tammara Hand Braided rug found on Amazon is an eclectic option for those who aren't afraid of color. The mixture of deep and bright hues will add depth to your entryway, and make it easy to introduce all kinds of complementary décor.
16. Minimalist's dream
The design of this minimalist rug from All Modern is what every home with a minimalist aesthetic should strive for. The neutral yet contrasting colors and simple design will sit beautifully in an entryway, and they'll work seamlessly in similar design schemes such as Scandinavian.
17. Something cozy
If you want your home to feel cozy upon entry, we recommend checking out the Classic Braid Antique Oak Re-Jute rug from Ruggable. The dark brown color and the braided pattern will make your entryway feel calm and welcoming.
18. Pink and chic
This Jill Zarin Shaggy Chic square rug from Rugs.com is sure to add a touch of femininity to your entryway. The soft texture and beautiful shade of pink will look gorgeous set against wood tones and brighter colors alike.
19. A touch of gold
For an entryway full of gold accents, this abstract rug from Homary will blend in perfectly. The simple shapes and neutral colors provide the perfect background to allow the gold touches to shine. If you have a gold mirror, vase, or hardware, we believe this rug will be an outstanding addition.
20. Simple yet functional
Although the design of this Santiago Southwestern rug from Wayfair is fairly simple, its dark gray color is perfect for hiding dirt. This could be especially beneficial for homes with children or pets that tend to track in mud.