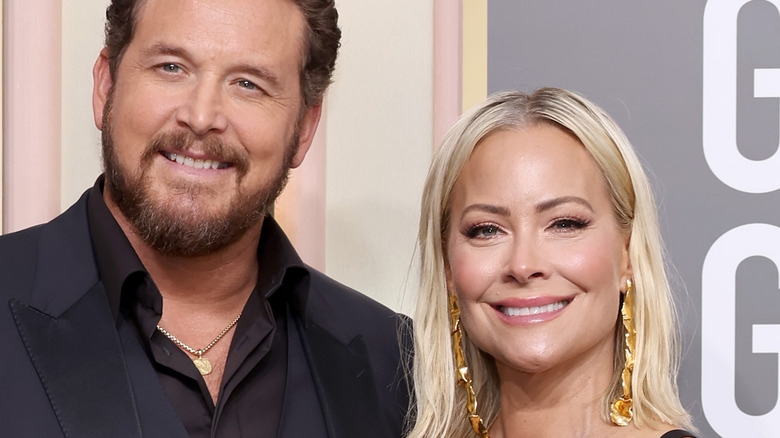 Cole Hauser's lineage is rich in screenwriters, actors, and entrepreneurs. As the great-grandchild of Harry M. Warner — one of the founders of Warner Bros. — the California native developed an interest in acting and pursued a career in film (per IMDb). Soon he was cast among future superstars like Brendan Fraser, Matt Damon, and Ben Affleck in the 1992 drama "School Ties." He went on to star in several projects like "Good Will Hunting," "High Incident," "2 Fast 2 Furious," and "ER." Though his acting resume is lengthy, Hauser is most recognized now for his role as Western outlaw Rip Wheeler in "Yellowstone."
Outside of his remarkable acting career, Cole Hauser married Cynthia Daniel in 2006, with whom he shares three children. Fans have had to do a double-take on more than one occasion due to how familiar Cynthia looks. From early modeling ventures to notable appearances in hit shows in the '90s, you may have seen her in several forms of media as a child — or maybe you've mistaken her for her twin sister, Brittany Daniel (per People).
Far before the notable reign of adorable doppelgängers like Mary-Kate and Ashley Olsen, Cynthia Daniel found early success as a child actor alongside her twin. Follow us as we take you down memory lane and remind you where you may have seen the actor before.
Cynthia Daniel was in The New Leave It to Beaver (1989)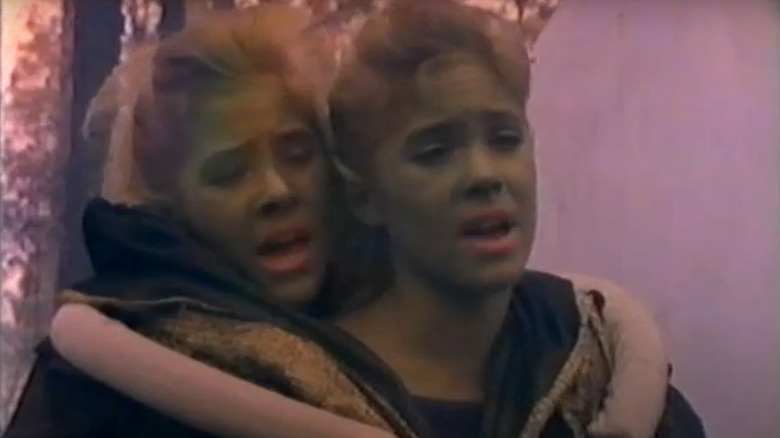 Cynthia's first gig as an actor came after years of success as a model. From signing with the Ford Agency at 11 years old, Cynthia and her sister Brittany found their way into magazines such as Seventeen and YM (per The Sun). It wasn't until 1989 that the two flexed their acting muscles on the "Leave It to Beaver" spinoff, "The New Leave It to Beaver."
"Leave It to Beaver" was the typical slice-of-life sitcom we're so familiar with today. From its debut, the show became a staple of what sitcoms would look like for years. The show got reworked in 1983, and Cynthia and Brittany Daniel made their acting debut in the episode titled "Man's Greatest Achievements."
The episode follows Beaver Cleaver's son, Oliver, drowning in the woes of procrastination (per YouTube). As he tries to write a school paper about "man's greatest achievements," he imagines several random scenarios that take his mind off his assignment — like turning into a werewolf and playing for the Kansas City Royals. In one particular dream, Oliver imagines himself saving a hooded two-headed alien princess named Zorigna, played by none other than Cynthia and Brittany Daniel. To celebrate surviving mighty alien monsters, Oliver convinces the two to come back to Earth with him. They accept, but not before asking Oliver about man's greatest achievements, prompting Oliver to snap back to reality.
She was one of the Doublemint twins (1991)
What better way to advertise Doublemint gum than to have sets of twins appear in your advertisements? For Wrigley's, this appeared to be a long-running concept. In 1939, illustrated ads with twins began to circulate (per History Daily). As the company gained popularity, this became a rite of passage for many twins breaking into the entertainment industry.
The company's longest-running doppelgängers were Linda Ryan Puffer and Lisa Winters Cox (per HuffPost). Cynthia and Brittany Daniel followed in their footsteps and found their way into Wrigley's promotional cycle in the 1990s.
As mentioned, this appeared to be a rite of passage for twins breaking into show business. From the Sagal twins having their own TV show, "Double Trouble," to Tia and Tamera Mowry appearing in ads during their run on "Sister, Sister," it seemed that if you were cast as a Doublemint twin, it would launch you into long-term success. For Cynthia, this theory reigned true as this propelled her into her most notable project to date.
Cynthia Daniel found fame in Sweet Valley High (1994)
If you didn't recognize Cynthia Daniel from her ventures as a Doublemint gum connoisseur, maybe you'd remember her portrayal as the good-natured Elizabeth Wakefield in the book-turned-TV series "Sweet Valley High." Similar to another twin-sister sitcom, "Sister, Sister" — which first aired the same year as "Sweet Valley High" — the show followed twin sisters adjusting to everyday life. While Cynthia played the more responsible twin, her sister Brittany played the more rebellious one — oftentimes getting herself into trouble that'd require the help of her sister.
The success of "Sweet Valley High" gave them four seasons of sitcom work. According to the duo, they auditioned for the role when they were 13 years old. The process ultimately took them five years before they were sure they got it.
"We didn't believe them. They were like, 'You got the part!' and we were like, 'Are you sure?'" Cynthia said during her appearance on "Today Extra" (per YouTube). "You've been saying this for five years." Unfortunately, in 1997 the show was canceled due to poor ratings. While fans blamed the transition from Fox to UPN for its premature demise, the show is still very beloved. In 2015, Brittany Daniel hinted at a potential reboot (per Us Weekly). However, reports suggest that the reboot is no longer in development.
She and her twin appeared in Burke's Law (1994)
Cynthia and Brittany Daniel made an appearance on the short-lived revival of "Burke's Law" in 1994. Similar to "Leave It to Beaver," "Burke's Law" was an influential series that aired from 1963 to 1966. Creators produced a revival almost 30 years later.
Though the reboot was short-lived, it saw the notable sisters play twin defendants. In the episode "Who Killed the Legal Eagle," the plot followed Chief Amos Burke's son, Peter, tackling a murder case (per YouTube).
In need of specific documentation, Peter sought out John Ramsey — who happened to be the defense attorney for Ginny (played by Brittany) and Jenny (played by Cynthia). Their separate story revolved around Jenny being prosecuted for an alleged crime while other eyewitnesses reported that she was spotted blocks away from where the crime took place. With a little "twin-ception," Ramsey backed up his claim of reasonable doubt by revealing her twin sister, Ginny, in the courtroom.
The sisters played Winkie and Blinkie in The Basketball Diaries (1995)
Cynthia Daniel remained busy during her run in "Sweet Valley High." In 1995, the twins made their film debut. While her husband's first feature was a major success — starring alongside future legends like Matt Damon and Ben Affleck — she also shared the spotlight with another notable legend in the making, Leonardo DiCaprio.
Cynthia and Brittany Daniel played Winkie and Blinkie in the 1995 biographical drama "The Basketball Diaries." The film was a harrowing tale about musician Jim Carroll and his battle with drug addiction. Although Cynthia's role in the movie was brief, she and her sister played a major part in the story. After Carroll's friend, Neutron, invited him to Winkie and Blinkie's house, the twins introduced him to cocaine — which started his downward spiral (per YouTube).
At its premiere, the two revealed in an interview that while drug use was heavily popularized during that time, they stayed far away from it, despite their characters (per YouTube). "It's our upbringing. I mean, my parents have been very protective of us and they've taught us well," Cynthia said. "So I think if you're strong people, then you won't be pressured into drugs."
The twins introduced a new burger in a McDonald's commercial (1997)
From its short-lived McSalad Shaker to the Angus Third Pounder, McDonald's has had a lot of ideas fall by the wayside due to poor performance (per Insider). This isn't to say that they never had their fair share of accomplishments. Items such as the snack wrap and baked apple pie were favorites of consumers. One made its way onto the menu in 1997 with the help of Cynthia and Brittany Daniel.
McDonald's unveiled its new McDouble burger in 1997. The fast-food company sought out twins to add to their commercials for the new meal. The 30-second promotional video centered around Eddie the Echo going on a golf date and getting McDonald's right after. As his name suggests, Eddie spoke in an echo-like manner, repeating anything he said twice. This gag is a running joke throughout the commercial since the name of the new item had the word "double" in it.
Though Eddie appeared to speak aimlessly — and probably a little too close — to the camera, it was revealed that he wasn't just talking to himself. In the end, his dates, Cynthia and Brittany Daniel, appeared briefly to say goodbye to their date two times (per YouTube).
Cynthia Daniel went overseas for Live & Kicking (1997)
Cynthia Daniel's success in "Sweet Valley High" not only allowed her and her sister to book gigs in films and commercials, but also travel overseas to appear on British television. In the '90s, channels such as BBC One aired several children's shows that rivaled the likes of "Barney & Friends." One popular British show was "Live & Kicking."
Our favorite duo made a cameo in its fourth season. In a segment called "Art For'em" — which was hosted by Trevor Neal and Simon Hickson — they play a game in which they look at "twin paintings" and decide which one is the original, and which is the copy (per YouTube).
In need of some assistance, Neal and Hickson prompt the Daniel twins to come out — and they accidentally suggest that one twin is the good one (the original) while the other is the bad one (the fake). As the "Sweet Valley High" actors grow tired of the hosts' sense of humor, Neal and Hickson end their awkward segment by rolling on the floor. After declining their offer to join them, Cynthia and Brittany make sarcastic comments about the two as the camera slowly pans away.
She had other notable cameos in commercials (1998-2001)
"Sweet Valley High" met its demise after four seasons. Though this could have resulted in Cynthia Daniel taking her success and converting it into full-time gigs, she chose to become a photographer, while her twin sister went on to star in more films and sitcoms. Cynthia, however, used her celebrity status to promote a number of products.
In 1998, James Garner had Cynthia show viewers how easy it was to use the directory assistance service 10-10-9000 (per YouTube). In 1999, Sony used her photograph to unveil a new Sony MiniDisc Recorder (per YouTube). In 2001, she teamed up with Bioré to show how she takes off her makeup with their cleansing wipes (per YouTube).
Cynthia seemingly kept herself busy following her departure from "Sweet Valley High." Although she stated that she wanted to step away from acting altogether, it seems that she was still very present on the television screen in the late '90s to early 2000s.
Cynthia Daniel landed a guest role on That '80s Show (2002)
While Cynthia went on to tackle photography, Brittany appeared in several films and series ranging from "Dawson's Creek" to "Joe Dirt." In 2002, Brittany stumbled upon a great opportunity to star alongside a cast of future acting icons in "That '70s Show." The sitcom received critical acclaim for its adultlike humor, constantly playing with navigating life as a teenager in the '70s. In what's known as one of their more iconic episodes, "Eric's Hot Cousin," Brittany Daniel played Eric Forman's bitter cousin, Penny, who suddenly "got hot."
In the same year, the creators of "That '70s Show" attempted to recreate its magic with a spinoff titled "That '80s Show." Although it seemed like the show was destined for success, it was met with poor reviews. The series was canceled after one season. However, the show didn't end without Cynthia and Brittany making an appearance.
In the episode "Sophia's Depressed," Brittany again played a bitter sibling (Sophia) who wasn't happy with her sister (Bianca) getting engaged. Throughout the episode, she puts down her sister's appearance while her friends console her (per YouTube). In the credits scene, Sophia gloats about how she feels better because Bianca is going through a breakup (per YouTube). Bianca walks in — revealing that the two are identical twins. After greeting her sister's friends, one sarcastically whispers, "She's hideous. Look away."
Both twins starred in Cheaper by the Dozen (2022)
Since becoming a mother of three, Cynthia Daniel has since left her acting career mostly in the past. Her twin sister went on to appear in notable sitcoms such as "It's Always Sunny in Philadelphia," "The Game," and "Black-ish," and Cynthia became a full-time mommy and wife.
The two, however, still stayed in contact to pursue business ventures together — like their lifestyle blog Sweet Collection. Outside of acting, our favorite duo uploaded online content ranging from at-home workout routines to recipes. Though it seemed like Cynthia wouldn't make her return to the big screen, an Instagram post in 2021 revealed their big plans for 2022.
Cynthia and Brittany joined Gabrielle Union and Zach Braff in the modern remake of Disney's "Cheaper by the Dozen." The story follows the Bakers, a blended family of 12, as they juggle home life along with professional careers. Cynthia and Brittany Daniel played investors known as the "Malibu Barbies," Michele and Melanie. The two showed interest in turning Paul Baker's restaurant into a franchise. Despite the big opportunity, Paul's family life started to crumble as his wife, Zoey Baker, expressed her distaste for the venture. As the main antagonists, the twins tried to morph Paul's original idea for his franchise into their own. This ultimately led to Paul walking away from the deal, realizing that family should always come first.