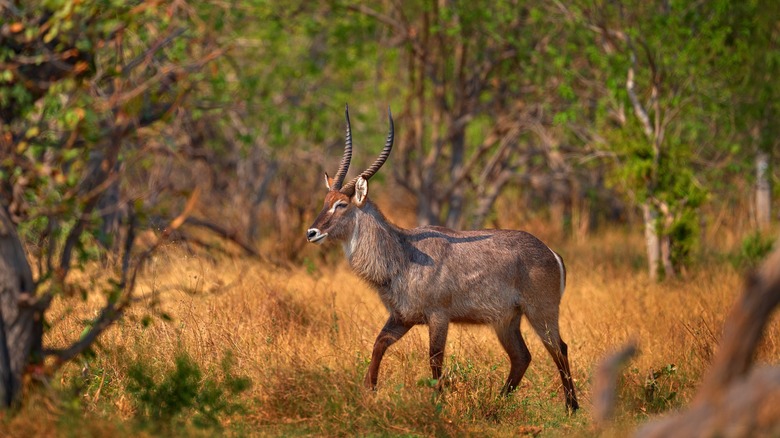 Africa might be home to nine of the 10 poorest countries in the world, according to the World Population Review, but that sobering statistic doesn't make it a cheap destination. Flights can be expensive — especially those within the continent — the cost of visas can add up (a single entry tourist visa to the Democratic Republic of Congo, for example, costs $100, according to Washington Express Visas), and many countries require proof of specific vaccinations. But once you've reached the continent, there are plenty of options for a trip that won't break the bank, since costs within Africa are low — only one African nation, the Seychelles, which isn't even on the mainland, appears in the Top 50 of the world's Cost of Living index published by The Global Economy.
Visitors can enjoy a huge variety of experiences across this continent, home to 54 countries (via Worldometer). It's a vast place where landscapes, architecture, cultures, and languages differ immensely from east to west, north to south, and where there is always something new to see, even for travelers with limited financial resources.
Marrakech, Morocco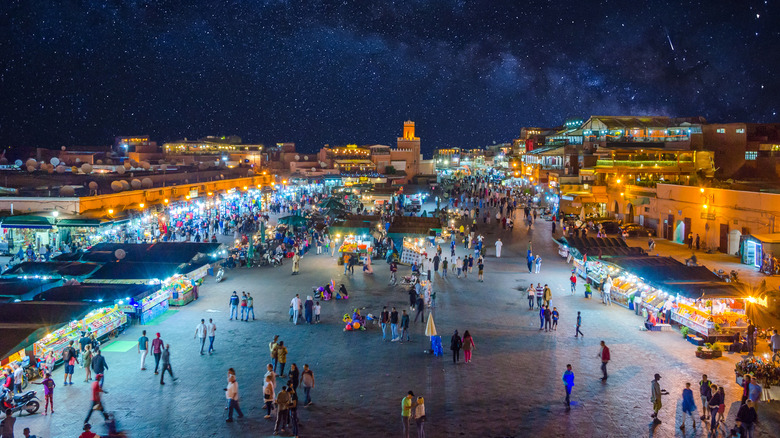 There's so much to do in Marrakech for free — wander the narrow, high-walled alleys of the Medina, or old town, soak up the sights of the labyrinthine souk, or simply admire the fine lines and curves of the city's architecture, old and new. One of Morocco's most popular destinations for tourists, Marrakech is a feast for the senses, an assault on the eyes and ears with diversions that are exciting and interesting at every turn.
An obvious start is the Medina, a part of the city that seems like it hasn't changed since it first came into existence in the 11th century, a complex of warrens and gullies where businesses ply their trade as they have for eons. There are no entry fees, so visitors can spend many hours here drinking in living history without spending a dirham (the Moroccan currency).
Perhaps the most famous part of the Medina is the Jemaa el-Fna, on the list for Intangible Cultural Heritage of Humanity of UNESCO, a carnivalesque square that comes alive in the evening with food stalls, snake charmers, storytellers, musicians, and assorted characters that would befit a Paul Bowles novel. Marrakech has affordable lodging, and travelers can stay in a traditional riad, or former home, like Riad Miski, for less than $80 a night.
Cairo, Egypt
One of the most populous cities in Africa (according to Statista), Cairo, the capital of Egypt, has long figured in the public imagination. Of course, many know it for the Pyramids, one of the seven Wonders of the World (via Britannica), and certainly the only one of them (the Wonders) close to its original glory. More than 2,000 years old, these structures, not far from Cairo's center, served as tombs for former kings, and are a marvel of engineering and an awe-inspiring sight of grand scale. For such a globally renowned tourism site, a visit here is surprisingly affordable, with basic entry to the site costing only 240 Egyptian Pounds (about US$9, as per Egypt's Minister of Tourism and Antiquities).
For visitors with a deep interest in the country's Pharaonic history, entry to the Egyptian Museum costs only US$9, and the building houses a vast trove of antiquities from that era. Beyond, the city is where to find the sprawling Khan El-Khalili, a colorful market that is especially alluring at night (artfully captured on this long YouTube video by Prowalk Tours).
To escape the crowds and cacophony, travelers can retire to Al Azhar Park, 75 acres of greenery, walking paths, and water features on a site that was formerly notable for its rubble. Transport around Cairo is also cheap, with an efficient metro where fares max out at US$0.30 (via Cairo Governorate).
Mombasa, Kenya
In the southern part of Kenya, near the border with Tanzania, Mombasa is the nation's second-largest city, a vibrant port shaped by a wonderful hybrid of cultures (via Britannica). Water is never far from view since the city is technically an island linked to the mainland by roadways and bridges. Visitors here will see mosques, cathedrals, and Hindu temples, and the scope of influences here is apparent in the breadth of attractions.
Fort Jesus is a remnant of Portuguese colonialism, a massive stronghold constructed at the end of the 16th century to safeguard the port, and entry to the fort and its museum is just 1,200 Kenyan shillings (about US$9.75). African art and culture is the focus at the Nairobi Gallery, a Victorian building where the artwork showcases the collection of a former Kenyan vice-president; among the highlights here is the Pioneer Art Gallery, where works by contemporary Kenyan artists are on display. A wander round Mombasa's Old Town, a UNESCO World Heritage site, is free but the experience is priceless, with Arab, European, and African elements governing the buildings.
For beach lovers, Diani Beach is a short trip south of Mombasa, a pretty stretch of sand with beachfront restaurants and snorkeling, diving, and kite surfing easily arranged. Best of all, a trip here from Mombasa can be as cheap as 200 Kenyan shillings (about US$2), according to Visit Diani.
Tunis, Tunisia
Located southwest of Sicily, and sandwiched between Libya and Algeria, Tunisia is filled with Roman ruins (via Britannica), its land formerly part of the Roman Empire. For a sound base to explore the country, travelers should stay in Tunis, the nation's capital. The city's old Medina is a UNESCO World Heritage site, once a center of great economic prosperity where buildings and institutions showcased the wealth coursing through the metropolis. It remains a fascinating place to visit, with mosques, markets, brightly painted, imposing wooden doors that front private homes, and vibrant street life.
Elsewhere in the city, Art Deco architecture is on view, a vestige from the time when the country was a French colony (via the blog Lost In Tunis), and though the buildings have seen better days, the angular lines and forms of this architectural movement are an interesting piece of the city's architecture puzzle. Budget travelers will appreciate the low cost of eating here, with tasty street food dishes costing just 10 Tunisian dinar (about US$3.25), according to the Tunisian Experience.
Just up the coast from Tunis, the city of Carthage has a rich history as a trading port and today its archaeological core, dating to pre-Christian times, is a UNESCO World Heritage site.
Dakar, Senegal
Senegal has a lively music scene, one that has nurtured legends like Youssou N'Dour, Baaba Maal, and Cheikh Lô. That music scene is very much alive in Dakar, the capital of this West African nation, from live-music establishments to booming nightclubs (via the Lonely Planet), and the choices are copious, so this primer by the International School of Dakar is a good place to start. Entry to the more upscale clubs is a very reasonable 5,000 West African francs (about US$8).
The city also stages a bustling street food scene, and intrepid diners can try super-cheap fare like the empanada-style fataya, or the shrimp role crevette beignet, for less than US$3 (according to Fund for Education Abroad). The blog Eat Your World highlights some of the unmissable culinary treats in the city, with delicious sauces and spices accompanying meats and seafood; visitors might be surprised to see baguettes around the city, a legacy from the French that colonized the country until independence in 1960 (via the Presidency of Senegal).
Dakar boasts a couple of unique sights. Gorée, an island just offshore east of the city, is a UNESCO World Heritage site, and was a former slave-trading entrepôt. Today its museums and buildings trace the harrowing past. On the outskirts of the city, Lake Retba is a bright pink, saltwater lake — hence its local name, Lac Rose — whose bright hues are a photographer's dream.
Zanzibar, Tanzania
An island paradise in Tanzania, Zanzibar sits due north of the country's capital Dar Es Salaam. But this haven of sand and serenity isn't just about the beach, with a plethora of other lures for visitors. History pulses through Stone Town, a UNESCO World Heritage site that grew as a Swahili trading center and slave hub that then took on influences from other parts of the world that either colonized or shaped this part of Africa. Walking around the streets here is enlightening, with markets, cafes, hotels, and places of worship found along the way.
Stone Town is also home to Forodhani Gardens, home to a hugely popular street food market (via We Are Zanzibar); diners can expect to find barbecued meats and seafood among the multiple other delights on offer, with sweet desserts and fresh juices marking the perfect end to any feast.
Of course, the beaches are not to be missed and on the northern tip of the isle, Nungwi Beach has powdery sand and gorgeous turquoise waters; it also has fantastic sunsets, perhaps taken over a tipple at Gerry's Bar. While Zanzibar has luxury hotels, good three-star properties are available for $50 per night (via Booking.com).
Durban, South Africa
Before leading the struggle for independence from the British in India, Mahatma Gandhi spent two decades in Durban, South Africa, where he worked as a lawyer. Today, there are sites around the city that commemorate his time here, including Durban Station, a villa where he once lived, and his legal offices.
Interestingly, South Africa has the largest Indian population on the continent, and this city, on the country's east coast, is where the vast majority of them live; it's sometimes known at the biggest Indian city outside India (via World Economic Forum). The Indian community here even created an iconic South African dish called bunny chow, a hollowed-out bread packed with curried vegetables or meat (via NPR), that is a cultural and caloric treat.
Visitors that want to explore the city can download the free, self-guided walking tours run by Strawberry Tours that take in the waterfront Golden Mile Promenade, stops around shrines of different faiths, and other city landmarks. On a historical note, Durban's Umbilo Shree Ambalavaanar Alayam Temple traces its beginnings to the first Hindu temple in Africa, built in 1875.
Kampala, Uganda
Wildlife fans revere Uganda for its wild gorillas that live in two locations in the country's forested interior (via the Wildlife Conservation Society Uganda), and while this can be a life-changing experience, it doesn't come cheap. Far more affordable is a visit to the country's capital Kampala, set on hills that rise above the vast Lake Victoria (via Britannica). For a good handle on the city, travelers can join a six-hour guided walking tour with Kampala Walking Tours for just US$30. Other tours run by the company include one that focuses on markets that sell everything from crafts and jewelry to fabric with traditional African prints.
The city is also home to a varied range of shrines, from the Uganda National Mosque (sometimes referred to as the Gaddafi National Mosque, and noteworthy as being the biggest mosque in East Africa, according to Achieve Global Safaris), a Bahá'í temple (the first in Africa), and the imposing St Mary's and Sacred Heart Cathedral Rubaga, built atop one of Kampala's seven hills.
Kumasi, Ghana
A stronghold of Ashanti culture, the town of Kumasi, in the southern half of Ghana, is surrounded by forests (via Britannica). Beyond its cultural heritage, it has flourished as a center of trade, first as part of the Ashanti kingdom, and later under the British. Commerce remains very much at the heart of the city, hence the Kumasi Central Market (also known as the Kejetia Market), the largest such exchange in West Africa, according to the South African news site EWN. The variety of items on offer is mind-boggling, and shoppers can spend hours or days wandering the thousands of stalls selling groceries, household items, jewelry, gifts, clothing, and more. The market is also packed with street-food stalls selling fresh, cheap eats, shown in detail on this clip posted on YouTube.
Travelers that want to learn more about Ashanti culture have the chance to visit the museum at Manhyia Palace, where the current Ashanti ruler Osei Tutu II lives. Arts fans plug into the city's schedule at the Centre for National Culture, a hub for promoting African music, dance, fashion, and performance. Kumasi is also a cheap destination, with three-star hotels available on Kayak for US$30.
Addis Ababa, Ethiopia
Museum goers will have no shortage of places to visit in Ethiopia's capital Addis Ababa. The National Museum of Ethiopia focuses on the country's artistic and anthropological past, and highlights include the throne of former emperor Haile Selassie, a man revered here and also in the Rastafari communities of Jamaica (via Joy of Museums Virtual Tours). The Ethnological Museum Addis Ababa sits inside the former home of Emperor Selassie, and presents a deep dive into the nation's heritage through books, clothes, and religious items.
Named for the late artist Zoma Shiferraw, the Zoma Museum looks at ancient local architecture through a modern eye, and entry is only 150 Ethiopian birr (about US$3). Addis Ababans like to hang out at Meskel Square, a huge, open plaza in the heart of the city where events and religious gatherings take place. It's also where onlookers can encounter some traffic patterns and seemingly anarchic driving that defies explanation, at this video shows.
A more peaceful experience awaits at Unity Park, opened in late 2019; here visitors will come upon the Grand Palace among other points of interest. Staying in Addis is inexpensive, with Hotels.com showing three-star hotels starting from $25.
Malawi
The small, landlocked country Malawi, tucked between Mozambique, Tanzania, and Zambia, was voted one of the Top 10 Best in Travel countries 2022 by Lonely Planet. It's a verdant place of great natural diversity, not least at Lake Malawi National Park, a UNESCO World Heritage site, with clear water, plenty of places to stay, kayaking and sailing, fine snorkeling, and rich avian life.
The country is also one destination in Africa where safaris are affordable, offering adventurers the chance to see the Big Five — lion, rhino, leopard, elephant, and buffalo. The 13-day safari by Budget Safari, for instance, can cost as little as US$1,690 per person (or US$130 per day), and includes transportation, entry fees into game reserves, accommodation, meals, and an English-speaking guide.
Among the unique accommodations in Malawi is Kachere Kastle, a whitewashed spread opened six years ago by an English couple on the shores of the lake, where rooms start at under US$70 per person.
Luanda, Angola
For decades, Angola was in the throes of civil war, a perfect storm created by independence from the Portuguese in 1975 and growing tribal divisions. That war finally ended in 2002 (via South African History Online), and since then the country has enjoyed peace and a prospering economy, fueled by oil reserves and mineral deposits.
On the continent's west coast, Luanda, the Angolan capital, is a bustling port city with European flair — not surprising since Luanda was a colony of Portugal for four centuries, according to Britannica. That heritage is especially evident in the old part of the city, where slender streets and colonial buildings are commonplace. The city is home to a range of museums, among them the Museum of Natural History, where the country's flora and fauna come under the spotlight.
The Fortaleza de Sao Miguel, a UNESCO World Heritage site, was built by the Portuguese, and now is a fortress that oozes history. A more modern experience awaits at the bay of Luanda, where a renovation project by Costalopes architects added green spaces, walking and bike paths, and public squares to the waterfront, making a lovely setting for a seaside stroll, day or night.
The Gambia
The smallest country on continental Africa, according to WorldAtlas, The Gambia lets visitors pack in many sights in a compact area. Bordering Senegal on three sides, and the Atlantic Ocean on its west coast, the country has wildlife attractions to keep travelers entertained, with easy access from the capital city Banjul.
Kachikally Crocodile Pool, is a quick day trip from Banjul, a low-key park that hosts school groups as well as inquisitive adults that flock to see the placid crocodiles. According to some sources, the waters here have sacred properties, the power to help an infertile woman conceive (via Bradt Guides).
Also close to Banjul, the coastal Bijilo Forest Park first opened in 1951 and has been welcoming Gambians and overseas tourists ever since. Blessed with walking trails, the park is also home to the endangered western red colobus monkey, a small mammal with a rust-colored coat. The monkeys, however, aren't the only things here under threat — the park is in the midst of a redevelopment project that local activists bitterly oppose (via Green Up Gambia).
Lusaka, Zambia
On Lonely Planet's Best in Travel top 10 for 2023, Zambia sits in the heart of southern Africa, landlocked between eight other countries. Travelers might know the nation for the massive Victoria Falls on the Zambezi River, a cascade whose tribal name 'Mosi-oa-Tunya' translates to 'The Smoke that Thunders,' on account of the roaring sound and smoke-like curtain of mist. But visitors will find much more to do in the capital Lusaka. Markets exist all over the city; among the most popular for overseas visitors is the Sunday crafts market, great for carved gifts to bring home (via Klarna).
Fans of history can stop by the Lusaka Museum, where entry is only US$5 and the focus is on the country's history and fight for independence. Just outside the city, travelers will delight with a visit to the elephant orphanage Wildlife Discovery Centre run by the NGO Game Rangers International. Here, you can see beautiful, rescued pachyderms being fed in their boma, or enclosure, during their rehabilitation, a sight that's truly priceless.