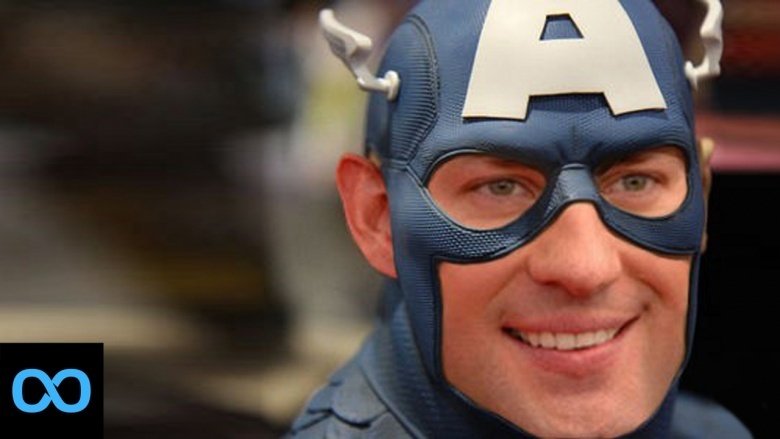 Superhero casting news is everywhere, and it changes at the drop of a hat. One day, you hear that they're adopting your favorite comic book. The next day you hear that Mr. Mom is cast as Batman, or Gilbert Grape is going to be Spider-Man. Who could've ever imagined that a 6 foot Australian musical theater actor was going to be Weapon X? It's hard to picture Hugh Jackman not being Wolverine.
Dougray Scott as Wolverine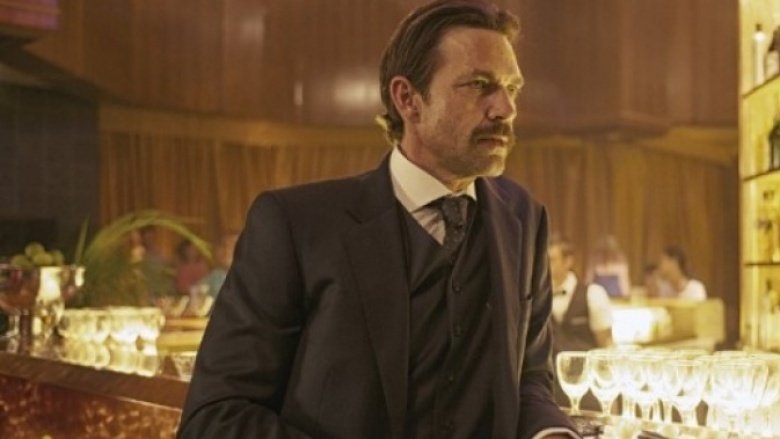 It's pretty difficult to imagine anyone but Hugh Jackman as Wolverine. But before filming started on 2000's X-Men, Dougray Scott was set to wear the claws. But scheduling conflicts with Mission: Impossible 2 meant director Bryan Singer went to the next name on the list: Jackman. Wolverine fans the world over remain grateful.
John Krasinski as Captain America
Chris Evans has a monopoly on comic characters, having been cast as the Human Torch, Jake Jensen in adaptation of The Losers, and, of course, Captain America. But before Evans got the job, the favorite was John "Jim from The Office" Krasinski. I haven't read my Marvel handbook in a while, but I'm pretty sure sarcastically mugging for the camera isn't one of Captain America's superpowers.
Jake Gyllenhaal as Spider-Man (and Batman)
Tobey Maguire owned the role of Spider-Man in 2002's film of the same name. But when his health put him in danger of missing the sequel, director Sam Raimi cast Jake Gyllenhaal. When Maguire was deemed healthy enough to spin webs, Gyllenhaal was sidelined. The actor also recently revealed he'd tried—and failed—to secure the Batman role that eventually went to Christian Bale.
Tom Cruise as Iron Man
Robert Downey, Jr. might well be one of the few actors who was born to play a particular superhero. There was no doubt that he was the right man for the Iron Man job. Amazingly, Tom Cruise was first in talks to wear the armor. He was in talks with Marvel for years—but when the time finally came to make the movie, he'd lost interest.
Marlon Wayans as Robin
Director Tim Burton was slated to make a third film in his Batman franchise. Comic actor Marlon Wayans was cast as Robin and was set to get going after being costume tested. But when Warner Bros. replaced Burton with Joel Schumacher, the production started from zero. Wayans' contract was paid despite the fact that the new movie cast Chris O'Donnell as Robin.
Nic Cage as Superman
After he parted ways with Batman, Burton was planning on making Superman Lives, starring Nicolas Cage with a script by Clerks director Kevin Smith. Thankfully, it never got off the ground. As bad as the last few Superman movies have been, they're head and shoulders above what this could've been.
Brooke Shields as Supergirl
On the subject of Superman, remember the bizarre Supergirl movie from 1984? With space wizards and stuff? Before Helen Slater, Brooke Shields was in talks to don the cape. The director wanted to go with an unknown, so Shields was out.
Adrianne Palicki as Wonder Woman
This one technically counts. Even though Adrianne Palicki actually filmed the pilot, the David E. Kelly produced series was canned before it could even air. It's too bad, since it could've been a winner.
Common as Green Lantern
For a few years, Mad Max director George Miller was working on creating a Justice League film, back when The Avengers was just a gleam in Disney's eye. Rapper/actor Common was set to take on the role of Green Lantern John Stuart—but the project was scrapped, and Common never got a ring.
Bradley Cooper as Green Lantern
On the subject of Green Lantern, Warner Bros. eventually went with a solo movie for this character. Before Ryan Reynolds won the part, Bradley Cooper auditioned—and tanked it. WB's loss, considering that Cooper earned an Oscar nomination in 2012 and Green Lantern tanked hard.
Millie Bobby Brown as X-23
Dafne Keen impressed moviegoers the world over with her portrayal of the short-tempered young mutant X-23 in 2017's ultra-violent, R-rated X-Men film Logan. Keen wasn't the only preteen girl to audition for the part of Laura Howlett, however—the young actress faced competition from Stranger Things' Millie Bobby Brown.
In an interview with Westworld's Evan Rachel Wood, for Variety's "Actors on Actors," Brown revealed that she went out for the part of X-23—which she considers to be her best audition—with Hugh Jackman. Despite her intense preparation and proud audition, however, Brown as X-23 ultimately wasn't meant to be.
Though presumably disappointed in losing the major Hollywood role to the younger Keen, Brown said she watched Logan and credited her competitor's performance as "incredible." Incredible it was, indeed—and it's hard to imagine anyone playing X-23 more fiercely and ferociously than Keen.