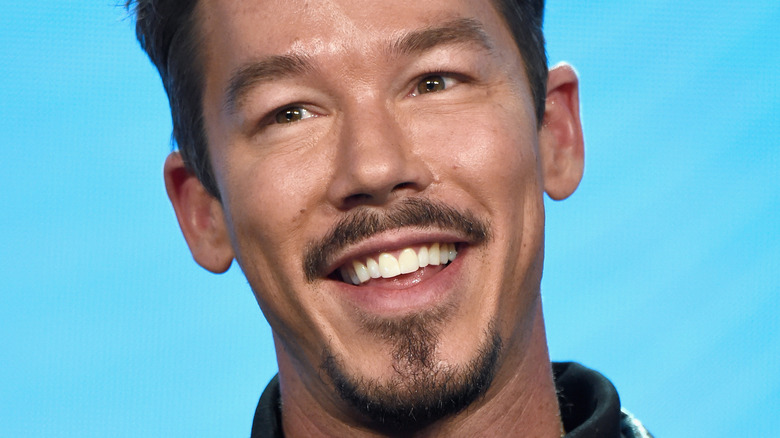 Since 2015, HGTV viewers have become accustomed to escaping with "My Lottery Dream Home" on Friday nights to follow along as recent lottery winners look to make one of their first major purchases: a new home. We love watching the show's very colorful and entertaining host, HGTV veteran David Bromstad, "go along with recent winners for the search of their lifetime," as we've heard over and over from the show's opening credits (per HGTV), and help these very deserving winners in different cities find their dream homes. In fact, the show has become one of the network's biggest success stories (per Discovery).
While, by now, much has come to light about how reality TV works (like the fact that it's not all 100% authentic), we're curious to learn behind-the-scenes info about "My Lottery Dream Home." Most of us are already aware that the house hunters on HGTV's "House Hunters" have already purchased their properties long before filming (per the New York Post). So, how does "My Lottery Dream Home" compare?
We're letting you in on what the cameras don't show you on HGTV's "My Lottery Dream Home."
Casting the show hasn't always been easy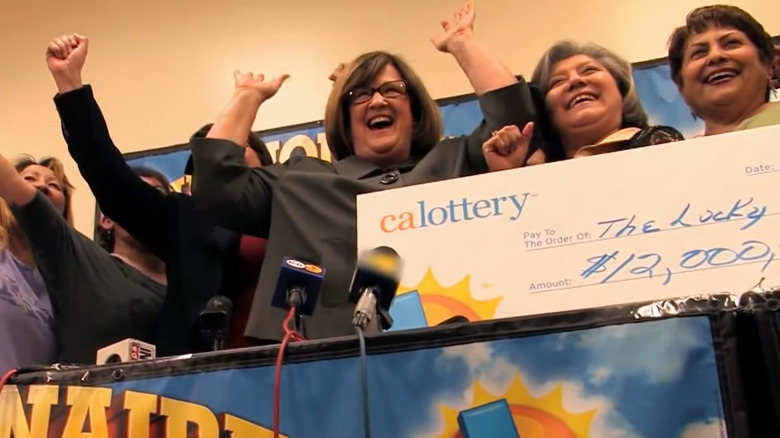 You might think that if you won the lottery, you'd contact HGTV right away to have David Bromstad help find your dream home. While that may be the case these days, it wasn't in the early days of "My Lottery Dream Home." In fact, the first season was difficult to cast because production had trouble finding lottery winners who would agree to appear on the series. "We reached out to close to 1,000 lottery winners and we got 10 to appear on our first season," executive Mike Krupat of the show's production company, 7Beyond Productions, revealed to Media Week. Added Bromstad, "It just started out so slow. It took a year for each of the first two episodes just to cast. So, it was a lot of … 'Oooh, we have one! Ooops, sorry, we don't'" (per The Wrap).
However, Krupat did share that, once the show became a hit and the public learned of its focus on "wish fulfillment and making people's dreams become a reality," it became easier to find willing participants. Additionally, he explained, "Lottery winners don't really need the exposure and they don't need the money to participate" and noted that the true appeal of participation is the chance to share their own "great stories" (per Media Week).
The debut episode of My Lottery Dream Home featured its biggest-ever winners
The premiere episode of "My Lottery Dream Home" features a couple who had won $180 million in the California Mega Millions lottery. If this made you think there would be many more big winners to come for the series' future, you'd soon come to learn that few of the show's winners reported earnings this enormous. Host David Bromstad told the Los Angeles Times that the earnings of the show's winners typically range from around $1 to $4 million. The couple who appeared on the first episode, titled "A Big Home for a Big Prize," are, as of this writing, the show's biggest winners to date.
Rick and Lori Knudsen paid $5.5 million for their 16,000 square-foot stunner, which sits on 50 acres of land in Southern California on the side of a mountain overlooking gigantic redwood trees. The couple later purchased the 155-acre buffalo ranch next door, another adjacent 640 acres of land, and a nearby steakhouse and saloon for a total of $11.5 million. In 2018, the entire compound was listed for sale at a whopping $26 million, as shared by The Wall Street Journal.
Bromstad shared his thoughts on the couple's big purchase with the LA Times. "They bought a mountain!" he said, describing the home as "magical, very chic." "It looked like a ski lodge — breathtaking. But," he added, "as big as it was, it was very cozy, warm."
Some of the winners cast were fans of the show before their lottery win
If you're like us, you probably watch "My Lottery Dream Home" and talk about how you'd love to have HGTV's David Bromstad find you your dream home if you ever won the lottery. Well, this dream became a reality for one winning couple.
Brian and Tuk Kutz of Coupeville, Washington, appeared on the series after winning $200,000 from a scratch-off ticket in an episode called "The Sound of Freedom." "My wife and I had always watched that show before we won the scratch ticket," Kutz said in an interview with the Herald Net. "I used to joke we'd have David find us a house if we ever won."
Whidbey Island, Washington, where the couple shopped for their home, apparently made a big impression on Bromstad, with him describing it in the episode as "utterly fantastic." In the end, the couple settled on a Victorian-style property said to be their "forever home."
Host David Bromstad spends a lot of time with the lottery winners off camera
While we're not sure how much time clients spend with the HGTV hosts on other shows, when it comes to "My Lottery Dream Home," they spend quite a lot of time hanging out with the likable David Bromstad.
In addition to searching for his dream home, Anthony Colligan, who won $2 million by way of the Louisiana Lottery Powerball, spent time with Bromstad and the HGTV crew in New Orleans checking out the Mardi Gras festivities, touring the swamps, and introducing Bromstad to the food NOLA is known for, like boiled crawfish. "I had to teach David how to suck on some crawfish heads," Colligan revealed to The Acadiana Advocate. "He loved the crawfish, but he's not too keen on sucking on the heads."
For Bromstad, he's said that spending time with his clients makes his job easier. "I'll get the most possible information out of them as I can," he told AOL in 2016. "That's probably the hardest part, honestly, is trying to figure out their style and showing them things that keep us viewer-conscious."
Most of the show's lottery winners really don't know what they want in their dream home
While "My Lottery Dream Home" host David Bromstad spends a good amount of time with his clients to get to know exactly what they're looking for in their dream home — but in most cases, they really don't know what they want. "It's hard to fulfill because they're still starry eyed about winning millions of dollars," Bromstad said in an interview with AOL. "When it comes down to style and location, though, it's hard to get what they like or what they want out of them."
So, it turns out that the three very different options his clients are shown help them hone in on what they really want. Speaking of the first season, he said, "They really left it up in the air for us — most of them didn't really know where they wanted to be," he said.
Bromstad reported that the oddest request he's received was to find a house with lots of bathrooms, the only reason being that they were in the exclusive Hamptons of New York and apparently needed more bathrooms than average based on their location. However, what he sees most often from his clients is their wanting to purchase a home near family. "A house could be in the middle of nowhere, and they always stay close to family," he said. "That was something that really surprised me. It's all about family."
House hunting with David Bromstad is as much fun as it looks on TV
From the audience's perspective, shopping for a dream home with HGTV's David Bromstad certainly looks like it's a blast. And, as it turns out, both Bromstad and his clients on "My Lottery Dream Home" really are having a great time. "I tell you, we laughed and … had so much fun. I didn't know he was like that," Anthony Colligan, a winner from Lafayette, Louisiana, who had never seen an episode of the show prior to his experience, told The Acadiana Advocate. "My time with David was great … I haven't laughed and met genuine, good people like that in a long time. David was hilarious. Everything that comes out of his mouth is just funny."
Charity Stivason, another winner who appeared on the show, had a similar experience. "It was an awesome experience, and David is so down-to-earth," she said, adding that she shared plenty of laughs with the gregarious TV host (per TribLive).
In an interview with WGN Radio, Bromstad explained how he's always been his true self on camera and that he is truly excited for his clients — regardless of how much they've won. "Of course, I'm excited for them. They just won a bunch of money," he said. "It's a life-changing moment." Evidence of these good times is clearly seen on the show. However, bloopers from "My Lottery Dream Home," which reveal even more of the host's personality and the fun moments that take place during filming, can be found on the HGTV website.
Many of the show's winners are smart about their spending
While it may seem that the majority of the lottery winners we see on "My Lottery Dream Home" have literally just won the lottery, it turns out that, many times, winners will appear on the show after having had a bit of time to decide what exactly to do with their newfound earnings. "A lot of winners get financial advisers and think it through before they call me," host David Bromstad said in an interview with the New York Post. "They know I'm going to give them great deals and show them exactly what they want to see."
As for how much clients typically spend, Bromstad said, "There are a whole lot of factors that play into it … It all depends on how much money they've just won. Some people are living paycheck to paycheck and they're pretty smart." He explained that these winners tend to be savvy, making sure they make wise decisions and don't get carried away by their winnings.
There is more than one way to appear on My Lottery Dream Home
While most of us will probably never be able to appear on "My Lottery Dream Home," if you do ever win the lottery, you can get on the show by contacting HGTV's production company directly, as many past winners have done, by emailing mylotterydreamhome@beyondusa.com or calling (424) 345-4132 (per HGTV) and sharing your story and why you want to be featured.
For example, as HeraldNet noted, in March 2019, Brian Kutz of Coupeville, Washington, contacted HGTV days after learning he won $200,000. After winning $100,000 in June 2019, Nicolas and Robyn Sanchez of Bangor, Pennsylvania, applied and were approved to appear days later, per Lehigh Valley Live. And, in April 2020, after Charity Stivason won $1 million, her daughter told her to apply. "I sent an email, and the show called me and asked me to submit images of dream houses and tell my story," Stivason told TribLive.
Other times, HGTV has reached out to winners themselves. In October 2014, the network contacted Joe and Rhonda Meath of Minnesota about appearing in a then-new TV show. "They called on a Wednesday and said they'd be here Monday," she shared with The Lowdown. And, when Michael from Charlotte, North Carolina, won $100,000 and then another $750,000 in a second win five weeks later, HGTV executives made their move, per WCNC Charlotte.
Filming My Lottery Dream Home involves long days of work
While appearing on "My Lottery Dream Home" has got to be a lot of fun, it's also a lot of work, which includes a few very long days of filming.
When Brian and Tuk Kutz filmed their episode in Whidbey Island, Washington, filming each day took as much as six hours, according to HeraldNet. Rhonda Meath of Minnesota shared with local publication The Lowdown that when she and her husband, Joe, filmed their episode, they filmed for nine hours a day, for four days. However, since the couple filmed their segment back in 2014 for the show's first season, it's likely the process has been streamlined since then.
While the days are long, Meath said she enjoyed the experience very much and noted it was "easy." "I was surprised how easy it was, how friendly and accommodating everyone was," she said.
Some parts of the show aren't as realistic as you might think
While what you see on "My Lottery Dream Home" is, in general, probably about as realistic as reality TV comes, there are still some aspects of the series that are fudged. In most cases, just like we see on the show, the lottery winners are seeing the homes they tour for the first time. However, there have been a few episodes over the years where the winner(s) had already been living in their dream home before filming.
For instance, because it wasn't nearly as easy for the network to cast the show's first season, according to The Lowdown, in October 2014, Rhonda and Joe Meath were contacted about appearing in the then-new show about lottery winners shopping for their dream homes. In reality, the couple had already moved into their new home: a 7,400 square-foot house situated on a 38-acre farm in Marine on St. Croix, Minnesota. At the production crew's request, the couple had to get creative at times; for example, they'd change outfits when filming for different scenes to make it look as if the home tours were spread over several days.
Then there's Rick and Lori Knudsen, who appeared on the first episode of "My Lottery Dream Home." The winners' niece or nephew shared with BuzzFeed that their uncle and aunt had lived in the mansion for two years prior to the episode's filming — and that they had even vacationed there with their family!
When contacted by HGTV producers, some don't believe it's for real
If someone from HGTV contacted you about appearing on one of their shows, how would you react? Well, it turns out that some of those contacted by the network for this very reason were in a state of disbelief at first, questioning the legitimacy of the call.
For example, when restaurants are selected to be featured in the series, network representatives call the owners to get their permission and go over various details. When the owner of Leechburg, Pennsylvania's Moonlight Inn received his phone call about the network's decision to choose his restaurant to film a scene for an upcoming episode of "My Lottery Dream Home," co-owner Nico Dongiovanni didn't believe it was for real. "I thought it was a joke when a producer called me at work," he said in an interview with TribLive. "But I remembered someone in Leechburg winning the lottery."
The show filmed a scene on the restaurant's large outdoor covered patio. So, how exactly did producers choose this very restaurant? "I heard a real estate professional recommended our place to producers," Dongiovanni explained. Makes sense to us!
David Bromstad can relate to the lottery winners featured on My Lottery Dream Home
While David Bromstad is the fun and flashy host of "My Lottery Dream Home," he's also a regular guy who just so happened to win a reality TV show competition. In 2006, he was the winner of the first season of HGTV's "Design Star," an opportunity which catapulted his career from working for Disney in various artistic roles (per The List) to HGTV host.
That said, he can relate to his clients on the show who come into newfound wealth from more humble beginnings because he had experienced the same earlier in his career, "living paycheck-to-paycheck" before his big win in 2006, as he put it in an on-air interview with WGN Radio in early 2022. And, in July 2021, he told The List, "I won 'Design Star' and that was my lottery. I'm generally not a very lucky person." Who would've guessed?
My Lottery Dream Home appearances require some secrecy
When it comes to reality TV, participants are expected to keep certain things quiet, as mandated by production. When the Moonlight Inn in Leechburg, Pennsylvania, was featured in a July 2021 episode of HGTV's "My Lottery Dream Home," its owners had to keep the filming a secret for over a month. "We weren't telling anybody, and I had to sign a nondisclosure agreement," co-owner Nico Dongiovanni said to TribLive. Fortunately, it could have been more difficult for the owners to keep the secret: "We weren't that busy that day so customers didn't even ask what was going on."
In another case, in June 2022, "My Lottery Dream Home" star David Bromstad shared with his Instagram followers some pics of himself standing in front of horror author Steven King's Victorian-style house in Bangor, Maine. In the caption, he wrote he was "wow[ed] on so many levels," both by the property and the city itself. While Bromstad didn't respond to questions asking what brought him to the historic New England town, WCYY proposed that it's likely he was in the area to film an episode of his HGTV series. Furthermore, the outlet explained that whenever filming for an upcoming season of a TV show takes place, specific locations are kept on the down-low until the news is officially released to the media.
My Lottery Dream Home host David Bromstad doesn't play the lottery or watch the show
With all the lottery winners he meets on a regular basis, you'd expect that "My Lottery Dream Home" host David Bromstad would play the lottery fairly often. But, it turns out, that's not the case. In fact, Bromstad rarely tests his luck with the lottery, telling The Wrap in 2018, "You'd think I would [play the lottery], especially rubbing elbows with all of these really rich, really lucky people. No, I do not play the lottery because I've already won the lottery [when he won HGTV's 'Design Star'] … So I'm good. I've won it, that's my win. It's hard for me to spend $30 on a scratcher, or $20, or even $10 on a few scratchers."
And, when it comes to watching the HGTV show he's been hosting since 2015, Bromstad said that, while he loves his job, he generally doesn't tune in to watch "because it reminds me of work," as he said in an exclusive interview with The List. He added that, every so often, he will watch an entire episode, but, other times, he just "can't watch [him]self."
Definitely relatable, we have to say!