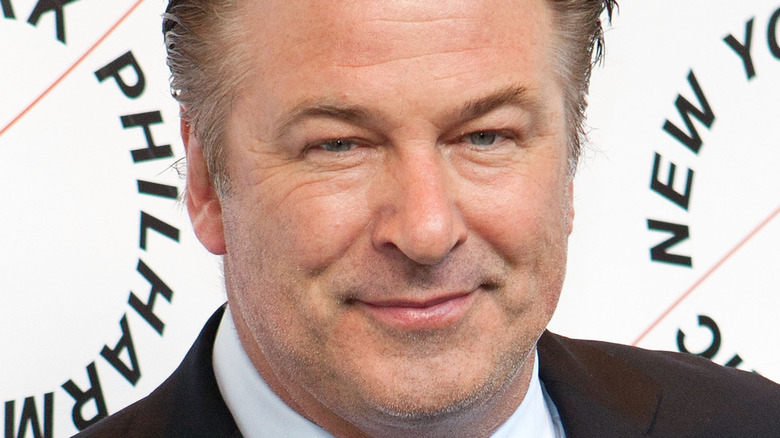 The following article includes references to homophobic remarks and addiction.
Alec Baldwin has carved a praiseworthy track record on screen. The eldest of the Baldwin brothers stopped at nothing in his Hollywood conquest. From a humble six-episode start in the long-running show "The Doctors," Baldwin buckled down enough to spark guffaws all over America as the obnoxious network executive Jack Donaghy giving Liz Lemon (Tina Fey) sleepless nights on "30 Rock." On paper, Baldwin looks even more appealing, going by Forbes' revelation of his 2013 revenue post the season finale of "30 Rock."
When the cameras are set aside, however, Baldwin does not seem to catch a break. He makes news — often not for the right reasons — which has led to a clash with the paparazzi. In 2014, Baldwin retired as a public figure by penning a New York Magazine essay that read in part: "I started out as an actor, where you seek to understand yourself using the words of great writers and collaborating with other creative people." He further highlighted his experience with the by-product of his trade: fame. "Then I slid into show business, where you seek only an audience's approval, whether you deserve it or not. I think I want to go back to being an actor now," Baldwin wrote.
It's a love-hate relationship that has gotten more complicated partly due to his doing, as he expressed, but it has traces of good in it. Here's a detailed history of Alec Baldwin's tangled life.
Alec Baldwin was arrested for assault in 1995
In 1995, a photographer bit off a lot more than he could chew when he tried to get a shot of Alec Baldwin and Kim Basinger's newborn daughter, Ireland. According to the Chicago Tribune, Baldwin's confrontation with the cameraman, Alan Zanger, occurred when the latter wouldn't stop working the lens at Baldwin's request. The incident, which took place near the couple's Woodland Hills, California residence past noon, resulted in a broken nose and glasses on Zanger's part. Baldwin was also reported to have littered Zanger's truck, per People.
In a statement shared by Baldwin's publicist, he alluded to the injuries inflicted on Zanger as being negligible, as the Los Angeles Times relayed. "Anyone with a shred of human decency would understand that there are times in your life when you want your privacy respected, whether you are a public figure or not," the star stated. "I do believe that bringing your wife and 3-day-old baby home from the hospital is one of those occasions. That Mr. Zanger felt it was appropriate to videotape my home and my family for his own profit is unacceptable to me."
Zanger sought legal action, and in 1997 — a little over two years after the scuffle ensued — was awarded a damage compensation to the tune of $4500. Baldwin, on the other hand, pursued litigation for breach of privacy and won. He was also relieved of assault charges.
That time he called his daughter a 'thoughtless little pig'
Back in 2007, TMZ got hold of audio from the Baldwin household, in which Alec Baldwin called the then-11-year-old Ireland Baldwin "a rude, thoughtless little pig" for missing an arranged call. Alec happened to be co-parenting with Kim Basinger since their 2001 split and subsequent custody battle, which was ugly, to say the least (more on that below). In the sound recording, Alec was quoted to have said of his ex-wife, "Your mother is a thoughtless pain in the a** who doesn't care about what you do."
He would later acknowledge his wrongdoing through a representative who spoke to "Extra," but accused Basinger and a legal representative of illegally releasing the audiotape to the press (via TMZ). A long note, published on Alec's website, went on to cite a taxing parenting relationship with Basinger, promising that more details would be made available in an upcoming publication, People reported.
True to Alec Baldwin's word, "A Promise to Ourselves: A Journey Through Fatherhood and Divorce" was released in September 2008. Nevertheless, it's not all in the past. On different occasions since, both Alec and Ireland have referenced the occurrence on social media. Additionally, while promoting his 2017 book "Nevertheless: A Memoir" on "Good Morning America," the actor admitted, "It's a scab that never heals, 'cause it's being picked at all the time by other people. And … I think my daughter, that's hurt her in a permanent way."