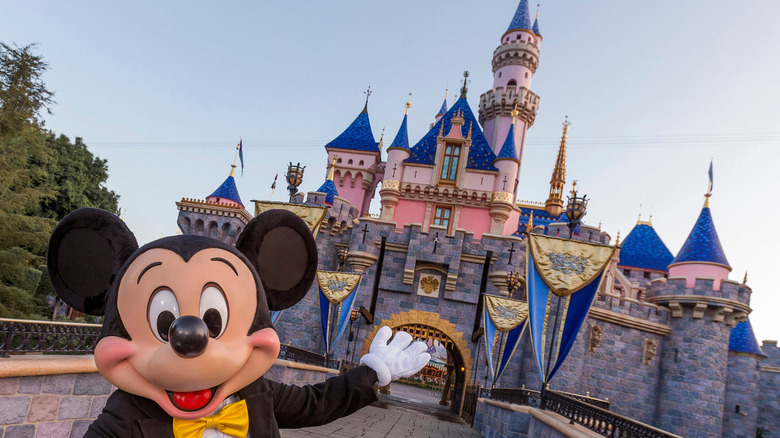 Going on a short trip to experience some Disney magic can be a good way to relax and unwind. A trip to either Disneyland in Anaheim, California, or Walt Disney World in Florida will give theme park-goers fond memories to hold on to until their next visit.
Which theme park you'll visit will depend on your personal preference and a number of other factors. You'll need to consider what attractions and characters you'd like to see, the length of your vacation, logistics, and budget, among other things. You should also find out the unique offerings in each theme park and determine if it's something you or your family might enjoy. For instance, you can only find the Matterhorn Bobsleds and Mr. Toad's Wild Ride in Disneyland.
While there's no wrong choice between a vacation to Disney World and Disneyland, you might find that a getaway to the latter is so much better when you're pressed for time. Here's why.
Disneyland is smaller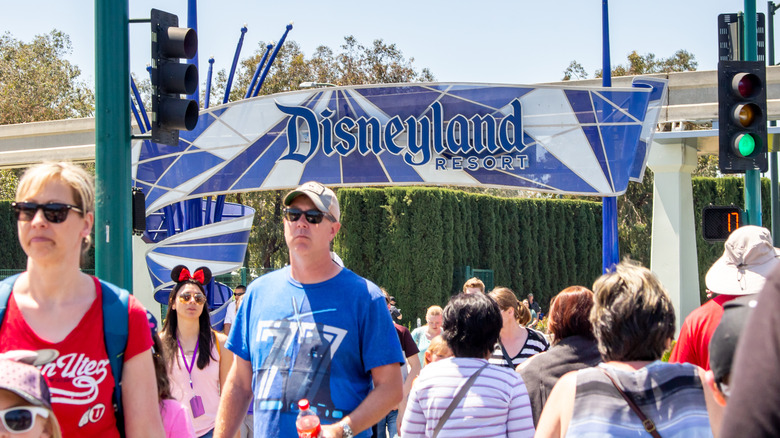 Bigger isn't always better when it comes to short trips. For one, Disneyland's 500 acres is more walkable than Disney World's 43 square miles. From the Downtown Disney District, you can walk to either Disneyland Park or Disney California Adventure in just one minute. You can't do that in Disney World, where the closest parks are Epcot and Hollywood Studios; You'd have to walk 15 to 20 minutes to cover the 1.1-mile distance between them!
In addition, visitors might experience FOMO or fear of missing out when they travel to Disney World because of its hundreds of rides and attractions. Visitors would likely take several days to see and do everything there compared to just a couple days to experience everything in Disneyland.
"Because of its scale, you can get your arms around [Disneyland]," Seth Kubersky, author of "The Unofficial Guide to Disneyland 2022," told AARP. "Visitors can feel like they've seen it all, without feeling overwhelmed."
The original Disneyland is more nostalgic
While Walt Disney World was opened in honor of Walt Disney, Disneyland is the only theme park that the Mickey Mouse creator personally opened, so it's rich in history. If you know where to look, you'll be able to spot plenty of nods to The Walt Disney Company founder.
At Disneyland, specifically in Griffith Park, you'll be able to see the actual bench where Walt Disney thought up his vision of what a theme park should be, including the four original lands: Fantasyland, Frontierland, Adventureland, and Tomorrowland. To the left of the park entrance, you'll find the Town Square Fire Station apartment where he used to stay overnight.
"For a true Disney fan, if you haven't ever been to Disneyland, you'll really appreciate the history and the fact that that was Walt's original dream," Lisa Eylens, a planDisney panelist, told USA Today. "It is a very different experience from Disney World."
Enjoy Disneyland-exclusive characters and rides
Although there are more rides at Walt Disney World, Disneyland presents a very special treat to park goers. The California theme park still operates Mr. Toad's Wild Ride, which was first offered on Disneyland's opening day. It's a truly classic attraction that you can only still enjoy at the original Disney park. Other Disneyland-exclusive rides include the Matterhorn and Indiana Jones.
In addition, Disneyland dresses up its Haunted Mansion and "It's a Small World" attractions for the holidays. Unless you're going to Tokyo Disneyland, you won't find the same Haunted Mansion celebratory get-up at Disney World or any other Disney park in the world. For "It's a Small World," other Disney parks outside the U.S. also offer their own versions of the holiday overlay but not Disney World.
One more reason to visit Disneyland is for its exclusive characters. Park goers can meet and mingle with their favorite characters from "Cars," "The Avengers," and "Coco." Head over to the Cozy Cone Motel in Cars Land where you'll typically spot Lightning McQueen or Mater. Next door to Disneyland Park, Disney California Adventure Park hosts rides and attractions based on the famous Marvel characters. You'll also find Miguel from Disney's "Coco" when you stroll to Plaza de la Familia in Paradise Gardens in the fall.
You can save more at Disneyland
For a family of four, going on a vacation anywhere can get very expensive, very quickly. From logistics and accommodation to food and tickets, a Disney park trip can easily rack up thousands of dollars in spending. Thankfully, there is a way to save some dough on a Disney holiday: Pick Disneyland instead of Walt Disney World.
Utah-based journalist Daryl Austin broke down in this Insider article the cost of a five-day trip to Disney World, and the resulting amount is staggering. Your family of four will need at least $6,033 to cover the typical costs as well as souvenirs and other expenses. For roughly the same amount, you'll already get a luxury vacation at Disneyland, complete with VIP tour and princess character meal, according to mom-blogger Leslie Harvey from the San Francisco Bay Area who shared her computation totaling $6,137.55 for a luxury three-night Disneyland vacation in The Points Guy. The good news is that you can spend significantly less than this. A midrange Disneyland trip would set you back around $2,700, while a vacation on a tight budget would only need about $1,500.
You'll get the biggest savings from tickets and accommodation. Disneyland's one-day, one-park ticket at $104 is cheaper than Disney World's $109. When it comes to accommodation, Disney World beats Disneyland when it comes to options but not affordability. While the former has several on-site resorts, the latter only has three. However, what it lacks in number Disneyland makes up for convenience, as many non-Disney hotels are only a 15-minute walk or less away.
You can be more flexible and spontaneous at Disneyland
Any trip, especially one at a Disney park, requires some planning, but things sometimes don't work out as planned on vacations. So, a flexible outing is a better option than one that's rigid and unaccommodating to the moment's needs, especially when you're traveling with family and children.
When flying into Disney World, you'll most likely land at Orlando International Airport (MCO), infamous for its long TSA and bag check lines. The only realistic and nearby alternative is Orlando Sanford International Airport (SFB). Meanwhile, you have a host of airports to choose from when flying into Disneyland: Los Angeles International Airport (LAX), Long Beach Airport (LGB), Hollywood Burbank Airport (BUR), and John Wayne Airport (SNA) in Orange County.
In addition, the weather is consistently better in California compared to Florida, where you might get afternoon thunderstorms or deal with the heat and humidity, which can ruin both your well-laid plans and your mood. The pleasant Cali weather is more reliable and can accommodate both sticking to your schedule or creating a new one on the fly. You can mostly count on the weather to cooperate.