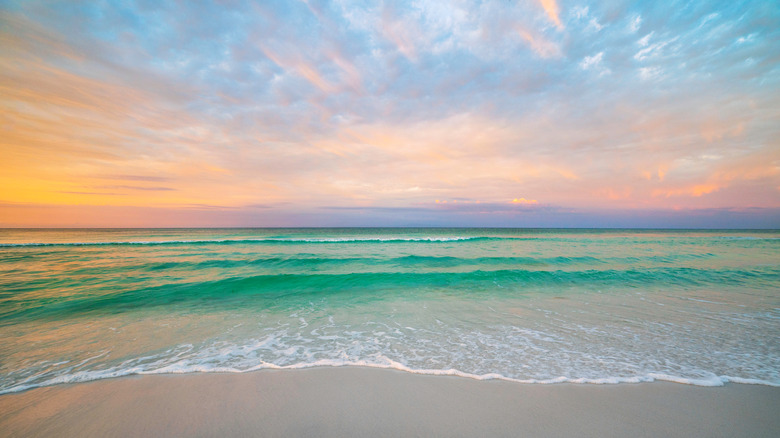 Visiting the beaches of Florida is a summer rite of passage for many families, and there are a lot of good reasons why. Long known as a popular tourist destination, Florida's beaches are home to so much: dog-friendly state parks, adjacency to the NASA Kennedy Space Center, and family fun favorites like miniature golf and tennis, just to name a few. Some of the beaches in Florida are excellent spots for collecting shells and shark teeth, while others offer days-long adventures and even horseback riding.
When it comes to spending time together as a family, the beach usually offers the whole family happiness and stunning, wide-open views that are hard to find anywhere else. Considering many beaches are also only a few hours from popular destinations like Disney World and Universal Studios, a Flordia beach vacation might be just what your family needs.
Here are 10 of the best Florida beaches for the entire family.
Cocoa Beach blends space and the sea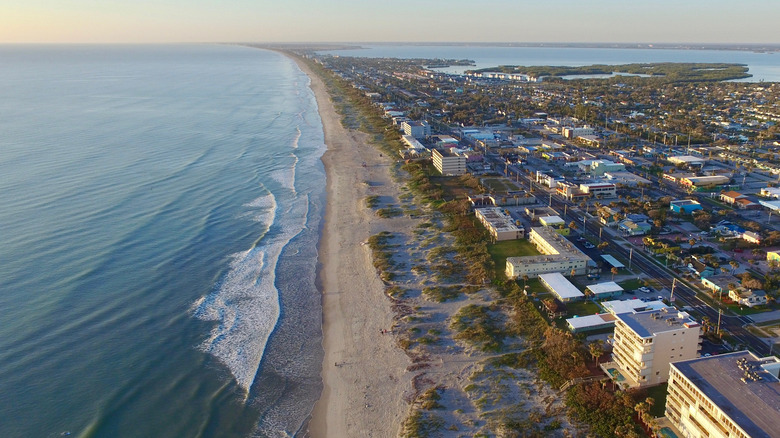 If you are looking for a beach spot that is all-around wonderful for the family, Cocoa Beach is a great place to start. The city offers six miles of beach, numerous oceanfront parks and playgrounds, golf, a massive public pool, a skate park, public tennis courts, public transportation, plenty of hotels, and close proximity to NASA's Kennedy Space Center (via City of Cocoa Beach).
The Kennedy Space Center has fairly regular launches that you can view up close at the center itself or from afar while enjoying the surf and sand at nearby beaches. The Space Center is a half hour from the middle of Cocoa Beach, which means your family can enjoy a day wandering around the area and learning about outer space escapades.
Cocoa Beach also offers a number of family-friendly events throughout the year, including art festivals, garage sales, chile festivals, and more.
Siesta Key Beach is a family-friend Gulf alternative
Plenty of families love frequenting the Gulf of Mexico, and Siesta Key Beach is definitely a family-friendly alternative to some of the beaches in the area that tend to attract college students and young adults. Siesta Key is actually a barrier island that is close to Sarasota, and the beach is so beloved that it's been featured on best-of lists at least twice (via Visit Florida).
Siesta Key is another Florida beach that offers more than endless ocean waves (though there is plenty of that, too). The city boasts the Mote Marine Laboratory & Aquarium, which was founded by scientists and educators who are invested in teaching and learning about the importance of protecting marine life. Mote began as a one-room lab and has since ballooned into over 20 programs that are all focused on research and education (via Mote).
There is also a plethora of parks and playgrounds, restaurants, museums, shops, and even more in Siesta Key that will thrill the entire family (via Visit Florida).
Manatee County Beach is named for Florida's state animal
You can find the Manatee County Public Beach at Holmes Beach on Anna Maria Island, and families can access the beach from sunrise all the way to 10 p.m. each night, every day of the week. According to the Anna Maria Beach Resort, Manatee Beach is a favorite for a whole host of reasons, including the free trolley that takes you to the very center of the beach, the parking lot that can hold up to 120 cars, and the numerous attractions that are nearby in case you need a few hours out of the waves.
Manatee Beach has a number of picnic areas that have nearby grills, making it easy for the family to spend as long as they want by the sea. Families who are more inclined to visit local restaurants and concession stands can absolutely take advantage of nearby eateries.
St. Augustine Beach is one of the calmest in the state
St. Augustine Beach is known for being one of the easiest for families in the state of Florida, especially families of young children, primarily because the waves are often calmer than most beaches. In addition to playing in the ocean, families can enjoy St. Augustine Beach by way of bicycle (there are facilities that offer bike rentals up and down the shoreline), surfing, and paddle boarding (per Florida's Historic Coast).
Spending a night or several nights at St. Augustine Beach is made easier by the number of family-friendly hotels that line the coast, including national and international hotel chains as well as local condos, private homes available for rent, and upscale hotel options (via Florida's Historic Coast).
The beach also boasts the St. Johns County Ocean Pier, which allows for sightseeing and fishing for locals and visitors alike. Day passes for those who want to fish from the pier are $6 per person for visitors, and the city also offers passes that are good for up to a year.
Fort De Soto Park has dog-friendly areas
Many families love to travel with their dogs whenever they can, and it can be super fun to take your favorite pooch along for a trip to the beach — but not every beach is as friendly to dogs as it is to people. Luckily, Fort De Soto Park allows dogs to visit the beach as long as they (and their humans) stick to the area that's specifically set aside for pets. As noted by Bring Fido, the dog beach area is fenced-in and has two separate areas — one of for larger dogs, and one for small dogs — which means dogs can enjoy some time off their leashes while in those spots. The beach also has dog showers, and dogs can visit the rest of Fort De Soto Park as long as they are kept on their leashes.
Fort De Soto Park is also more than a beach. The state park includes five islands and 1,136 acres that are comprised of the Gulf of Mexico and Tampa Bay. The park also includes a fort from the Spanish-American War times, and kids and parents alike can visit the ruins of the fort while exploring the area (via Visit St. Pete Clearwater).
Sanibel Island is a wonderful beach for shell collectors
Quite a few kids and adults alike enjoy collecting seashells while at the beach, but not all beaches actually have a lot of shells to find! That's one area where Florida's Sanibel Island has other beaches beat. The area is so known for the seashell offerings that it even has its own seashell museum. The Bailey-Matthews National Shell Museum is the only museum in the United States that is officially certified as a museum dedicated to shells and mollusks, the creatures who often live in shells. The museum's aim is to introduce the public to mollusks and the like, displaying some unique finds from the sandy beaches nearby.
Sanibel Island has more than just sea shells going for it. Visitors can traverse the island's miles and miles (read: 25!) of bike trails through mangroves, visit the J.N. Ding Darling National Wildlife Refuge, and even drop off the kids at the Sanibel Sea School for a few hours of education and fun.
Delray Beach has a small town feel
If small-town vibes are more your family's speed, then Delray Beach is a wonderful spot to kick your feet back and rest for a few days (or more). Around 50 miles north of Miami, Delray Beach offers families the best parts of family-friendly Miami without the hectic traffic and nightlife that comes with it.
In addition to the ocean itself, there's plenty to do at Delray Beach that will keep everyone in the family happy. From beautiful accommodations on the shore to seemingly endless shops and restaurants downtown, there's a lot to love about Delray. The city also boasts its Pineapple Grove Arts District, a sweet spot filled with art galleries and fun places to eat.
Delray Beach also has its own collection of museums that will keep knowledge seekers busy, including the city's Cornell Art Museum at Old School Square, which occupies the same building that was once a school in the early 1900s.
Manasota Key Beach is the Shark Tooth Capital of the world
Seashells aren't the only thing that many beachgoers like to look for — plenty of people enjoy hunting for shark teeth, and luckily, there's one beach in Florida that is known all over the world for its abundance of exactly that.
Venice, Florida, is known as the "shark teeth capital of the world," and there are few places as good for finding shark teeth as Manasota Key Beach. As shared by Visit Sarasota, visitors who want to look for shark teeth should begin their quest at the Venice Fishing Pier in Brohard Park and go from there. You can use a few different methods for finding shark teeth, but the site notes that the two most popular are simply walking down the beach searching for teeth in the sand, and heading into the water to search along the first foot-deep drop-off in the sea.
In October 2021, Michael Nastasio found a whopper of a tooth in the very waters off the coast of Venice that Manasota Key Beach occupies. He was on a charter boat when he managed to pull in a six-inch megalodon tooth that was still completely intact, a rare discovery that caught the attention of Southern Living. He told the outlet, "To get a whole 6-inch tooth in Venice, Florida, is extremely rare. It's every fossil hunter's dream — a goal honestly that a lot of fossil hunters won't achieve in a lifetime of hunting."
Fort Pierce is still mostly under the radar
If your family likes to visit beaches that still fly under most people's radar, Fort Pierce in St. Lucie, Florida, might be the beach for you. In addition to its coastal offerings, the state park is home to the official Navy SEAL Museum, which is a pretty fascinating deviation from beach activities for those who might be interested.
The Fort Pierce Inlet State Park is home to a half-mile of beach that has plenty of space for swimming, snorkeling, and more. After paying the single-use day pass fee, your family will have access to plenty of coastal waters as well as Dynamite Point, a former training ground for the Navy Frogmen during World War II. You'll want to make sure you pack enough pairs of binoculars, as the official website states that these days, bird watching is a big deal at the state park.
Your family can also go on a horseback tour of Fort Pierce State Park via Tours on Horseback, which offers a unique horse-riding experience. Trail guide Tammy Hayes Beville told Visit Florida that the area is one of the few in Florida that allows the activity. She said, "With all the beaches and all the horses we have in Florida, you would think you could do this all over. But in reality, you won't find many places where it's allowed."
Key Biscayne is a unique beach for kids and adults
Key Biscayne Beach offers something for everyone, and that includes the unexpected. The beach is home to a lighthouse, a state park, and plenty of wildlife, allowing visitors to enjoy all that and then some. Key Biscayne isn't too far from Miami proper, which gives you access to both the city and the relaxing, rollicking waves.
As noted by Visit Florida, visitors to Key Biscayne can enjoy the two major parks that border the beach on either side. These two parks are Crandon Park, which can be found to the north of the beach, and Bill Baggs Cape Florida State Park, found to the south. Bill Baggs Cape is known for its especially wonderful beaches, which have been celebrated by numerous publications over the years.
The Greater Miami Convention & Visitors Bureau has also noted that there's plenty to do in the area besides visiting the beach, including family favorites like golf, tennis, and renting kayaks for the day.
Fernandina Beach has an adorable Main Street
Florida's Fernandina Beach is located on Amelia Island, one of the most southern island chains in the state. The area is known for its Museum of History and expansive thirteen miles of coast, and Fernandina Beach itself has recently participated in a preservation program that has revitalized the beach's Main Street. As explained by Fernandina Beach Main Street, the city began the project back in 2015 and the project was re-certified four years later.
The result is that the beach has joined a network of 1,200 communities around the United States that has a goal of preserving historic areas in the city and surrounding neighborhoods (via Fernandina Beach Main Street). The communities that make up the network are varied in size, population, and demographics, but all share a common plan to keep their homes, businesses, and areas vibrant. The program is also part of the National Trust for Historic Preservation, a private non-profit organization.
Seaside Park is a family-friendly spot on Amelia Island
In addition to visiting the northern and southern tips of the area, families, in particular, will enjoy the central part of Amelia Island, which is also known as Seaside Park. The area has tons of family-friendly restaurants, mini golf, and places to shop, making it a spot where the entire family can truly have a good time.
Multiple visitors on Tripadvisor have described Seaside Park as a safe and clean area for families. Parking at Seaside Park can be in short supply during the busiest months of the year, so visitors will want to plan ahead and arrive a little early to make sure they get a good spot.
The beach isn't the only thing to enjoy in the area. Visitors can sign up for ghost tours year-round, enjoy a trip on kayaks, or take in a round (or two) of golf.
Marco Island is close to the Everglades
If your family is feeling adventurous, Marco Island, Florida, is the beach to visit. In addition to boasting access to beautiful beaches, Marco Island is just a 40-minute drive from the Everglades, which means your family will have plenty of options for an outside-the-box trip.
Marco Island is part of Florida's Paradise Coast, which offers access to the world-famous Everglades National Park, waterparks for the whole family, and the Golisano Children's Museum of Naples. The area also boasts Tigertail Beach, an impressive and gorgeous 31-acre stretch of white sand beaches that also offers plenty of opportunities for hunting for shells, watching birds, and collecting sand dollars.
Of all the beaches in the area, the best for families might just be South Marco Beach, a public beach that can be found at the very southern tip of Marco Island. South Marco Beach is near hotels that are popular with families who frequent the area, making it easy for you and your kids to wake up, roll out of bed, and hit the surf (via Family Destinations Guide).