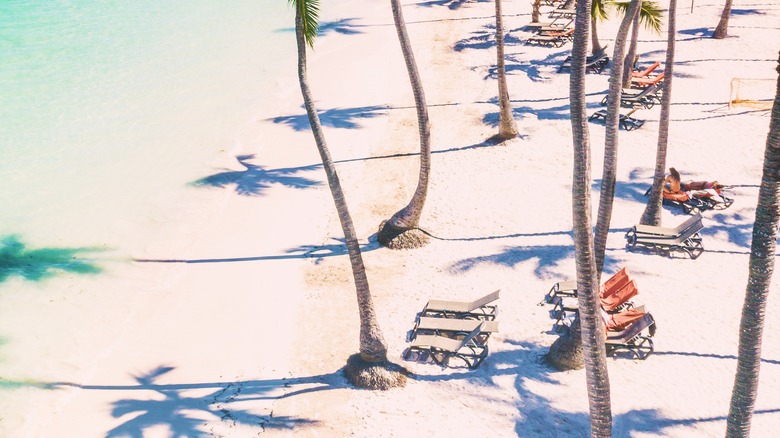 The name Punta Cana conjures up images of swaying palms, turquoise waters caressing soft sand beaches, and grand hotels that cater to a traveler's every whim. But this slice of Caribbean paradise, on the east coast of the Dominican Republic, was barely developed half a century ago. Back then, it was an expanse of jungle fronted by fishing villages and the sea, with its first property debuting in 1971, a modest 10-cabin retreat (via Real Estate Punta Cana). Fast forward to today, and scores of resorts line the gorgeous coastline all the way from Uvero Alto in the north to Playa Juanillo in the south.
Even though actual Punta Cana makes up a small piece of the strip, many resorts use that name to describe their location. As tourism here has grown, new resorts pop up year after year, the vast majority all-inclusives, catering to holidaymakers that don't want to nit pick over every little item on the bill, preferring a one-price, all-in vacation. Below are the pick of the bunch.
Hyatt Ziva Cap Cana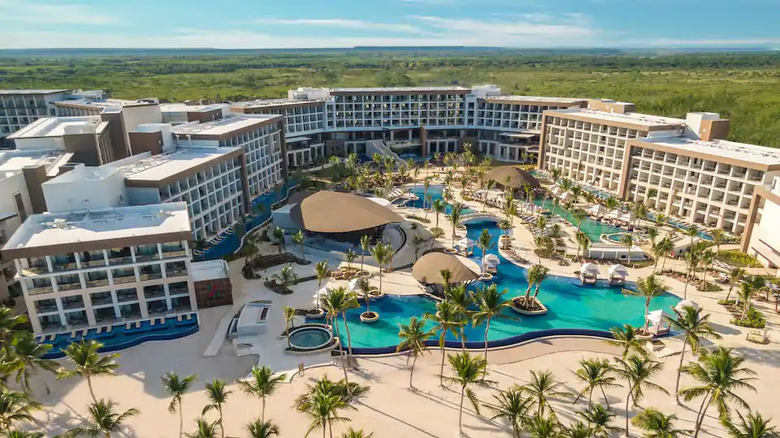 This U-shaped property, from the hotel company headquartered in Chicago, sits at the southern end of the coastal ribbon loosely termed Punta Cana. The 40-acre beachfront location on Playa Juanillo ensures that the water is very much the focus of this all-inclusive. All 375 rooms at the Hyatt Ziva Cap Cana are suites and start at the 600-square-foot Junior Suite category, running all the way up to a Presidential Suite (almost 2,000 square feet) that comes with a jetted tub and its own balcony. Water lovers might appreciate a swim-up suite — there are a number of them, with direct access to the pools that weave around the property.
All rooms come in soothing creams, browns, and whites, with bright floor rugs adding pops of color. A score of activities are included, such as beach and pool parties, dance classes, a water park, AquaStrong (a gym session taken on a mat floating on the water), yoga by the sea, a kids' club, and even live music and dance performances. Diners will delight at the Italian restaurant Noodle & Thread, and the Asian-fusion Tempest Table; those seeking Caribbean fare can stop by Navigator Grill.
Majestic Mirage Punta Cana
On Playa Bávaro, this resort has suites split between seven buildings that are shaped roughly like the Greek letter Omega and that flank a series of pools. Five of those buildings, known as The Club by Majestic, are reserved for adults only, while the other two are pitched at travelers with kids. The Majestic Mirage Punta Cana promises plenty of activities, including free unlimited golf at the Punta Blanca Golf Course (a short walk from the property), water slides, four tennis courts, a pickle-ball court with complimentary group lessons, 12 pools, and an activities center for water sports.
There is even a chapel onsite, and numerous other venues where couples can exchange vows, making the resort popular for destination weddings. Dining ranges from Japanese to Argentine steakhouse to an American sports bar, though guests can just as easily order room service 24 hours a day — it's part of the all-inclusive package.
Nickelodeon Hotels & Resorts Punta Cana
Fans of the sun and SpongeBob SquarePants might think they've found the promised land at this resort in Uvero Alto. Firmly aimed at families, the property has a water park, Nick-themed rooms, and the chance to take snaps with familiar TV characters — including Dora and Boots, and the aforementioned brown-short-wearing aquatic sponge. Nickelodeon Hotels & Resorts Punta Cana is all about good, old-fashioned fun, whether that is having breakfast with a Nickelodeon character while dressed in your pajamas, getting drenched with brightly colored slime, attending a Nick-style party, or spending a day cruising the water rides.
Accommodations continue the sense of enjoyment with bright furnishings and cozy layouts. The highlight is the Pineapple villa, with two bedrooms and an exterior that looks like it was lifted right out of Bikini Bottom. In addition to 460 suites, the property also has nine restaurants in its Gourmet Village, as well as four swimming pools.
Royalton Punta Cana
This family-friendly resort sits only 25 minutes from Punta Cana International Airport and is equally suited to adults without kids as those with them in tow. The Royalton Punta Cana has 317 rooms and suites, some in the Diamond Club category that comes with butler service, an exclusive beach section, and a separate pool. The outdoors allows guests to laze by the sea on sugary Playa Bávaro, hit the water for some snorkeling or kayaking, work up a sweat during beach volleyball, or scream in child-like delight at Splash Water Park, part of next door's Royalton Splash Punta Cana (and free for guests to visit).
Steak, Italian, and Asian are a few of the dining choices, while a gelato lounge lets you indulge your sweet tooth. Reserved for adults, the Hideaway at Royalton Punta Cana is a mini-resort within the main resort, with a dedicated pool, and access to the adults-only restaurant Dorado.
Barceló Bávaro Beach
You won't find or hear any screaming toddlers or braying teens at this all-inclusive — it's the realm of adults only. At the Barceló Bávaro Beach, rooms predominantly in blues and whites reflect the sky, clouds, and seas of the surroundings. They all come with ceiling fans and some have terraces. The beach here is broad, the sand soft, and the water a collection of shades of blue. Guests can take to the water on windsurfing boards, Hobie cats, and pedal boats, while mini-golf is a fun way to stretch the legs.
A couple of bars — one in the lobby and stocked with comfortable wicker chairs, the other by the pool and serving up views of the Caribbean Sea as well as signature cocktails — gives guests options where to toast their vacation (there are also 14 bars at the Barceló Bávaro Palace right next door). Budget-conscious travelers take note — this is one of the more reasonably priced options among Punta Cana's huge trove of all-inclusive options.
Secrets Cap Cana Resort & Spa
Thatch-roof buildings around the pool and thatch beach umbrellas provide a sense of place at this property within Cap Cana, a private, gated section of Punta Cana. The resort accepts only adults as guests, and among the amenities included in the nightly rate are top-shelf spirits and freshly squeezed juices. The 457 rooms are arranged in angular white buildings, and some feature four-poster beds. At Secrets Cap Cana Resort & Spa, all accommodations are suites and have an easy comfort to them, with plenty of wood, slender ceiling fans, and lively prints on upholstery and cushions. For a treat, book one with a private hot tub on the balcony, a great way to relax while admiring the rhythms of the sea, or a room that has direct access to a pool.
Diners have great choices for meals, with options ranging from French to Mexican to pan-Asian. Fresh seafood is the lure at Oceana, located close to the sea, while pool partiers can grab a refreshing cocktail at the swim-up bar Manatees, set under a palapa.
Meliá Punta Cana Beach
At this adults-only resort on Playa Bávaro, wellness is a key part of the stay. It's represented through the five dedicated spaces — Culinary, Personal, Sensory, Silent, and Social — that are a cornerstone of the program. Personal spaces, for instance, describe the suites in the Wellness Level, where a thermal mattress and a vitamin-C shower infuser help guests to stay healthy and alert. Social areas connect travelers that have similar interests, be that yoga, group bike excursions, or workshops that explore local culture. And visitors with a keen culinary focus can enjoy fine vegetarian and vegan dishes at the restaurants, in addition to Vietnamese fish and meat options at Muoi.
Beyond this envelope of wellness, the Meliá Punta Cana Beach has rooms that are predominantly white, some of them in a section called The Level, which comes with personalized service and facilities not available to other guests. Event planners have their choice of 12 spaces that can handle up to 2,600 attendees in total.
Excellence El Carmen
Catering to adults, and set on the beachfront at Uvero Alto, this property has an impressive 23 pools. It also offers guests an upgraded experience through its Excellence Club, an elite retreat within the property featuring a dedicated check-in, fresh treats in the room, Bulgari toiletries, a complimentary hydrotherapy treatment at the spa, and even a free shoe shine (you don't see that every day!).
All rooms are suites, and they each boast touches such as wooden shutters and spacious terraces; some also come with private pools or a rooftop terrace. Excellence El Carmen has restaurants that promise a culinary tour of the world, from global fare at buffet specialist Kitchen Table to French cuisine at Chez Isabelle, and other boîtes that serve pan-Asian, Italian, seafood, Indian, and more. Coffee and cocktails — depending on the time of day — are created at a number of spots around the property, and include the rooftop X-Lounge with views of the sizzling beach and sea below.
Couples seeking to tie the knot can avail themselves of the wedding events team, with places like a flower-decked gazebo or sugar-sand beach primed for exchanging vows. Post-wedding, you can stay for some pampering at the Miilé Spa, with its hydrotherapy facilities such as Swedish saunas and a cold-plunge pool.
Zoëtry Agua Punta Cana
A short drive north of Excellence El Carmen, also in Uvero Alto, this intimate retreat is notable for its size — with just 96 suites, it starkly contrasts with other resorts in Punta Cana, whose room counts usually run into the hundreds. Buildings with thatch roofs line pools that lead from one end of the property down to the waterfront. Thanks to the smallness of Zoëtry Agua Punta Cana, the resort has a sense of openness, with no huge structures dominating the landscape.
Rooms have a natural sensibility, with wooden floors, wood shutters separating the sleeping area from the bathroom, wicker furnishings, and comfortable terraces that bring the outside in. Larger groups might like the Villa Caney Garden View villa, a palatial dig that spreads over 4,100 square feet, and comes with three bedrooms, a private pool, and a full dining table. Palapa-style, peaked thatched roofs are a hallmark of the dining spaces, from Piragua (the Caribbean, and named for the canoe, or piragua in Spanish) to Olena (Italian).
Ocean Blue & Sand
Close your eyes and say the name of this resort on Playa Bávaro, and the image that you conjure up will probably be close to reality. At Ocean Blue & Sand, one of the more affordable all-inclusives in Punta Cana, the beach, sea, and sky are central to the vacation experience. Guests will gaze at the sky and clouds reflected in the two large swimming pools that act as the property's centerpiece, while in front of the sandy beach, the turquoise seas stretch as far as the horizon. The rooms are arranged in bright pastel buildings that flank the pools and are all suites. Some can hold four people, making them a good choice for families.
Restaurants cater to global tastes, with options such as European, Caribbean, Asian, and even American (1930s style Route 66 has red dining booths and a replica motorbike and car that evoke home sweet home). Adults with kids in tow can ensure they are entertained at the Daisy Club — split into spaces appropriate for younger children or teenagers — before heading over to the Despacio spa for a relaxing treatment.
Sanctuary Cap Cana
A $45 million renovation in 2019 has made this premium all-inclusive even more alluring. Upgrades occurred throughout the property, from a spruced-up lobby to makeovers of the suites, and new expressions given to the spa, restaurants, bars, and gym. Sanctuary Cap Cana sits in the heart of the 30,000-acre gated community Cap Cana, a 15-minute drive south of Punta Cana International Airport. The architecture of the property leans heavily toward Spanish Colonial, and rooms, split between suites and villas, follow that theme, hence the recurrence of wood and rattan. Bathrooms also reflect the location via the use of coral. Villas exude a rustic, country-chic feel, evident from the whitewashed wood-plank walls and exposed wood-frame ceilings.
Seafood at Marlin is served close to the sea, as the restaurant sits on stilts, hovering over the water; elsewhere, guests can enjoy Asian, American steak, and northern Italian at restaurants that have a theatrical quality to them. A spa, ping pong table, six pools, beach volleyball, dance lessons, and the nearby Punta Espada Golf course round out the options for active travelers.
Paradisus Palma Real Golf Resort & Spa
Return visitors checking in to this family friendly beachfront resort this year might notice some changes — the all-inclusive just wrapped up a $40 million renovation at the end of 2022 before reopening for business (via Travel Pulse). The reach of the renovation extended from top to toe, updating suites and restaurants among the changes. New rooms at Paradisus Palma Real Golf Resort & Spa have a contemporary look to them, with calm soothing tones, lights muted by their rattan lampshades, and touches of abstract art. At Flora, which only accepts adults, the feeling is almost festive, a grand, open-air pavilion with hanging planters and lights strung across the ceiling; the menu focuses on healthy dishes.
Guests have plenty of exciting diversions — pools, the beach, tee times at nearby Buenavista Golf course, and the imminent unveiling of Katmandu Park, the first theme park in the country, a short walk from the property. For travelers that want a kid-free experience, consider booking at the adults-only section, The Reserve.
Hotel Le Sivory Punta Cana by PortBlue Hotels
A luxe all-inclusive in Uvero Alto, this property is an intimate refuge, with just 55 rooms, making it one of the smallest properties in Punta Cana. Lodgings are simply furnished, with color schemes of white brightened by flashes of blue in the cushions and bed throws. There are four categories of rooms, though all are suites, with the main difference being their size and amenities — some have a jetted tub or a private pool, for instance.
Dining at Hotel Le Sivory Punta Cana by PortBlue Hotels can be both casual or require some planning. Restaurants like La Veranda or Palapa Beach are relaxed and ready for guests that want to drop in for some Mediterranean or casual, pasta-and-meat-type fare, while Ömi and Gastro Atelier ask guests to make prior reservations, though they are part of the all-inclusive program. Sivory doesn't aim to shock and awe with its vast roster of offerings but rather promises a refined, elegant experience, hence it only provides a handful of activities — several pools, a private beach, and a full-service spa.
Iberostar Punta Cana
Competitive prices and plenty of things to do for travelers of all ages make this all-inclusive on Playa Bávaro a great option for families. The Family Master Suite was clearly designed for the needs of both adults and children — it comes with a king bed, two doubles, a gaming console, a welcome amenity for kids, and free babysitting.
The Iberostar Punta Cana lets kids learn and explore at its Star Camp, divided into the age groups of Monkey (4-7 years old), Dolphin (8-12 years old), and Eagle (13-17 years old). Adults can also stimulate their minds through the hotelier's Aliveness program, with activities and exercises that connect guests with the environment and each other, folding social and nature-centric layers into the vacation experience. French, Asian, Mexican, and meats cooked in a wood oven await hungry diners. Outdoors enthusiasts will enjoy the pool, the sea, and the dive center, which even has its own coral nursery, an educational marvel that will thrill the whole family.
Margaritaville Island Reserve Cap Cana
It's not often that a song generates a global hospitality empire, but Jimmy Buffet's breezy 1977 tune "Margaritaville" has done just that. The ditty kick-started a string of Margaritaville businesses, beginning with a retail store in Key West in 1985, according to Buffet World, and progressing to full-fledged resorts that reflect the original song's carefree, no-stress vibe. This property in Cap Cana is no exception, an easy-going spread where guests have the choice of unwinding in the family-friendly Wave or adults-only Experience Hammock areas.
Margaritaville Island Reserve Cap Cana is only 15 minutes away by car from the international airport, but a world away in the psyche. It's the kind of place where you'll encounter guests in comfortable shorts, flip flops, and a beach umbrella drink in hand while seated on an Adirondack chair or swaying in a hammock. The property has 288 rooms and 40 villas, all with color schemes that draw their inspiration from the sea. The Gourmet Village is the pulsing core of the property, with bars, restaurants, and nightlife (live music is a daily and nightly fixture, naturally), but children aren't overlooked — the Parakeets' Kids Clubs accepts youngsters aged 4-12 years old.
Punta Cana Princess
Playa Bávaro is where to find this all-inclusive that caters to newlyweds — in addition to 256 suites, this adults-only resort has 14 Honeymoon Suites. Rooms have hot tubs and vibrant color accents; the suites aimed at newlyweds add a romantic dinner, a bottle of Caribbean rum, and a free massage to the equation.
Punta Cana Princess supplies guests with a variety of dining options, from the standard resort buffet to seafood at Mare Nostrum (the mural of jellyfish is a great Instagram subject) to fine Italian at the refined Il Bacio. There's even the alpine melted cheese treat on offer at Swiss La Petit Fondue, served in space that recalls a high-country log chalet.
Guests can pick from plenty of activities to keep them moving, with tennis, archery, French boules on the beach, water basketball, and sailing just a few of the alternatives. The resort also organizes weddings on-site, a logically efficient prelude to a honeymoon stay here!