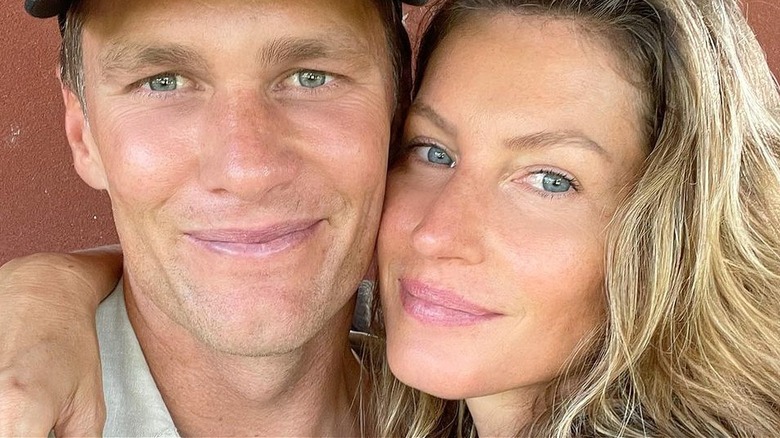 "Thank you for loving me, for supporting my dreams, and for nurturing our family in the way that only you could. You are my rock, my love and my light! I love you and I love our family!" Those are the words of Tom Brady gushing over his then wife Gisele Bündchen on Instagram on their 10th anniversary in 2019. But little did he, Bündchen, or the world know that would be one of the very last public anniversary messages he'd swap with the supermodel.
It was just 56 months later that the one-time golden couple announced their 13-year marriage was officially over. In October 2022, the former power couple shared their divorce had been finalized, both posting similar messages confirming the sad news via Instagram Stories. Brady wrote, per SI, "we wish only the best for each other as we pursue whatever new chapters in our lives are yet to be written." As for Bündchen, she noted, "The decision to end a marriage is never easy but we have grown apart and while it is, of course, difficult to go through something like this, I feel blessed for the time we had together and only wish the best for Tom always." As amicable and loving as those statements are, let's be honest, there were quite a few red flags before we ever got to this point.
Tom Brady's baby bombshell
One of the first bumps in the road Gisele Bündchen and Tom Brady faced in their relationship? A little bonus baby drama. Bündchen has admitted that she struggled when she found out very early in her romance with Brady that his ex-girlfriend, Bridget Moynahan, was pregnant with his child. "It was a challenging thing because here I am, you know, thinking, I'm dating this guy, we met, and we started dating and everything is great and then this happens. So, I felt like I didn't know what to do," she admitted to "CBS This Morning" in 2015. "I think it was very challenging for everyone involved," she added.
Bündchen also wrote about the experience in her book "Lessons: My Path To A Meaningful Life," three years later, doubling down on the fact that they weathered quite the storm when the news came. "In the beginning, you're thinking, 'This can't be true, it's so good!' And then, whoops — wake-up call. I felt my world had been turned upside down," she said of the moment Brady told her, two months into their relationship and just one day before the whole world found out the news. Fortunately, things did straighten themselves out and Bündchen always appeared to be a loving and doting stepmom to Brady and Moynahan's son, Jack. "[Jack] has been a huge gift and blessing," she wrote, sweetly referring to him as her "bonus child."
The separate birthdays
It's probably not going to come as a surprise to many that one of the most famous football players in the world and one of the most famous models in the world have very busy schedules. However, Tom Brady and Gisele Bündchen were so busy that there were times during their marriage they didn't even celebrate their birthdays together. 2015 reportedly brought a barrage of marriage trouble rumors to the now former couple's door, as the gossip mill churned out plenty of speculation that the two were struggling.
According to People, they didn't make time to be together on their birthdays that year (Bündchen turned 35 on July 20 while Brady turned 38 on August 4) in the wake of the infamous New England Patriots Deflategate scandal. "There have been a lot of stresses in their marriage in the last year, especially during football season," a source claimed to the magazine.
And it sounds like Bündchen apparently had some strong feelings about the Deflategate situation. A source claimed to Radar, "She is outraged over this scandal and you can bet she's given Tom hell — even though he's said, 'I don't believe I'm a cheater.'" They added, "This cheating scandal is clearly rocking the boat."
Tom Brady had trouble finding balance
Tom Brady himself has admitted he's had issues with making enough time for his family over the years. On a 2020 episode of "The Howard Stern Show" (via People), he said Gisele Bündchen made it very clear two years prior that she wasn't happy with their arrangement and wanted him home more. "She felt like I would play football all season and she would take care of the house, and then all of a sudden when the season ended, I'd be like, 'Great, let me get into all of my other business activities. Let me get into my football training,' and she's sitting there going, 'Well when are you going to do things for the house? When are you going to take the kids to school and do that?'" he shared. While the NFL star was tempted to brush off her concerns, he recognized they needed to work as a team. Bündchen even detailed how she was feeling in a note, and the two ended up going to counseling.
Brady's concerns regarding finding a work-life balance that worked for everyone were nothing new. Per ESPN, during a conversation at the 2018 Milken Institute Global Conference, Brady said he needed to up his family time game. "My kids are 10, 8 and 5. They're not getting younger, so I need to take time so I can be available to them, too," he said.
Gisele Bündchen really wanted Tom Brady to retire
Gisele Bündchen was crossing her fingers Tom Brady would call a permanent timeout on his career after he entered his 40s, with the latter admitting on "CBS This Morning" in 2017 that they argued over his retirement timeline. So, it probably seemed like all Bündchen's dreams had come true with Brady announcing in February 2022 that he'd be bowing out once and for all. "Gisele has been hoping he would retire already for a few years… She hates seeing him get hit," an insider told People at the time. Only, that turned out to be one of the most epic fumbles in football history.
It was a mere 40 days later that Brady announced that, actually, he wasn't ready to hang up his cleats just yet, which reportedly inspired a whole lot of drama at home (and a tidal wave of unflattering memes). "There's a lot of tension. She was so happy when he announced his retirement, and she wasn't thrilled at all when he went back on that," People's source claimed. "They're hitting a rough patch." Page Six reported a similar story seven months later, with an insider sharing, "There's been trouble in the marriage over his decision to un-retire. … They had agreed he would retire to focus on the family, then he changed his mind." On February 1, 2023, Brady announced that he'd retired for good, but their marriage was already done.
There were a number of stories about big fights
In the last few years of their relationship, there were plenty of whispers about Tom Brady and Gisele Bündchen's dynamic and whether or not they were clashing behind the scenes. Around the time of the Deflategate debacle of 2015, a source told People that they were apparently fighting quite a bit. What's more, the source claimed Brady had a tendency to be what they described as "nasty and cold" to his family while focusing on his career, which reportedly left Bündchen feeling particularly lonely.
Things clearly didn't seem to get any better between the two as the years went on either. In 2022, Page Six reported the two had gotten into another serious argument — the big one about his non-retirement that seemingly ended their marriage. "They have a fiery relationship," a source told the outlet, with another insider purporting to Page Six that Bündchen had threatened to leave her now former husband more than once over the course of their marriage, only it had never quite escalated to the point it did that time. "Gisele has told him she's leaving him before, and they always made up when she cooled down," they said. That clearly didn't happen this time though. They hired divorce lawyers and, as we already know, elected to go their separate ways instead of reconciling once again.
Gisele Bündchen wanted to move on from WAG life
Gisele Bündchen made it pretty clear in September 2022 that she felt her duties as a WAG had pretty much been fulfilled. As rumors of trouble in paradise was very much swirling around in the tabloids, Bündchen got pretty candid about her family life during a cover story for Elle. "I moved to Boston, and I focused on creating a cocoon and a loving environment for my children to grow up in and to be there supporting him and his dreams," she said. Although seeing her family thriving makes her very happy, the model was ready for the next phase. "At this point in my life, I feel like I've done a good job on that… I have a huge list of things that I have to do, that I want to do," she said.
Brady himself admitted Bündchen had done a whole lot to keep their family together while he left it all out on the field, even acknowledging all her sacrifices in his initial retirement statement shared to Twitter in February 2022. "I always came off the field and home to the most loving and supportive wife who has done EVERYTHING for our family to allow me to focus on my career," he wrote (just six weeks before deciding he would not be retiring after all). "Her selflessness allowed me to reach new heights professionally, and I am beyond words what you mean to me and our family."
Gisele Bündchen's cryptic Instagram posts
Gisele Bündchen wasn't afraid to share cryptic comments before she eventually divorced Tom Brady, potentially dropping a few hints about what was really going on in their marriage via the oh-so-ambiguous medium of social media. One of the most telling came in October 2022 when she interacted with a post from Jay Shetty, which read, "You can't be in a committed relationship with someone who is inconsistent with you." Bündchen then commented with a prayer hands emoji. Proving it was no accident or hacker situation, as of February 2023, the emoji response is still there.
Prior to that very telling comment, some fans thought Bündchen may have been cryptically urging Brady to spend more time with his family when she shared a collection of family videos on Instagram in January 2022. The upload showed Bündchen having fun in the sun with her kids — but without her husband. As for the words that appeared onscreen? "Life is precious because you cannot watch it again. This is what makes life so magical. One day you will eat your last meal. Smell your last flower. Hug a friend for the last time. Without knowing this will be the last time. That's why you need to do everything you love with passion. Enjoy all the years you have left. Because this is the only thing that exists." In the wake of Brady and Bündchen's split, some fans even tagged the former in the comments.
Tom Brady and Gisele Bündchen raised some eyebrows
Throughout Tom Brady and Gisele Bündchen's relationship, there were a few times a situation involving a third party raised a few eyebrows. One of the most notorious came in August 2015 when Page Six published a photo of Christine Ouzounian, who was formerly Ben Affleck and Jennifer Garner's nanny (and Affleck's alleged mistress), posing on a private jet wearing Brady's Super Bowl rings. It's thought Ouzounian joined Affleck and Brady on a guys' trip to Vegas. That reportedly didn't go over too well with Bündchen, and Us Weekly's insider claimed this created a lot of tension between the supermodel and the quarterback (via InTouch Weekly).
As for Bündchen's side of things, she also got tongues wagging around the time she and Brady split. There was some chatter about how much time she'd been spending with Joaquim Valente, the family jiu-jitsu teacher. In February 2022, she shared an Instagram video of her practicing at Valente's studio — and the two were spotted together several more times after she divorced Brady. Amongst the sightings? They dined with family members in Costa Rica (where she and Brady had their second wedding ceremony back in the day) in November 2022, per the Daily Mail. TMZ reported Bündchen and Valante's relationship supposedly made Brady suspicious, while a source told People in January, "Gisele adores and trusts [Joaquim] and has been spending a lot of time with him, but I don't think it's a traditional dating scenario."