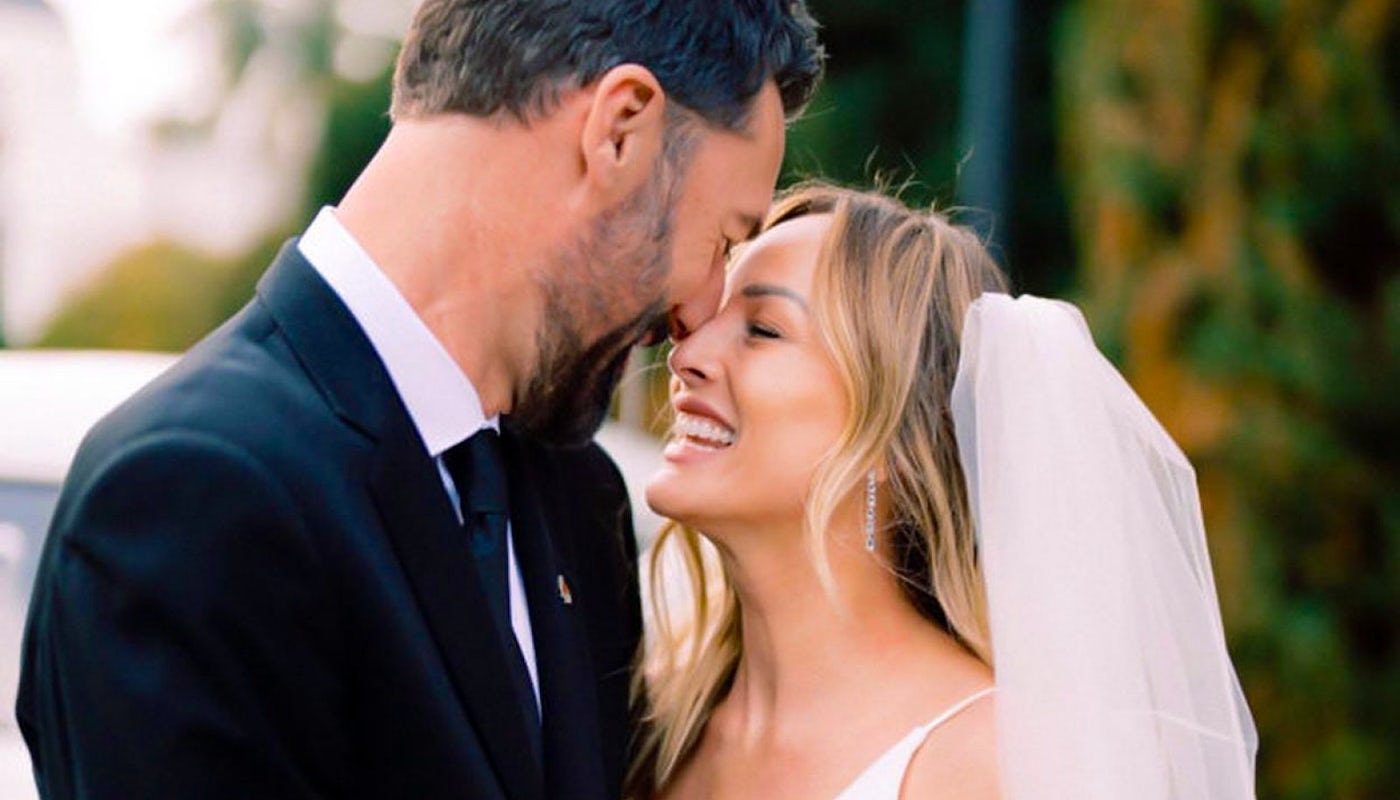 The Bachelorette alum Clare Crawley has married the love of her life, Ryan Dawkins.
Clare, 41, took to Instagram on Thursday, February 2 and revealed she is officially a married woman.
RELATED LINK: 'THE BACHELOR' FRANCHISE COUPLES NOW: WHO IS STILL TOGETHER?? (PHOTOS)
"Mr. And Mrs. Dawkins!" Clare captioned several wedding photos, including images of the pair posing and smiling next to a vintage white car.
Clare wed Ryan, the CEO of Mascot Sports, in an intimate ceremony in Sacramento, CA, on February 1, People reported.
"If I had to do this day over every single day for the rest of my life… I wouldn't change a thing!" Clare told the magazine. "Happiest day of my life hands down!"
Clare, who starred on The Bachelorette's sixteenth season in 2020, tied the knot only days after she revealed her original wedding dress had been stolen.
Clare apparently managed to keep a positive attitude despite the setback in her wedding planning, telling her followers on January 28 that she believes "everything is for a reason."
"When Ryan Dawkins and I got back from Hawaii at the beginning of the week, my car had been broken into while we were gone. And guess what was in the car? Keep in mind my wedding is very soon," Clare shared on Instagram Stories at the time.
"My wedding dress was in my car! It was in there because I was supposed to take it to get its last alteration and I wanted to remind myself not to forget it. And my wedding dress was taken."
Clare suggested that she had a bit of a meltdown but quickly snapped out of it.
"In the moment, I was like 'Ughhhhh, what do I do?' And I thought, 'It's okay. It's about the moment and what we're celebrating," Clare recalled telling herself. "'I can wear anything, and I'll be happy that we're getting married.'"
RELATED LINK: 'THE BACHELOR' COUPLES NOW: WHO DID 'THE BACHELOR' STARS AND THEIR BACHELORETTE PICKS ACTUALLY END UP MARRYING? (PHOTOS)
The bridal shop where she had purchased the dress, however, got her a brand new, altered dress — that was "even more fitting" — within three days.
"Turns out, that was the wedding dress that was on my Pinterest board three years ago. It's the dress of my dreams," Clare revealed, adding, "It's the most beautiful dress, and it's better than I could have imagined."
Earlier in the day, Clare also unveiled that her "something borrowed" for the wedding would be a pair of diamond earrings, and her "something blue" would be a white handkerchief that reads, "Happy tears," along with two hearts.
Following her October 2021 split from her The Bachelorette winner and ex-fiance Dale Moss, Clare began dating Ryan in late 2021.
"After the end of my previous engagement and relationship, I was in a really dark place, a really low place — and struggling really, really bad post-show," Clare told Becca Kufrin and Michelle Young on the January 11 episode of the "Bachelor Happy Hour" podcast.
Clare and Ryan went Instagram official in September 2022, and then Ryan proposed marriage to Clare less than one month later in Las Vegas, NV, in October. They began planning their wedding right away.
Clare's second engagement took place in front of her beloved mother, who is still in hospice battling Alzheimer's and dementia.
Clare revealed in October that she and Ryan actually had three marriage proposals and she wanted to have more than one wedding as well.
Clare shared in September 2022 on Instagram that she actually met Ryan the same month her engagement to Dale ended.
"He asked me to dinner. I didn't have an appetite. (Stressed & depressed) But I said yes to tea and a walk. Ended up laughing and smiling more than I did the entire last year combined," Clare revealed on Instagram Stories, according to Us Weekly.
RELATED LINK: 'THE BACHELORETTE' COUPLES NOW: WHOM DID 'THE BACHELORETTE' STARS AND THEIR BACHELOR PICKS ULTIMATELY END UP WITH?! (PHOTOS)
When Clare went Instagram official with Ryan in September 2022, she did not unveil her boyfriend's identity. Instead, Clare posted a photo of herself kissing a guy and called him her "perfect match."
Fans immediately speculated the man was Ryan, and she later uploaded the following quote, "One day, when you least expect it, you are going to crash into someone who is going to be so soft and gentle with your heart, and you are going to be so glad you kept it open. You are going to be so glad that you continued to fight for it — that you chose to believe it [that you] deserved more."
Clare hinted she had been dating Ryan for a while already when she pinned a comment to her Instagram account that read, "Babyyyyy!! Finally. A year later and y'all still so f-cking cute."
Season 17 The Bachelorette star Katie Thurston also wrote in the comments, "The secret is out."
And when one fan wrote about how Clare had finally found a "real man," Clare replied, "100 percent."
A source told Us last year of Clare, "She wanted to keep it private until she was ready to debut him as her new boyfriend. Close friends and family have known about it for a few months now, but it was her secret to tell."
Prior to Ryan, Clare was linked to The Bachelorette alum Blake Monar. They sparked dating rumors in January 2022 when they spent a fun-filled weekend together in Indiana, but a source told Us in August that they were "never officially dating" and had only hung out "a few times."
The source explained how Clare was "still healing from her very public, painful breakup" with Dale when she was spending time with Blake at the beginning of 2022.
Clare appeared devastated when she and Dale ended their engagement and relationship.
Multiple sources described Dale as a "fame-seeker" and partyboy in New York City while Clare had been very clear from the start about her intentions to get married, settle down and have children in the near future.
Reports also swirled at the time Dale had cheated on Clare, although Dale firmly denied the cheating allegations.
RELATED LINK: '90 DAY FIANCE' COUPLES NOW: WHO IS STILL TOGETHER? WHO HAS SPLIT? WHERE ARE THEY NOW? (PHOTOS)
Following their breakup, Clare threw major shade at Dale on more than one occasion. She ultimately thought he was fake and had put on a performance during their romance so he could achieve fame and boost his acting and modeling career.
Clare told Jana Kramer in an October 2021 episode of the "Whine Down" podcast her "biggest regret" from The Bachelorette is "trusting a man," People reported.
Not only was Clare dealing with a broken heart and her mother's health crisis in Fall 2021, but she was also still recovering from having her breast implants removed.
"There was a lot on my plate… It all came crashing down at once," Clare noted on "Whine Down."
Clare also said it was "painful" that she and Dale never talked things out or found closure at the end of their hot-and-cold romance.
"The one that gets me is, how do you say goodbye to somebody you never wanted to walk away from?" Clare reportedly said through tears at the time.
"Like I would have never walked… You're having to say goodbye to somebody you don't want to be saying goodbye to, you have to walk away from somebody you don't want to walk away from. It's hard, it's painful."
As for Dale's current love life, he is apparently dating home designer Galey Alix after casually dating Argentinian model and soccer player Florencia Galarza last year.
In October, Dale posted a photo of himself kissing Galey on the cheek and captioned it, "You Feel Like Home."
RELATED LINK: 'THE BACHELOR' FRANCHISE COUPLES NOW: WHO IS STILL TOGETHER?? (PHOTOS)
Interested in more The Bachelor news? Join our The Bachelor Facebook Group!
About The Author: Elizabeth Kwiatkowski
Elizabeth Kwiatkowski is Associate Editor of Reality TV World and has been covering the reality TV genre for more than a decade.
Get more Reality TV World! Follow us on Twitter, like us on Facebook or add our RSS feed.