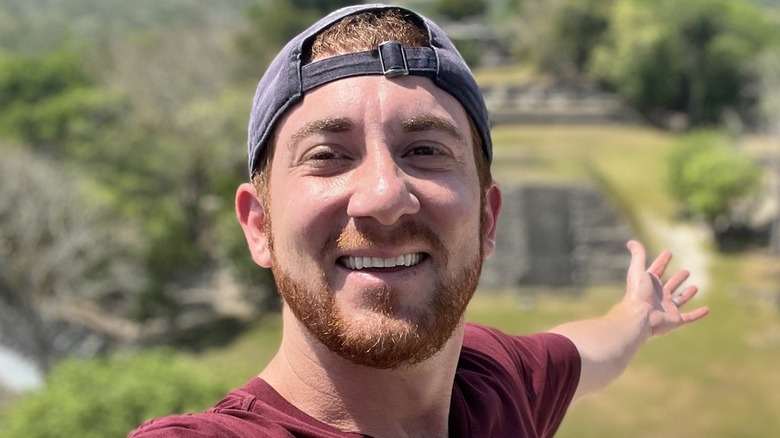 Prospective travelers and tourists have been turning to travel shows for years for advice on how to best prepare and appreciate destinations all over the globe. In the age of online videos and social media posts, the advent of travel programming through YouTube has grown considerably in popularity, with several online personalities offering entertainingly informative content. With so many vloggers popping up to launch their own YouTube channels, here are the best shows offered by the digital platform to improve one's travel game and gain a wider perspective on the world and its diverse cultures.
The following vloggers are divided into subcategories based on the focus of their respective programming, including budget travel, solo female travel, couple/family travel, food-centric travel, and adventurous getaways. Programs are evaluated on the quality of the information provided, the level of cinematography employed in the videos, the variety of content offered on each channel, and how engaging the host(s) are with the audience.
Budget Travel Vloggers: The Budgeteers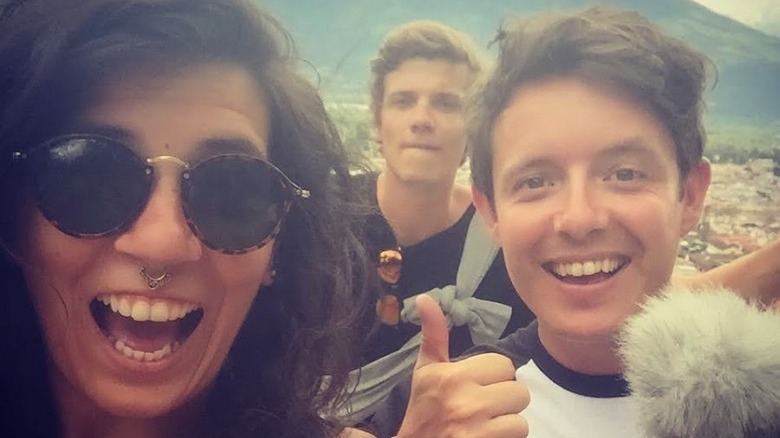 Perhaps the premier YouTube channel for how to maximize one's budget while traveling around the world, "The Budgeteers" provide audiences with a simple premise – how far can you travel on $1,000? The show is hosted by three backpackers from different corners of the globe, with Paddy from the United Kingdom, Thys from Belgium, and Lina from Colombia. Initially traveling alone, the three met each other on the road, with Paddy and Thys launching the show in 2015 and Lina joining them in 2016.
Each season of "The Budgeteers" tackles a different route. Those routes could include embarking on a trip from Los Angeles to Panama or traveling around Sri Lanka on the show's self-imposed money limit. With its three hosts, each with their own distinct personality, "The Budgeteers" is a must-watch for any prospective backpackers looking for advice. With each video clocking in around 30 minutes, "The Budgeteers" presents an entertaining, episodic look at life on the road and how to get the most out of exotic destinations with relatively limited funding.
Budget Travel Vloggers: PsychoTraveller
English travel vlogger Aly Ford decided to embark on a life of international travel shortly after completing her degree in clinical psychology, relocating to Australia before launching her YouTube travel show "PsychoTraveller." More than simply showcasing destinations around the world, Ford offers the audience a look at her evolving life, from the emotional ups and downs of daily life to seeing the world from the road in her van. In addition to posting videos online, "PsychoTraveller" has also launched a blog, including a forum where contributors can share their own travel experiences.
Among the programming on "PsychoTraveller" are detailed breakdowns of how expensive specific destinations can be, hotel reviews (including stays at some of England's most poorly rated hotels), and easy-to-prepare recipes. Ford has compiled several of her videos into invaluable playlists, offering a fuller portrait of popular tourist destinations and how to best experience them on a budget. Both an invitation for viewers to follow in Ford's footsteps and a living document of Ford and the life changes she has experienced, "PsychoTraveller" gives online travel programming a more personal touch.
Budget Travel Vloggers: FunForLouis
For the past decade, English travel show host Louis Cole has led audiences with him around the globe in his YouTube series "FunForLouis," sharing different adventures from his time abroad. Largely eschewing luxury accommodations, Cole's voyages usually involve him traversing his destinations in vans or a converted school bus as he checks out the sights on a modest budget. Part backpacking, part high adventure, "FunForLouis" offers a more DIY take on international travel and fun-filled experiences.
Cole also possesses a keen eye for videography, including providing 360-degree videos that allow for a more immersive, panoramic perspective on tourist-friendly spots, including Machu Picchu and Hobbiton. Cole has expanded his programming beyond "FunForLouis," adding the vegan cooking show "FoodForLouis" and "RayaWasHere," a travel show hosted by Cole's fiance, Raya. With an emphasis on life on the road, either by eco-friendly vehicles or backpacking, "FunForLouis" provides a more stripped-down and back-to-basics approach to international travel.
Budget Travel Vloggers: Drew Binsky
After studying abroad in Prague, followed by a stint teaching English in Seoul after college, Drew Goldberg decided to shift to traveling full-time, sharing social media posts of his exploits under his nom de plume – Drew Binsky. By 2017, with the help of his fiance Deanna Sallao, Binksy launched his own YouTube channel under the name "Drew Binsky", expanding his programming through the online platform. With an emphasis on budgeted international travel, Binsky has since visited all 197 United Nations-recognized countries, including trips to North Korea and Afghanistan.
From visiting some of the most intimidating and remote destinations in the world, Binsky shares how to best enjoy a given spot on a limited budget, sometimes with as little as $10. More than just offering travel advice, Binsky uses his platform to spotlight interesting local figures around the world, providing mini-bios to further highlight different cultures and the individuals that define them. Offering bite-sized videos perfect to maintain a restless audience's attention, Drew Binksy has positioned himself as one of the foremost travel vloggers in the social media age.
Couple Travel Vloggers: Sailing La Vagabonde
A lot of the world can be seen from sailing the high seas, and the YouTube program "Sailing La Vagabonde" makes this seafaring odyssey something of a full family affair. Australian couple Riley and Elayna traverse the globe in their small private yacht and share their adventures online, having embarked on this nomadic lifestyle since 2014. This twosome's voyage grew in number, with Riley and Elayna welcoming a child across the course of the show while continuing to share videos of their travels weekly.
A beautiful look at the world from its oceans and seas, "Sailing La Vagabonde" has its hosts visit numerous locales along the coastlines while weathering literal storms on the water. From spearfishing on deserted islands to taking polar plunges in the Arctic Circle, the couple spice up their lives with the seven seas as their home. A nautical approach to couple's travel, "Sailing La Vagabonde" showcases the dream of chasing paradise from behind the wheel of one's own private yacht.
Couple Travel Vloggers: Hopscotch the Globe
Couple Kristen Sarah and Siya Zarrabi have been traveling around the world since 2010, sharing their global odyssey online through their YouTube channel "Hopscotch the Globe." From traveling around North America in an RV and airstream to showcasing local cuisine, Sarah and Zarrabi offer an inviting and grounded look at international adventure. "Hopscotch the Globe" grew even bigger, with Sarah and Zarrabi welcoming a young daughter named Kai over the course of the show, as well as their dog, Atlas.
With a focus on sustainable living, global travel without breaking the bank, and authentic cuisine, "Hopscotch the Globe" highlights how couples and families can experience the joys the world has to offer together. Sarah and Zarrabi have produced tutorials on how prospective travelers can follow in their footsteps while launching a blog to help expand their platform and outreach. Ecologically conscious as it shares how easy and rewarding worldwide travel can be, "Hopscotch the Globe" is one of the more heartwarming travel shows available on YouTube.
Couple Travel Vloggers: Kara and Nate
Tennessee couple Kara and Nate decided to take a year off from their daily lives and explore the world together in 2016, chronicling their international voyage through their YouTube channel "Kara and Nate." This seemingly whimsical plan proved enormously successful, with the married couple extending their life on the road for the foreseeable future and visiting 100 countries as part of the show by 2020. During the pandemic, "Kara and Nate" pivoted to a domestic cross-country program, traversing North America in a van, before returning to a global scope at the beginning of 2022.
The content in "Kara and Nate" runs the gamut of travel hacks to score bargain flights and find accommodations to stay in some of the most exotic hotels in the world. The videos are a combination of 15-minute quick travel tips and updates, as well as longer-form programming, including an episodic sub-series of Nate mountain biking the entire Colorado Trail. Headed by its engaging eponymous couple, "Kara and Nate" provide a varied, entertaining, and informative look at making the most of life on the international open road.
Solo Female Travel Vloggers: Travel Yourself
Canadian vlogger Cailin O'Neil has been making movies for years, combining her love of filmmaking and international travel with her YouTube program "Travel Yourself." Beginning in 2009 with a visit to the annual La Tomatina Festival in Spain, O'Neil parlayed her keen eye for filming travel videos and her engaging personality to launch the popular show. From breezy road trips around Vancouver Island to scuba diving around the Great Barrier Reef, "Travel Yourself" finds joy in adventures big and small around the globe.
O'Neil keeps the programming on "Travel Yourself" fresh and varied, from spotlights on local cuisine to streamlined videos that highlight the sights within a given destination in a little over a minute. O'Neil is acutely aware of how to keep an audience's attention in the age of timed social media posts and uses those conventional constraints as a creative strength in filming and editing her videos. O'Neil complements her YouTube channel with a regularly updated blog and active social media presence for those looking to go beyond the main "Travel Yourself" series.
Solo Female Travel Vloggers: Hey Nadine
Travel vlogger Nadine Sykora has chronicled her international exploits online for over a decade through her YouTube series "Hey Nadine," venturing all over the globe. Based out of Canada, the series has been providing invaluable advice to prospective tourists and backpackers since 2006, all in quick and informative videos. From packing guides for quick trips and backpacking treks to rookie travel mistakes to avoid, "Hey Nadine" is an excellent source of tips while providing gorgeous glimpses into exotic destinations worldwide.
Sykora's travel credentials are impressive, covering over 50 countries across six continents, occasionally visiting destinations twice for more in-depth and comparative videos. Beyond typical travel content, "Hey Nadine" also provides product reviews for gear and gadgets to bring along on the road. As Sykora has become a mother, she has pivoted some of her videos to offer advice to new mothers while maintaining the same entertainingly educational approach present in her travel videos.
Solo Female Travel Vloggers: Brooke Saward
Australian vlogger and travel author Brooke Saward has been living her life regularly on the road for years, sharing her adventures with the world through her eponymous YouTube show "Brooke Saward." With over 70 countries visited, Saward provides a wealth of information on how to travel solo as a woman around the world, offering smart tips and detailed expenses for specific destinations. In addition to her YouTube channel, Saward also keeps an actively updated blog offering even more travel information and hotel reviews.
With a wealth of firsthand experience, Saward concisely and effectively leads each episode while maintaining a dry sense of humor about the sometimes chaotic nature of international travel. During the pandemic, Saward used her channel to share a number of stay-home tutorials and cooking recipes before resuming overseas travel at the beginning of 2022. With most videos featuring easily digestible runtimes and beautiful cinematography, Saward has brought her carefully curated expertise to the masses.
Food Travel Vloggers: Migrationology
Traveler Mark Wiens declared that the best way to connect with people is through food, and Wiens' YouTube channel "Migrationology" puts local gastronomy front and center, with an international scope. Hosted by Wiens, "Migrationology" is a travel show made for people who go on the road for food, with Wiens expanding the program into a full blog and newsletter where people can compare experiences. At its core, "Migrationology" promotes how to sample authentic local cuisine, including those hole-in-the-wall spots that most tourists may overlook when visiting destinations around the world.
Based out of Bangkok with his wife, Wiens' show has a large focus on East and Southeast Asian cities but has expanded "Migrationology's" scope to include other locales in Asia, Europe, Africa, and Latin America. More than simply eating and drinking his way around the globe, Wiens delves into how different regions' signature cuisine is made as he delves into its connection to cultural identity. From extreme food eating challenges — like consuming Caribbean scorpion chili peppers — to examining how local societies inform gastronomy, "Migrationology" offers a wide palate of travel-driven food programming to enjoy.
Food Travel Vloggers: The Food Ranger
Launching his own YouTube channel in 2013, Trevor James shared videos online of himself sampling street food from around the world before graduating from college in Vancouver in 2014. Shortly after college, James relocated to Chengdu, China, and continued to produce food travel videos, under the title "The Food Ranger," with a heightened focus on Asian street food. Nearly a decade into his career as a culinary documentarian, James has since moved to Kuala Lumpur while expanding the international scope of "The Food Ranger."
While initially focusing on street food in Asia, beginning with China, Thailand, and Singapore, James has broadened "The Food Ranger" to include episodes in places like Iran and Italy. The YouTube series provides full, in-depth tours of the street food scenes in each of its destinations along with the occasional extreme eating challenge. Entertainingly presented, "The Food Ranger" provides a window into different cultures worldwide through the types of street food that are popular in a given region and how each is traditionally prepared.
Food Travel Vloggers: Chasing a Plate
New Zealand couple Thomas and Sheena Southam initially started their food-focused travels as a blog in 2013 before pivoting to video with the launch of their YouTube channel "Chasing a Plate" in 2016. Emphasizing authentic local cuisine, the couple venture into hole-in-the-wall restaurants and visit street carts all over the world, all in the name of highlighting gastronomy that helps define a culture. With episodes spanning five continents, the Southams revel in the universal joys made possible by food and the process of preparing a variety of global dishes.
More than simply sampling local restaurants, kitchens, and street food, "Chasing a Plate" also showcases recipes for prospective cooks to attempt to recreate international dishes themselves. During the pandemic, the Southams took the opportunity to explore the different cuisine available across New Zealand, traveling from island to island in the archipelago before eventually resuming overseas travel. Engaging and professionally presented while maintaining a sense of down-to-earth charm, "Chasing a Plate" is easily one of the best food travel shows available to stream on YouTube.
Adventure Travel Vloggers: Fearless and Far
Host Mike Corey takes international adventure to the next level with his YouTube series "Fearless and Far," living up to the title by traveling to the ends of the Earth to experience harrowing thrills. The Canadian backpacker not only undertakes extreme challenges but undergoes local customs that may make squeamish outsiders wince. For Corey, the goal is to highlight some of the most conventionally terrifying parts of the world to mitigate the stigma and invite others to face their fears on the road, too.
From spending extended periods with remote indigenous tribes in Africa and Indonesia to participating in an exploding hammer festival in Mexico, Corey shines a light on the few unexplored global cultures. Corey's challenges also extend to him putting his body on the line, from suspending himself by hooks through his skin to cleaning his liver with leeches in Poland. Not always for the faint of heart, "Fearless and Far" provides a more extreme and firsthand look at the more challenging cultural customs worldwide.
Adventure Travel Vloggers: Lost LeBlanc
Canadian travel host and photographer Christian LeBlanc left his office job to move to Bali and embark on his own business sharing some of the most breathtaking sights around the world through his YouTube channel "Lost LeBlanc." While LeBlanc provides audiences with plenty of pictures and videos from his international destinations, his programming also includes traveling on a budget and how to sample the local cuisine. Beyond simply showcasing his overseas experiences to his audience, LeBlanc offers tutorials on how others can go on similar adventures themselves, including tips on taking stellar pictures and videos abroad.
Though much of LeBlanc's programming focuses on Southeast Asia, including guides to Bali and the numerous Philippine Islands, "Lost LeBlanc" has also spotlighted travels through Europe, South America, and the Middle East. Lost LeBlanc stands as the intersection between documentary travel filmmaking with international wish fulfillment as LeBlanc tries everything from living in a van for an extended period to seeing how far $50 in Bangkok gets him. Led by an easygoing host and featuring some of the best travel imagery on YouTube, Lost LeBlanc brings high adventure and plenty of Instagram-perfect shots.
Adventure Travel Vloggers: Kold
Canadian travel vlogger Sam Kolder has been sharing his international exploits through his magnificently shot YouTube series "Kold." In addition to the extreme lengths that Kolder goes through to deliver truly breathtaking vistas and shots, "Kold" has an all-around emphasis on grippingly gorgeous cinematography. Utilizing everything from drone cameras to slick edits, "Kold" is a show that invites the audience to dive into the sweeping landscapes and immersive destinations that are off the beaten path worldwide.
From spelunking in Cuba to numerous death-defying acrobatic feats of Kolder diving and flipping off tall points into water below, "Kold" showcases how to travel across impossibly beautiful destinations like Bali and Santorini. More than simply sharing these expertly shot faraway locales, Kolder provides tutorials through "Kold" for aspiring photographers and videographers to follow while examining the latest in video and photography gear. The perfect travel show for the Instagram generation, "Kold" captures the sheer majesty of nature and everyday beauty in remote destinations all over the world.