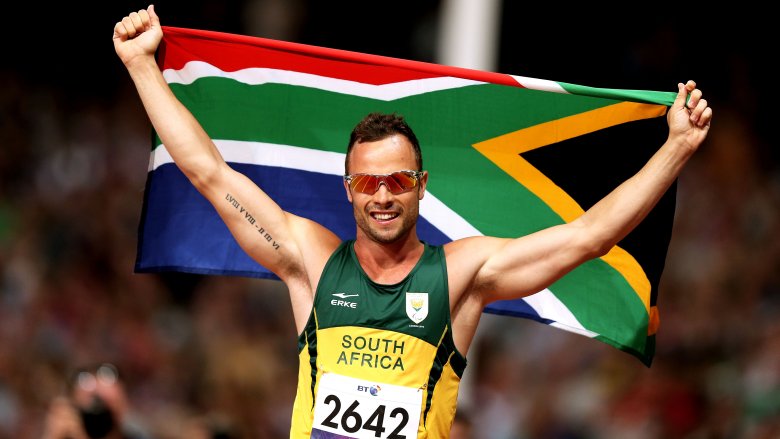 As a general observation, celebrities have a unique way of seeming to be able to skirt justice — remember the 82 minutes of her four-day sentence that Nicole Richie served for a 2007 DUI? But that's certainly not always the case. In fact, there are stars on this list who will likely die in prison. Some claim to have been wrongly convicted, while others have taken full responsibility for their actions and are just biding their time in the big house before reentering society. There's even a teenage rapper in here who shot to stardom on the very day that he cut his home arrest ankle monitor off and became a fugitive on murder charges.
Yes, these celebs made big splashes in the world of sports, acting, and music, but bad decisions changed the course of their careers and landed them behind bars. These are the celebrities who are currently in jail.
Why Quiznos rules: Exhibit A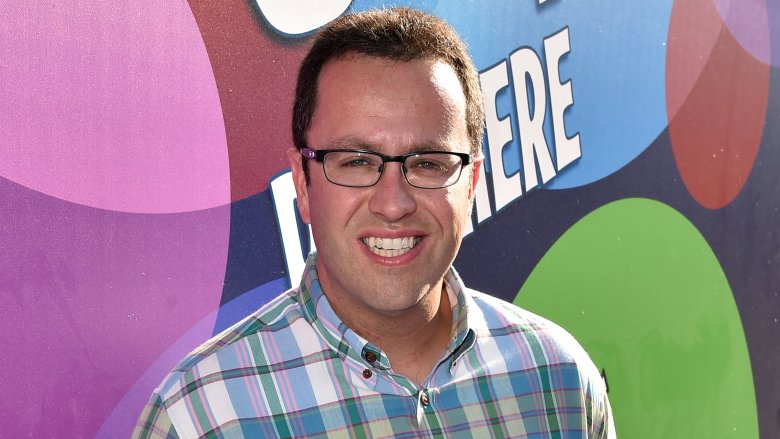 Former Subway spokesperson Jared Fogle was sentenced to 15 years and eight months in prison for child pornography charges, as well as charges he crossed state lines to pay for sex with minors, reported CNN. Fogle was also ordered to pay $1.4 million in restitution to 14 victims and $175,000 in fines.
Prison life hasn't been easy for the sandwich slinger. In March 2017, he was beaten by a fellow inmate, reported TMZ. The assailant, Steve Nigg, wrote a letter obtained by the tab explaining that he beat up Fogle because the spokesman is allegedly treated like a "hero" amongst other molesters and uses bodyguards to protect himself. "Other child molesters looked at him as if he was a God," Nigg wrote. Despite being punished for the attack, Nigg wrote, "I have no regrets."
In March 2018, Fogle made the news again when he and two fellow inmates filed a lawsuit against "federal authorities and his former attorneys" for what one of the men summarized to USA Today as "constitutional violations, government overreach and convictions not based in the law." Fogle specifically alleged that he was duped into a guilty plea by "bogus conspiracy charges" brought by prosecutors. He also stated that the restitution he paid to victims was a result of "coercion" by his attorneys, which amounted to "wire fraud, racketeering and 'money laundry.'" As of this writing, there are no updates on the lawsuit. But good luck with all of that.
Murder was the case that they gave him
Former music mogul Suge Knight was charged with murder and attempted murder in February 2015, following a fatal hit-and-run on the set of the hit film Straight Outta Compton, reported the Los Angeles Times. Knight was accused of running over Terry Carter, who died, and Cle "Bone" Sloan, who survived, with his truck. Because of his criminal history and the seriousness of his charges, Knight's $2.2 million bail was revoked, reported the paper.
The much-anticipated trial, which was delayed for years due to Knight's various health issues and changes in legal counsel — an astounding 15 lawyers joined and left from the case since his 2015 arrest — ended in September 2018, when Knight entered a plea of "no contest to voluntary manslaughter," according to The New York Times. This isn't Knight's first tussle with trouble. He was shot six times at a nightclub in 2014, and arrested for driving on a suspended license in 2013. He also landed in a hospital in 2009 after a fight at an Arizona hotel.
Once again, because of his violent past, Knight received a tougher sentence than a first-time offender. He was sentenced to 28 years in prison, which he will serve at R.J. Donovan Correctional Facility in San Diego, according to KGET. He will be up for parole in 2037.
Perhaps C-Not Guilty would have been a better choice
Musician C-Murder was sentenced to life in prison for killing a teenager during a scuffle in 2002. According to The Associated Press (via Page Six), C-Murder (real name Corey Miller) got into a fight with a 16-year-old fan named Steve Thomas outside a club in Harvey, La. MTV News reports that a jury ruled that "Miller shot Thomas once in the chest as the teen lay on his back while being beaten by the rapper's friends." Following a civil case in 2013, C-Murder was also ordered to pay the victim's family more than $1.1 million ($500,000 each to Thomas' parents and another $150,000 for their suffering), per Page Six.
C-Murder has consistently proclaimed his innocence. In January 2018, his publicist, Tammy "Ty" Page, told AllHipHop (via BX) that they knew of a prisoner in another jail who confessed to Thomas' murder on tape and even signed an affidavit attesting to it. Page also told the rap news site that C-Murder was at the time engaged in a hunger strike to bring awareness to his claim that he and other prisoners were being "denied proper healthcare," while being "treated inhumanely."
According to Louisiana Weekly, C-Murder's defense team has sought "a new trial" based on recanted testimony from two witnesses who identified him as the shooter in his original trial, however prosecutors in the case "continue to seek to block efforts" on behalf of the incarcerated rapper. He was denied the retrial in 2019.
From the locker room to lockdown
Former pro-football star Sam Hurd could have been one of the league's most prized and respected players, but instead, he's serving 15 years behind bars for his role in a drug-distribution hustle, reported USA Today. According to the paper, Hurd was rounded up during a sting at a Chicago steakhouse. He reportedly chatted up an undercover cop and attempted to buy 5 to 10 kilograms of cocaine and 1,000 pounds of marijuana to distribute on the streets. "I regret not thinking about the consequences," Hurd told the court. "I made some dumb, very bad decisions."
In 2015, Hurd filed a motion to have his sentence reduced from 15 years to nine, reported ABC 7. He stated he was rehabilitated, had completed both typing and business classes while behind bars, and even learned how to attend to basic sports injuries. His request was denied the following year.
Pistorius' self-defense story didn't add up
South Africa's Oscar Pistorius became one of the world's most renowned athletes when he sprinted in the 2012 Summer Olympics in London as a double amputee, but he made headlines of another sort the following year. In the early hours of Feb. 14, 2013, he reportedly fired four shots into a closed bathroom door, killing girlfriend Reeva Steenkamp. According to CNN, Pistorius said he thought an intruder was in his home; the prosecution claimed he killed Steenkamp after an argument.
Pistorius was convicted of manslaughter in 2014 and sentenced to five years in prison. He served one year and was then put on house arrest, but his conviction was overturned and upgraded to murder by a higher court in 2015, reported CNN. In November 2017, his sentence was increased to 13 years and five months by The Supreme Court of Appeal. In March 2018, Pistorius ran out of appeals.
Although much of the drama has since been put to rest, Steenkamp's father still struggles with her death. "I don't wish that on any human being, finding out what happened. It devastated us," he told the court in 2015 (via CNN). "I ended up having a stroke and so many things since then have happened to me." He said most of the family has forgiven Pistorius, adding, "You have to understand that forgiveness doesn't exonerate you from what you did."
A cop on TV, a villain in real life
Michael Jace, who was previously best known for his work on The Shield, was sentenced to 40 years to life behind bars for the May 2014 shooting death of his wife, April Jace. Convicted of second-degree murder in 2016, per CNN, he reportedly shot April in front of their two young sons, because he was furious that she wanted a divorce and believed she was seeing someone else. After shooting her once in the back and twice in the legs, Michael allegedly told her (via Us Weekly), "If you like running, then run to heaven." He then reportedly called police, before ringing April's father to come collect the boys.
This allegedly wasn't Michael's first domestic violence incident. A friend of his first wife told the court that she witnessed him abusing Jennifer Bitterman during their marriage, and Bitterman claimed in court documents that their son was afraid of his dad.
Unfortunate Son
Joseph Son is most famous for his role in Austin Powers: International Man of Mystery as the character Random Task, a parody of the henchman known as Odd Job from the classic James Bond film, Goldfinger. In real life, however, Son's evil deeds were no laughing matter. In 2011, he was convicted of participating in the gang rape and torture of a woman that he and an accomplice reportedly kidnapped and assaulted on Christmas Eve in 1990. According to The Daily Beast, DNA evidence from an unrelated case in 2008 linked Son to the heinous crime, for which he was sentenced to "life with the possibility of parole." As if that wasn't horrific enough, one month after starting his sentence, Son, who is also a former MMA-fighter, beat his cellmate to death "with a combination of kicks and punches."
According to Bakersfield.com, prosecutors sought an additional life sentence for the charge of "assault by a life prisoner with force causing death," but the jury instead found Son guilty of the lesser charge of voluntary manslaughter. Upon handing down the additional sentence of 27 years, the judge told Son, "That crime is as monstrous and despicable as anything this court has ever seen."
What's in a name?
Jonathan Paul Koppenhaver, the ex-MMA fighter who legally changed his name to War Machine, was sentenced to 36 years to life for the brutal 2014 assault of his ex-girlfriend, adult entertainer Christy Mack, and her male friend, Corey Thomas. According to CBS Sports, the former fighter avoided conviction on attempted murder charges, but was found guilty of "29 of 34 charges for kidnapping, battery and sexual assault" in the attack that "left Mack with a punctured lung and several broken bones."
At his June 2017 sentencing, Koppenhaver expressed remorse for his crimes and claimed to have found God while in prison. "Not a day goes by that I don't seriously regret all those things that I did. I was a very, very lost, very empty person," he said, before also claiming "something's not right with my head." Mack also spoke at the sentencing, and she clearly didn't believe Koppenhaver had changed. "I do know when he gets out, he will kill me," she told the judge. According to ESPN, Koppenhaver will be eligible for parole when he is 71 years old.
TMZ reported that Koppenhaver surprisingly found love again from behind bars, getting engaged to pen pal-turned-fiancée Ashley Farrington in July 2018.
Learning the difference between infamy and fame
In July 2019, Texas rapper Taymor Travon McIntyre (a.k.a. Tay-K 47) was found guilty for his involvement in the botched robbery and resulting murder of 21-year-old Ethan Walker, according to The New York Times. Per The Star-Telegram, McIntyre was originally accused of the crime at age 16. After being "certified to stand trial as an adult in the case," he was granted a bond and placed on house arrest. Three months later, he cut off his ankle monitor and fled. OkayPlayer reports that McIntyre released a track called "The Race" that same day, which went viral and eventually ended up charting on Billboard's Hot 100.
During his life on the lam, McIntyre also allegedly participated in two additional robberies, one of which resulted in the homicide of Mark Anthony Saldivar, and the other a vicious attack. McIntyre was eventually caught and brought to court for another bond hearing in March 2018, during which District Judge Wayne Salvant denied the request for bond and admonished him for scenes in "The Race" video where he's "brandishing a 9mm handgun and standing next to a wanted poster of himself." The judge added, "I don't know what this country has become when people can go out and allegedly commit heinous crimes and be glorified for it."
McIntyre was later sentenced to 55 years in prison. In November 2019, he was indicted for the April 2017 murder of Saldivar.
New Kidd on the cell block
Before N.W.A. and Public Enemy, there was Grandmaster Flash and the Furious Five. The collective is largely credited for inventing the same kind of politically-charged hip hop that made their predecessors famous. In other words, without Grandmaster Flash, we wouldn't have Kendrick Lamar, and Detective Tutuola might have never tried his first bagel after more than 15 years on the fake NYPD.
Furious Five member Kidd Creole (real name Nathaniel Glover Jr.) was one of the first rappers ever inducted into the Rock 'n' Roll Hall of Fame, but that doesn't mean his other achievements are as notable. According to People, the star reportedly later worked as a security guard and landed himself in jail on second-degree murder charges. Glover had allegedly stabbed a homeless man, John Jolly, twice in the torso in New York City after he thought the man was either making a pass at him or planning to rob him. Glover reportedly fled the scene and Jolly later died from his injuries.
The latest update on Glover's case, as of this writing, is that he entered a plea of not guilty in August 2017. The following month, Glover's attorneys indicated that they planned "to present psychiatric evidence of mental disease or defect" as part of the former rapper's defense, although "the nature of the mental illness" was not specified.
There's no YouTube behind bars
This is no James Charles-Tati drama, nor is it a petty spat between Jeffree Star and Kat Von D. If you're not familiar with the world of YouTube, you may not know Austin Jones, who racked up more than half a million subscribers by doing a cappella covers of popular songs on the YouTube channel he launched in 2007. Since then, Jones has become one of the most controversial figures on the platform, and his behavior ultimately landed him a decade-long prison sentence.
In 2015, Jones was "accused of lying about his age to get underage girls to send him twerking videos because they 'make him happy,'" according to the now-defunct music blog PupFresh (via Alt Press). Per BuzzFeed News, these allegations eventually got him booted from his scheduled run on the Vans Warped Tour after "more than 9,000 people signed a petition calling for his removal." At the time, Jones did admit to soliciting twerking videos, but did not directly address whether or not they were sexual in nature. It wasn't until two years later that the star was arrested at Chicago O'Hare International Airport on two counts of felony child pornography, according to the Chicago Sun-Times.
After Jones pleaded guilty in February 2019, and his YouTube account was swiftly removed, he received a shocking 10-year sentence, which he began in June of that year (via the Chicago Tribune).
Was R. Kelly trapped in the Special Housing Unit?
It looks like R. Kelly is going to be in jail for a while, at least until his trials get off the ground. According to Refinery29, as of 2020, the disgraced R&B singer is awaiting three separate trials stemming from multiple federal and state charges. Per The New York Times, this includes 10 counts of aggravated criminal abuse (along with child pornography charges) spanning across Illinois, New York, and Minnesota. Federal prosecutors have accused the star of everything from bribing a government official to marrying a 15-year-old Aaliyah to racketeering.
According to BBC News, Kelly — who's repeatedly maintained his innocence — has been denied bail multiple times. Variety reports that the singer has been held at the Metropolitan Corrections Center in Chicago since July 2019, where he was initially in a "Special Housing Unit" for "at-risk prisoners." His attorney, Steven Greenberg, argued that this was "cruel and unusual punishment," though he'd reportedly had three different cellmates, was not in solitary confinement, could access an indoor recreation area, and even purchased a Snickers bar from the commissary. In fact, per the Chicago Tribune, prosecutors claimed Kelly was the one who refused to go into general population, supposedly saying, "I was like, hmmm, too many people up on you … I'm so popular here."
Kelly was ultimately moved to gen pop sometime around September 2019, and will likely stay in jail until his first criminal trial in May 2020.
This ex-Seahawks QB is sitting on the bench in prison
Ex-Seahawks quarterback Trevone Boykin is hoping to continue his promising football career. He'll just have to wait a couple years before he can get back into the game: the star is serving a three-year sentence.
According to TMZ, the QB was "accused of choking and breaking the jaw" of his then-girlfriend, Shabrika Bailey, in March 2018. As a result, he was cut from the Seahawks and hit with two felony charges, for which he could have potentially faced decades in the slammer. Boykin was also accused of "stealing money from fans in an elaborate memorabilia scheme," but ultimately entered a plea agreement. According to the New York Post, the NFL player pleaded guilty to aggravated assault and witness tampering and was sentenced to three years in February 2020.
At the time of Boykin's sentencing, the athlete had already been in jail for around a month. The New York Post reports that he was being held at Fort Worth's Tarrant County Jail ever since he skipped out on a hotel bill in Arlington, Texas sometime in December 2019. Legal trouble seems to be a trend for Boykin, who was reportedly involved in fight in San Antonio back in 2015, then arrested for "public intoxication and misdemeanor marijuana possession" two years later, after a car he was riding in crashed into a tavern and struck seven people. Perhaps this time around, he'll stay out of trouble.