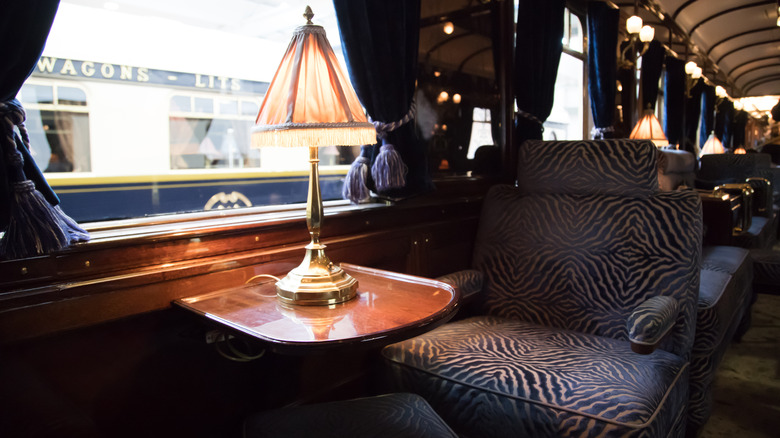 It's safe to say that the majority of us have heard of the upscale luxury train service, the Orient Express, which dates back to 1867. From the rich gilded finishings throughout each of the classic art deco carriages, to the stunning vintage interior and exterior craftsmanship, to the well-dressed stewards and porters that appear to be from a bygone era standing at the ready for travelers — the evocative train journeys it affords are indeed for the record books, and worth every single penny.
Whether you've learned of this iconic train through Agatha Christie's fascinating work of mystery or watched films in which it makes an appearance, the Orient Express is anything but fictional — as observed by CNBC News — and was a primary mode of transportation for aristocracy and others back in the day when commercial air travel had yet to be implemented. Both the Orient Express and the Venice Simplon-Orient-Express train services journey through the most magical countries in Europe, offering amazing views of the European countryside through a timeless mode of travel.
A journey through Europe's most scenic countries
There is no better way to journey through the heart of France into the Swiss mountains and ending your magnificent once-in-a-lifetime journey in the romantic and legendary city of Verona than by train via the Venice Simplon-Orient-Express. And the Paris to Venice (via Innsbruck and Geneva) train ride offers all that and a host of additional inclusive perks for its passengers. This two-day, mesmerizing journey through some of Europe's most scenic countries allows its travelers to take in the breathtaking, diverse landscapes along its routes while relaxing within its detailed, vintage frame before arriving on Italian soil. Should you want to venture further into the heart of the Italian countryside while still enjoying your views of France and the Swiss Alps, both the Paris to Florence and Paris to Rome Venice Simplon-Orient-Express train journeys take passengers right into two of Italy's most ancient and visited cities.
Should you want to venture further into the heart of the Italian countryside, while still enjoying your views of France and the Swiss Alps, both the Paris to Florence, and Paris to Rome Venice Simplon-Orient Express train journeys take passengers right into two of Italy's most ancient and visited cities. For those who dream of taking a train ride on the original Orient Express to any of these destinations, you'll be thrilled to know that beginning in 2024 (per TimeOut), routes from the heart of Paris into Europe are expected to once again be offered to passengers on the revamped icon.
All aboard the Orient Express to Bella Italia
Due to popular demand from travelers around the world, the Orient Express train service will begin offering luxurious and leisurely-paced train journeys from Northern to Southern Italy through its La Dolce Vita route. Passengers will enjoy traveling through Italy's most stunning regions aboard trains with beautiful décor, enjoying stops along the way to sightsee, shop, eat, and drink throughout Italy, with the six itineraries offered.
Stops to Rome and Florence are on the route, with international options including stops in France, Croatia, and Turkey. Epic journeys to locations such as Venice, Portofino, Siena, Matera, Sicily, and additional ancient areas have been methodically selected to offer passengers the best of Italy and what it has to offer. This fascinating journey is a tribute to timeless classical Italian films, historical events and sites, tantalizing Italian cuisine, and Italy's verve for life and simplicity. Keep an eye out on the booking page for its anticipated launch date, as this train journey is sure to sell out quickly.
A mystical cross-continental experience
For those who want to take in as much of Europe as possible while experiencing the diverse cultures within each country, the Venice Simplon-Orient-Express is offering a five-night dazzling train journey from the mysterious and evocative city of Istanbul to the beating heart of Paris via the Istanbul to Paris experience. Passengers begin their journey in Istanbul, making their way through the beautiful countries of Bulgaria, Romania, Hungary, Switzerland, and finally, France.
Each leg of the journey is filled with stops to special destinations before arriving in the City of Lights: Paris. As with all of the train journeys, pricing is inclusive of spectacular meals, luxurious overnight stays in Belmond accommodations, and enticing excursions at every stop along the way. Be prepared to be in awe of the captivating landscapes each country reveals throughout your journey, as this train ride is filled with panoramic views, exceptional service, and a host of memorable experiences.
Magical train rides through winter wonderlands
It goes without saying that the historic Orient Express is known for setting the bar when it comes to luxurious and legendary travel, devising fascinating routes through a host of intoxicating destinations with new and exciting journeys being created regularly for their loyal passengers. So it comes as no surprise to hear that the Venice Simplon-Orient-Express recently announced their newest feat: offering rail services through some of Europe's most beautiful and awe-inspiring winter landscapes.
And while the most recent winter wonderland excursions by train have ended, interested travelers have time to book ahead for next December's magical routes to the countries of France, Italy, and Austria. From partaking in the festive Christmas displays and events throughout the city of Paris, passengers can set off to the world-renowned Christmas markets found in Vienna, Venice, Verona, Florence, and Rome, experiencing a holiday season unlike any other.
A once-in-a-lifetime travel experience by train
Both the Orient Express and Venice Simplon-Orient-Express train services are as iconic and legendary as the passengers who have graced their carriages for many years. And as Forbes states, what travelers will experience on the "most famous film train in the world" is first-class service at its best, while being reminded of the leisurely, less chaotic mode of travel. Each train is a cinematic and artistic expression of a bygone era. Each detailed corridor leading to the elaborately designed interconnected carriages; each intimate dining, lounge, and bar car; and each inviting, cozy cabin and luxurious suite are a tribute to the timeless and artful experience of traveling by train.
A ride on the Orient Express is so cherished and sought-after by so many, the line has resurrected 17 original cars from the 1920s and 1930s for travelers to enjoy for many years to come. So before you book that next flight to Europe, consider traveling on the Orient Express at least once in your lifetime. The time-honored tradition of traveling throughout Europe by train has been taken to a level of unprecedented class, sophistication, and luxury, and should be on everyone's bucket list. It truly is an unmistakable celebration of the golden age of rail travel.