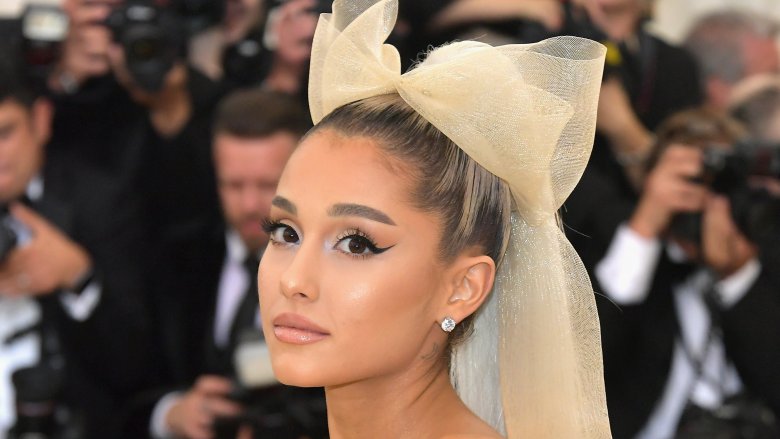 Pint-sized vocal powerhouse Ariana Grande has been through a lot. She admitted she suffers from anxiety following the terrorist attack at her May 2017 concert in Manchester, U.K., which killed 22 and injured more than 500. In September 2018, her ex-boyfriend, rapper Mac Miller, died of a suspected drug overdose; he was just 26 years old. As a result, Grande's understandably received a lot of good will and sympathy from the public. That said, before and after those heartbreaking tragedies, the former Nickelodeon starlet didn't have the most stellar reputation.
From cheating rumors plaguing her relationship to reports of diva demands to DonutGate to allegedly wishing death on her own fans, the perpetually ponytailed chanteuse has been widely reported to have a severe attitude problem and a seriously shady track record. Behold, the shady side of Ariana Grande. (It's the side that doesn't have the dimple.)
You better get her 'good side'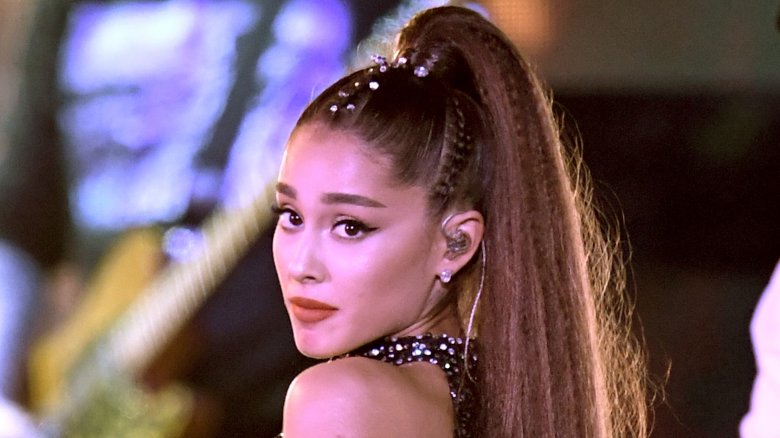 There a stories aplenty about Ariana Grande's diva demands, including reports that she walked out on a photo shoot after refusing to be photographed in natural light and insisted she only be captured from her left side. "It's like the president is in town. Everyone is kind of stressed and at the same time, they're making fun of her because it's much ado about nothing, really," a source told Page Six. E! News correspondent Giuliana Rancic confirmed the tales about Grande's nonnegotiable "good" side. "It was like you either get on the other side or we don't do an interview," Rancic said (via Hollywood Life).
"Having a preferred side is nothing new," an insider told Page Six. "Barbra Streisand, Mariah Carey and even Tina Fey have them. The difference is that normally a publicist will come up and politely ask that you shoot X from X side. With Ariana's team, it is a demand from the beginning, three people come to make sure before Ariana enters the room. Instead of coming off like an assertive woman who knows what she wants, it makes Ariana seem like a toddler throwing a tantrum and her parents handling the dirty work for her."
She allegedly cheated for a showmance
When Grande first broke out of her Nickelodeon bubble, she dated Jai Brooks of the Janoskians, a YouTube group famous for sexually harassing strangers and calling it comedy. When they split in 2013, Brooks took to Twitter to accuse Grande of cheating with Nathan Sykes, who was then a member of boy band The Wanted. [Sykes] interfered with my life and did not respect my relationship," Brooks wrote (via the Daily Mail). "…Nathan if you read this, when you hold her hand you better hold it tight because you are holding my world."
Grande and Sykes teamed up for "Over and Over Again" and "Almost is Never Enough." Their romance conveniently lasted from just before "Almost is Never Enough" debuted to just after it flopped on the charts, at which point Grande briefly reunited with Brooks. Another sign that her fling with Sykes may have had more to do with publicity than passion? In November 2018, he was the only high-profile beau she excluded from her lyrics in "Thank U, Next." Not that he minds being omitted. Sykes told TMZ it was "good" he wasn't mentioned, admitting he hadn't even heard the song yet.
She dated Big Sean while he was still engaged
Not long after Ariana Grande and Jai Brooks broke up for good, she began dating Big Sean, with whom she collaborated on her smashes "Right There" and "Problem." That relationship had a sketchy beginning. They allegedly first got together when Big Sean was still engaged to Glee star Naya Rivera. "We'd been fighting for five straight days while he was traveling, and then on the one day that he was back in L.A., he said he didn't want to see me," Rivera recalled in her memoir Sorry Not Sorry (via Us Weekly). "I walk in [to Big Sean's house], go downstairs, and guess what little girl is sitting cross-legged on the couch listening to music? … It rhymes with 'Smariana Schmande.'"
Grande and Big Sean split in April 2015, around the time she began working on a new album.
The infamous doughnut licking scandal
On America's birthday, July 4, 2015, Grande and her then-backup dancer boyfriend, Ricky Alvarez, went to a doughnut shop, where she was rude to employees, sassing, "I need a doughnut professional in here." That's bad enough, but it gets worse: Grande was caught on camera licking a tray of doughnuts for which she hadn't paid. When an employee brings out a fresh tray of huge pastries, Grande says, "What the f**k is that? I hate Americans. I hate America."
When she was called out on it later, she tweeted, in part: "I am extremely proud to be an American … I am sorry for not using more discretion with my choice of words. As an advocate for healthy eating, food is very important to me and I sometimes get upset by how freely we as Americans eat and consume things without giving any thought to the consequences that it has on our health and society as a whole … I apologize if I have offended anyone with my poor choice of words."
Time to make the apologies
Despite her social media mea culpa, plenty of folks were still furious about the way she'd behaved in that doughnut shop. In fact, she may have even lost an opportunity to perform at the White House because of her antics, reported Fox News.
Grande apologized again in a video (via People), lamenting: "I feel like seeing a video of yourself behaving poorly that you have no idea was taken is such a rude awakening … I was so disgusted with myself. I shoved my face in a pillow and wanted to disappear, but instead I'm going to come forward and own up to what I did and take responsibility." The pop star apologized yet again on Good Morning America, telling the show, "There's no excuse, or there's nothing to justify it, but I think that as human beings we all say and do things that we don't mean at all sometimes, and we have to learn from it." She added, "I think one of the biggest things I learned from that was what it feels like to disappoint so many people who love and believe in you, and that's an excruciating feeling
She made a bad impression on the frontman of The Cab
In 2011, Alexander DeLeon, lead singer of The Cab, left no room for debate about his assessment of Ariana Grande. He tweeted, "Hope none of my fans ever have the displeasure of meeting @ArianaGrande. Most stuck up, disrespectful person I've ever met in this industry." He didn't expound on exactly what she did to get him so hot under the collar, but it's safe to say it probably had to pretty bad.
McCurdy: 'You sucked the life right out of me'
Sam & Cat ended after just one season in 2013 — and Grande's friendship with co-star Jennette McCurdy may have been a casualty of the show's cancellation. McCurdy skipped out on the Kids' Choice Awards in March 2014, citing alleged "mistreatment" from Nickelodeon, and Grande pointedly omitted McCurdy from a long list of thank yous she posted once the end of Sam & Cat was officially announced. When McCurdy insinuated that she lost a friend, many assumed that pal was Grande.
"We aren't better friends because being friends with you takes the 'better' out of me," McCurdy wrote. "In fact, I might possibly be the worst version of myself when I'm around you … Where did I go? As far away from you as I can get. You won't be hearing from me anymore because sweetheart, being a friend to you was doing so much more for you than it was doing for me. You sucked the life right out of me, and I want my life back."
Of course, the rumor about McCurdy and Grande's demise may be just a bunch of hogwash because a year later, McCurdy insisted their friendship was "impenetrable."
That time she wished her fans would die
An industry insider was shocked when Ariana Grande actually wished death upon a group of Arianators in September 2014. "She did autographs and pics and was all smiles until she got into the elevator," the source told the New York Daily News. "And as soon as the doors shut she said, 'I hope they all f**king die.'" The same insider also noted that Grande charged $495 for a photo op with fans on her Honeymoon Tour — but that turned out to be the price for a photo op with groups of four to six fans, not individuals. The insider scoffed, "Really? Bieber, Miley, Britney, Katy Perry all did individual pics when they sold these packages."
In August 2014, a dad named Dan O'Connor, posted a blog about how rude Ariana Grande allegedly was to his daughters at a meet and greet. He explained that his daughter won a contest by drawing a picture of Grande, but supposedly, the singer was not impressed. "[Grande] approached her fans without a smile — just an icy look as she toyed with her hair … She spent perhaps 15 seconds with each [of the prize winners]," the father wrote. "That is not an exaggeration. They took an approved photo with her and that was it." When one of his daughters snapped a photo of her sis giving Grande a drawing, O'Connor said the pop star forced them to delete the picture. "Then, Ariana Grande walked away from her prize-winning fans without even saying goodbye."
Did she take a cheap shot at Selena?
At a Jingle Ball concert in December 2013, Selena Gomez had a mini-meltdown onstage after her backing track and microphone failed, exposing her lip syncing to the audience — and then to the world when that awkward moment hit YouTube. Ariana Grande, who also performed at the show, also had mic trouble later on that night. According to International Business Times, Grande shook off her troubles with, "At least you know I wasn't singing to a track!" Grande later denied via Twitter that she was throwing shade at Gomez, but that didn't stop many from filing her comments under "sick burn."
Her breakup from Mac Miller was sketchy
Ariana Grande dated rapper Mac Miller for about two years, until May 2018, when TMZ reported that they'd split amicably and would remain friends. A source told People they split just after the Coachella Festival that April. Grande later griped on Twitter that their relationship was "toxic," and she exposed Miller's struggles with sobriety to the world. "I am not a babysitter or a mother," she said. "…blaming women for a man's inability to keep his s**t together is a very major problem." She added that she would "pray" that Miller "figures it all out."
Just weeks after news broke about her split from Miller, Grande moved on in an exceedingly public way with Saturday Night Live comic Pete Davidson. The timeline of that relationship is a bit murky. In early June 2018, E! News reported that the jeweler from whom Davidson purchased Grande's engagement ring claimed the SNL star came to him in early May 2018 to get the massive diamond but refused to say who it was for. Grande denied cheating on Miller, reported People, but the speed of her engagement to Davidson must have stung for Miller — especially if his substance abuse was a reason for the split, considering Davidson has been open about his own drug use.
She was hypocritical after ditching Davidson
In news everyone saw coming except the people involved, Ariana Grande and Pete Davidson split after about four months together, and it got shady fast. In a Saturday Night Live promo released Nov. 1, 2018, Davidson poked fun at himself and pretended to propose to musical guest Maggie Rogers. There was no mention of Grande or shade against her, just self-deprecation … but she still got mad.
Grande wrote in a since-deleted tweet: "For somebody who claims to hate relevancy u sure love clinging to it huh. Thank u. Next." Sources told TMZ Grande felt "betrayed" because she and Davidson supposedly promised to not address or discuss the breakup, but a week later, she released "Thank U, Next" — a song that mentions Davidson by name — just 30 minutes before SNL aired. Davidson took the high road, saying nothing about Grande on the show's "Weekend Update" segment, other than that she's a "wonderful, strong person."
You never know when she'll be a no-show
In November 2015, Grande was scheduled to perform on the U.K.'s Jonathan Ross Show. She never showed, messing up the entire taping. Host Ross told the crowd (via The Mirror), "Ariana is in town. We were told she would be in the car at 6 p.m. to be here for 7 p.m., then it got to 7 p.m. and she was not in the car — 7.30 p.m. and she is still not in the motherf***ing car. So I don't think we can hold out much hope. She was booked but the lazy little f***er has not come." Neither Grande nor her reps apologized or offered any sort of explanation for standing everyone up.
She also canceled on a big night for her manager Scooter Braun that just so happened to coincide with her split from Pete Davidson in October 2018. Grande was supposed to sing at an event honoring Braun's wife and the F**k Cancer support group she founded. "Someone that I am very close to could not be here today because of things that she is going through," Braun told the crowd at the benefit (via People). "She couldn't be here today, and while I was frustrated, being a manager, my wife, being who she always is, said to me, 'She needs this time.'"