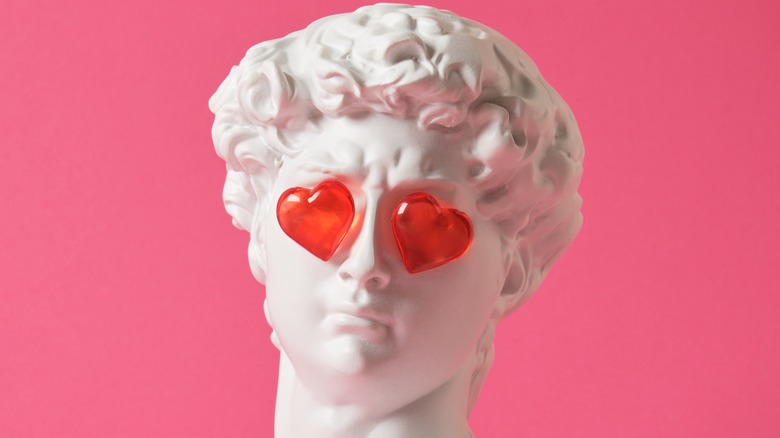 Valentine's Day is a divisive holiday, with some people loving the opportunity to celebrate love and others seeing it as yet another pointless, commercialized holiday — not to mention a holiday that really rubs it in if you're single. The history of Valentine's Day is also a little murky, but most sources agree that it originated back in the Middle Ages as a celebration of a Christian martyr, Saint Valentine.
The first mention of Valentine's Day as a romantic celebration was in Geoffrey Chaucer's 1375 poem "Parliament of Foules," in which he wrote, "For this was sent on Seynt Valentyne's day / Whan every foul cometh ther to choose his mate" (via History). And for the last millennia or so, we've been observing the love-centric holiday by spending time with and buying gifts for our loved ones.
Whether you love or hate the holiday, you may as well try to have as much fun as possible this February 14th. That's why we've rounded up some unique Valentine's Day party ideas you'll fall in love with.
Romantic spa day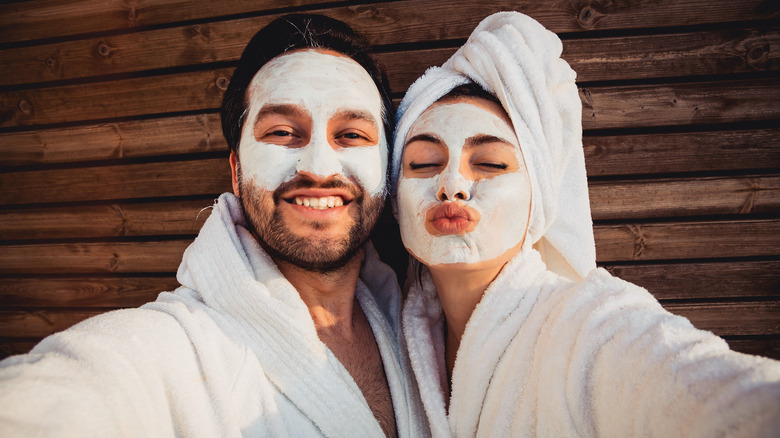 Whether it's Valentine's Day or any other day, it's almost certain that your partner would appreciate a bit of R&R in the form of a spa day. Of course, you could book massages and pedicures at a fancy spa — your partner would probably be happy and thankful. But a slightly more thoughtful (and affordable) idea is creating a tranquil, at-home spa day for the two of you to enjoy this V-Day.
You don't have to buy a massage table or learn the art of cupping in order to give your partner a great spa treatment. Instead, pick up some face masks and massage oils and prep a warm, relaxing bath for your partner (or the two of you!). To make things even better, create a soothing playlist and make a simple charcuterie board to really set the vibe. And if you're not a great masseuse, be sure to watch a few YouTube videos on how to give a good massage — you'll be a pro in no time!
You may think an at-home spa day to be less luxurious than going to the spa, but Caleb Backe, health and wellness expert at Maple Holistics, told Bustle that your partner will appreciate your effort. "This simple yet meaningful gesture will go a long way in making your special someone feel truly loved," Backe confirmed.
Flower arranging with the girls
There is really no better time to arrange yourself a beautiful bouquet of flowers than Valentine's Day. Whether you're single (Alexa, play "Flowers" by Miley Cyrus) or coupled up, taking the time to try flower arranging is the perfect on-theme activity to celebrate Galentine's day with your girls. And don't worry — you don't have to have a green thumb (or even be particularly creative) to have an amazing time trying your hand at a floral arrangement.
The first step is to round up your girlfriends and decide if you'd all prefer to go to a floral arranging workshop in person — there are usually plenty of these available in major cities around Valentine's Day (like Earl Grey Floral in Austin or FlowerSchool New York in New York City) – or if you'd rather make your bouquets at home. If you choose the latter option, you'll want to gather up your supplies beforehand, which include focal flowers, like roses, anemones, and peonies, and filler flowers, like eucalyptus and lavender (via HGTV). Don't be afraid to ask your local florist to help out when you're selecting your variety of flowers! You'll also need to pick up some vases, vessels, or twine for each guest to use for their finished bouquet.
If you do opt to have a floral arranging party at home, consider participating in a virtual floral arrangement class so you have some guidance.
Hot chocolate bar
Hot chocolate isn't just for Christmastime. As restaurateur Jim Hagy told Southern Living, "Hot chocolate is the universal comfort beverage." And whether you're cozied up with your boo, hanging out with family and friends, or riding solo this Valentine's Day, indulging in some hot chocolate is the perfect way to treat yourself and enjoy the holiday.
To create a great hot chocolate bar, you want to give yourself and your guests, if you're hosting them, options. Avoid serving packets of hot cocoa and instead create rich and indulgent hot chocolate by using real cocoa powder and high-quality chocolate combined with milk and heavy cream, per Hagy's recommendation. Also, be sure to keep your cocoa warm for hours in a slow cooker. Now, for the really fun part of a hot chocolate bar: the add-ons! You can really use your imagination here but consider adding things like peppermint sticks, toffee, biscotti, sea salt, different flavors of chocolate chips, and, for an adult celebration, Baileys Irish Cream or coffee liqueur. For a fun Valentine's Day twist, consider offering heart-shaped sprinkles and pink marshmallows along with plenty of other candies.
Not only is a hot chocolate bar a fun and unique idea for a Valentine's Day party, but it's also a great way to bring people together. "Guests may even use their cup as a conversation starter as they see what combinations others have concocted," Hagy told Southern Living.
Romcom marathon
Personally, we're fans of romcoms all year long, but if there's one day perfectly suited for binge-watching romcoms, it's Valentine's Day. Especially for those who aren't the biggest fans of Valentine's Day to begin with, spending the day watching movies is an easy, go-to choice.
When it comes to which romcoms to watch, your options are plenty. For lovers of Old Hollywood, there are the classic, old-fashioned romcoms, like "Roman Holiday" and "It Happened One Night"; those who appreciate the '80s and '90s nostalgia vibes could go for "Say Anything," "Groundhog Day," or "Moonstruck." To transport yourself back to the early aughts, why not watch "High Fidelity"?
More recent romcoms include "Obvious Child," a quirky movie starring Jenny Slate about learning to embrace being an independent woman, as well as "Appropriate Behavior," "Silver Linings Playbook," and "The Big Sick." Business Insider rated all of these among the best romantic comedies of all time.
DIY photo booth
Flex your creativity by throwing a Valentine's Day party with an at-home photo booth as the main attraction. Not only will it be a ton of fun, but the photos will also provide you with lasting memories.
To get started, Expert Photography recommends first sorting out your lighting situation. You'll probably want to utilize some bright, artificial lighting, especially if you don't have a lot of natural lighting in your house or if you will be throwing your Valentine's Day party at night. You can use studio lighting if you happen to have it, but if not, bringing a few lamps to the margins of your photo booth should brighten things up.
Next, create the setting. We recommend something Valentine's Day-themed, of course, like a pink-and-red heart background, for example. Get creative — use garlands, props, and heart-shaped balloons to create the perfect background for each photo. As for your camera, it's really up to you which route you want to take. Using a digital camera with a self-timer or remote trigger and a tripod is quick and easy, and it gives guests the option of looking at their photos and deleting and retaking them as necessary. However, using an instant camera like a Polaroid or Instax would be a fun, retro option that would give guests a physical copy of their photo, just like a real photo booth. If you opt for the latter route, make sure to buy plenty of film!
Eat your heart out
Charcuterie, heart-shaped pastries of all sorts, and plenty of chocolate can make for a fun Valentine's Day feast. Many people agree that finger foods are the most fun to eat, and Valentine's Day offers the perfect excuse to assemble a beautiful snack tray or charcuterie board, whether you're hosting a get-together or chilling on your own.
If you want to step your charcuterie board up a notch, food development specialist Stephanie Miller recommends trying some new things. "It's a good opportunity to go outside your comfort zone and try that 'strange fruit' you have been eyeing, or splurge on the 'more expensive' cheddar," Miller told Food Network. Valentine's Day provides the perfect excuse to add pink and red fruits like dragon fruit, cherries, guava, and figs to a charcuterie board offer a fun twist. And for the cheese — a crucial part of any charcuterie board — food media entrepreneur Chadwick Boyd advises a rule of threes: "My baseline is always 'cheese in threes' — a hard cheese, like Parmesan, aged gouda or comet; a soft cheese, like a triple cream brie or goat cheese; and a mild cheese, like cheddar or Emmental."
Old-school game night
Bring out all the childhood classics for a Valentine's Day celebration that is as fun for the kids as it is for the adults. For those with younger kids, celebrating Valentine's Day with some Jenga and Connect Four can be fun, while older kids and adults will enjoy classics like Monopoly, Clue, and Scrabble.
Game night may not seem like a typical Valentine's Day celebration, but for those with children, it's a more realistic and inclusive option than a champagne party. Plus, game night is educational and good for kids — it can improve children's motor skills, problem-solving, and even their grades, according to PBS. Game night also provides an opportunity for bonding for the whole family. Research shows that couples who have fun together feel more positive emotions, which can lead to better relationship satisfaction and give couples more hope when working through challenges (per Utah State University).
Galentine's wine swap
Want to hang out with your friends and drink a little wine this Valentine's Day? We have the perfect idea for you: a wine swap. If you've never done a wine swap, the rules are simple: Invite all your gal pals and instruct them all to bring a wrapped bottle of wine. "Number one picks any bottle, number two can steal that bottle or pick a new one. Repeat until everyone has a bottle. Oh, and only two steals are allowed per bottle," according to the rules laid out by Cosmopolitan.
If you're not a big wine person, or if you're just unsure what kind of wine to bring to the swap, it's hard to go wrong with a rosé, especially on Valentine's Day, or a classic red blend. If you want to do something a little different, though, Riesling, an aromatic white wine, is a good option. Sommelier Alisha Blackwell-Calvert told Forbes that she recommends Willm's Reserve Riesling because "it features delicious tropical fruit flavors" and "has a long mineral finish that will quench your thirst."
Fondue
Fondue is undeniably a special occasion type of food, and Valentine's Day is the perfect excuse to eat copious amounts of melted cheese and chocolate. According to BBC Travel, the Swiss dish dates back all the way to Homer's "Iliad," about 800 to 725 BC. Early fondue was described as a mixture of goat's cheese, wine, and flour.
These days, fondue typically encompasses cheese, chocolate, oil, and broth, according to AWG Private Chefs. If you're looking to get down with some cheese fondue this Valentine's Day, The Spruce Eats offers a few helpful tips to make sure things go smoothly. After all, fondue can be a bit tricky if it's not something you've experimented with before. One simple tip is to heat cheese slowly in the fondue pot. If you heat it too quickly, it can become rubbery. If your fondue is too thick, you can add a bit of white wine to thin it out; for fondue that's gone too thin, you can add half a teaspoon of flour or cornstarch with half a teaspoon of wine and add that to the mixture to thicken it up.
Tea party
If you want to be fancy for Valentine's Day, consider a high tea Valentine's party, complete with tiny sandwiches and delicate teacups. High tea is a casual British tradition that historically involved heavy meals that included meats, beans, and potatoes, according to the Pioneer Woman. However, many people began to confuse "high tea" with "afternoon tea," with afternoon tea being the much fancier version of high tea thanks to its fancy teacups, tiny pastries, and a general air of luxury compared to the more casual high tea.
Whether you want to call it high tea (which admittedly does sound fancier than afternoon tea) or afternoon tea, hosting a tea party is a fun and unique way to celebrate this Valentine's Day. To make the day extra special and on-brand, ask your guests to wear their Sunday best. Then find yourself a pretty teapot and matching teacups (hot tip: thrift stores tend to have plenty), and finish things off with some delicate sandwiches to have a Bridgerton-worthy celebration of love.
Cookies & cocktails
Wanna have a Valentine's Day party without putting in too much effort? Cookies and cocktails are your new best friends. Tell each guest to bring a batch of Valentine's Day-themed cookies of their choosing (which means no cooking or baking for you) and then your only job is to make plenty of Valentine's Day-themed cocktails for everyone to try. Since drinks will be served, offering a few hors d'oeuvres couldn't hurt, but something quick and easy like chips and a charcuterie board would be fine.
As far as cocktails are concerned, you can't go wrong with a batch of cosmopolitans (vodka, triple sec, cranberry juice, and lime juice) or a classic espresso martini (vodka, espresso liqueur, crème de cacao). If you want to try something with a little punch and fits the Valentine's theme, whip up a A Match Made in Heaven, which includes pineapple juice, grapefruit juice, and rum (via Cosmopolitan).
Valentine's costume party
We typically reserve dressing in costume for Halloween, but why not dress up on Valentine's Day as well? Hosting a Valentine's Day costume party is almost guaranteed to be more fun than a non-costume party since costumes are always great conversation starters and allow people to be a bit goofier than usual. You can stick to Valentine's Day-themed costumes only, which would likely translate to lots of cupids and couples' costumes, or you can advise guests to wear any costume their heart desires.
And if a full-blown costume party is a little much for you, you could always just have your guests dress up in formal, date-night looks. That way, the occasion still feels special but no one has to scramble to find a last-minute costume. Plus, throwing on your favorite dress is sure to boost your confidence and add a touch of glamour to your Valentine's Day. "It will probably feel special enough wearing a pair of heels and a dress," matchmaker Nikki Lewis told The Zoe Report.
Craft night
This family-friendly Valentine's Day party idea is simple but fun for kids and adults alike. Craft night can take the form of whatever crafts you and your loved ones enjoy most. This could mean making Valentine's Day cards, decorating some V-Day cookies, or painting with your girlfriends or significant other. For kids, TLC recommends making some cut-out hearts to create a heart wall in the house or making a delicious heart-shaped pizza with all the toppings (this one's good for adults too!).
If you don't have kids but are looking to get crafty with your boo, your friends, or just yourself, a paint-and-sip night is always fun. Find a fun follow-along painting video on YouTube, gather your painting supplies, pop some bottles, and get those creative juices flowing.
The great thing about craft night is that it's easy and cheap. It's also a great way to relax, get creative, and connect with yourself and others.
Pizza and beer
We would be remiss not to include perhaps the ultimate date night pairing: pizza and beer. While some may think it's not "special" enough for Valentine's Day, we'd say that there are few things in this world better than pizza and a good beverage — especially if you've got a good movie or some so-bad-it's-good reality TV to watch, too.
This casual V-Day celebration is a good option if you and your partner want to keep things low-key. After all, as L.A.-based relationship therapist Jaime Bronstein told Brides, "The happiest couples can make anything fun, lemonade out of lemons and all that."
Another great thing about pizza and beer? They taste just as great if you're single. Valentine's Day is a day to indulge in the things we enjoy, and if that happens to be pizza and beer, you should certainly partake, whether you're coupled up or not. "Just do the nice thing for yourself, whatever that looks like to you," life coach and therapist Tess Brigham advised to Women's Health.