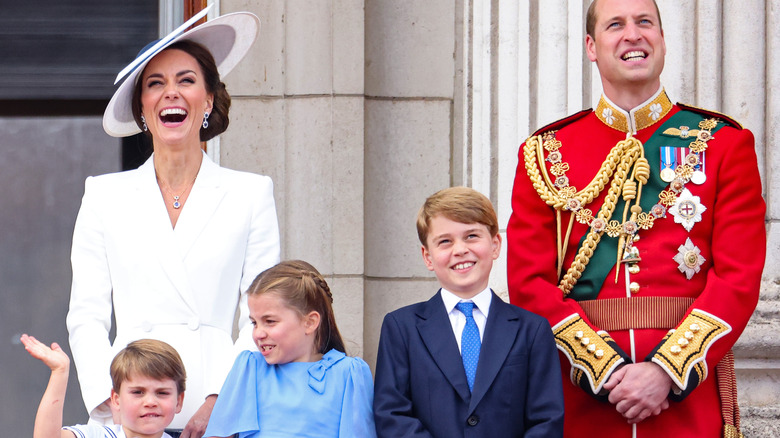 The Prince and Princess of Wales, William and Kate, are known for their healthy lifestyle and eating habits. It may come as a surprise, however, that they live a lot more like the rest of us than one might assume. While they may attend extravagant parties and luncheons as part of their royal duties, according to The U.S. Sun, they have also been spotted having a burger and fries at the local pub with their three children, Prince George, Princess Charlotte, and Prince Louis.
As reported by Closer Weekly, unlike many of the other members of the royal family, the couple does not retain a home chef. Kate opts to do the cooking for her family herself, much like a typical mother. What may seem like normal behavior to most of us puzzled William's grandmother, Queen Elizabeth. A source told Express that having the kitchen as the heart of a home where family members interact was a foreign concept to Her Majesty. "For the Queen, she can't stand that, because she is used to having a set room for that sort of thing," they said.
So what kinds of things does this modern bunch of royals mix up? Why, all kinds! Read on to learn a little about the Wales family's favorite foods.
Pizza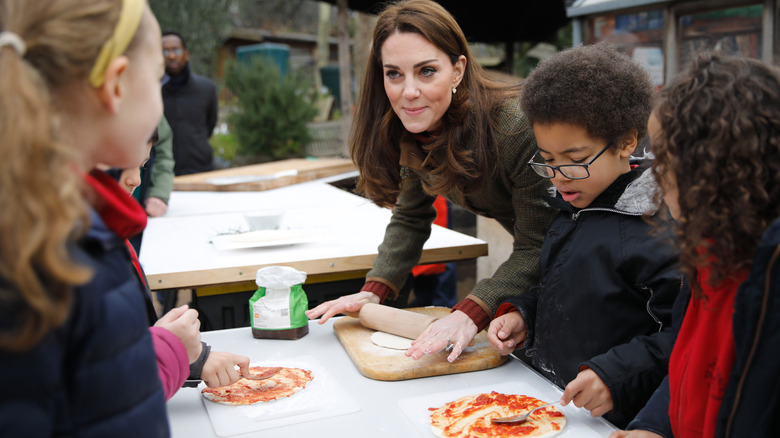 In March of 2018, Princess Kate spent some time at St. Luke's Community Centre in London, helping to make food for an upcoming event that the center was holding. One of the things she and the other volunteers made was pizza. According to Hello! Magazine, Kate revealed that she makes pizza from scratch at home as well. "I really enjoy making pizza dough with George and Charlotte because they like getting their hands messy," she said.
The Princess was still pregnant with Louis at the time, but this family tradition has continued now that he is also old enough to help out in the kitchen. Today reported in January of 2019 that Kate volunteered her pizza skills once again, this time at a community garden where she made pizzas with a group of young children. She told the kids, "[My children] would love to do this with you. They'll be very sad that I've been out making pizza with all of you."
At this same event, one of the children asked Kate if Queen Elizabeth ate pizza. Kate answered that she didn't know. But given that the Queen was widely reported to avoid carbs and never ate garlic, we are going to hazard a guess that the answer was no.
Beets
It may surprise a lot of parents of young children to learn that one of Prince Louis' favorite foods is beets (also called beetroots). Vanity Fair reported that during a one-hour cooking special in 2019 with Mary Berry (of "The Great British Bake Off" fame), Kate confided this tidbit to Berry. Berry then went on to make a chocolate cake using grated beets in Louis' honor. After taking a bite, she said, "That is what I call a truly indulgent, decadent chocolate cake, and it's the beetroot that makes it so rich." According to Today, the Wales family maintains their own vegetable garden, growing their own beets as well as carrots and beans.
When Kate paid a visit to the London Early Years Foundation Stockwell Gardens Nursery and Preschool in 2020 to help out with the children's lunches, the topic of beets came up once again. One of the school's trainee chefs, Luke Nelson-Neil, told Today about meeting the Princess. "I was feeling so nervous at the time, and I just mentioned that I still couldn't get [my children] to eat (beetroot), and she said that her children love it!" he said.
Incidentally, beets were also a favorite of William's mother, the late Princess Diana. Former royal chef Darren McGrady told Today, "She ate them a lot and even juiced them."
Potatoes
In the same cooking special in which Kate shared with Mary Berry her younger son Louis' love of beets, Vanity Fair reported that the Princess also said of her daughter, "Charlotte, obviously, loves Charlotte potatoes." Specialty Produce explains that Charlotte potatoes are a smallish French varietal with a thin skin and nutty flavor that are used in a wide selection of dishes, both hot and cold.
According to The Sun, the school that Prince George and Princess Charlotte attended in 2020, Thomas's Battersea, was known to include dauphinoise potatoes on its lunch menu, a creamy dish of sliced potatoes. This is definitely a departure from dining with the late Queen Elizabeth, who avoided starchy foods such as pasta and potatoes except on special occasions (per Bustle).
Given the family's habit of occasionally dining out at pubs (per The U.S. Sun), and kids being kids, we can only assume the junior Wales also enjoy a good french fry now and again.
Spaghetti carbonara
Prince William serves as a patron of Centrepoint, a charity supporting homeless youth in the U.K. This is how he met the charity's ambassador, celebrity chef Aldo Zilli, who is Italian by birth. Zilli told the Daily Mail that he is a big fan of the royal family, and was excited to learn from William that one of Prince George's favorite dishes is the Italian classic spaghetti carbonara (also called pasta carbonara). "I'm waiting for the call to go and cook it for him," Zilli said.
Spaghetti carbonara is a simple dish made of cooked noodles (usually spaghetti or linguine) tossed with chopped, crispy bacon and an egg and parmesan cheese sauce. Even a child could help prepare this dish. Perhaps this is what Princess Kate was referring to in a tweet by Rebecca English of the Daily Mail. "[Kate] encourages both [Princess Charlotte] and Prince George to cook with her – they made cheesy pasta together the other day!" English said.
Olives
Olives are one of those polarizing foods that people either love or absolutely can't stand. It turns out that both Princess Kate and her daughter Princess Charlotte are in the former category.
According to Hello! Magazine, Kate told a young patient who expressed a love for olives during a visit to Great Ormond Street Hospital in 2018, "I used to eat lots and lots of olives when I was little as well." The Express added that when the patient said he also loved to eat pasta, Kate answered, "Charlotte likes pasta and olives too." This was confirmed in a 2019 tweet by Rebecca English of the Daily Mail that said, "The Duchess of Cambridge revealed today that her daughter, Princess Charlotte, loves olives…"
A study published in the journal Nutrients found that very young children enjoy salt in higher concentrations than adults do, which may explain Princess Charlotte's preference for the salty fruit at such a young age. There is, of course, also the old adage: "Like mother, like daughter."
Roast chicken
One of the quintessentially British meals is the Sunday Roast, a custom that dates all the way back to King Henry VII in the 15th century. As Secret Food Tours explains, this traditional, indulgent repast consists of a roast meat, such as beef or chicken, roasted potatoes, vegetables, Yorkshire pudding, and gravy. While Prince William may be a modern parent, he is quite traditional in his choice of favorite food, the time-honored roast chicken.
The exact recipe of the roast chicken enjoyed by William as well as his mother Princess Diana (though she removed the skin) was shared by former royal chef Darren McGrady in Hola! Magazine. McGrady also said that he taught both William and Harry how to make this dish themselves because they loved it so much. Harry made it for Meghan Markle the night he proposed to her. Princess Kate has said that roast chicken continues to be a favorite in the Wales household as well. A friend of the couple told Vanity Fair that enjoying a meal together at home as a family is "their idea of the perfect night."
Curry
According to The Journal of Modern History, Brits have been "going out for curry" since the 1960s. Curry is so beloved in the U.K. that Bistro Chic called it an "experience" rather than just food.
Of course, being members of the royal family, William and Kate can't simply go out for curry whenever they feel like it. On BBC Radio 1 in 2017, the couple said that they usually sent someone else to grab curry takeout rather than go themselves. "I'm not so good with the spicy food, though," William admitted.
According to People, Kate often makes her own curry at home for the family, though not without some difficulty. She said, "It's so hard cooking curry with the family though. The children have a portion with no spice, [William's] is medium. And I quite like it hot." She also shared that Princess Charlotte is "pretty good with heat" as well. It seems that Charlotte takes after her mother's taste in more than just her enjoyment of salty olives.
Apples
The Sun reported in 2021 that apples were among the top three favorite fruits in the U.K. According to Olive Magazine, 40% of the apples consumed in the U.K. were grown domestically, a figure that is on the rise. One place that Prince William and Princess Kate can find native U.K. apples is at their children's school.
As reported in the Daily Mail, Lambrok, the private school in which the children were enrolled after the family relocated to Windsor in September of 2022, has its own on-campus apple orchard. The school posted to Instagram that its students participated in apple picking, apple pressing, and learning how to bake apple cake and create other treats with the popular fruit.
How lucky for kids who, according to Today, enjoy apples at breakfast. Their mother, Princess Kate, also makes chutney with fresh apples using her grandmother's recipe. Town and Country reported that Kate gave Queen Elizabeth a jar of her homemade chutney on the first Christmas they spent together as a family.
Cereal
When Currys PC World surveyed people in the U.K. about their breakfast habits, it discovered that the fourth most popular breakfast food was cereal. It is perhaps refreshing to learn that Prince George, Prince Louis, and Princess Charlotte are included within that perfectly ordinary group.
When their mother, Princess Kate, volunteered to serve breakfast at the London Early Years Foundation Stockwell Gardens Nursery and Preschool in early 2020, cereal was one of the items on the menu. The school's manager, Michelle Samuels, told Today, "She [Kate] mentioned to three of the children that her own children enjoy apples and cereal in the morning, which sparked a conversation with the children about their own preference of fruits."
According to the Daily Express, the children aren't the only royals who have enjoyed a bowl of cereal and fruit for breakfast. Their great-grandmother, Queen Elizabeth, was also a fan, and had this every day after tea and biscuits. Former royal chef Darren McGrady told Marie Claire that is was specifically "Kellogg's cereal from a plastic container, which she'd serve herself."
Cake
William and Kate may have had a designer eight-tiered cake for their wedding in 2011, but when it comes to family birthdays, Princess Kate likes to bake the cakes herself. As reported by Hello! Magazine, Kate told famed baker Mary Berry in 2019, "It's become a bit of a tradition that I stay up 'til midnight with ridiculous amounts of cake mix and icing and I make far too much. But I love it."
It appears that love has been passed down to her children. While visiting a bakery that supplies baked goods to the royal family in the summer of 2020, during the Covid-19 lockdown, Prince William shared, "The children have been attacking the kitchen and it's just been an explosion of flour and chocolate everywhere." He added that while his wife does quite a bit of baking, he himself has done very little.
Two years later, the family was still enjoying baking together. They shared on their Instagram a few pictures of Kate and all three children happily baking and decorating cakes for the Platinum Jubilee street party that took place in Cardiff, Wales in the summer of 2022.
Turkey
Roast chicken is not the only way the Wales family keeps to tradition. Former senior royal chef Darren McGrady told the Daily Express that every Christmas the royal family goes to church, then returns home for a customary lunch of turkey, stuffing, and Christmas pudding for dessert. MyLondon reported that according to McGrady, during his time as royal chef, it was the same meal every year. "We did three turkeys for the Queen and her family in the royal dining room, one for the children's nursery and then more for the 100 or so staff, so everyone had a Christmas lunch," he said.
During Christmas 2021, when the Wales did not attend Christmas with Queen Elizabeth as usual due to the Covid pandemic, the turkey tradition was still maintained, an insider told Us Magazine. They also said that the three children assisted Princess Kate in baking an apple pie, a chocolate Christmas log, and a gingerbread house that they also helped to decorate.