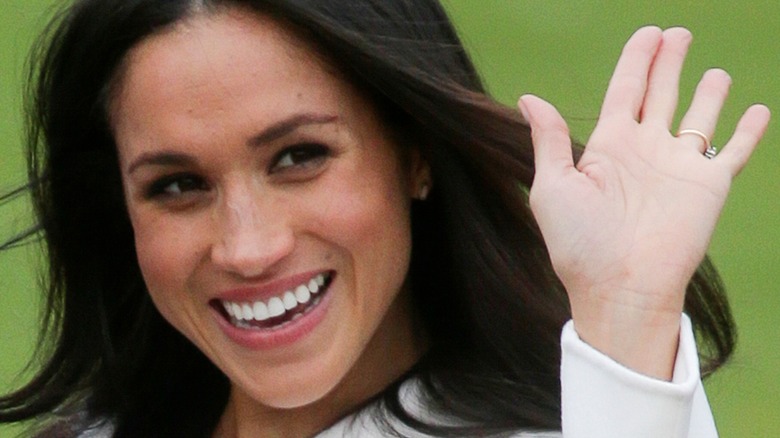 Many little girls grow up dreaming of becoming princesses (looking at you, Disney), but few ever see those dreams become reality. If you're a little girl in America, the Cinderella fantasy is even more of a long-shot, as America has no monarchy, and the Kardashians are full.
However, young women still clung to the hope of someday experiencing a chance meeting with one of Britain's two most eligible royal bachelors, William and Harry. So when Prince William married Kate Middleton in 2011, every woman in America took solace in the fact that Harry was still on the market.
Of course, those princess dreams were dashed for good on November 27, 2017, when King Charles III announced the engagement of Prince Harry and Meghan Markle. All eyes became fixated on the American actress and humanitarian as she rewrote the classic fairytale with her own undeniable flair.
American, divorced, biracial… oh, my!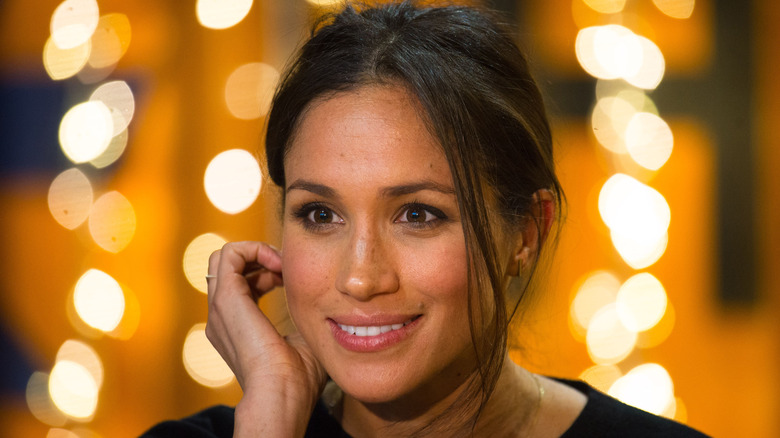 Not only is Meghan Markle an American woman, but she's also a divorcée. She married her longtime partner Trevor Engelson on September 10, 2011, divorcing him only two years later. The last divorcée to marry into royalty was Wallis Simpson, the twice-married American woman who stole King Edward's heart in 1936, inspiring him to abdicate his throne so that they could wed. Luckily for Meghan and Harry, times have changed.
However, Meghan continued to make headlines for a completely different reason: her ethnicity. Born in 1981 to a white father and African-American mother, Meghan will be marrying into Britain's royal family as a proud biracial woman. Though her race is quite a hot topic of discussion, Meghan has always faced questions about her ethnicity.
As she wrote in Elle in 2015, not a week goes by where she's not asked to explain her ambiguous appearance. Meghan responds with a "mouthful" as she says, writing, "'Well,' I say, as I begin the verbal dance I know all too well. 'I'm an actress, a writer, the Editor-in-Chief of my lifestyle brand The Tig, a pretty good cook, and a firm believer in handwritten notes.'" Meghan doesn't believe her looks define who she is. Instead, she's always felt a close connection to her great-great-great grandfather because, as she writes in her Elle essay, "He drew his own box."
She's no shrinking violet
A girl's gotta take a stand, and Meghan Markle has already taken many — even some that clash with the royal family's tradition of refraining from publicly expressing their personal beliefs and opinions.
As Express reported, Meghan posted a picture in 2016 to her personal Instagram page in which she is believed to have been expressing her personal thoughts on Brexit. In the photo, a woman's hand holds a cardboard sign displaying a clever play on the lyrics of Chicago's hit song, "If You Leave Me Now." Meghan captioned the photo on her now-deleted Instagram, "If EU leave me now…" leading many to believe the bride-to-be possesses anti-Brexit views.
She also delivered a speech on International Women's Day in 2015 at the UN Women conference in New York City. In her inspiring speech, Meghan details her own experiences with inequality, citing a particular instance from her childhood in which she inspired Proctor & Gamble to change the wording in a commercial from "Women all over America are fighting greasy pots and pans" to "People all over America."
When The Sunday Times reported that Meghan would be delivering a speech at her wedding reception — a move virtually unheard of where royal weddings are concerned — the news didn't come as a shock. Unlike Princess Ariel, Meghan had no plans on giving up her voice to be part of Prince Harry's world.
She doesn't have royal jeans
While the future royal has certainly proven herself to be much more than just a pretty face, Meghan Markle's unique sense of style continues to be the cause of both praise and criticism. Harper's Bazaar reported that the gorgeous white coat from Canadian brand Line the Label that Meghan wore while she and Prince Harry publicly announced their engagement in November has been renamed "the Meghan" by John Muscat, the brand's CEO.
Muscat spoke with WWD shorty after the royal announcement, revealing that the coat sold out "within minutes," disappointing the millions of women who suddenly found themselves vying for Meghan's style with no such luck.
However, the future duchess is known to find herself at the center of debate surrounding her edgier sense of style. Kate Middleton is rarely seen wearing jeans — and for good reason. Senior etiquette tutor Diana Mather tells BBC, "Many places will not allow jeans as they are still seen as very casual wear, so it is better to play safe for both sexes."
This obviously hasn't deterred Meghan, as she donned light-blue ripped jeans during an outing with Harry in September 2017 to the Invictus Games. Some people took to social media (via Yahoo! Entertainment) to declare their disapproval of her fashion choice, one person even writing that Meghan is "obviously not bred to be a royal." Ouch. Judging from the pictures of the happy couple, neither Meghan nor Prince Harry are letting a little ripped denim tear apart their romance.
She's A-OK with PDA
Who doesn't love the butterflies you get when your special someone holds your hand for the very first time, the warm and fuzzy feeling of snuggling up together to keep warm on a chilly day, or stealing kisses while running errands? Every person has their own opinion on PDA, but the general consensus seems to be that hand holding is a G-rated version of public displays of affection — safe for kids and families alike.
However, royal etiquette expert Myka Meier told People, there's an unspoken rule for royal couples to refrain from holding hands. "Technically, the couple are working representatives of the British Monarchy," Meier said. "The couple are likely to show very little PDA, if any, to remain professional during their designated roles abroad." This explains why photos are rarely seen of Prince William and Kate Middleton holding hands or touching each other at all — they're basically coworkers!
Nevertheless, their first official "work outing" saw the happy couple holding hands, wrapped in each other's arms, and making sure the other was never too far away. I mean, can you blame them?
She was a not-so-Catholic schoolgirl
Meghan Markle's journey to royalty couldn't have happened at a better time in history. Just a few short years before Prince Harry and Meghan's engagement, it's entirely possible that the couple would not have been allowed to marry. However, this isn't due to Meghan's previous divorce, as one might think.
Far more important than marital history to the royal family is religious affiliation. As the BBC reported, The Succession to the Crown Act that was passed in 2013 overturned a rule which prevented members of the Royal Family from marrying a Roman Catholic.
Though Meghan reportedly identifies as Protestant, she attended the Immaculate Heart girls' school, a Catholic school in Los Angeles, from ages 11 to 18. In an interview with The Telegraph, Meghan's drama teacher Gigi Perreau spilled the beans on her former student: "She was a wonderful student, a lovely girl even then, and very hard working. She was very dedicated. I knew she would be something special." When you know, you know!
She spent a surprise fairytale holiday with the royal family
Nobody puts Meghan in the corner! Meghan and Prince Harry spent their holiday in December 2017 with the royal family at their winter estate in Sandringham. According to the Prince himself, the couple "had an amazing time."
While it's not uncommon for us commoners to spend holidays with our significant other and their family, the royal family has a bit of a stricter idea on what's appropriate before marriage. Meghan's invitation to spend the holidays with her beau and his family came as a shock, as royals are often only allowed to be accompanied by significant others if the two are wed.
Not one to be held back by silly tradition, Meghan was all smiles during Christmas Day celebrations, speaking with members of the public and watching the Queen's annual Christmas Day speech with Harry and the rest of the royal fam. Holiday magic is real!
A recipe for danger
Perhaps the strangest of all the royal rules is food-related. According to the BBC, the queen has banned any type of food that could cause "disruptions of gastronomic indisposition," including rare meats, foreign waters, any food Her Royal Majesty deems too spicy or exotic, and shellfish.
There was a method to the queen's madness, however — she doesn't want the royal family be pulled from their busy schedules due to tummy troubles caused by questionable foods. This didn't stop Meghan Markle from appearing on Today to whip up one of her favorite recipes: a Caesar salad with shrimp!
As delicious as a shrimp salad sounds, it seems Meghan's favorite dish is roasted chicken. As she told Good Housekeeping in 2017, "There is nothing as delicious or as impressive as a perfectly roasted chicken." Sounds like a dish fit for a queen, though it's safe to predict that Meghan will be sneaking delicious shrimp at any opportunity.
She worked hard for her money
Meghan Markle may be our real-life Cinderella, but you'd better think twice before you call her a "rags-to-riches" story. As royal correspondent Roya Nikkhah told CBS News, Meghan is a "game changer" for the royal family for many reasons, the least of which not being that she was famous and successful in her own right before becoming engaged to Prince Harry.
As fairytales often go, Prince Charming rescues his beloved from a boring life of obscurity (and singing mice, of course). However, Meghan isn't a woman who needs anyone to rescue her. She quickly made a name for herself as the razor sharp Rachel Zane on the successful American television series, "Suits." In addition, she founded a popular lifestyle blog called The Tig, which she ran for three years before calling it quits in early 2017.
Her net worth was estimated to be around $5 million dollars prior to marrying into the royal family, proving that Meghan was far from a damsel in distress when she met Prince Harry. She's always been an independent working gal, which is just another reason to have major girl-crush vibes.
She's a suits kinda girl
If there's one thing we can say about the women of the royal family, it is that they always look stunning. Meghan Markle is no exception but for the fact that she often preferred to wear pantsuits instead of dresses when she was out and about on royal business.
According to Cosmopolitan, Queen Elizabeth II preferred that female members of the royal family wear dresses and skirts instead of pants, which is why working royals like Catherine, Princess of Wales, typically opt for classy, stylish dresses and skirts. While Meghan has worn dresses, she was also often spotted wearing pantsuits, most notably when she and Prince Harry were walking the streets of Ireland in 2018 while paying an official royal visit to the country. Later that same year, she wore pants yet again when she and Harry attended the WellChild Awards. We'll admit, dresses are nice, but pants can be so much more practical, especially if it's a very breezy day. Just saying.
When she's in love, she lets the world know
It's no secret that Meghan Markle is very outspoken, and when she fell in love with Prince Harry, she wasn't shy to let the world know just how amazing he is. However, it's certainly uncommon for people dating one of the royals to say anything about the relationship to the media unless they are already engaged or married.
However, Meghan dished about her relationship with Harry to Vanity Fair in 2017. As royal journalist Daniele Elser explained, "With her Vanity Fair appearance, she didn't so much break that mould as chicly smash it to smithereens, trouncing the unspoken omerta that royal girlfriends had thus far diligently adhered to" (via Express).
But who didn't love watching their story unfold? We're definitely not complaining. "We're two people who are really happy and in love," Meghan revealed at the time. "Nothing about me changed. I'm still the same person that I am, and I've never defined myself by my relationship." She added that she and Harry were trying to live in the moment and enjoy each other's company and that they weren't ready to reveal everything about their relationship to the world just yet. "It's part of what makes it so special, that it's just ours. But we're happy. Personally, I love a great love story," she said. While she didn't spill all, that's more than anyone's ever managed to get out of someone dating a royal family member.
She broaches taboo subjects
In September 2019, Meghan Markle served as guest editor for Vogue. This was a bold move and something no other member of the royal family had ever done. Meghan was actually also the first-ever guest editor in the magazine's history (via People). This alone made more waves than simply appearing on the cover.
While guest-editing the issue wasn't a breach of protocol in itself, the topics Meghan addressed in the issue kind of were. The ruling monarch is not allowed to take a political stance. The rest of the royal family follow suit and avoid getting involved in politics by keeping silent about their political preferences and views (via Popsugar).
As guest editor of Vogue, however, Meghan covered topics that sparked conversation and criticism alike. She used it as an opportunity to celebrate transgender women and highlight causes close to her heart. This led to many saying that she was being unnecessarily political, with some dubbing her as "leftwing" for supporting certain causes, as The Guardian reported. Thanks to all the praise and criticism the issue received, though, it sold out within two weeks. Not bad for a first-time guest editor!
She's a feminist and outspoken about women's rights
Meghan Markle isn't scared to stand up for what she believes in, even if it bends (or breaks) a few royal rules. As royals remain politically neutral, Meghan got into some hot water thanks to her passion for women's rights. When her royal biography first appeared on the official royal website, it sparked some conversation and controversy because she recounted the work she'd done to advocate for women's rights. These statements were seen by many as breaking the rule of remaining neutral on political matters (via People). Meghan has also revealed that, like her, Harry is also a feminist.
Back in 2018, Meghan made waves when Irish senator Catherine Noone tweeted that Meghan was "pleased" with the fact that Ireland's abortion law was being overturned to ensure abortion is available to all and not just those whose lives are endangered by the pregnancy. This put Meghan in a difficult position, The Irish Times reported. The tweet was later deleted, possibly because the senator realized her mistake. She replaced it with another tweet that read, "I should say she seemed pleased — she was interested and very measured, not political at all." This seemed only to make things worse, so Noone ended up deleting that tweet as well.
Hats and pantyhose aren't staples in her closet
When Meghan Markle and Prince Harry announced their engagement with a photoshoot, Meghan's legs were notably bare, which was quite the royal faux pas. "You never see a royal without their nude stockings," royal expert Victoria Arbiter told Insider, adding, "I would say that's really the only hard, steadfast rule in terms of what the Queen requires."
Speaking to E! News, Christine Ross, who runs the website Meghan's Mirror, explained that royals are expected to wear pantyhose because they are feminine and modest. "But given how chilly London can be, it may be a practical choice more than anything!" she added.
Royals are also often required to wear hats on official outings, and on one of the most important outings Meghan attended with Queen Elizabeth II — her very first official engagement — she wasn't wearing a hat, despite the fact the queen was (via Glamour). Royal protocol dictates that women wear hats whenever they attend a formal royal event or occasion. Speaking to CNN, senior curator of fashion and decorative arts at the Museum of London, Beatrice Behlen, explained that hats were a fashion staple in the queen's closet since her childhood. When they went out of fashion in the 60s, she continued to wear them, effectively turning them into a status symbol. "It becomes a trademark when she continues to wear them when everyone else stops," Behlen said. It's no wonder women of the royal family continue to don them.
Weekends are for weddings
Any fan of the royals knows that weddings are a big deal when it comes to this prestigious family, and there are certain protocols and traditions that need to be followed. One such tradition is that royal weddings always take place on a weekday. Whichever date is chosen is then declared a bank holiday, and the British Commonwealth gets to take a day off work to watch the wedding at home. Prince Harry and Meghan Markle, however, decided to have their wedding on a Saturday, as Harper's Bazaar detailed.
The couple also broke royal protocol on the day of the wedding — they held hands, which traditionally isn't allowed during the ceremony. Meghan also deviated from the traditional vows by not promising to be obedient to her husband — in this case, though, she followed in the footsteps of Princess Diana and Princess Catherine (via E! News).
Then there was the cake, which was a lemon elderflower-flavored cake topped with buttercream and fresh flowers — yum! But as delicious as it sounds, it wasn't in line with royal tradition, which stipulates that weddings should be celebrated with a fruitcake.
Her baby, her business
Meghan Markle did things differently from the moment it was announced that she was pregnant with her first child. She reportedly didn't make use of the royal doctors at her disposal and opted for a natural birth plan, which consisted of hypnobirthing practices, acupuncture, yoga, and consulting a doula, Vogue reported. She and Harry also didn't share their birth plan with the world. "Their Royal Highnesses have taken a personal decision to keep the plans around the arrival of their baby private," an official royal statement revealed.
All of this was pretty unusual, but the biggest shock came when, instead of waiting for the palace to release a formal statement first, Meghan and Harry announced their firstborn's arrival on Instagram. The couple also didn't pose for a photo with their newborn outside of the hospital. Princess Diana and King Charles III, then Prince Charles, started this tradition, and Princess Catherine and Prince William honored it with the birth of all their children. Harry and Meghan, however, did a small photo shoot two days after Archie's birth at St. George's Hall at Windsor Castle. The couple also didn't follow the tradition of assigning a courtesy title to Archie, and they didn't give him a name that is of any royal significance. To top it off, Archie, unlike the rest of the royal family, doesn't have two middle names (via Vogue).
Tight, sleek hairdos are not her thing
Meghan Markle's got style — no one can deny that, and she continued to showcase it even when she was a working member of the royal family. One thing all royal women have in common is their sleek hairdos — they typically look like they walked straight out of a magazine photoshoot. But Meghan had a style all her own. She opted for a more laid-back, everyday hairstyle that we everyday folks can relate to, and honestly, we were huge fans of her stepping out with her hair in a classic messy bun.
People reported that Meghan was sporting said messy bun while visiting a radio station with Prince Harry, stretching royal rules once again. The outlet pointed out that Meghan's hairstyle was the opposite of Princess Catherine's usual not-a-hair-out-of-place chignon. Royal expert Ingrid Seward, who wrote a biography of Queen Elizabeth II and Prince Philip titled "My Husband & I," told People that Meghan's age is likely the reason she was comfortable breaking some rules. "She is easier-going," she told the outlet, adding, "It's refreshing that [the royal family] is prepared to bend a bit."
She's a hugger
One thing you won't see members of the royal family do on official outings is hugging their fans. According to E! News, Queen Elizabeth II always greeted people with a handshake. But Meghan Markle clearly enjoys interacting with people. On some occasions, she's hugged fans and taken photos with them. Once, Prince Harry even asked a fan who looked like Meghan to take a photo with her.
Back in 2018, Meghan made one wellwisher very happy while visiting Birmingham for International Women's Day. While meeting with fans, Prince Harry came across Sophia Richards, a young girl who told him she wanted to be an actress one day. He immediately introduced her to Meghan, who told Sophia that she should believe in her dreams and that she can't wait to see her on TV one day. She sent her off with a hug, and People reported that the youngster described the interaction as "a dream come true."
Something else Meghan has occasionally done that also goes against strict royal protocol is granting autographs. According to Express, royals don't sign autographs for the public to prevent their signatures from being forged. On one occasion, though, Meghan wrote a note saying "Hi Kaitlin" instead of signing her name. It should be noted that Prince Harry and King Charles III have also bent this rule in the same manner.
She's outspoken about what the royal treatment is really like
None of us could ever really know what goes on behind the palace doors, but Meghan Markle has given us a glimpse. According to Time, the royal family's motto is "never complain, never explain," and if that's true, Meghan has broken possibly the most important rule by going public with what had been going on behind the scenes while she and Prince Harry were working royals.
The couple's shocking interview with Oprah Winfrey sparked public criticism and empathy alike. From revelations that Meghan felt trapped within the royal family to her dwindling mental health while she was pregnant and the concerns some members of the royal family reportedly had about what her firstborn's skin color would be, the secrets she spilled in the interview were unlike anything anyone expected (via CNN). The couple also told Winfrey that they experienced a "lack of support and lack of understanding" from royal family members.
In early 2023, Harry's book, "Spare," dropped even more bombshells, while the couple's Netflix docu-series, "Harry & Meghan," gave fans an inside look at what their lives as working royals were like. No other royal family members have ever spoken this openly about life inside the palace, except Princess Diana.
She waved royalty goodbye
On January 18, 2020, Queen Elizabeth II released a royal statement announcing that Meghan Markle and Prince Harry were stepping down as working royals. "I recognize the challenges they have experienced as a result of intense scrutiny over the last two years and support their wish for a more independent life," the statement read in part.
Meghan and Harry's exit from the family made a lot of waves — it's not every day someone leaves the royal family, after all. The last time it happened was in 1936, when King Edward VIII renounced the throne to marry the love of his life, Wallis Simpson. Simpson was a divorcee, and royal protocol at the time forbid Edward from marrying her, so he gave up his throne instead, according to the National Archives.
Meghan and Harry left for different reasons, which had a lot to do with the media scrutiny Meghan had to endure. "It's a dirty game. … The pain and suffering of women marrying into this institution, this feeding frenzy," Harry said in an episode of the couple's Netflix series. Meghan added, "I realized they [the royal family] are never going to protect you." Harry also revealed that he was afraid Meghan would end up in the same situation as his mother, Princess Diana, who died in a car accident after being chased by reporters. After stepping down from the royal family, the couple relocated to California.