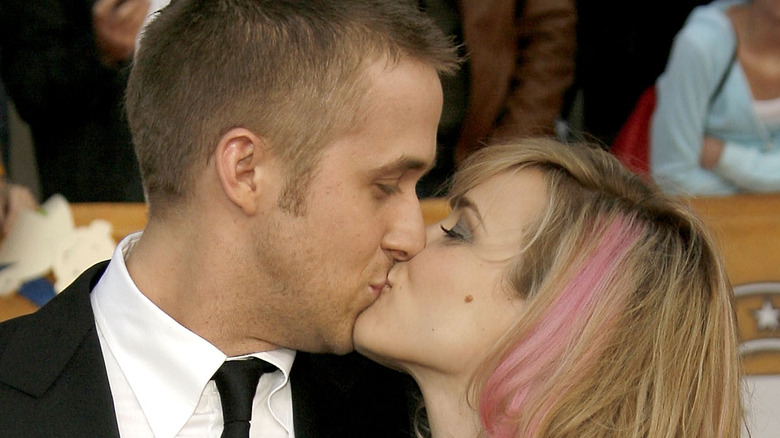 We've all heard actors reflect on the awkward nature of on-screen romance. The choreographed scenes are very unnatural and never allow for realistic passion to play out. But sometimes actors are paired with a co-star whose sweet kisses fill their hearts with butterflies. Outside of A-list dating apps like Raya, on-set couplings are the perfect place for busy celebs to find love.
Angelina Jolie and Billy Bob Thornton met on the set of the 1999 movie "Pushing Tin," quickly got married, and even carried around vials of each other's blood. Where else would she have met someone of her celebrity status, who could also get down with her bizarre way of expressing love? Some celebrities have a track record of dating whoever they lock lips with on-screen, and others are ready to get married after the first audition. This is a list of famous co-stars whose on-camera kissing led to big romance.
Mila Kunis and Ashton Kutcher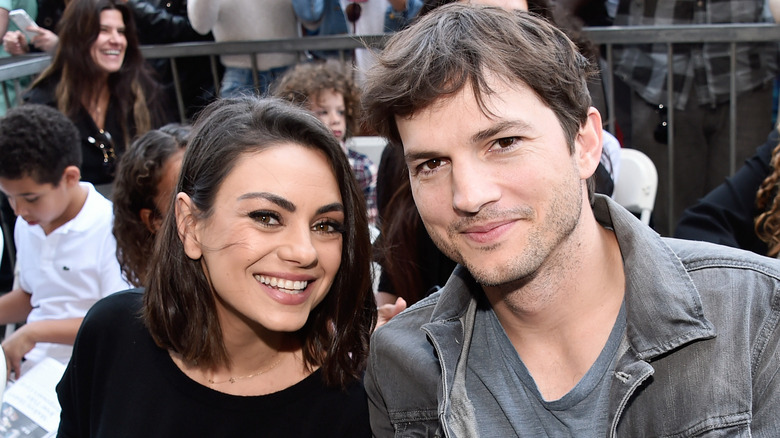 Mila Kunis grew up on the small screen, playing Jackie Burkhart on the Fox hit sitcom "That '70s Show." For eight seasons audiences enjoyed watching Kunis' overbearing, mouthy character gripe at her dimwitted boyfriend, Michael Kelso, played by Ashton Kutcher. Unbeknownst to fans of the show, Kunis' on-screen kisses with Kutcher were her first kisses in real life. Talking to People in 2001, Kunis reflected on the moment she realized she'd have to kiss Kutcher. "I was like, 'Oh, he's so cute, it's the Calvin Klein model!'" Kunis recalled. "Then I was like, 'I have to kiss him?'"
Kutcher had no idea he was her first kiss, but their on-screen chemistry made a decades-long lasting impression. Kunis ended her relationship with "Home Alone" star Macaulay Culkin in 2011. That same year Kutcher separated from '90s screen siren Demi Moore, whose 16-year age gap caused quite a stir in the tabloids. Kunis and Kutcher soon started hanging out and hooking up, much like their characters in "No Strings Attached" and "Friends With Benefits." But, much like their movie characters, their connection was undeniable and the couple married in 2015. They have two children, daughter Wyatt Isabelle and son Dimitri Portwood.
Stephen Moyer and Anna Paquin
In 2010 rapper Snoop Dogg made the song "Oh Sookie," a tongue-in-cheek ode to Sookie Stackhouse, the main character on HBO's vampire drama, "True Blood." The video features clips of the Southern bombshell, played by Anna Paquin, and several Sookie lookalikes. The series was a wildly popular hit for the network, racking up millions of viewers. Fans were enamored with Sookie's sweet sensuality, which also seemed to capture the heart of her co-star Stephen Moyer.
From the moment the two actors met for their chemistry read, the English actor was taken with Paquin. Moyer's character — the sensitive vampire Bill Compton — agonized over his love for Sookie, which was in direct contrast to his fate in the underworld. But in real life Moyer and Paquin's relationship flourished. The couple married in 2010 and welcomed twins Poppy and Charlie in 2012. They currently co-produce the Amazon original series "Flack," where Paquin plays a tortured publicist.
Alicia Vikander and Michael Fassbender
Handsome German/Irish movie star Michael Fassbender has a history of hooking up with his co-stars. After playing a struggling sex addict in the 2011 indie flick "Shame," Fassbender briefly dated co-star Nicole Beharie. He also dated Zoë Kravitz after they starred in the comic book movie "X-Men: First Class." But when he worked opposite Swedish beauty Alicia Vikander, on the tragic 2016 film "The Light Between Oceans," he was so smitten his serial dating came to a halt.
Once a classically trained ballet dancer, Vikander gained acting notoriety playing Ava in the offbeat sci-fi movie "Ex Machina." In 2016 she won an Oscar for her supporting role in "The Danish Girl." That same year Fassbender was nominated for his leading role in "Steve Jobs." While this powerful acting duo keep their romance on the lowdown, a few shots of their secret 2017 wedding in Ibiza did pop up on the internet.
Michael J. Fox and Tracy Pollan
NBC was known in the 1980s for family hits like "The Cosby Show," "Gimme a Break!," and "Silver Spoons." "Family Ties" was ranked high among the network's top shows, thanks to breakout star Michael J. Fox. The Canadian-born actor played charming overachiever Alex P. Keaton, the oddball offspring of his ex-hippie parents Steven and Elyse Keaton. Alex's conservative morals never aligned with his liberal New England family, or the many women he dated in college. Tracy Pollan played one of these women for several seasons, and the encounter proved to be life-changing.
As Ellen Reed, Pollan's character was initially turned off by Alex. But in one iconic scene, the actors kissed while dancing to Billy Vera's bittersweet song "At This Moment." The song became a #1 hit and audiences wondered what would become of the obvious chemistry between Pollan and Fox. Pollan was in a relationship with Kevin Bacon, while Fox was tied to "Facts of Life" star Nancy McKeon. His career was also off the charts with the hit movies "Back to the Future" and "Teen Wolf." The actors reconnected in the gritty drama "Bright Lights, Big City" and married a year later, in 1988. They welcomed their first child in 1989, and Fox was diagnosed with Parkinson's disease a few years later. Pollan has been by Fox's side through his struggles with the disease, and the couple has welcomed three more children.
Bradley Cooper and Zoe Saldana
After starring roles in the high-impact films "Avatar" and "Colombiana," Zoe Saldana was eager for more action films to come her way. The role of Dora Jansen in the 2012 mystery "The Words" was the total opposite of this desire. "I wanted to shoot guns," she told The Hollywood Reporter in 2012. But she soon connected with the role, with the help of co-star Bradley Cooper. Playing a writer who steals another's work to become famous, Cooper's character was charismatic, but afflicted by his secret. As his wife, Saldana's character was supportive, but no-nonsense, and their chemistry jumped off the screen.
Cooper's dreamy looks and star power appeal have seen him linked to several A-list actresses, including Jennifer Lopez, Renee Zellweger, and a brief marriage to Jennifer Esposito. He and Saldana were attached for a year, after she split with her fiancè Keith Britton, but Saldana quickly moved on from the relationship. Unlike normal break-ups, Tinseltown romances come with some post-breakup tension: the actors had to awkwardly put their talented chops to use on the red carpet as they promoted The Words. Saldana eventually married Italian artist Marco Perego in 2013 and the couple have three boys, Zen, Cy, and Bowie. After several short-lived romances, Cooper got serious with model Irina Shayk and welcomed daughter Lea De Seine in 2017. The pair separated in 2019.
Rachel McAdams and Ryan Gosling
Ryan Gosling and Rachel McAdams are Canadian actors who seemed destined to meet. They were both born in London, Ontario, but took different paths to success. Gosling became a child actor on the revival of the Disney Channel's "The Mickey Mouse Club," where he sang and danced with fellow Mouseketeers — and future stars — Justin Timberlake, Britney Spears, and Christina Aguilera. McAdams studied theatre at York University and made her Hollywood debut in the 2002 comedy "The Hot Chick." The striking beauty was paired with the alluring actor for 2004's "The Notebook," an adaptation of the Nicholas Sparks best selling novel. The movie was an instant hit, among the most successful of Sparks' adaptations, thanks to the explosive chemistry between Gosling and McAdams.
Playing conflicted lovers Noah and Allie, the pair had a hard time finding their romantic rhythm. Talking to VH1 in 2014, director Nick Cassavetes revealed that Gosling wanted to work with a different actress. Their fiery on-screen love soon crossed into real life and the couple went public with their romance. They even re-enacted one of their famous kissing scenes from the movie at the 2005 MTV Movie Awards. But their demanding schedules got the best of their love, and the couple parted ways in 2007. Gosling has been involved with actress Eva Mendes since 2011; they have two daughters. McAdams has been with screenwriter Jamie Linden for several years, with whom she has a son.
Nicole Ari Parker and Boris Kodjoe
In the eyes of many fans, they've won the award for Hollywood's sexiest couple, but Nicole Ari Parker and Boris Kodjoe are also one of the town's most dedicated couples. Married for over 15 years, the powerful twosome have been able to maintain a family, successful careers, and a strong partnership under the stressful glare of fame. They met on the set of Showtime's early 2000s series "Soul Food," based on the 1997 film of the same name. For five seasons they played on again-off again couple Teri Joseph and Damon Carter. Though their characters weren't always certain they should be together, their off-screen romance was solid.
When Kodjoe suggested they live together, Parker knew he was the guy for her. They married in 2005 and quickly welcomed a son and daughter. In 2015 the couple briefly hosted a daytime talk show where they interviewed several celebs, including Zendaya and Regina Hall. Like so many Hollywood couples, rumors of marital troubles swirled in 2020 over comments Parker made about missing the single life. But Parker was just sharing an honest moment with fans, and the couple is still going strong.
Ginnifer Goodwin and Josh Dallas
Ginnifer Goodwin's career has seen her often play the girl who had a hard time getting the guy. In "Mona Lisa Smile" and "He's Just Not That Into You," she put all her cards on the table for guys who weren't certain to reciprocate her feelings. In 2011's "Something Borrowed" she fell for her best friend's fiancée, and on the HBO series "Big Love" she shared a husband with two other women. But on the ABC series "Once Upon a Time" she played Snow White and finally got Prince Charming — literally.
Josh Dallas played Prince Charming on the show and swept Goodwin off her feet in real life. An early date at Disneyland solidified marriage for Goodwin, before they were even seriously involved. Sparks were flying behind the scenes and the couple went public at the 2012 White House Correspondents Dinner. The pair married in 2014 and quickly welcomed sons Oliver and Hugo. Dallas stars on the NBC fantasy drama "Manifest", and Goodwin recently appeared on the CBS show "Why Women Kill." When Dallas is away filming he likes to send Goodwin flowers and FaceTime with her as much as possible.
Emily VanCamp and Josh Bowman
There were so many twists and turns on the scandalous ABC drama "Revenge." Emily VanCamp played Emily Thorne, a young woman who inserts herself into the lives of a wealthy Hamptons family to get revenge for her father's death. She uses the romantic interests of their son, Daniel Grayson (Josh Bowman), to uncover their dirty secrets. It was quite a different role for VanCamp, who is also known as the heroic Sharon Carter/Agent 13 in the Marvel Cinematic Universe movies "Captain America: The Winter Soldier" and "Captain America: Civil War."
Though her "Revenge" character's intentions were fake, there was nothing fake about the romance that was blossoming off screen between VanCamp and Bowman. They attempted to keep their budding relationship private, but the paparazzi caught them engaging in heavy PDA all over LA. VanCamp announced their engagement in a cute Instagram post and they wed in the Bahamas in 2018.
Ben Affleck and Jennifer Lopez
Jennifer Lopez was a movie star, pop sensation, and married woman when she met Ben Affleck on the 2003 movie "Gigli." The movie was notoriously panned by the critics, with Affleck's lack of on-screen chemistry with Lopez at the center of much of the criticism. But the pair didn't let the negativity stop them from working together again. They played husband and wife in the film "Jersey Girl," and went public as a couple once Lopez separated from her choreographer husband Chris Judd.
Affleck appeared in Lopez' video for the song "Jenny from the Block," where they acted out much of the tabloid fodder and lack of privacy they were experiencing in real life. Lopez wrote a love song called "Dear Ben" for her album This Is Me…Then. The couple became such a sensation they were labeled with the merged name "Bennifer." In 2002 Lopez showed off the blingy pink diamond engagement ring Affleck gave her. The 6.1 carat Harry Winston jewel cost a whopping $2.5 million. But all that glitters isn't gold, and a year later the couple called off their wedding. The flashing bulbs and constant attention were too much for the lovers to handle. Lopez married singer Marc Anthony in 2004, and had twins Max and Emme. They divorced in 2011. Affleck married actress Jennifer Garner in 2005. They have three children together, but divorced in 2018. Lopez has been in a long, happy engagement with baseball great Alex Rodriguez since 2019.
Tom Cruise and Nicole Kidman
A 2016 Vanity Fair article lays out the details of Nicole Kidman's first encounter with Tom Cruise, when she auditioned for a supporting role in the 1990 movie "Days of Thunder." "I walked into the [audition], and [Tom] was the one that stood up and shook my hand. And I just remember … electricity going through me," she recalled. In the movie, Kidman played a doctor sent to check out the vitals of Cruise's chaotic race car driver character. Whatever Kidman felt in her audition translated on screen, as their scenes were purely electric. Not long after the movie wrapped the couple quickly married.
Cruise was a bona fide superstar at the time of their marriage, and Kidman had some catching up to do. But after they wed, Kidman threw herself into motherhood with the adoptions of Isabella in 1992 and Connor in 1994. When the couple appeared in Stanley Kubrick's 1999 psychological drama "Eyes Wide Shut," audiences speculated about whether the on-screen couple's marriage issues mirrored Kidman and Cruise's real life. Cruise and their children became more involved in Scientology and Kidman never joined them. The couple split in 2001, after 11 years of marriage. Cruise was briefly married to actress Katie Holmes, and had a daughter named Suri. They divorced in 2012. Kidman, meanwhile, became an A-list actress, with an Academy Award under her belt. In 2012, she married country crooner — and fellow Aussie — Keith Urban, with whom she has two children.
Johnny Depp and Winona Ryder
Johnny Depp was a teen heartthrob, fresh off his starring role on the series "21 Jump Street." Winona Ryder was the poster girl for the cool "alternative" '90s. The stars aligned when the two met at the premiere of the 1989 movie "Great Balls of Fire." Depp locked eyes with the teen starlet, comparing the moment to when Tony and Maria meet in "West Side Story." Depp made a big impression on Ryder, being her first in several categories. They got engaged after only five months of dating and Depp famously got a tattoo that said "Winona Forever."
Depp and Ryder starred in the quirky film "Edward Scissorhands" as love interests who are ultimately pulled apart. Life imitated art for the couple who parted ways after four years. After the split Depp changed his famous tattoo to "Wino Forever." Recently, Ryder testified on Depp's behalf during his alleged abuse trial against ex-wife Amber Heard. On the witness stand Ryder stated, "I truly and honestly only know him as a really good man — an incredibly loving, extremely caring guy who was so very protective of me and the people that he loves, and I felt so very, very safe with him."
Kit Harington and Rose Leslie
Both Kit Harington and Rose Leslie landed the biggest roles of their careers to date when they were cast on HBO's blockbuster fantasy epic "Game of Thrones." Harington played Jon Snow, Lord Commander of the Night's Watch and illegitimate heir of the House of Stark, while Leslie portrayed Ygritte, one of the Free Folk who lived beyond The Wall. The two found each other and it wasn't long before romance followed (along with a number of steamy only-on-HBO scenes), despite living amidst near constant war, darkness, and ice.
Jon Snow and Ygritte got together for kissing and so much more in Season 2 of "Game of Thrones," which ended when the latter character was killed off. Off-screen, meanwhile, Harington and Leslie low-key saw each other in a non-professional way, confirming they were dating with a red carpet arrival at an English awards ceremony in 2016, according to People, about four years after their initial on-screen coupling. In 2017, Harington proposed, and the former kissing coworkers were married the following year, per People.
Alexis Bledel and Milo Ventimiglia
Over the original seven-season run of the WB/CW small-town dramedy "Gilmore Girls," the younger of the two Gilmore girls, Rory, experienced three formative romances. Before she dated rich kid Logan (Matt Czuchry) and after she grew tired of high school boyfriend Dean (Jared Padelicki), Rory (Alexis Bledel) grew enchanted with Jess Marino, the new kid in town, a rebellious and brooding writer and voracious reader, and the nephew of Luke, the would-be love interest of Rory's mother. Of the three actors who played her boyfriends in that succession of intense relationships, the only one that Bledel would publicly date was Milo Ventimiglia, the guy who played Jess.
While Rory and Jess' time together was passionate, it was also spotty. Not so for the off-screen pairing of Bledel and Ventimiglia. According to US Weekly, the coupling began in 2002, right around the time that Ventimiglia joined the cast of "Gilmore Girls." The duo split up in 2006, not long after Ventimiglia left the show.
A few years later, Bledel would once again fall, in real life, for her on-screen love interest. According to People, she met Vincent Kartheiser in 2012, when she landed a guest arc alongside him on "Mad Men" as Beth Dawes, a woman with whom his character, Pete Campbell, enjoys a raucous extramarital affair. They married in 2014, welcomed a son in 2015, and divorced in 2022.
Ryan Reynolds and Blake Lively
Years before the "Deadpool" movies made him a beloved action hero and comic star simultaneously, Ryan Reynolds' big superhero turn was supposed to be "Green Lantern." A big-screen jaunt for the interstellar DC Comics character, "Green Lantern" put up less-than-blockbuster box office in the summer of 2011, earned dismal critical reviews, and prevented Reynolds from ascending to the A-list for a while. The silver lining: Making "Green Lantern" is where he met the woman who would become his wife.
Reynolds portrayed the central Lantern of Earth, Hal Jordan, while Blake Lively, in the midst of a star-making turn on the popular teen soap "Gossip Girl," landed the role of Hal's love interest, Carol Ferris. Their scenes together, which included plenty of kissing, were surprisingly intimate for an effects-heavy comic book movie, so it's not too shocking that these two actors later connected off the set. Shortly after filming, according to Glamour, Reynolds divorced Scarlett Johansson, Lively broke up with "Gossip Girl" costar Penn Badgley, and in late 2011, photographers spotted the couple together. They'd marry in September of the following year.
Daniel Craig and Rachel Weisz
"Dream House" was a minor movie that starred two major actors. The abysmally reviewed, middlingly successful horror movie about a couple who purchase a beautiful home only to find out that it's a murder house, featured Daniel Craig, best known for portraying James Bond for more than a decade, and Rachel Weisz of "The Mummy" franchise, an Academy Award winner for "The Constant Gardener."
Craig and Weisz shot their scenes as a happily married (at first) couple in 2010, and the real attraction was palpable in their work. "They play husband and wife, so anytime that the camera was rolling you felt that spark," co-star Rachel Fox told Us Weekly. According to Express, both actors denied media speculation that they were in a relationship, right around the time that TMZ reported that Weisz had broken things off with her fiancée, filmmaker Darren Aronofsky, and when Craig ended his relationship with Satsuki Mitchell. In mid-2011, Craig and Weisz got married in New York.