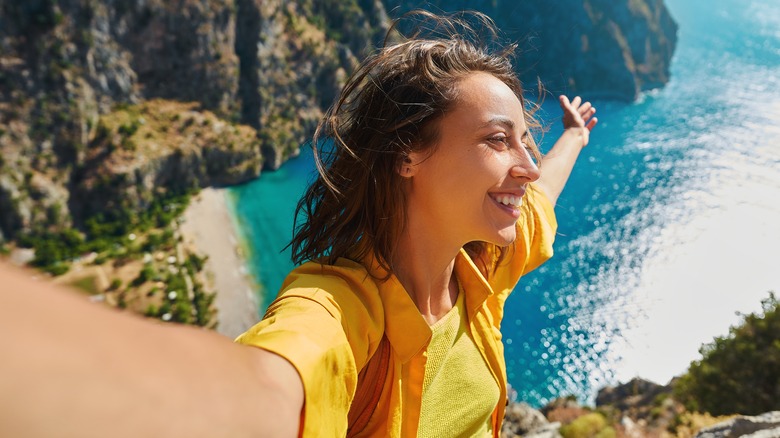 Solo travel can provide you with so many valuable benefits, from getting to know yourself on a deeper level to meeting new people you never would have crossed paths with otherwise (via Insight Guides). It's practically impossible to come out of a solo trip without changing for the better. Even though traveling alone can be one of the most rewarding adventures of your life, there are still some tough struggles that come along with being a solo traveler, such as figuring out how to take gorgeous pictures of yourself.
Face it, everyone wants that photo of themselves on a trip that's so good they can't stop staring at it. The one that they make their profile picture across every social media account. It's a lot harder actually getting that special shot standing in front of the Eiffel Tower or posed flatteringly on a tropical beach when you don't have any help from any travel companions.
That's probably why Solo Traveler says that trying to capture a good photo of yourself is one of the hardest parts of traveling alone. Before you start begging everyone you know to come with you on your trip and be your built-in photographer, take a beat and check this out. By the end of this article, you'll have 11 tricks in your arsenal that can help you get a picture-perfect solo shot, no matter who you're with or where you are in the world.
Use a tripod
One of the oldest tricks in the book when it comes to taking beautiful photos of yourself as a solo traveler is a handy-dandy, foolproof tripod. A tripod is a three-legged photography tool that's available at a variety of price points, making it a good fit for professional photographers and still feasible for solo travelers with just an iPhone at their disposal. Since the dawn of solo traveling, people have been using tripods to help them capture great photos during their adventures, and it's easy to understand why so many people love them.
Besides the fact that you can use a tripod to hold your phone or camera while you pose for the photo, there are a few other reasons why tripods are a really useful piece of travel gear. According to Make Use Of, using a tripod improves your camera's stability, gives you more time to set up for a self-timed photo, makes it easier to shoot in low light, and helps you frame the picture. There are so many options for different tripods out there that it can make your head spin, but as a solo traveler, you need something compact. Digital Camera World recommends trying out the SmallRig Tabletop Mini Tripod, because it can adapt to lots of shooting situations and it's pretty affordable.
Get a selfie stick for your phone
Travelers on a budget might prefer a solo photo-taking solution that doesn't break the bank. Taking a big, solitary expedition by yourself is already a hefty financial undertaking, but tacking on the cost of purchasing new gear can take it to an unmanageable level. If you don't want to invest too much money in a camera or new gadget before a big trip, just pick up a selfie stick. The famed selfie stick is one of the simplest, cheapest solutions to taking amazing photos of yourself on a solo trip.
A selfie stick basically "extends" your arm to a distance that makes capturing a complete solo photo possible, even if you have nobody else to help take it for you (via WikiHow). With this easily packable gadget, you can capture a wider angle and more of the background than if you just take a regular ol' selfie. It works with just about any cellphone, and there are also versions of the selfie stick that are compatible with more professional cameras, like GoPros. While many travelers write off selfie sticks as cheesy-looking or just for influencers, it's actually a really beneficial tool on a solo trip.
Use the self-timer feature
There is a reason why just about every form of photo device on the planet has a self-time these days, from the layman's regular iPhone to higher-end DSLR cameras. It's for solo travelers like you who need a way to take eye-catching photos without having a person behind the camera. This trick for taking photos of yourself while traveling alone is a classic.
According to Apple, it's super easy to turn on your iPhone's self-timer. All you have to do is open the camera setting, click on the little timer icon, choose either a 3-second or 10-second timer, and press the shutter button when you're ready for it to start counting down. Then, make a mad dash to get in the shot and strike your perfect pose. The self-timer on more professional cameras varies between brands, but you can easily figure out the specifics by reviewing your camera's included instructions.
Using a self-timer is by far one of the simplest and best ways to take photos of yourself on a solo trip. You don't even need to pack anything extra, which is helpful for when you're flying alone and trying to travel as lightweight as possible. The only struggle with this method is that you need to find a flat, stable surface to put your phone down on. Using a phone case with a retractable stand on the back can help with that little issue, though.
Invest in a GroPro
If you're a full-time traveler or digital nomad who wants to invest in upgrading your solo photos, there is no better option than the convenient, compact GoPro camera. Even if you're not a big photo person, you've probably heard about this multifaceted device. This piece of travel gear costs a little more than the other suggestions on this list, but it's well worth the price if you travel alone frequently.
You'll leave your trips with way better solo pictures and videos if you have a GoPro on hand. It's a favorite among solo travelers for its easy-to-handle size and accessories that make taking travel photos by yourself way less daunting. According to Tata Capital, a GoPro camera can be especially useful for solo travelers because it is very portable, it can be used underwater to a certain depth, and you can get captivating shots from a unique perspective.
At this point, you're probably working the numbers in your mind, and wondering if the few hundred dollars for this camera would really be worth it (or thinking that you don't really need a GoPro just for solo photographs). But there's actually a ridiculous number of things you can do with it, and some very tempting benefits to this camera. Picture Frame Express says that you can get accessories that enable you to record yourself doing fast-paced activities like biking, or even attach it to your pet's harness to get their point-of-view. The possibilities are endless.
Join a walking tour
Most travelers are familiar with the concept of taking a tour to get some local insight into a new place, but did you know it could be a great way to get absolutely epic pictures of yourself traveling alone? Sometimes, you just want to go old school and avoid all the new technologies or figuring out hidden phone features. For those types of solo travelers, the answer is simple: Just join a tour!
There are a bunch of upsides to participating in a walking tour when you're in a new place. Sight Seekers Delight says that tours are ideal for all types of travelers because you get to understand way more about the city you're visiting, meet other explorers along the way, and don't have to plan a whole afternoon of your trip. Not to mention that many cities around the world offer visitors free walking tours, too.
Joining a tour is a "kill multiple birds with one stone" situation, because you'll get to learn a lot more about the new place you're visiting, and then afterward you can just ask your guide or a fellow tour group member to help you out with taking your photo. Tours are usually built around visiting the very best destinations around the area, like a city's top attractions or the prettiest secret spots. So, you can breathe easy knowing you'll be getting your solo photos at some of the best locations in the entire city.
Bring a Polaroid Now+ and use the features on the smartphone app
When you think of all the photos you're going to capture on your solo trip, you're probably imagining a collection of digital albums that you can plaster all over social media. A fun alternative that lots of nostalgic travelers prefer is instant Polaroid photos. There's something more intimate about cherishing a physical Polaroid photo from a trip, or filling up a box with unedited, unfiltered raw photos that can only be taken once.
The thing is, it was basically impossible for solo travelers to capture these instant photos of themselves before. There always had to be someone actually holding the camera and taking the shot. Thankfully, these days solo travelers have the Polaroid Now+ camera.
According to Creative Bloq, the Polaroid Now+ camera comes with a bunch of features that solo travelers can use from a simple smartphone app that connects to the camera via Bluetooth. On the Polaroid app, you can remotely snap photos of yourself and use a self-timer for up to 12 seconds, making it the perfect fit for people who travel alone. The app also comes with a bunch of creative photo shooting modes, including portrait mode, double exposure, and light painting. Solo travelers can get super artistic with their photos when they use this particular camera. Though as Expert Reviews points out, one of the major downsides of using the Polaroid Now+ for travel is that the film can be a tad expensive.
Befriend another solo traveler and ask them for a hand
The headline "solo travel" makes it seem like you're going to be off in a new country or city, completely alone without ever having a friend to do things with or talk to. However, this couldn't be farther from the truth. That's the beautiful thing about solo travel — you can be totally alone if you want, but new friends are very easy to find, especially if you find meet other solo travelers.
Solo travelers get each other and understand the common difficulties of the experience, like trying to take good photos of themselves. If you can click with one, it's a safe bet that they can help you out with capturing some show-stopping pictures of yourself. Worried about making friends as a solo traveler? You'll be relieved to find that people are way more open to a blossoming friendship in the midst of a travel adventure, particularly if they're other solo travelers.
According to Worldpackers, there are tons of easy ways to meet other solo travelers while you're on an adventure, like using solo travel apps, staying in a hostel, or even joining a beer crawl. Basically, the more you put yourself out there, the higher the chance you'll meet travel buddies and have someone else there to help you get winning photos. You can have your cake and eat it, too!
Take a video and screenshot photos from it
When you're exploring the world as a solo traveler, you have to be savvy with getting pictures of yourself. One popular method for capturing awesome solo photos while you're traveling alone is by taking a video. Basically, all you have to do is position your phone in a stable location with the ideal background in the frame, turn on the video, and pose as you would normally for photos. After you're done living your "America's Next Top Model" fantasy, you can go through the video and just screenshot the images you like best.
You can take a screenshot by pressing the side button and the volume up button on the phone at the exact same time (via Apple). It can be a little more difficult to get a clear shot when you rely on this technique, but there are a few maneuvers you can use to make your photos look more professional. CNET suggests making sure your phone is positioned the ideal way before shooting, using 4K video, and changing the frame rate to fit your lighting.
Get the lighting right
You could have the newest, fanciest, most expensive camera equipment on the market, but it won't matter at all if you can't get the lighting right for the shot. That sounds like a loosely-weaved metaphor for life, but there aren't any allegories here. There is nothing worse than snapping a few photos of a gorgeous scene, only to discover that it's completely washed-up and unrecognizable.
The lighting of a scene can make or break a photograph, whether or not you're taking it as a solo traveler. However, this is doubly frustrating on a solo trip when it's already pretty difficult to get a good shot. But even if you're not a photography connoisseur, there are a few straightforward tricks you can keep in your back pocket to use lighting to your advantage, both indoors and outdoors.
When you're taking outdoor photos on a solo journey, Kindred Photography Workshop recommends finding a spot with diffused sunlight like under some trees, shooting on overcast days, and going out to take photos during the stunning golden hour right before sunset. Alternatively, if you are shooting indoors, Expert Photography says you should use artificial lights if it's available, take photos during twilight or right in the middle of the day, and use a wide-angle lens. With a little bit of forethought, your pictures can come out 10 times better.
Take a shameless front-camera selfie
Many travelers find themselves getting bashful as they pull out their phone at a big tourist attraction and audaciously snap a selfie amongst the crowds. There's no reason to be embarrassed, though. A solo traveler has to do what they must to capture a good photo to bring home from a trip.
A lot of people worry that a simple DIY selfie won't be good enough to captivate the magic of their solo trip. Despite the stigma, it can be one of the most effective ways to get a nice shot of yourself when you're traveling alone, as long as you take advantage of a few tips for taking selfies you'll be proud of.
For example, ShotKit says that when you're taking a selfie, you need to be very careful about taking it from the right angle and staying away from shadows that might distort your face. On the other hand, Snappy Snaps encourages travelers to face toward the light to illuminate all their features and use iPhone's portrait mode to take a travel photo you'll be putting on your Tinder profile for years to come. It turns out that taking a solid selfie truly is an art form.
Just be brave and ask a stranger to snap your photo
When all else fails, just remember that solo travelers are never alone — there are always other people around who can help you take a frame-worthy travel photo. After all, part of the allure of solo traveling is getting the opportunity to truly put yourself out there and engage with new people. That can start with asking a stranger to assist you with getting a suitable travel shot. Think of it as a practice session in the art of communication. Even though it can be scary at first, it's all a matter of getting over the jitters and just saying hello.
World of Wanderlust recommends searching out the ideal person to take the photo (like someone carrying a big, nice camera) and approaching them with a friendly tone. Introduce yourself and ask if they could do you the favor of snapping a photo, instead of just shoving your camera in their hands. The best way to ensure they actually get a nice shot is to give them as many directions as possible for how you want the photo. Also, don't forget to thank your new photographer friend before you go on your way.