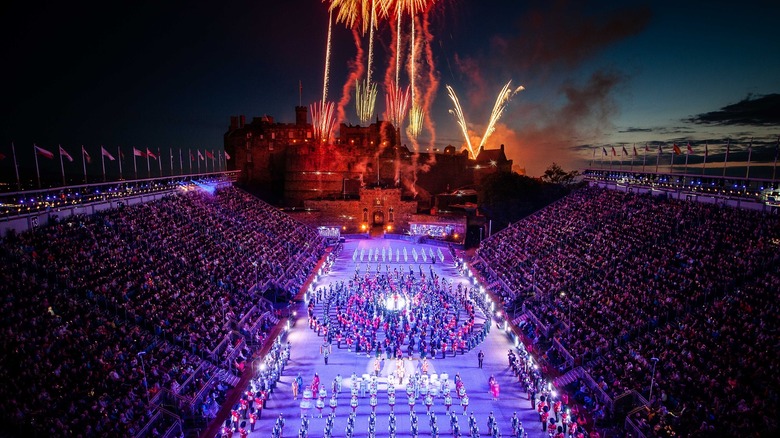 Edinburgh — the city and capital of Scotland — has been around for centuries, revealing profound historical events and an eclectic mix of medieval and modern architecture throughout its city. And while it may have a frightening and sordid past of witch trials, murder, and mayhem, as reported by The Scotsman, Edinburgh's energy and vibe — particularly during the summer months — is equivalent to Times Square in New York on New Year's Eve.
What makes the summer months so electrifying and fun, you ask? Edinburgh's world-renowned festivals. Scots as well as people from all over the globe come to partake in these annual events that bring the city to life: the streets brimming with attendees, participants, vendors, celebrities, artists, and musicians.
It all kicks off in mid-July with the famous Edinburgh Jazz & Blues Festival, going strong since 1978. Talented Scottish and international musicians give the performances of their lives, setting the stage for an equally impressive lineup of festivals that exhilaratingly overlap one another before summer's end. Get ready to mark your calendars, because we're listing the most spectacular festivals held throughout the month of August for you, so you can get started planning your trip to Scotland.
The Edinburgh Art Festival
The Edinburgh Art Festival has been around since 2004, and typically begins the last three days in July and runs one full month until the end of August. Free to attend, it unites artists, galleries, museums, and more throughout its visual arts program — proudly displaying dozens of exhibitions of the best historical, modern, contemporary, fine, and abstract art there is during its annual citywide celebration. With a free "Festival-led Programme Day Pass," attendees can view commissions, art exhibitions, venue events, and participate in walking routes set up by the event organizers. If you're an art lover or a curious novice, this festival is a must-see during the August festival lineups in Edinburgh. Or if you're in the area for any of the other events throughout the month, the Edinburgh Art Festival perfectly coincides with the other festivals as well. Times and dates are noted annually on their website, as well as pertinent information for your visit before you go.
The Edinburgh International Festival
Much like the Edinburgh Art Festival, the Edinburgh International Festival (EIF) proudly nourishes the arts. Theater, opera, music, and dance converge upon the city for three weeks in August, creating a captivating and mesmerizing experience for attendees that has been occurring since 1947. EIF has a reputation for bringing artists from around the world to the capital of Scotland for millions of people to see each year. Every creative, thrilling performance takes place in many of Edinburgh's world-renowned theaters and venues across the city. Booking information can be found on their website. Event organizers have also made past performances available online through their At Home and YouTube channels for everyone around the world to watch if they weren't able to attend the festival, or want to view specific performances again from the completed year. Dates and times are also noted on their website for the upcoming festival event.
The Edinburgh Festival Fringe
This has to be the grandest, most popular celebration of all the festivals held within the month of August in Edinburgh, and rightfully so. According to The Scotsman, the Edinburgh Festival Fringe drew over three million attendees to its festivities in 2019, breaking records from its previous years. Also established in 1947, this festival has been strengthening every year in attendance. And while 2020 saw the event canceled due to COVID-19, 2021 saw its successful return, albeit smaller in size in comparison to past festivals. Event organizers set a vast stage for gifted performing and visual artists from around the world, as well as children's and circus shows, exhibitions, and much more. Also taking place for a full three weeks in August, some events are free to the public, and some will cost a fee to attend. For those, tickets are available to purchase online through the Fringe website, and also at the events during the festival. Since this is a huge favorite drawing large crowds annually, arriving early is key to securing tickets in person for many of its popular shows and events. Times and dates for each year's festival are posted one year in advance on their website.
The Edinburgh International Film Festival
Not to be confused with the second August festival on this list, the world-renowned Edinburgh International Film Festival (EIFF) dedicates its events solely to the mastery and creativity of film. From each film's production, musical composition, screenplay, and acting, EIFF plays tribute to every aspect of its making. Event organizers passionately celebrate the world of cinema's artistic performances for feature, documentary, and short films in this festival, which was also founded in 1947. Attendees will be able to see some of the world's greatest films and past favorites in Edinburgh's prestigious theaters across the city. The festival takes place in the month of August, and information about booking tickets and the locations of the screening venues can be found on the EIFF website. Keep an eye out also for dates and times for next year's festival, and don't be surprised to see quite a few celebrities walking the red carpet into the films, either.
The Edinburgh International Book Festival and The Royal Edinburgh Military Tattoo
That's right, book lovers! The city of Edinburgh has an extended festival in the month of August dedicated to bringing authors and their books from around the world to you. Founded in 1983, the Edinburgh International Book Festival provides attendees with the opportunity to listen to authors speak about why they created their literary works of art, as well as partake in readings, workshops, panel discussions, and much more. A lineup of prestigious speakers such as Nobel Peace Prize winners, poets, bestselling authors, and up-and-coming authors take part in the festival each year, as reported by The Scotsman. The festival is free to everyone, and festival dates for the following year are already published as well.
It would be remiss of us not to list another extremely popular annual event held in Edinburgh during the month of August, and that's The Royal Edinburgh Military Tattoo. Taking place annually at the Edinburgh Castle Esplanade, its proud and historical journey began in 1949 with its first performance held in 1950. This phenomenal three-week event has run alongside Edinburgh's festivals each year, drawing countless people from around the globe to the castle grounds to watch military performances and listen to the hauntingly beautiful sound of bagpipes performing an array of songs. Fireworks take place during the event, which lends to a grand celebratory finale. Dates and times, as well as ticket information for next year, can be found on their website.