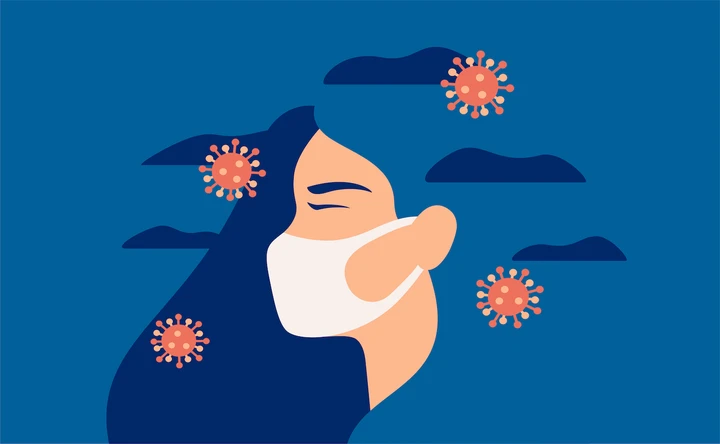 A new study outlined six factors that can make all of the difference.
By now, it's probably not news to you that getting enough sleep and staying active are endlessly beneficial when it comes to your overall health. But if you weren't convinced, new research showcasing how these healthy lifestyle habits, among others, can lower your risk of developing long Covid might do the trick.
According to a study published Monday in the Journal of American Medical Association Internal Medicine, women who led more healthy lifestyles before contracting Covid-19 cut their risk of developing long-term symptoms, including fatigue and respiratory problems, by almost half when compared to their less health-conscious peers.
"With ongoing waves of Covid-19, long Covid has created a serious public health burden," said the study's senior author Andrea Roberts in a statement. "Our findings raise the possibility that adopting more healthy behaviors may reduce the risk of developing long Covid."
Wondering if you check any of the boxes that could stave off long Covid? We break down the six factors that can make a major difference, according to researchers.
The lifestyle factors linked to lowering long Covid
Researchers looked at six main lifestyle factors that they defined as healthy, which include moderate alcohol consumption, no history of smoking, and eating a quality diet (based on a pre-existing index they used). Other healthy habits that made long Covid less of a likelihood were plenty of sleep (that's at least seven to nine hours of sleep each night) and 150 minutes of moderate to intense physical activity every week (think water aerobics or taking a brisk walk).
The final metric was body-mass index, and that's a tricky one: While some research proves that BMI isn't an accurate measure of health, the researchers in this study characterized "healthy weight" as having a BMI between 18.5 and 24.7.
While these findings may not be exactly surprising, the reality is that many of us could improve the way we live. The study's lead author Siwen Wang, MD, noted that 70 percent of Americans don't have what's considered a healthy weight and 30 percent don't get enough sleep.
The impact of these changes
So what kind of difference can these lifestyle changes make? As it turns out, a pretty big one.
Researchers analyzed data from more than 32,000 women enrolled in the Nurses' Health Study II. Among the 1,900 who reported contracting the virus between April 2020 and November 2021, 44 percent developed long Covid, and those who practiced five or six of the aforementioned healthy lifestyle habits had a 49 percent lower chance of developing lingering symptoms.
And even among the women who did develop long Covid, having a healthier lifestyle paid off: Those who practiced habits deemed healthy by this study before contracting the virus had a 30 percent lower risk of developing severe long Covid symptoms that "interfered with their daily life."
The potential impact of making these lifestyle adjustments would be nothing short of life-changing. An estimated eight to 23 million Americans suffer from long Covid — which is defined by the Centers for Disease Control as having virus symptoms for four weeks or more after the initial infection.
But the study's findings can be taken with a grain of salt
Even though the study was pretty revelatory, it had some limitations. For instance, the women included in the study were predominantly white and their average age was 65 years old, which is obviously problematic because it leaves out minorities and other age groups. After all, it's known that the experience of Covid and long Covid can vary widely depending on age and race, not to mention the fact that people of color have faced higher rates of infection.
Still, just knowing that you can take charge and start making many of these changes on your own is reassuring as we wait for more research.
Want more great content?
Sign up here to jumpstart your mornings with Katie's dynamic daily newsletter, Wake-Up Call.