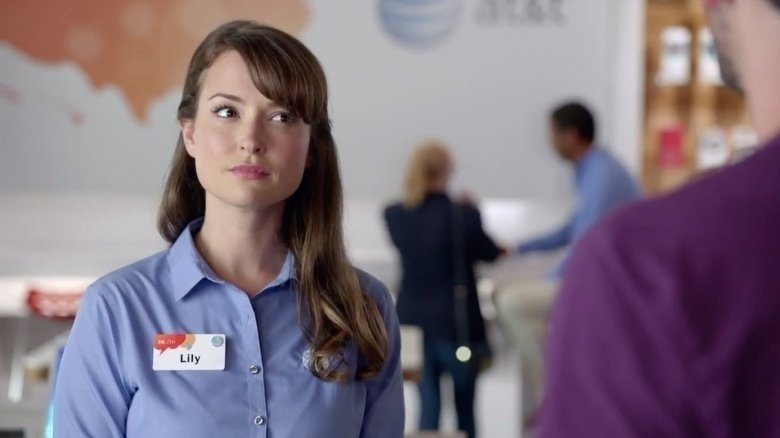 Everybody loves Lily, AT&T's perky, enthusiastic commercial spokeswoman. At this point, those of us who've watched her series of commercials for the telecommunications giant might have come to feel like she's almost like a member of the family. After all, throughout her TV ads, it's become very easy to feel like we were actually getting to know Lily — as a character, she's nerdy and awkward, a hopeless romantic, and she likes bedazzling. But how much do you actually know about the real-life woman who plays Lily in those ubiquitous commercials? If you're like most people, the answer is probably "not much of anything at all." But don't worry — we've opened an investigation into the truth behind the scenes, and we're here to fill you in on all the background info you need by putting together an in-depth look at what you don't know about the AT&T commercial girl.
Her real name is Milana Vayntrub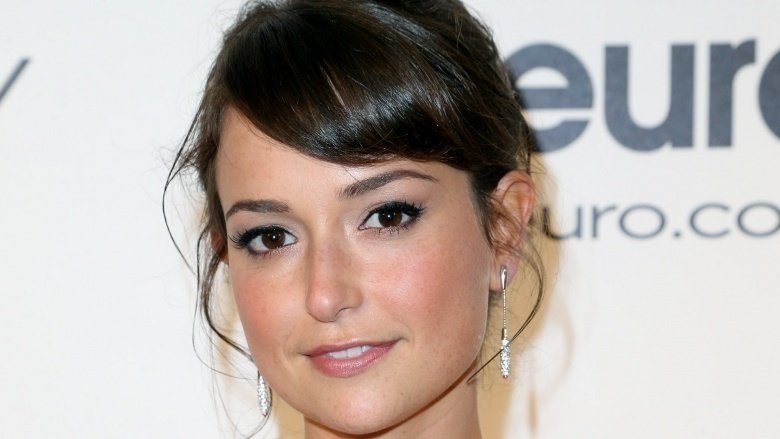 Yes, this might blow your mind, but Lily's name isn't Lily at all. No, it's actually Milana Aleksandrovna Vayntrub. Milana was actually born in the Uzbek Soviet Socialist Republic, or what is now the Republic of Uzbekistan, to be precise. You know what they say: give us your tired, your poor, and your huddled masses yearning to become Hollywood pop culture sensations.
She's a political refugee
Life in the USSR wasn't exactly sunshine and rainbows for Vayntrub's family, especially because they faced persistent religious persecution for being Jewish in a country that was officially atheist. When Vayntrub was just two years old, her family fled Uzbekistan in hopes of finding religious freedom and political asylum in America. The process was long and grueling, with the family stranded in both Austria and Italy for a while. Luckily, the Vayntrubs made it to America and settled in California, which sounds like a wonderful step up to us.
She starred on ER at 8 years old
Lily the enthusiastic AT&T employee may be relatively new, but it's hardly the first character Vayntrub ever played in a commercial. In fact, she began acting in TV ads at the age of just five years old, starring in Barbie commercials to help her family make ends meet. Her first big break happened in 1995, when Vayntrub landed a guest spot on the classic hit TV drama ER, where she appeared alongside stars like Julianna Margulies at the precocious and precious age of eight!
She's a high school dropout
Vayntrub attended Beverly Hills High School, but while that sounds like the peak of the American dream for teenagers, she dropped out as a sophomore. It wasn't because she didn't think an education was important. Quite the opposite: she wanted to advance through her education faster. Vayntrub passed the California High School Proficiency Examination and moved on to the University of California, San Diego where she earned a degree in communication—an appropriate degree considering she's known for selling AT&T products.
Doing comedy with the Upright Citizen's Brigade
The Upright Citizen's Brigade is one of the most famous comedy troupes in show business, boasting alumni such as Amy Poehler, Adam McKay, Matt Walsh, and Horatio Sanz. Well, you can sort of add another name to that list, because Vayntrub trained with the UCB as well! She may not have made Saturday Night Live just yet, but her work with the Upright Citizen's Brigade helps explain her expert comedic timing in those AT&T commercials.
She was a YouTube sensation
Over the past couple of years, Vayntrub has guest starred on a number of TV shows, including Key and Peele, Californication, and Silicon Valley. Before those shows and before she landed the role of Lily, she rose to prominence through a different channel—a YouTube channel to be precise. As one of the co-creators of Live Prude Girls, Vayntrub was an early YouTube sensation, with each of her videos racking up hundreds of thousands of views. The channel is dormant now, but if you want a sneak peek at life before Lily, you can still watch Vayntrub's hit videos online. Bonus points if you watch it from an AT&T device!
She started a viral movement to help other refugees
While many celebrities are busy worrying about how to make their next headline or land their next gig, Vayntrub has been trying to figure out how to change the world. The result? The Can't Do Nothing movement, which has spurred nearly a quarter of a million people worldwide to use social media to help crusade for the rights of refugees around the globe. Saving the world by using your AT&T phone to record YouTube videos of yourself helping refugees? That's just the kind of moment Lily would absolutely love.
One of her earliest gigs involved a lot of burping
As a middle school-aged actress, Vayntrub landed a small but notable role on an episode of the Disney Channel comedy Lizzie McGuire. The 2002 episode concerned Gordo (Adam Lamberg) setting up hidden cameras around the school, and he catches Vayntrub's character eating and belching. (Her character is officially billed as "Cute Burper.") Even at a young age, Vayntrub approached it as a professional. "I practiced my burps for a long time before that. I'm a professional disgusting person!"
She almost quit acting
After a string of appearances on TV as a child—ER, Days of Our Lives, and Lizzie McGuire—Vayntrub attended college at UC San Diego. And she decided to quit acting, even though she loved it. Why? The reasons the parents of actors tell young actors they should quit. "I just kind of stopped for a while because I didn't think I wanted to do it. I stopped around middle school and high school because I remember thinking, 'I should probably focus on something more realistic.'" What ultimately brought her back was a terrible experience in college fraught with enough "boredom and sadness" that she started taking theater classes again.
She was only supposed to do one AT&T commercial
When Vayntrub won the role of Lily, she thought it would be just another short-term acting gig amidst many in her multi-faceted career. But the response was so strong that three years later, Vayntrub had shot more than 40 spots as Lily for AT&T. "The first spot was so successful for us that we thought, let's do another one and then another one and then another one. It was so well-received that we kept bringing her back," said to Valerie Vargas, the telecommunications company's VP of advertising. So why is Vayntrub, and/or Lily, so popular? According to Hank Perlman of Hungry Man, the company that produces the commercials, Lily is "a multi-dimensional character in a way that's rare for commercials," We try as hard as we can not only to make her funny but to make her as strong, smart, and human as possible."
She didn't like Amy Schumer's parody
Vayntrub's cell phone ads are ubiquitous, so it's quite expected that somebody would wind up parodying them. Inside Amy Schumer spoofed the spots on a 2016 episode—Schumer played an actress starring as a Lily-esque character in a cellphone company ad. When it initially aired, Vayntrub shared the sketch on her social media accounts and felt "flattered." But after she actually watched the sketch a few more times, she changed her tune.
"The way that you're going to portray this character is that you're going to play her dumb? Well, that's lazy. Can't we think of any other thing to make fun of this character for?" She also called out Schumer for making its cellphone pitchwoman "sexy," because she feels Lily is not a sex object, but rather a subtly feminist one. "I think the character was portrayed as a prop that was there to entice men and it was all about the way men look at her, and that this brand has put her there to be sexy," Vayntrub said. "I think a lot of brands use women as props to sell products, and we work really hard to make Lily strong and smart and funny and independent. She's the successful store manager, she's really doing it, I'm proud of the girl we've made."
Now she directs commercials, too
As Vayntrub continues to takes on more roles in a variety of media—movies, TV, web series, and more—advertising continues to be very good to her: in fact, she's started to direct commercials as well as appear in them. Through Hungry Man, the company that produces the Lily spots, Vayntrub directed a comical commercial for the Cracker Barrel restaurant chain's macaroni and cheese.
She had a recurring role on This Is Us
The time-jumping, tear-jerking family drama This Is Us finished no. 5 overall in the ratings over the 2016-'17 TV season, making it the top-rated rookie show. Switching between the kids in the Pearson family growing up in the '80s and '90s and their adult lives in the present day, the series follows characters like Pearson sibling Kevin (Justin Hartley), who grows up to be a dissatisfied television star who leaves his top-rated show and joins an off-Broadway play called Back of an Egg. Vayntrub played Sloane Sandburg, the playwright who also becomes the star of her own show—and then, briefly, Kevin's girlfriend. Vayntrub appeared in four episodes of This Is Us, and given the show's unique storytelling structure—and penchant for heartstring-tugging twists—she could always come back for more.
She's had small roles in big comedies
Vayntrub's experience and connections in the Los Angeles comedy scene have led to some brief but memorable roles in several recent high-profile projects. In the 2016 Ghostbusters remake, Vayntrub made a dialogue-free but very funny appearance as "Subway Rat Woman," who reacts with visible disgust when scores of rat ghosts pour out of a subway station entrance. She's also popped up a couple of times on Love, Judd Apatow's Netflix series, as Natalie, the mean ex-girlfriend of main character Gus (Paul Rust). Vayntrub also has a recurring role on Silicon Valley as Tara, love interest for intimidating programmer Gilfoyle (Martin Starr).
She's the voice of Marvel's Squirrel Girl
In the summer of 2017, Milana Vayntrub landed one of the most sought-after roles in Hollywood. As revealed by the Los Angeles Times, she was cast as Doreen Green (aka Squirrel Girl) in "Marvel's New Warriors," a comedy series that was set to air on Freeform. The show was going to revolve around six twenty-somethings (Squirrel Girl, Mister Immortal, Night Thrasher, Microbe, Debrii, and Speedball) dealing with the challenges of young adulthood as well as those that come with being a superhero.
Vayntrub, who at the time was best known as the anonymous star of an ad campaign, was a relatively surprising choice for the part, especially since better-known actors such as Anna Kendrick and Shannon Purser (Barb on "Stranger Things") had publicly lobbied to play the character. Vayntrub's admission into the club that is the Marvel Cinematic Universe would wind up rather muted in the end.
In 2019, Freeform and Marvel parent company Disney canceled several small-screen projects that would've appeared on channels or services outside of its Disney+ streamer, including "New Warriors," per The Hollywood Reporter. But Vayntrub at least got to portray Squirrel Girl in audio form, voicing the character in the animated short series "Marvel Rising: Initiation" and the TV movie "Marvel Rising: Secret Warriors." She also starred in the Sirius XM narrative podcast "Marvel's Squirrel Girl: The Unbeatable Radio Show."
She's married and has a child
According to an editorial she wrote for the Daily Beast, Milana Vayntrub suffered some health problems in early 2020 that impacted her quality of life. She hurt one of her ankles so badly that she couldn't move her foot. The injury would send painful jolts through her body, a sensation she compared to the complicated and difficult labor she experienced when giving birth to her first child.
Per a post on her Instagram page, Vayntrub gave birth to a baby boy in May 2021, welcoming him with her husband, who she hasn't publicly identified as of 2022. The child was safely delivered and was perfectly healthy, despite a "sunny side up" delivery, which caused tremendous spinal pain for Vayntrub. A public figure who prefers to keep her private life just that, Vayntrub hasn't revealed the name of her child, who appeared in a sole photograph on her Instagram page in July 2022.
She's received thousands of unwelcome comments about her body
From 2013 to 2017, Milana Vayntrub portrayed the helpful AT&T employee Lily in 40 television commercials, and after a three-year hiatus, returned in a relaunch of the campaign, according to The Independent. Those ads featured a new look and approach for the character and actor, with different clothing and scenarios providing more modesty, particularly a series of ads in 2021 that placed Vayntrub behind a desk. She reportedly received a lot of messages about the revamped look of the ads. "Been getting a lot of 'Why are they placing her body like that in those ads?' Well, I direct the ads. I place myself like that," Vayntrub explained on Twitter. "And it's because of the thousands of unwelcome comments I receive about my body. You've lost the privilege of looking at it until I feel safe again."
Earlier in 2021, Vayntrub took to Instagram Live, where she read aloud some of the more egregious (and sexually charged, via Insider) comments she has received, and also noted that college-era photos of her at a pool party had been making the rounds online. "I am not consenting to any of this," Vayntrub said. "I do not want any of this."