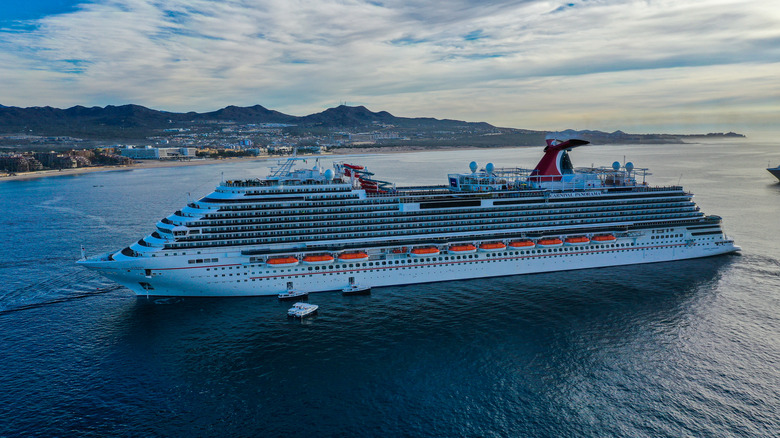 Cruises are one of the select few vacations capable of entertaining the whole family. With diverse onboard itineraries that meet every potential traveler's wants and needs, there's no end to the entertainment value that comes with a Carnival, Royal Caribbean, or Disney Cruise.
But as great as many of these cruises are, there reaches a point in everybody's life where a family-friendly cruise can become a bit exhausting. Between the pools filled with screaming toddlers and the sometimes heavy fares that come with paying for children to get on board, it's no secret that family cruises can be physically, mentally, and financially draining for some adults.
Unfortunately, cruise lines that are strictly adult-only are few and far between, most cruises by their nature being open for all voyagers, regardless of age. However, there are several cruise companies that cater most directly to adults, either outright prohibiting people below a certain age from stepping aboard their ships or creating programs that might appeal more to adults than children. If you're looking for a cruise better suited for adults this upcoming year, here are some of the best adult-focused cruise lines we recommend setting sail on in 2023.
15. Azamara Luxury Cruises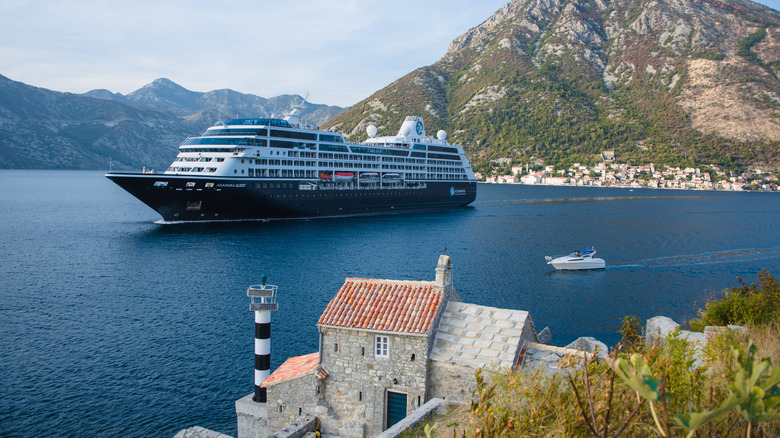 Like many cruise lines you'll find on this list, luxury cruise line Azamara doesn't outright prohibit younger passengers from stepping aboard their ships. But as you'll find on the cruise line's website, Azamara discourages anyone under 18 years old from boarding the boat because there is a lack of kid-focussed activities available on board. The general atmosphere of Azamara's smaller ships is geared more towards adults, offering various conveniences that passengers above the age of 18 are sure to enjoy.
The main thing to be aware of when it comes to Azamara's cruises is that they aren't technically all-inclusive, with specific amenities offered depending almost entirely on the cabin you book. For example, all rooms come with basic features, including a selection of beer, wine, specialty coffees, nonalcoholic beverages, and a self-service laundry. Meanwhile, passengers registered to stay in a Club Veranda Plus Stateroom receive discounted deals on Wi-Fi, one night of specialty dining for two, and free in-cabin alcoholic beverages. Meanwhile, passengers who book a suite receive those same amenities, plus additional offers like a butler service, improved deals on Wi-Fi access, and $300 in Onboard Credit per person (depending on the specific suite type).
The ships are beautiful, and the destinations are picturesque, but as Azamara falls just short of being all-inclusive, there are better deals for luxury cruise lines that offer way more for the same rates.
14. Regent Seven Seas Cruises
Regent Seven Seas advertises itself as the only true option for an all-inclusive cruising experience. Looking at it plainly, it's easy to see they've earned that claim to fame. Indeed, what sets Regent apart from its competitors is how much it includes in the final cost of your vacation. When you book with Regent, you're able to get unlimited alcoholic and nonalcoholic beverages, several options for shore excursions, specialty dining, airfare, airport transfers, and one Regent account with unlimited Wi-Fi access per cabin.
Like many cruise companies you'll find on this list, Regent Seven Seas isn't strictly an adults-only cruise line. However, Regent does not offer any kind of service or program that looks after or entertains children, making it one of the more non-child-friendly cruise lines that take to the seas. Their six-vessel fleet is composed largely of smaller ships, capable of holding between 500 and 750 passengers (depending on the ship, of course), making it a more intimate sea-going experience compared to the massive ships of Royal Caribbean or Carnival.
As you might expect judging from the amenities that come with your basic fare, Regent Seven Seas can be somewhat pricey compared to other cruise lines, with an average 7-night cruise costing around $5,000. However, when you consider all the things that come with that cost, it might be worth it. There are far stronger options for those intimidated by Regent's substantial price tags.
13. Windstar Cruises
Windstar Cruises doesn't strictly prohibit younger passengers, but it does seem to have a policy favoring adults. The company prohibits any passengers under the age of eight, and passengers under the age of 21 must be accompanied by someone who is at least 25. As a result, families with younger children and even most groups of college students are unable to disembark with Windstar, resulting in a cruise that's more refined than other family-friendly cruises.
On board Windstar's smaller ships, you'll find entertainment options fit more for adults' interests than children's, with Windstar not offering any kind of services that will care for or entertain your child. Additionally, the company doesn't offer any kind of reduced rate for younger passengers, charging passengers a "third person rate" for any third party who ends up in a standard cabin (minors included). By implementing such strict rules, Windstar is just shy of being adults-only, with most families finding more convenient and/or affordable options aboard other cruise lines.
More recently, Windstar has also updated its cruise plans, allowing guests to purchase varying drink plans that range from an extensive wine list (the Topmast Discoveries Beer & Wine Package) to an all-inclusive plan (the All-In Package). For $89 per day, passengers can snag unlimited alcoholic beverages, Wi-Fi, gratuities, and cruise fare. Windstar has destinations all across the globe, with the cruise line priding itself on a more intimate, personalized experience filled with interactions between yourself, the crew, and other passengers.
12. Lindblad Expeditions
It's worth pointing out right away that Lindblad Expeditions isn't your average cruise line. Instead of spending your time basking in the sun or partying late into the night, Lindblad places a heavier emphasis on research and exploration, navigating passengers to some of the most extraordinary locations in the world. Particularly unique destinations include several cruises through the Arctic Ocean, the Galápagos Islands, the Subantarctic Islands, and Easter Island.
With how dramatically different each cruise is, Lindblad Expeditions' itinerary and requirements for passengers depend on the specific cruise. For example, Lindblad Expeditions cruises that are ideal for younger passengers are designated as a Family Expedition, allowing travelers of all ages to join their cruise. However, Lindblad has said in the past they recommend children no younger than 5 embark on their expeditions, given the exploration-heavy nature of the cruises.
As you can probably guess, with such amazing destinations, the basic cost to book a Lindblad Expedition isn't cheap, with cruises running anywhere from $6,500 to as much as $25,000. Obviously, such high prices aren't economically feasible for most travelers — but that's the whole point of Lindblad Expeditions. A sharp contrast to the other relaxation-based cruises on this list, Lindblad caters most directly to travelers seeking a one of a kind adventure in some of the most remote regions of the globe. After all, there aren't many cruise lines that afford you the opportunity to see a polar bear in the wild or observe groups of penguins in the Antarctic tundra.
11. Aurora Expeditions
A very similar cruise to Lindblad Expeditions, Aurora Expeditions allows travelers to venture to some of the most far-away areas on Earth — their most popular cruises being those headed for the North and South Poles. There are no limits in terms of passengers' ages, with Aurora welcoming anyone with a thirst for thrills and adventures. However, regular passenger rates do apply for any guests between 8- and 17-years-old, which might act as a deterrent for most people looking for a less costly seafaring option. It's also worth mentioning that Aurora requires a signed medical form from their physician three to six months before the ship sets out on its voyage.
Like the extravagant cruises offered by Lindblad, Aurora is far from cheap, with some cruises costing in the upper $20 thousands. However, just as is the case with Lindblad, Aurora's itineraries are built with a specific audience demographic in mind. Capitalizing on its unique array of destinations, Aurora is more intrinsically aimed at thrill seekers, prospective adventurers, photographers, and those who want to see and experience once in a lifetime sites not offered by other cruise lines.
To be sure, several thousand dollars is a lot for any cruise experience. But if you're willing to shell out that amount, Aurora does offer some incredibly convenient amenities and activities — such as photography classes, wildlife observation groups, and instructive lectures. In essence, it's essentially a college semester abroad crammed into a single trip (although thankfully there's no pesky homework to distract you from enjoying it).
10. Marella Cruises
Based out of the United Kingdom, Marella Cruises is one of the better-known cruise lines in Europe, their routes taking voyagers from the sun-swept Caribbean Sea to the wondrous Moroccan coastline. In terms of its limited fleet of four ships, Marella has been entertaining travelers of all ages since the company launched five decades ago. Fortunately, the newest addition to Marella's fleet, the Marella Explorer 2, was revamped exclusively for adults, not allowing passengers under the age of 18 to travel aboard on their various intercontinental routes.
If you're looking for a quieter ship in the company of strictly older passengers, you'd be hard pressed to find a better ship than Marella Explorer 2. Unlike most other cruise ships geared specifically towards adults, too, Marella Explorer 2 is a fairly large vessel, having about 900 cabins at their disposal (to put it into perspective, the average Viking Cruise ship has only about 460 cabins). Because of this, Marella can be a refreshing alternative if you want the large-scale entertainment value of a Royal Caribbean cruise — without the potential inconvenience of finding families everywhere you go.
Thankfully, Marella Explorer 2 is all-inclusive, with theater shows, airfare, daily, and unlimited access to alcoholic and nonalcoholic beverages included in the cost of your basic fare. However, certain things are excluded from the all-inclusive plan, with Wi-Fi, premium alcoholic drinks like champagne, and four out of the five onboard restaurants coming at an additional cost.
9. P&O Cruises
A relative step up from the single adults-only cruise ship established by Marella, the British-owned P&O Cruises has not one, but two vessels advertised as adults-only (the Aurora and the Arcadia). Both ships are of respectively large sizes — the Aurora possessing around 960 cabins, the Arcadia around 1,050 — with passengers needing to be over the age of 18 to travel onboard.
At a slightly bigger size than Marella Explorer 2, both the Arcadia and the Aurora can be a great option if you're looking for a roomier cruise vessel filled with plenty of on-ship activities. Entertainment options include full casinos, live theater productions, comfortable movie theaters, and spas that fulfill all your relaxation needs. As great as those options are and as comfortably-sized as the ships themselves can be, the Arcadia and the Aurora only travel certain routes through Europe exclusively this coming year, which may be a deal-breaker for most intercontinental-minded travelers.
P&O pricing options can also be a hassle, with neither the Aurora or the Arcadia having an all-inclusive plan available for purchase. Because of this, you can look forward to regular add-on pricing for things like Wi-Fi and alcoholic beverages, among other potential charges. Of course, if you're only interested in seeing European locales or taking in the sunset over the Mediterranean, then this is hardly a big deal. But be warned, those one or two daily poolside drinks will begin to add up after a while.
8. Emerald Waterways Cruises
Emerald Waterways Cruises is one of the better river cruise companies around. While not exclusively adults-only in their travel restrictions, Emerald Waterways does require prospective passengers to be over the age of 12 and accompanied by an adult who is at least 21-years-old. If that weren't enough to dissuade younger travelers from joining their cruises, Emerald also doesn't have very much in the way of teenage-centric activities, most of the on-ship entertainment being more adult-focused (live music, an occasional movie, and cooking demonstrations).
Truthfully, Emerald Waterways' onboard itinerary isn't nearly as lively as other cruises like P&O or Marella. Still, their on-shore excursions and unique destinations make it an above-par choice for river cruise experiences. With routes through gorgeous regions like Portugal, France, and Southeast Asia, Emerald Waterways may be one of the most scenic river cruises you're likely to find, passing some of the visually astounding locations on the shores of the Rhine, Danube, and Mekong Rivers.
Another strong aspect of Emerald Waterways is its all-inclusive options, allowing you access to beer, wine, and soft drinks with lunch and dinner, free Wi-Fi, and unlimited tea and coffee. Conveniently, Emerald also has free meal options when it comes to on-shore dining, as well as at least one free daily excursion. Once you arrive at each destination, most Emerald ships also have bicycles that allow guests to navigate and explore every port. Between all these amenities, there's no better way to truly experience a port destination than through Emerald Waterways.
7. Seabourn Luxury Cruises
Another major luxury cruise line, Seabourn Luxury Cruises are — like many other companies on this list — available for passengers of all ages, although its basic programming does seem to favor adults. As with several other cruise lines, they do not have any kind of children's daycare centers or babysitting services, meaning that parents would have to supervise children on their own. Most of the fleet's entertainment is also mostly tailored for adults, with Seabourn having drier activities like live theater shows, gambling, and several educational lectures.
Seabourn Cruises are all-inclusive, giving you access to standard amenities like meals, gratuities, and almost all drinks (with the exception of premium liquor and pricey wines, every alcoholic beverage, soft drink, and coffee is free). Also included are other conveniences such as free general fitness classes, self-service laundry, and movies you can watch from the comfort of your cabin.
As a luxury cruise line, Seabourn isn't cheap, costing around $1,000 per day on most cruises. Still, when you compare and contrast that cost with other cruises and take into consideration how many amenities you have, it might be worth it. In addition to their more relaxing cruise routes, Seabourn is also notable for their Seabourn Expedition Experience, taking guests to remote areas of the globe like Antarctica and the Amazon for a one of a kind vacation. Conveniently, Seabourn tacks on four free Shore Excursions on these Expedition Experiences, included in the basic cost of your fare.
6. Silversea Cruises
One of the finest luxury cruise lines in the world, Silversea Cruises offers high-rate voyages to locations all across the globe. While Seabourn is nothing to sneeze at in terms of all-inclusiveness, Silversea offers far more prestigious services to all guests who come aboard. Features that come with your regular fare are standard all-inclusive conveniences like 24-hour gourmet meals, gratuities, and unlimited beverages (including fine wines, champagne, and premium liquors). But more than that, Silversea will also arrange private transportation both to and from your ship, with international and domestic airfare, transfers, and hotel accommodations paid for by Silversea.
Amazingly, that's not all that comes with your cruise cost either. Every Silversea cabin also has your own personal butler service. If you ask, your assigned butlers will even make sure the mini-fridge in your cabin is stocked with all your favorite drinks — alcoholic and nonalcoholic alike. Every destination on Silversea Cruises also comes with at least one excursion per port, giving you great value for all the expenses paid on your cruise.
Like nearly every cruise outlined so far, Silversea doesn't prohibit children from sailing, but the company does not offer any kind of childcare or babysitting services for the little ones should they wish to join the cruise. The fleet's limited onboard entertainment options — IE gambling at the casino, unwinding at the various bars, and enjoying live productions within each vessel's theater — is unlikely to catch most kids' fancies, meaning this is probably a safe bet for a mostly adults-only vacation.
5. Scenic River Cruises
Both Scenic cruise lines' ocean and river cruises are worthy of praise. But for those looking for a less family-friendly cruise, the company's river expeditions are Scenic's most standout cruising options. Children under 12 are not allowed to venture abroad with Scenic, meaning that the youngest passengers you'll find onboard are teenagers, making it the next best option to adults-only cruises.
Most of Scenic's river cruises take you through Europe and Southeast Asia, with occasional cruises also winding down the Nile River. Every Scenic cruise is all-inclusive, giving you free meals, drinks, and Wi-Fi, regularly resupplied cabin refrigerators, airport transfers, a butler service, and a list of excursions for every port. Inside each state room, you'll find a private veranda, collapsible windows, and even a full menu of pillows for you to choose from when you're winding down for the day.
Based on everything that comes with your cruise, it's fair to say that Scenic is a strong contender for one of the better luxury river lines available. Outside of adults-only cruise lines like Viking, Scenic is probably your next best choice for cruises that cater mostly to adults. When it comes to making your decision regarding which ship or destination to travel to, we recommend doing some research first, as certain ships offer slightly better amenities than others (as an example, Scenic Sapphire and Scenic Diamond have cooking classes that passengers can enroll in, taking advantage of its French river routes).
4. Saga Cruises
A cruise with a very particular audience in mind, Saga Cruises has a fleet of smaller ships available for passengers over the age of 50. With such tight age restrictions, you can believe that Saga is one of the more quiet, intimate adults-only cruise lines in the world. However, the cruise company's very specific age policies also makes it a much smaller cruise line compared to similar adults-only organizations like Virgin and Viking.
Evidence of this fact can be found no further than Saga Cruises' bare-bones fleet of only four ships (though the company has recently announced the addition of four more ships over the next four years). The first two ships owned by Saga (Spirit of Discovery and Spirit of Adventure) are traditional ocean cruises, with their newest ships (the slightly smaller Spirit of the Rhine and Spirit of the Danube) taking passengers on idyllic river cruises through Europe. Interestingly, every cabin also comes with a balcony, surrounding you with your rich environment for every moment of your trip.
Obviously, Saga's age restrictions prevent a decent number of people from traveling with the cruise company. But for those who meet the age requirements, Saga can be a great option for guests looking for a more refined traveling option surrounded by people within their age group. All-inclusive plans are available to purchase, but Saga also includes some fantastic amenities, such as meals, Wi-Fi, fitness classes, and transportation options for getting into and out of every port they stop at along the way.
3. U by Uniworld
On the flip side of Saga Cruises is the European-based cruise line, U by Uniworld. With an audience demographic composed of younger passengers (more specifically millennials), U by Uniworld's cruises are run with their travelers' interests in mind, prioritizing activities, exploration, and movement rather than relaxation. That may sound like the exact opposite of what you want out of cruise, but like the more research-based expeditions of Lindblad or Aurora, U by Uniworld is easily the best option for active younger people afflicted with wanderlust.
One of the few genuinely adults-only cruise lines, you must be 18 years or older to book your reservation with U by Uniworld. Unlike other adults-only cruises like Viking or Virgin, U by Uniworld does not have all-inclusive options, though a variety of convenient amenities do come with basic fare. These include meals, airport transfers, Wi-Fi, and wine and beer with all meals, along with certain port excursions per destination.
Like its polar opposite, Saga, U by Uniworld operates with a niche audience in mind, being best-suited to handle younger generations' interests and hobbies. For example, entertainment options you can find onboard range from camping in a tent on the ship's top deck to disco parties, with physical activities like kayaking and walking tours within the ships' excursion listings. If you're young and enjoy modern trends, this is probably a wonderful option for you (especially if you're not looking to spend said activities alongside extremely young children). If not, there are definitely better alternatives around.
2. Viking Cruises
There are only four cruise lines that are exclusively adults-only: Viking Cruises, Virgin Voyages, U by Uniworld, and Saga. Outside of the millennial-driven U by Uniworld and the 50-and-older crowd of Saga, that just leaves Viking and Virgin. A well-known cruise line that features ocean, river, and expedition cruises across the world, Viking is renowned for its all-inclusive offers to passenger voyages. During your time with Viking, you'll find all basic amenities are free, from Wi-Fi and self-service laundry to meals and beverages (including alcoholic drinks and specialty coffees).
No matter the body of water you travel on, Viking delivers a continuously immersive experience from port to port. Onboard, you'll find dozens of activities to occupy your time in between destinations, most of which are designed as a way to immerse yourself deeper in the culture you're exploring. You can take a cooking class, listen in on an educational lecture, or visit the well-stocked library to learn more about each planned location. Of course, you're also free to relax and compress, sitting poolside or enjoying a fine wine at any one of Viking's atmospheric bars.
Imagine a more accessible version of Saga Cruises — one where anyone over the age of 18 can travel on board — and you basically have the refined, culturally conducive environment of Viking Cruises. A good deal more dialed back than the thrill-heavy Virgin Voyages, it may be one of the only options when it comes to adults-only cruises — but it's also easily one of the best.
1. Virgin Voyages
As mentioned previously, there are only four cruise lines that are truly adults-only: U by Uniworld, Saga, Viking, and Virgin Voyages. One of the newer cruise lines to make waves in the seafaring industry, Richard Branson's maritime pet project was launched in 2020, existing as a sharp contrast to most traditional cruise companies. As one of the newer cruise groups, Virgin has a limited fleet of only two ships sailing through the Caribbean, Europe, and the South Pacific (with two more vessels slated to debut in 2023).
However, each ship in the fleet is capable of boarding up to 2,700 passengers, and comes equipped with dozens of entertainment options unique to Virgin Voyages. Taking advantage of its 18-years and over age requirement, Virgin specifically supplies far more adult-focused leisure options, such as an energetic onboard nightclub to a performance space that houses more risqué stage productions.
Virgin Voyages is purposely designed to be a very different choice when it comes to cruises, tilting the concept of nautical vacation on its head. Ditching the 24-hour buffets and family-friendly activities, the outside-the-box nature of Virgin Voyages can be exciting for experienced cruise travelers and those who have never set foot on a ship before in their lives. All cruises are all-inclusive, ensuring you have free alcoholic and nonalcoholic beverages, Wi-Fi, fitness classes, and meals. Of course, its livelier itineraries might not appeal to those looking for a quieter cruise experience, such as the one you get through Viking.