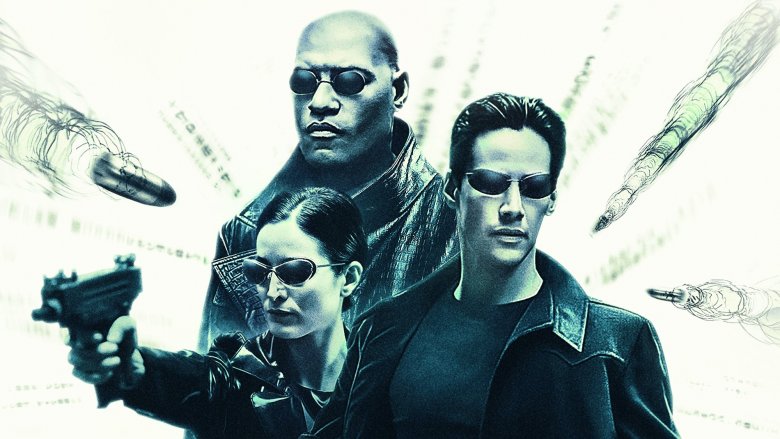 In 1999, the Wachowskis' adrenaline-coursing shoot-em-up sci-fi thriller The Matrix first graced the silver screen. Some twenty years and two sequels later, fans still regard the original as one of the best action movies of all time. Equipped with edge-of-your-seat fight sequences, some truly groundbreaking special effects, and a compelling plot dense with philosophy and metaphor, the Matrix trilogy went on to gross over $1 billion worldwide at the box office. Despite all of the success, one of the series' finest assets still gets overlooked all too often: the cast.
The Wachowskis' dystopian world introduced audiences to unforgettable characters, and without top-notch acting, it's hard to imagine anyone buying in to the series' outlandish ideas. Fortunately, the filmmakers knocked it out of the park, stacking the cast with actors who truly brought their roles to life. For some of these performers, The Matrix launched their career to unexpected heights, opening doors to more prominent roles. For others, it remains the high point. To find out what your favorite freedom fighters and computer programs have been up to for the past two decades, follow us down the rabbit hole and see what the cast of the Matrix trilogy looks like today.
Keanu Reeves – Neo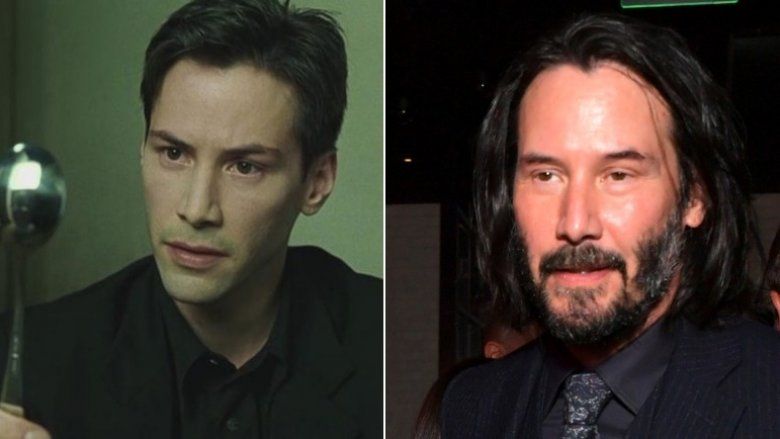 As protagonist Neo, Keanu Reeves was given a real chance to showcase his leading-man potential with The Matrix. Many still view Reeves' time playing "The One" as his big break, despite the fact that he had already starred in films like Speed, Point Break, and Bill & Ted's Excellent Adventure prior to his casting. As The Ringer's Sean Fennessey accurately sums it up, "Reeves does everything well here — communicate ignorance, enlightenment, weakness, and strength. Rumors that the Wachowskis sought Will Smith for the role now seem ludicrous."
Since his time dodging bullets in slow-motion, Reeves' career has gone through its fair share of ups and downs. On the low end, there are films like The Day the Earth Stood Still, Sweet November, and The Lake House, none of which were exactly well-received. In 2010, a photo of a particularly downtrodden-looking Reeves created the now-infamous "Sad Keanu" meme. The former Neo's filmography took a happy turn, though, when 2014's John Wick sparked a career renaissance of sorts. He is now seemingly back on top, with John Wick: Chapter 3 — Parabellum putting up solid numbers at the box office while Always Be My Maybe captures hearts on Netflix.
Laurence Fishburne – Morpheus
Laurence Fishburne's Morpheus is an iconic character in pop culture history. A man so strong in his faith that he is literally willing to die for his beliefs, the loyal captain of the Nebuchadnezzar blesses the Matrix trilogy with badass hand-to-hand combat sequences and classic one-liners like "Stop trying to hit me and hit me!" Although he had appeared in films like Boyz n the Hood and Bad Company long before he was cast by the Wachowskis, Fishburne will undoubtedly always be most remembered for his time playing Morpheus, and he's mostly cool with that.
Since hanging up his character's now-iconic sunglasses, Fishburne has enjoyed a successful, well-balanced career. He has tackled comedies (such as Kevin Hart's Ride Along), starred in prestigious TV shows (including CSI, Black-ish, and Hannibal), and even lent his voice to popular characters like Thrax in Osmosis Jones and the Silver Surfer in Fantastic 4: Rise of the Silver Surfer. He is also one of the few actors to have crossed the "comic book aisle," appearing in both DC's Man of Steel and Marvel's Ant Man and the Wasp.
Most recently, Fishburne reunited with Keanu Reeves for John Wick: Chapter 2 and Chapter 3 — Parabellum. It's good to know that Neo and Morpheus are still kicking butt together.
Carrie-Anne Moss – Trinity
In undoubtedly her biggest role to date, Carrie-Anne Moss embodied Trinity, Neo's badass, leather-clad love interest. In a 2016 interview with The Guardian, Moss raved about her experience shooting the action classic. "Playing Trinity in The Matrix was a highlight of my life," she said.
Since The Matrix Revolutions wrapped in 2003, Moss has never really held a role of equal significance in a successful film. Sure, she had a relatively major part in Christopher Nolan's 2001 thriller, Memento (a role she's credited as the favorite acting she's ever done), but no film she's appeared in since has even come close to matching the hype that accompanied The Matrix. Still, small roles in movies like Disturbia, Pompeii, and Fido kept her busy while she focused on family life.
Most recently, Moss has taken on some choice roles on the small screen. She played lawyer Jeri Hogarth in the Netflix Marvel universe, appearing in Jessica Jones, Iron Fist, and The Defenders. She can currently be found playing FBI Special Agent Maggie Griffin in the Norwegian crime series Wisting.
Hugo Weaving – Agent Smith
The Matrix without Agent Smith would be like Avengers: Endgame without Thanos. Hugo Weaving's sneering poise and emotionless delivery is perfect for the nefarious computer program designed to hunt down and terminate human rebels — the Antichrist to Neo's Messiah. When speaking with FILMINK, the Australian actor discussed what made Agent Smith such a fun role to play. "The heroes don't have the ability to dip into humor. They're trying to save the world," he explained. "I have much more scope with my character to be funny. You could see it in the writing — it attracted me to that character."
Although it was certainly a big break for Weaving, the role of Agent Smith was only the beginning of his rise to popularity in pop culture. Weaving has played pivotal parts in multiple multi-million dollar franchises, from Lord of the Rings' Elrond to Marvel's Red Skull. He's even been a part of the Transformers universe, having lent his distinctive voice to uber-villain Megatron in the first two Michael Bay-helmed movies. Since unplugging from The Matrix, he's reteamed twice with the Wachowskis, playing V in V for Vendetta and six different characters in Cloud Atlas. His most recent on-screen appearance was in 2018's Mortal Engines, in which he played the main villain, Thaddeus Valentine. If your movie needs a solid antagonist, Weaving is at the top of the list.
Joe Pantoliano – Cypher
Joe Pantoliano's traitorous Cypher, the "Judas" of The Matrix, was a high point in the film. Actually, the role was also the high point of Pantoliano's career. After being killed off in The Matrix, the New Jersey-born actor went on to land a few relatively significant roles in prominent movies, including Bad Boys II and the Ben Affleck-led Daredevil, but nothing to the caliber of The Matrix. He also reunited with Carrie-Anne Moss in 2000's Memento.
Perhaps his most recognizable non-Matrix role is that of sociopath Ralphie Cifaretto in HBO's wildly popular The Sopranos. Although his character does some truly vile things on the show, Pantoliano has nothing to apologize for. "I play a character you love to hate," he explained, "so I have to defend that character as Johnnie Cochran would defend some clients he's had in a court of law."
In 2009, Pantoliano released No Kidding, Me Too!, a documentary about clinical depression. In an interview with The Lumière Reader in 2012, he opened up about his own struggle with mental health. "Part of my depression was that I was addicted to painkillers and alcohol," he revealed. "Once I stopped doing them I started getting better. I'm exercising, stopping white sugar, and doing increasing amounts of advocacy. Doing anythin' that keeps you out of your own head helps." It's good to know that Pantoliano is doing better these days.
Randall Duk Kim – The Keymaker
In The Matrix Reloaded, Neo is tasked with finding the Keymaker, a computer program that can gain quick access to various destinations within the Matrix. This particularly useful character, played by Korean American actor Randall Duk Kim, is the only one who can help Neo reach the source of the Matrix in order to meet the Architect. In an interview on the set with Novidades Cinema, Kim expressed how honored he was to be a part of The Matrix. "I never dreamed that in my latter years I would be doing something like this," he said. "I'm like a little kid having a big, big, huge adventure."
Although playing the Keymaker was probably the most prominent performance of his career, Kim hasn't completely disappeared from the public eye in the years since, with roles in Dreamworks' animated Kung Fu Panda franchise and 2009's live-action Dragonball Evolution. Most recently, Kim has been sharing the screen again with Matrix co-star Keanu Reeves, playing the dedicated Continental Hotel doctor in the John Wick movies.
Harold Perrineau – Link
Before his time piloting the Nebuchadnezzar as Link in The Matrix Reloaded, Harold Perrineau was perhaps best known as the wily Mercutio to Leonardo DiCaprio's Romeo in Romeo + Juliet. Having been a fan of the original Matrix, the actor later recalled his excitement upon joining the cast of the sequel. "After getting the job, I got there, and I was still just a fan," he told The A.V. Club. "So the first day on set, it was really hard to focus, because I couldn't believe I was sitting on the Nebuchadnezzar… It was like, 'Look, it's this!' I had seen the movie so many times."
After the Matrix sequels, Perrineau was cast in TV mega-hits Lost and Sons of Anarchy. More recently, he's taken roles in TNT's Claws and Fox's Star. Although it's been a while since he appeared on the big screen, he did have a small role in the 2018 Netflix movie Dumplin', starring Jennifer Aniston.
Jada Pinkett Smith – Niobe
Although it's hard to picture anyone but Carrie-Anne Moss in the role of Trinity, Jada Pinkett Smith allegedly came pretty darn close (her famous husband, Will Smith, was also being considered for the role of Neo at the same time). She wasn't destined to become Trinity, but the Wachowskis were so impressed with Pinkett Smith that they wrote the role of Niobe in The Matrix Reloaded specifically for her. When speaking on The Howard Stern Show, she expressed no sour grapes over losing the bigger part. "I do wish, but I look at Carrie-Anne and I just go, 'She's freaking amazing.' There's no way in the world I would have brought that."
As it turns out, the post-Matrix years have been extremely good to Pinkett Smith. In 2012, Forbes ranked Jada and Will among the world's highest-paid celebrity couples, with Jada alone bringing in $10 million that year. Her vocal work as Gloria the hippo in the Madagascar franchise has been a real cash cow, and her portrayal of crime boss Fish Mooney on Gotham was hard to forget. Her most recent movie, 2017's Girls Trip, was a surprise mega-hit, racking up over $100 million at the box office. With a part in 2019's action flick Angel Has Fallen, expect Pinkett Smith to keep bringing in the big dough.
Harry Lennix – Commander Lock
In many ways, Harry Lennix's Commander Lock is Morpheus' rival in The Matrix Reloaded and The Matrix Revolutions. Although they are both obviously #TeamHuman, Lock does not share Morpheus' sense of optimism or faith, instead choosing to remain reserved and tactically-minded. There's also the fact that they have both been romantically involved with Niobe — not exactly the makings of BFFs.
Still, Lennix's portrayal of Zion's military leader made for an effective character. It was also a stepping stone for the actor, leading to solid roles in future hit films. Since his time fighting the machines, Lennix has appeared in superhero blockbusters like Man of Steel and Batman v Superman: Dawn of Justice. He's also carried prominent roles in popular television series, such as NBC's The Blacklist and Showtime's Billions.
A lesser-known bit of trivia about Lennix is that he is devoutly religious, which almost led him down an entirely different path altogether. "I began studying to be a priest in Chicago. Somehow through twists of fate I was sidetracked and became an actor, but I think in some ways, I do the same kind of work," he explained to The Huffington Post. "Looking for the deeper spiritual questions to see where they fit in. The arts deal with spirit and so does religion."
Helmut Bakaitis – The Architect
In The Matrix Reloaded, Neo finally meets the Architect, the chief overseer and creator of the Matrix itself. The character, played by German-born actor Helmut Bakaitis, plays a critical role in helping Neo understand his destiny. Although he has appeared in other films, this role was undoubtedly Bakaitis' most relevant claim to fame.
Since saying farewell to the world of the Matrix, Bakaitis' most prominent job has been his current role of Thornton Finch on the Guy Pearce-led Australian drama Jack Irish. He also made a very brief appearance in Mel Gibson's 2016 Oscar-winning war film Hacksaw Ridge, in which he played a minister.
Although he may not have been stacking up acting credits, Bakaitis has remained very much embedded in the art of performance. He worked as the Head of Directing at Australia's prestigious National Institute of Dramatic Art. He held this position until 2007, when he became a directing teacher at the Australian Academy of Dramatic Art.
Monica Bellucci – Persephone
In The Matrix Reloaded and The Matrix Revolutions, Monica Bellucci portrays the seductive Persephone, the Merovingian's jaded, discontented wife who's got the hots for Neo. Although the character does help Neo and the gang free the Keymaker, her time on screen is fleeting. However, for Belucci, it was arguably her most visible role on American screens up to that point.
The Italian model started acting in the early '90s, coincidentally starring alongside Keanu Reeves in her English-language movie debut, Bram Stoker's Dracula. After her time in Persephone's tight-fitting clothes, Belucci went on to play Mary Magdalene in Mel Gibson's The Passion of the Christ and the Mirror Queen in 2005's The Brothers Grimm.
Today, Belucci has two daughters and is dating French sculptor and model Nicolas Lefebvre. Her recent on-screen appearances include the James Bond outing Spectre, the French film The Best Years of a Life, and a surreal cameo as herself during a dream sequence in Showtime's Twin Peaks revival.