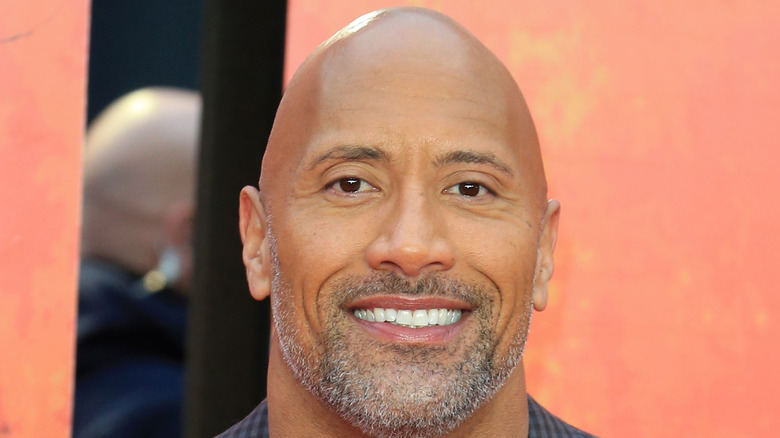 In the exciting world of Hollywood, few actors have been able to touch the fame of Dwayne "The Rock" Johnson, who Forbes reports as the highest-paid actor in 2020 for the second year in a row. He's become a household name since transitioning into acting from his former wrestling career, but many people still see and love Johnson as the bulky, egotistical wrestler he once was, having made his WWE debut in 1996 (via IMDb).
But since that time, wrestler The Rock has become actor Dwayne Johnson, someone who's played fun animated characters like Maui in Disney's Moana to fierce superhero Black Adam. But whether he's playing the Tooth Fairy or a comic book hero, one thing remains: Johnson is a buff guy who's obviously into having a strict workout and eating routine. If you've ever wondered exactly what Dwayne Johnson does to keep his rock-solid figure, this article has everything you need to know.
Johnson hasn't always been a big guy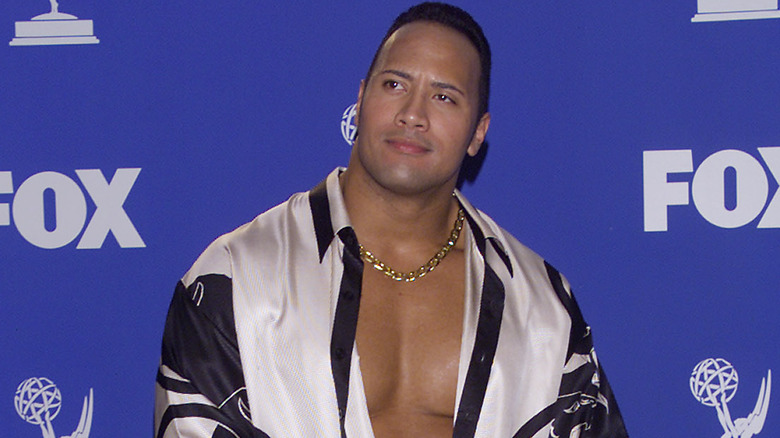 It's hard to believe that Dwayne Johnson, one of the bulkiest men in Hollywood, hasn't always been rough and tough like he is now. In addition to his tell-tale facial expressions and ability to take on just about any role thrown his way, Johnson's probably most known for his muscles. While he was larger than average when he was a teenager — he was well-suited for the football and ice hockey he played at that time — Johnson wasn't always as sculpted as he is now (via Yahoo!).
In fact, when he began wrestling under the name Rocky Maivia, he definitely had muscle, but without nearly as much definition as today's Dwayne (via BarBend). Over the next few years, his body and wrestling persona transformed into what would come to be his famous character, The Rock. Still, it wasn't until Johnson began acting in the early 2000s that he started warping into the man of steel he is today.
His diets and workouts change with his characters
If there's one thing that's important to note about Johnson's workout routine, it's that it's not necessarily a consistent thing. Instead of sticking to a habitual routine, Johnson switches things up when he needs to train for a new movie and get into the role of a new character. Most recently, Johnson has been seen hitting the gym for intense workouts to get the ideal physique needed for his newest character, Black Adam (per Men's Health).
In May 2021, Johnson wrote on his Instagram alongside a bulked-up photo, "Late night training. Big week for #BlackAdam shooting my 'champion' scenes with my shirt off and showing my body. Been working extremely hard dieting, training and conditioning unlike any other role of my entire career. Manipulating water, sodium, cardio but also having to push and pull real iron to have dense, dry, detailed muscle."
According to BarBend, Johnson has bulked up for other past roles, too, like his roles as Agent Hobbs in the "Fast & Furious" series and Roadblock in "G.I. Joe: Retaliation." And, taking a quick scroll through his Instagram page will keep you in-tune with any upcoming roles, as Johnson regularly posts about his training from his personal gym, which he's nicknamed "Iron Paradise."
Not surprisingly, he spends a lot of time in the gym
For a guy like Dwayne Johnson, it probably doesn't surprise anyone that many workouts are on his schedule each week. According to Steel Supplements, Johnson works out for as much as six hours each day. Those workouts might go for three or four hours at a time or split into smaller workout routines, like a workout in the morning and another before bed. Regardless of how long he works out each day, he typically covers six days a week with full routines. Johnson also splits up different muscle groups into separate days to ensure that he's targeting everything without overexerting any group.
Men's Health gives a glimpse into Johnson's workout routine for "Black Adam," his upcoming superhero movie in which he plays the title character. Johnson says that Fridays are for his chest and triceps, Saturdays are for legs, and Mondays are reserved for his back and biceps. Some days get repeats of muscle groups, and other days he'll switch things up to cater to whatever muscles he thinks need extra work.
Even The Rock loves a good cheat meal
Just because you're one of the most famous and bulkiest celebrities on the planet doesn't mean you can't reward yourself with an unhealthy meal once in a while. And Dwayne Johnson definitely knows how to reward himself. According to his Instagram, Johnson even allowed himself to indulge in a huge pile of fudge peanut butter brownies and cinnamon rolls after completing a four-month regimen of clean eating for his role in "Central Intelligence." "#BackOnTheDietTomorrow," Johnson cheekily captions the photo.
Other cheat meals worthy of The Rock include coconut lemon pancakes with a healthy drizzle of syrup and smear of peanut butter, a whole lot of sushi, and a turkey sub from a favorite LA sub joint. Although his Instagram seems to be filled with different variations of pancakes on his cheat days, Johnson tells Delish that his favorite meal is a bacon avocado cheeseburger with fries and a dessert like cookies or coffee cake. Still, there's no overdoing it on unhealthy food or slacking on working out in Johnson's book. "I do believe in working hard throughout the week and earning your cheat meals," Johnson explains.
He eats as much as 8,000 calories a day
It's easy to see how Dwayne Johnson could eat 6,000 calories on one of his cheat days. After all, those bacon avocado cheeseburgers he loves probably aren't short on calories, and he typically eats two at a time plus a hefty serving of fries. But Johnson admits that his normal eating days are also filled with calories — to keep up with his intense workout routine, of course. According to Delish, Johnson fills his plates with 6,000 to 8,000 calories every day. And although the food he eats might vary a bit, he sticks to that number regularly.
Men's Health digs a little deeper into the diet of The Rock. On a typical day, Johnson loads up on carbs like oatmeal, rice, and sweet potatoes. But each meal also includes ingredients like vegetables and fish oil. Of course, protein is a major portion of Johnson's meals, with cod as his number one source, but salmon and chicken also make frequent appearances.
Three meals just isn't enough
Working out and eating are two of Dwayne Johnson's favorite things to do. To sustain the amount of calories he needs to complete his intense workout routines, Johnson eats a lot of food every day. It's not easy packing 6,000+ calories into just three meals a day, which is precisely why Johnson eats between five and seven meals, as reported by Delish. And those meals are hefty and packed with protein, according to Man of Many. The website details a sample menu that The Rock would consume in a day, each meal consisting of steak, chicken, salmon, eggs, or casein protein as the primary protein source. Johnson then rounds out his meals with carbs like oatmeal and potatoes and plenty of healthy vegetables.
After making it to the cover of People's Sexiest Man Alive issue in 2016, Johnson talked about his workouts and diet with the magazine. People reported that, even then, Johnson ate several meals a day, spacing them out by about three hours. There's even a pre-breakfast "meal" of an energy powder drink to get him moving in the morning.
His favorite workout tunes could also get you pumped
If you ever wanted to work out like Dwayne Johnson, it's best to get in his headspace first. To do that, you might want to listen to his playlists, which Johnson swears by to get him pumped up for bulking up.
In 2017, Johnson posted on Instagram about his playlist collaboration with WWE2K18 and Apple Music. "My playlist below are some of my personal favorites to workout and get hyped to or if you just wanna be a cool BAMF, I got your back with these tracks," says Johnson. The playlist featured bangers like "Boyz in the Hood" by NWA and "Down with the Sickness" by Disturbed.
Since then, Johnson has also added workout playlists to Spotify, like "Dwayne Johnson's Iron Paradise Tour Playlist" featuring "No More Pain" by Tupac and "Show Me How to Live" by Audioslave. Although Johnson started the playlist in May 2021, he added a couple more songs in October, so keep checking back to hear his latest favorites. The hour-and-a-half-long playlist gives you plenty of time to complete a workout worthy of The Rock.
He doesn't do all the meal planning and cooking himself
Take a scroll through The Rock's Instagram page, and you'll see that he loves one thing just as much as he loves working out: food! More specifically, Johnson enjoys cooking for himself and his family, telling his followers that his pancakes are one of his greatest hits. "Some people like bacon, some like grits, but everyone. EVERYONE loves Rock's pancakes," Johnson quips on his post before following it up with a hashtag summoning his famous phrase, "#YaFinallySmellWhatImCookin."
However, Johnson also admits that he's not the only cook in his kitchen. Recently, Johnson shared an Instagram post about his beloved family chef, who took over the Johnsons' Thanksgiving meal. Johnson captioned the photo by saying, "Our amazing family chef @chefputtie smilin' big because she knows she's gonna deliver a deliciously [bomb] Thanksgiving meal. For all you foodies out there, you're looking at a cornbread stuffing that she adds cranberries to with sautéed carrots, onions, celery & sage." It's clear that Johnson's happy to hand over the chef hat once in a while.
His dad's advice keeps him motivated today
Dwayne Johnson's famous dad, Rocky Johnson, who was a Canadian professional wrestler, is the person who got him hooked on working out and leading a life of fitness. Since his father's passing in January 2020, Johnson has reflected on his memories of working out with his father at a young age.
In March 2020, Johnson answered fan questions from inside his home gym on his YouTube channel. Johnson said he frequently gets asked about when he started working out. He shared that his first official workout was with his dad when he was 12. "My dad was a workout beast and animal, and he was built like a brick house," he shares. "I would always go to the gym with my dad and watch him on the weekends, but I wasn't allowed to work out."
One day, Dwayne's dad invited him to work out with him. After experiencing embarrassment and anger during the workout, Dwayne's dad gave him valuable advice he carries with him to this day. "He said, 'Don't worry about other people looking at you. Don't ever train for your ego. It doesn't matter; who gives a s*** who's watching you? You train for results, and you train with weight you can control.' That's how you're gonna be a master basically in the gym, is what he was trying to say," says Johnson.
Johnson really loves cod
Almost all of Johnson's several meals a day contain some type of protein, whether it's chicken, eggs, protein powder, or steak. But his favorite choice for the nutrient? Cod. Or, at least it used to be. In an interview with Delish, Johnson admitted that his cod-eating days aren't what they used to be. The interview focused on what Johnson used to eat during his prime wrestling days and for some of his biggest acting roles compared to what he eats now. "I can confirm it to a certain degree that I was eating many pounds of food per day, including a lot of cod. I just recently transitioned my cod meals of the day to salmon."
Johnson insists that he "hates" salmon in the same interview, though. That could be why previous articles have noted that he ate over two pounds of cod every day. Muscle & Fitness reported that 8-10 ounces of cod was a staple in Johnson's diet, making its way to four of his seven meals each day. And FiveThirtyEight noted that, with his cod and other protein sources, The Rock consumed about 460 grams of protein a day, more than 350 more than the average adult male.
His breakfasts are packed with protein
In June 2021, Johnson shared an Instagram post detailing what he refers to as his "power breakfast," which is perfectly fit for the powerhouse that is The Rock. The enticing photo features a large pan full of eggs, egg whites, flank steak, peppers, mushrooms, onions, and short-grain brown rice. In the caption, Johnson writes, "7 a.m. power breakfast in my office. Doesn't look like much but man it's a good one."
In addition to looking tasty, this breakfast is filled with protein, which Johnson uses to fuel muscle recovery and build new muscle. According to calculations made by Men's Health, the breakfast also packs in about 745 calories. This isn't a breakfast Johnson eats every day, though. His power breakfast sometimes gets swapped for other options, like cream of rice, oatmeal, buffalo, and eggs, Johnson says in an interview on Delish's YouTube channel. And, you can't forget about his beloved coconut banana pancakes, which add some protein to his diet with coconut and eggs (via EatingWell).
He drinks gallons of water every day
In addition to as many as seven meals and 8,000 calories a day, Dwayne Johnson has been known to consume something else in huge quantities: water. And we're not talking the standard eight 8-ounce glasses every day. We mean gallons of water. In an interview with People after earning the title of "Sexiest Man Alive" in 2016, Johnson said that he skips coffee in the morning in favor of flavored energy powder drinks. Then, throughout the day, he drinks as much as three gallons of water to stay hydrated. "It's a lot," says Johnson. "I'm always, as they say, yes, peeing."
And that really is a lot of water — probably too much for the average person, according to experts. Healthline says that the average kidney can get rid of about one liter of water each hour, slightly over one quart. Drinking too much could put the kidneys into overdrive, and they may not be able to filter out water fast enough, leading to overhydration. According to the Institute of Medicine, the average adult male should drink 3.7 liters of water a day, or just under one gallon of water. Before copying Johnson's drinking habits, check with your doc about how much water is a healthy amount for you.
It's never too late for a post-workout meal
In one of Johnson's Instagram posts from 2019, he shows his followers that his post-workout meals have no boundaries when it comes to time. The video post zooms into Johnson's clock, displaying that it's just after 1 a.m., a time when most people are sound asleep. However, Johnson just finished a workout and decided to cook himself a meal. "1 a.m. and my post-workout buffalo meat is a crackling," he writes. "And my secret seasoning is a unique blend of salt and pepper but keep that s*** between us."
In the video, Johnson gives his followers an up-close view of him cooking his ground buffalo and brown rice concoction, explaining that he has to be up in a mere four hours. Of course, Instagrammers couldn't wait to chime in with comments about what The Rock is cooking. One said, "I wish I could smell what the [The Rock] was cookin'!" Another joked, "After 20 g** d*** years, I FINALLY know what The Rock is cookin! Thanks Dwayne, that one has been 'eating' at me for a while."
He's focusing on clean and healthy nutrition
For years, Johnson has made clean, nutritious eating his dietary focus. Despite the cheat meals that make their way into his routine, Johnson adheres to a relatively simple diet of healthy proteins, carbs, and vegetables. It's not too surprising, then, that he'd eventually make a health-focused product himself.
In early 2021, Johnson announced ZOA, his own energy drink brand that's supposed to be more nutritious and better for overall health than others on the market. He described the drink in his announcement post on Instagram, saying, "Our unique ZOA formulation will be the ultimate healthy and immunity supporting energy drink with 100% Vitamin C, Vitamin D, Vitamin B, Essential Aminos, Camu Camu, Turmeric, Antioxidants, Acerola, Choline, and finally, the healthy dose of 160mgs of natural caffeine from green tea extracts and green coffee beans."
ZOA currently has two varieties for other health-conscious folks, a 100-calorie version and another zero-sugar option sweetened with sucralose and acesulfame potassium (Ace-K).