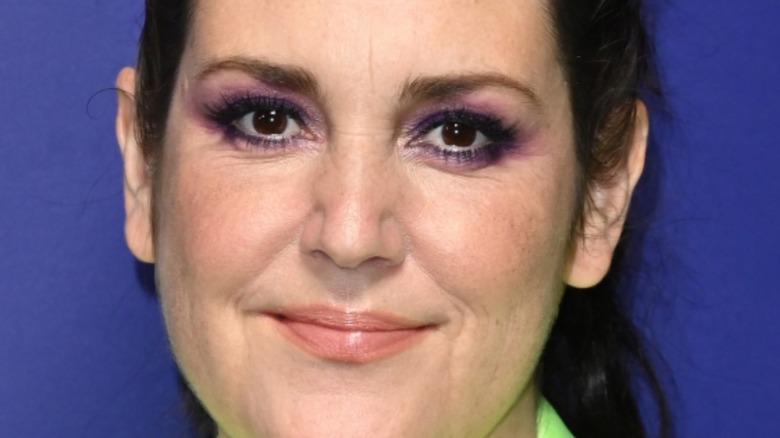 In 2023, Melanie Lynskey is finally enjoying the stardom she's earned, having turned in impressive performances in everything from indie films to mainstream sitcoms over the past several decades. She currently stars in the Showtime hit series "Yellowjackets" as Shauna, a role that garnered her a Primetime Emmy nomination for Outstanding Lead Actress in a Drama Series. And while Lynskey has been in the game for so long, it feels like her star turn is just beginning.
As a child growing up in New Plymouth, New Zealand, Melanie Lynskey knew she wanted to be an actor. When director Peter Jackson scouted her school looking for a girl to star in his film "Heavenly Creatures," 15-year-old Lynskey got the part. The film premiered in 1994, and Lynskey delivered a powerful performance. So why has it taken nearly 30 years for her to get the attention she's always deserved?
In short, Hollywood can be cruel, and Lynskey found herself at the mercy of unattainable beauty standards, typecasting, body shaming, and outright shady behavior from those who call the shots. But not only is she still here, she is thriving. Let's take a closer look at the obstacles the actor faced, and how she faced them down.
Kate Winslet got the star treatment after Heavenly Creatures, Lynskey did not
Melanie Lynskey's first professional acting gig was a starring role in 1994's "Heavenly Creatures," opposite Kate Winslet. The film, directed by Peter Jackson, is based on the true story of an obsessive friendship between two teenage girls that ends in a grisly murder. Despite Lynskey's incredible performance, she took a backseat to her co-star. Even from the beginning, it seemed as though she was being compared to Winslet. "[Peter Jackson] played me Kate Winslet's audition tape, and he said, 'This is a professional actress we've cast from England, and this is how good you have to be," the actor told Vulture. She said she interpreted it as Jackson trying to motivate her, but added, "I mean, it was so intimidating."
Lynskey and Winslet became close during filming, and there was no rivalry between them. "I adored her and I admired her so much … It felt like it was supposed to happen to her. She's a movie star – there's a glow," Lynskey shared with The Guardian.
It was the higher-ups who made Lynskey feel inferior to Winslet, who was a bit more polished, blonde, and fit a certain classically pretty ideal. "Harvey Weinstein was so excited to see Kate. He introduced her to people, like, 'This is the next big thing.' To me he was just like, 'Hi.' It was so dismissive," Lynskey recalled to Vulture. "I was like, 'I think I did a bad job. I'm not the kind of person these people are looking for.'"
The roles she was offered were sort of insulting
After "Heavenly Creatures," one would expect that Melanie Lynskey's career would have gotten a boost, but the roles she was offered were frankly insulting. "I'd get another script to be like, 'the fat character just sitting in the corner eating a chocolate bar, while the pretty girls are all at the dance' or whatever. I was like, 'No.' It's so irresponsible that there are scripts like this at all," she told The Guardian.
Everyone knows that show business is a shallow industry and that Hollywood beauty standards favor a specific kind of aesthetic. When Lynskey was searching for work to keep her career going, she found herself at odds with what Hollywood considered leading lady looks. While Lynskey appeared in successful indie flicks such as "But I'm a Cheerleader," she was often relegated to the role of best friend or sidekick, like her role in "Coyote Ugly." "It was the mid-Nineties and there was a look that was popular," she told Rolling Stone, "and it wasn't this chubby, dark-haired New Zealander."
She developed an eating disorder trying to fit Hollywood standards
Melanie Lynskey said she had an unhealthy relationship with food beginning at age 12, but it was exacerbated when she understood she was supposed to look a certain way in order to be taken seriously as an actor. Lynskey's eating disorder took years to overcome. "I don't remember a time before food was the enemy," she told Vulture.
The pressure to be thin, or what Hollywood considered to be thin, took a huge toll on Lynskey's physical and mental health. "I was losing my mind trying to conform to something that was not physically possible for me," she told People. "I was very unwell for a long time … at a certain point I was like, 'I'm not going to survive' — not like I was on death's door or anything, but I was so unhappy and my hair was falling out."
Lynskey credits ex-boyfriend Andrew Howard with helping her recover. His intervention of sorts made a huge difference for Lynskey, who was used to sharing her issues with other girls going through the same thing. "It changed my life. I stopped throwing up, mostly. It took a while. But that was a big one," she revealed to Vulture.
Once Lynskey recovered, she could look at the way Hollywood was treating her more objectively, taking the blame off herself. "To have been so unkind to my own body for so long, I was furious about how Hollywood was working," she explained to The Guardian.
Roger Ebert's shady comments about her sex appeal
In 2012, Melanie Lynskey starred in the indie film "Hello I Must Be Going," as a newly divorced woman who has an affair with a younger man. Finally Lynskey was cast in a role where she was the object of desire, but Hollywood was still not willing to give her the credit she deserved. Specifically, the late Roger Ebert, who was one of the most influential film critics of his time.
His review of the movie took a backhanded jab at Lynskey's looks and questioned her sex appeal. He wrote, "Melanie Lynskey (as a human being, not a character) is certainly sweet, cuddly and glows in this performance, but does she generate a sexual gravitation transcending age? … With Melanie Lynskey, the irresistibility must be in the eye of the beholder." Cuddly? Ugh, the shade was so real.
Naturally, Lynskey had an opinion about Ebert's comments. "It was a real bummer because I was like, 'The movie's about this couple who find each other and have this fling for a summer.' Like, really, you don't think an 18-year-old would just want to spend the summer sleeping with me?" she said in her Rolling Stone interview. "From experience, some 18-year-olds are willing to sleep with me." Get it, girl.
She got paid the bare minimum for Two and a Half Men
In 2003, Melanie Lynskey landed a role on the TV series "Two and a Half Men" which seemed like it would be a great opportunity. Lynskey had just recently obtained her green card, and she nabbed the role during her first pilot season in the U.S. But the money wasn't great. In fact, Lynskey told Vulture, "… it was literally the least they could possibly pay me, according to SAG."
Lynskey was not particularly concerned, however, as money was never the driving force for her. "There were times when I would be offered things where I would've made so much money … It was something internally, where I was like, 'Ugh, I feel too weird about it,'" she said.
Soon Lynskey realized that her role as next-door neighbor Rose on the sitcom was keeping her from auditioning for projects she wanted to be a part of. She told Vulture, "I had a conversation with Chuck Lorre where I told him I wanted to leave. The show was a huge hit, and he just said, 'Please don't. You have this story line and that story line coming up next season.' … Then the next season happened — all of the story lines happened in one episode!" Kind of sketchy, no?
A comment from Yellowjackets production was the last straw
In 2021, Melanie Lynskey began her starring role on the hit Showtime series "Yellowjackets." The show, about a high school girls' soccer team that survives a plane crash in 1996, moves back and forth between past and present day. Lynskey plays adult Shauna, a mild-mannered suburban mom who did unspeakable things to survive while stranded in the woods. In Season 1, Shauna's story arc includes her meeting a handsome younger man with whom she has an affair.
"I started to get to a point reading the script where I was like: 'Oh my God, I'm having sex again!' Then I was like: 'How great that I'm the one who's having all the sex!'" Lynskey told The Guardian. But the thrill wore off just a bit when a member of "Yellowjackets" production crew alluded to the fact that Lynskey might want to lose weight for the role. "They were asking me, 'What do you plan to do? I'm sure the producers will get you a trainer. They'd love to help you with this,'" the actor told Rolling Stone.
Lynskey took to Twitter after the show began airing to address people's comments about her body. "The story of my life since 'Yellowjackets' premiered," Lynskey wrote. "Most egregious are the 'I care about her health!!' people… b— you don't see me on my Peloton! You don't see me running through the park with my child. Skinny does not always equal healthy." Amen to that.
Her co-stars had her back
While Melanie Lynskey can hold her own just fine when it comes to shutting down trolls online, she did get an assist from her castmates after those comments from the "Yellowjackets" production team member. According to Rolling Stone, Christina Ricci, Tawny Cypress, and Juliette Lewis stood their ground in support of Lynskey. Juliette Lewis even penned a letter to the show's producers on behalf of her co-star. We love to see these women sticking together!
And the "Yellowjackets" cast members are not the only actors speaking out about body-shaming in Hollywood. In January 2022, Alison Tolman called writers and showrunners out for their body-focused humor in a lengthy Twitter thread. That same month, "Bridgerton" star Nicola Coughlan shared her thoughts in an Instagram post. "So just a thing- if you have an opinion about my body please, please don't share it with me," she wrote in response to fans' criticism about her weight.
As for Lynskey, she saw the opportunity to be a part of something that shouldn't be, but still is, rather groundbreaking. "I want women to be able to watch ['Yellowjackets'] and be like, 'Wow, she looks like me and nobody's saying she's the fat one.' That representation is important," the actor told Rolling Stone.
Her husband, Jason Ritter, is her biggest fan
In 2020, Melanie Lynskey married fellow actor Jason Ritter. The pair, who've been together for nearly a decade welcomed a daughter in 2018 (via People). Ritter, son of the late, great actor John Ritter, is truly his wife's biggest fan. He often takes to Twitter to praise her, show support for her projects, and yes, talk about how beautiful she is.
"Sometimes, my husband will tweet things about thinking I look hot or whatever and a lot of people like it, and I said to him, 'Isn't it funny that if I was a Victoria's Secret model and you tweeted the exact same thing, people would not respond the way that they do?'" Lynskey told InStyle, noting the odd sense that people act like it's an act of charity or something. Because Lynskey is beautiful, and she knows it.
"People get excited because I look like I look, and my husband, he's like a cute, young actor … It's like, well, he got together with me because he found me attractive … And also — he had competition." Girl, we believe it!
Her career is totally thriving
We're going to assume those who counted Melanie Lynskey out back at the beginning of her career are busy eating their hearts out now. The actor has become sought-after, and her career is on fire. Aside from "Yellowjackets," she starred in the 2022 Hulu miniseries "Candy," opposite Jessica Biel, and has an important role in the runaway HBO hit "The Last of Us."
According to Lynskey, a psychic predicted her current success. "It had been months and months since we shot the ['Yellowjackets'] pilot, and she said, 'That show's gonna get picked up and it's gonna be really big, and you're gonna enter into a time in your career that you thought, if this didn't happen when you were 25, it was never going to happen. It's about to happen,'" the actor shared with InStyle. While we don't claim to be clairvoyant, we can say that Melanie Lynskey's future is looking as bright as ever!