Adam Driver is in grave danger in his new movie 65, where he plays an astronaut who's stranded on Earth 65 million years ago. The trailer for the sci-fi thriller (in theaters March 10) that was released during Super Bowl LVII features Adam's character, Mills, coming face-to-face with a dinosaur as he fights to survive.
The 30-second trailer begins with Mills and Koa (Ariana Greenblatt) crash landing on prehistoric Earth. They explore the planet but find themselves in serious danger. The dinosaur approaches Mills who looks absolutely terrified. Another scary creature tries to attack Koa. The trailer is action-packed start to finish and did not disappoint!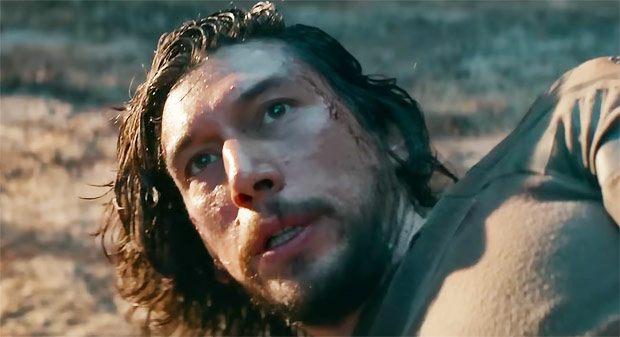 Scott Beck and Bryan Woods, who wrote The Quiet Place together, directed 65. The producing team includes Sam Raimi, who directed Doctor Strange in the Multiverse of Madness and Tobey Maguire's Spider-Man trilogy. Filming took place in Louisiana from December 2020 to February 2021.
Adam's obviously no stranger to the sci-fi genre. He infamously played Kylo Ren in the Star Wars sequel trilogy, which did wonders for his acting career. His next sci-fi movie is Francis Ford Coppola's Megalopolis, about a NYC woman who is torn on her parents' opposing views on society. Adam will be sharing the screen with major stars like Forrest Whitaker, Dustin Hoffman, and Aubrey Plaza in that movie.