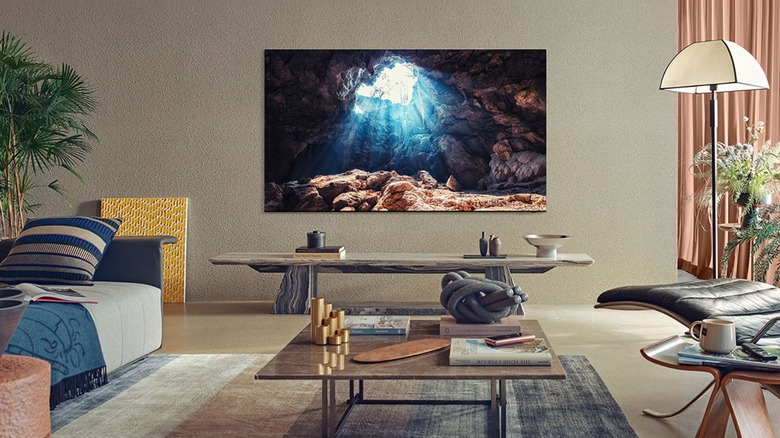 Not long ago, buying a 4K TV seemed like a costly and unnecessary investment. People were perfectly fine with their Full HD resolution TVs, and 4K was something that you only bought if you were super into technology or rich. These days, you can snag some awesome 4K TVs that won't break the bank, and 4K is practically the new Full HD. More TV manufacturers have released 4K models and experimented with new, more cost-effective technologies, ultimately dropping the price to something that's generally more affordable. Depending on the size of TV you're looking for, you can often find a high-quality 4K TV for around $500.
Now, 8K is the new 4K — a groundbreaking technology that's stunning, but super expensive. Consumers get the latest tech and features, but these often come at a high cost. While many aren't worth the upfront spend, Some 8K TVs out there can revolutionize your setup and provide a high return on investment.
Can you tell the difference between 4K and 8K resolution?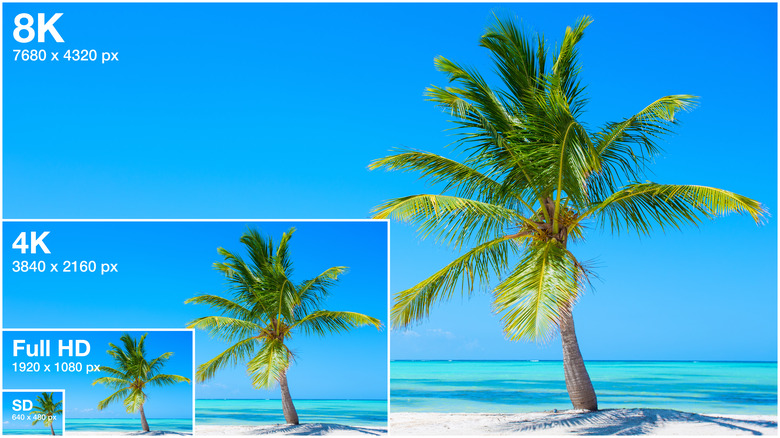 The debate between 4K and UHD has shifted to the difference between 4K and 8K. At this point, Full HD (1,920 x 1,080 pixels) is seen as the modern bare minimum in TVs, 4K (3,840 x 2,160 pixels) is the most popular option, and 8K (7,680 × 4,320 pixels) is beautiful, rare, and expensive.
The biggest difference between a 4K TV and an 8K TV is the number of pixels. In an 8K TV, the screen has 7,680 horizontal pixels and 4,320 vertical pixels, totaling about 33 million pixels. This is four times more pixels than you'll find in a 4K TV, which means that the resolution in an 8K TV is four times higher than that of a 4K TV. There are more pixels in a 75-inch 8K TV than there are in a 75-inch 4K TV, and these more densely packed pixels in the same overall area translate to a more detailed, realistic picture.
Most people can see a difference between a 4K TV and an 8K TV. Some may look at the two TVs and say that they both look good, just like some people would listen to a song on a $10 speaker and say it sounds the same as a $500 speaker. For tech nerds, though, the incredible difference in image quality between a 4K TV and an 8K TV is worth it.
Is it worth buying an 8K TV right now?
After witnessing an 8K TV in action, you might tell yourself that your next TV needs to have an 8K resolution. But because 8K technology is so new and niche right now, 8K TV manufacturers have to put a high price tag on their products to recoup some of the money that went into research and development. When 4K TVs first came out, they were much more expensive compared to Full HD TVs. After multiple years of 4K TVs being on the market, prices began to lower, and it didn't cost that much more to splurge on a 4K TV rather than a Full HD TV. This could eventually happen with 8K TVs, but it might not happen for a while. If you find yourself still wanting an 8K TV, expect to pay a lot of money.
What's most unfortunate is that even if you shell out thousands of dollars on an 8K TV, there's not much 8K content out right now. Major streaming services, including Netflix, Apple TV+, and Amazon Prime Video, don't offer native 8K content right now. YouTube and Vimeo have some 8K content, but many content creators aren't currently uploading native 8K videos. You can certainly buy an 8K TV to future-proof your setup, but the lack of 8K content is easily one of the biggest reasons you shouldn't buy an 8K TV just yet.
What to look for in an 8K TV
Budget should be one of the first factors you consider. Now that 8K technology has been around for a while, there are a number of panel types to choose from among multiple brands. Your three main choices include LED, QLED, and OLED. LED displays can come in many forms, including Mini LED and Micro LED, and they typically cost less than QLED or OLED displays. A QLED display is essentially an LED display with a layer of Quantum Dots, or nano-sized semiconductors that produce different colors of light behind your screen, and this technology results in brighter colors and darker blacks.
OLED displays don't use backlight technology, but rather each light-emitting diode is self-lit so each turn on and off independently without the need for a backlight. Because these self-lit diodes can turn completely off or on, an OLED display is capable of producing true blacks, brilliant whites, and vivid colors. Right now, this technology is expensive, and the only 8K TV with an OLED display costs $9,999 from LG.
Three things you should consider before buying an 8K TV are price, size, and panel type, according to Best Buy. These decisions are important because you're investing in a TV that you'll have for a long time. Audio quality is important, but many people invest in a more premium soundbar instead, and with the price you're paying for an 8K TV, it's bound to have plenty of ports and smart features.
Samsung QN900B Neo QLED 8K
The best 8K TV you can currently buy is Samsung's QN900B Neo QLED 8K TV. This 75-inch 8K model retails for $6,499. You can bring that down to $4,499 using Samsung Financing. The 65-inch model costs $1,500 less and the 85-inch model costs $2,000 more. Samsung employs its proprietary Quantum Mini LEDs in the display panel, powered by the Neural Quantum 8K processor and capable of producing Quantum HDR 64x, one billion unique colors at 100% color volume, and striking contrast. The Neural Quantum 8K processor uses 20 neural networks to deliver an immersive picture, intuitive Smart Hub controls, Dolby Atmos cinematic surround sound, and stunning 8K upscaling.
The QN900B 8K TV offers unique features like Motion Xcelerator Turbo Pro to increase refresh rates while gaming and an EyeComfort Mode that intelligently adapts your display and reduces blue light. You'll also have the ability to make video calls on the big screen with Google Duo, stream Xbox games without a console, and watch up to two things at once with MultiView technology. Plus, the TV looks gorgeous, with zero bezels and an ultra-slim stainless steel frame. There are four HDMI ports, three USB ports, an Ethernet port, and an RF input, as well as support for Wi-Fi 6E and Bluetooth 5.2 through Samsung's Tizen operating system. You can use voice commands with Google Assistant, Alexa, and Bixby, and find support for NFC, a web browser, and Samsung SmartThings.
Sony Bravia Z9K
Sony has made a name for itself with its Bravia line. Now, there's an 8K TV Bravia called the Z9K. This 75-inch 8K model from Sony retails for $5,999, and the 85-inch version retails for a shocking $8,999. While screen size and resolution play a part in the Z9K's retail price, many features make it worth your money.
There are billions of accurate, vivid colors enhanced by XR Triluminos Pro to make them even brighter and richer. The Z9K's display type is LCD, but the backlight setup is powered by thousands of Mini LEDs that are locally dimmed and controlled by XR Backlight Master Drive for the best possible combination of contrast and brightness while you're watching your favorite content. Powered by the Cognitive Processor XR, Sony's Bravia Z9K TV is capable of upscaling content to 8K resolution so you can get the most out of your 8K TV, even if the content you frequently watch isn't filmed in native 8K.
Wrapped in a sleek titanium silver package with a seamless edge bezel design, the Z9K will look and sound amazing whether you mount it or set it up on a TV stand. There are four HDMI ports, one Ethernet input, two USB ports, and additional audio and video ports. The Z9K uses the Android TV operating system, comes with 16 gigabytes of onboard storage, and has a few special features for the PlayStation 5, including automatic HDR tone mapping and automatic genre picture mode.
TCL 6 Series 8K QLED
TCL has always offered affordable TV options, and yet many people still couldn't believe it when TCL announced pricing for its 6 Series 8K TVs. For the technology you get inside, the 65-inch model of TCL's 6 Series 8K QLED TV is a fantastic value at $2,199. If you want to go bigger, the 75-inch model is only $2,999 — which is still such a steal.
Behind the screen, there's a Mini LED backlit display and over one billion unique colors powered by QLED technology. You'll also get Smart HDR technology with TCL's 6 Series 8K TV, as well as Smart Contrast, which comes with up to 240 unique contrast zones that can be individually controlled and dimmed. All of this paired with TCL's AiPQ Engine technology helps to enhance the picture as you're actively watching, so you never have to pause, adjust settings, and resume — the TV does it for you!
The 8K 6 Series from TCL is also part of the Roku TV line, which means you'll get all of the great free and paid content the Roku Channel has to offer. While you'll still need to pay for certain app subscriptions, like Netflix or Disney+, there's a bunch of free content to explore, including live news and sports. There are four total HDMI ports, one RF input, one Ethernet port , one USB 2.0 port, one digital audio optical port, and one audio jack for headphones.
Hisense U800GR 8K
For $1,799, you can get a stunningly large 75-inch Hisense U800GR 8K TV. This is the first 8K TV offering from Hisense, and it's also a Roku TV. This means you get all the free and paid content from the Roku Channel, and the bonus of Hisense's 8K upscaling technology that takes non-8K content — like 4K, 1080p, or 720p content — and enhances it to near-8K quality. Even though this upscaled content is not native 8K, it's still much sharper as well as deeper in colors and blacks.
The built-in Quantum Dot technology helps produce those purer, more vivid colors in any piece of content you watch. The U800GR 8K TV's screen brightness also helps to display these rich colors. Whereas the average TV is around 250-250 nits, which is the unit used to measure screen brightness, Hisense's U800GR TV offers up to 1,000 nits peak brightness over 180 local dimming zones that help produce detailed contrast for dark scenes.
All of this is powered by the Hi-View Engine processor inside, along with the Dolby Vision HDR picture and Dolby Atmos sound. The processor adjusts the picture as you're watching content so that the amount of shadows, brightness, and everything else is spotless. For ports, Hisense's 8K TV offers four HDMI ports, one USB 2.0 port, one Ethernet port, one RF antenna, and a few other video and audio inputs and outputs. Google Assistant is built in, but you can also use voice commands with Alexa.
Samsung QN800A Neo QLED
If you have your heart set on an 8K TV from Samsung but you don't want to break the bank, try the QN800A Neo QLED 8K TV. This 65-inch TV retails for $3,499, but it's currently discounted to $1,999. The ultra-slim design looks beautiful, and though it's not bezel-free, it is bezel-less and practically looks like artwork when mounted on your wall.
Inside, you'll find a powerful Neo Quantum 8K picture processor that is equipped with Quantum HDR 32x and produces 100% color volume with Quantum Dot technology, delivering a billion unique shades of color. With Quantum Mini LED technology and Matrix Technology Pro, there are more powerful backlighting zones than traditional Quantum Matrix Technology, resulting in ultra-fine contrast that reveals all the important little details within a picture.
Samsung's Neo Quantum 8K processor also enables AI upscaling to transform your favorite content into 8K through deep-learning algorithms. This deep-learning AI technology also analyzes the content you're watching scene by scene, optimizing everything in real time so you're always experiencing the best video and audio quality. The QN800A model is equipped with Wi-Fi 6, Bluetooth 4.2, four HDMI connections, three USB 2.0 connections, one Ethernet port, an RF antenna input, and Samsung's proprietary Tizen operating system and SmartThings. You can use voice commands with Alexa, Google Assistant, and Bixby.
LG Z2
Finding an 8K TV with OLED technology can be difficult as currently, the only 8K OLED TV you can buy is LG's Z2 model. Even if you've seen the prices of other 8K TVs on this list, you might not be prepared for this sticker shock. The 77-inch Z2 model from LG costs $9,999, and as if this price wasn't already heart-stopping, the 88-inch model costs $24,999.
If you're not sure what OLED technology is or what makes it so special, the high price of LG's Z2 TV may seem absolutely absurd. OLED display panels produce very dark blacks as well as bright, vivid colors, ultimately creating a beautiful, immersive picture. Rather than having an LED backlight like LCD panels do, an OLED display panel contains self-lit pixels. Combining OLED technology with over 33 million pixels found in a TV with 8K resolution results in the $10-25,000 price tag of LG's Z2 models.
OLED technology isn't the only thing LG brings to the table with its Z2 TV. Inside, you'll find an α9 Gen5 AI processor that helps automatically adjust your TV settings to improve picture and sound qualities for whatever you're currently watching. The Z2 is also equipped with a 120 Hz native refresh rate, Wi-Fi 6, Bluetooth 5.0, Dolby Atmos and OLED Surround Sound, and compatibility with Alexa, Google Home, Apple HomeKit, and Apple AirPlay 2. There are four 2.2 HDMI inputs, three 2.0 USB ports, one RF input, one Ethernet port, and a mini jack.
LG QNED Mini LED 99 Series 8K TV
The QNED Mini LED 99 Series 8K TV is the best LG currently has to offer in terms of value. The 75-inch model retails for $4,799, but is currently discounted to $2849. There's also an 86-inch model that's about $1,000 more expensive, and a 65-inch model that's about $1,000 cheaper. No matter which class size you buy, you'll be getting some fantastic visual features as well as powerful internal specs.
Most importantly, LG's QNED 99 Series TV combines Quantum Dot NanoCell Color technology with Mini LED technology, resulting in deeper blacks, vivid colors, and overall enhanced brightness. The Mini LEDs specifically aid in delivering crisper images while unique dimming zones throughout the display allow for precise backlight control and ultimately an ultra-high contrast ratio, helping dark scenes stay detailed.
This LG 8K TV has minimal bezels and a pretty slim body, and no matter which class size you go for, it'll mount beautifully on your wall. Alongside Dolby Vision IQ and Dolby Atmos technologies, the α9 Gen4 AI 8K processor is working hard inside, using deep-learning algorithms to automatically adjust your picture and sound while you're watching content. Plus, LG's 99 Series 8K TV is equipped with AI 8K Upscaling technology that can upscale almost any content to 8K resolution. Google Assistant and Alexa are built in, but there's also support for Apple AirPlay 2.