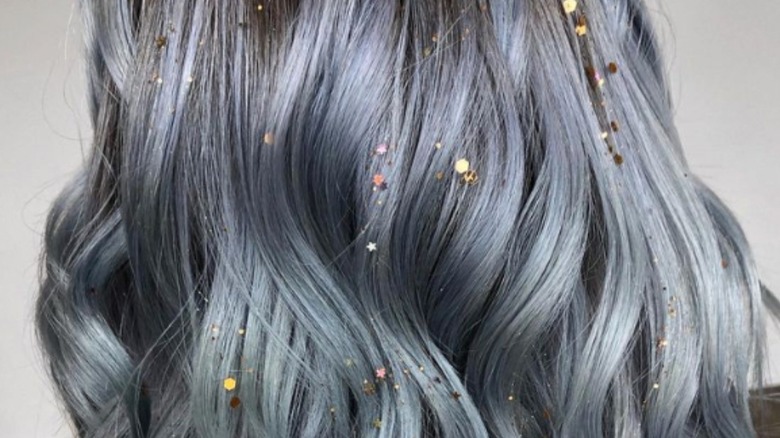 We may receive a commission on purchases made from links.
As we've come to expect from the ever-changing fashion and beauty trend cycles, there are plenty of exciting trends that will completely take over 2023. Makeup artist Marcelo Gutierrez explained to Vogue that the Y2K revival will continue to influence trends the way it has for the past few seasons, saying, "I feel that the way the younger generation is reinterpreting the era is through its colors and textures: metallics, glitter, and an array of pastels you see reflecting off of a CD."
Between the trending invisible glitter makeup look and all the it-girls wearing hair tinsel, it's really no surprise that adding glitter to your locks is the next big hair trend. Hair glitter fits right in with that popular display of Y2K through textures, and it gives you a whole new way to add glitz to your look. We love a versatile beauty trend, and this definitely fits into that category. From big glitter to small glitter; heavy, concentrated sparkles to glitz sprinkled like fairy dust, there are so many ways to make hair glitter your own. We've got some of our favorite ways to rock the hair glitter trend.
Simple and subtle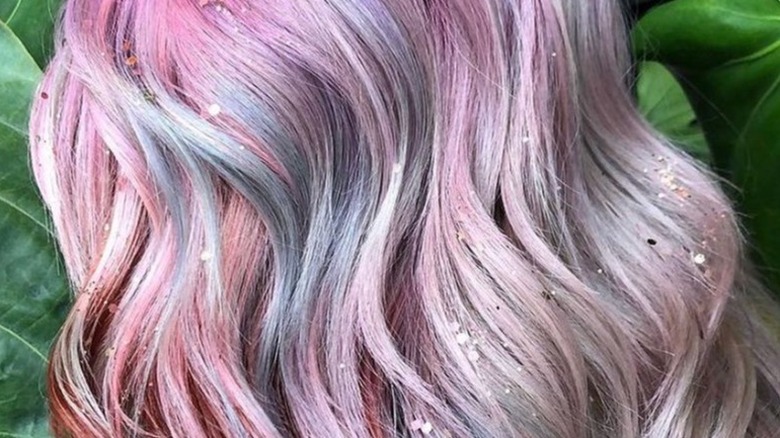 We all know that sometimes less is more, and this can even be the case with something as bold as hair glitter. Trends as eye-catching as this one can be intimidating to try to sport on a regular night out, but this method gives you the ability to work the trend without feeling overwhelmed.
Whether you want to sprinkle some loose glitter on your locks before your hairspray or apply some spray-on glitter and give your hair a good brush afterward, don't be afraid to slowly wade into the hair sparkle pool with something subtle and simple.
Glitter ponytail
One quick search of the #glitterponytail hashtag will show you that the glitter ponytail is one of the most popular ways to rock the hair glitter trend as of late – and for very good reason (via Instagram). The shimmery ponytail is the perfect mix of statement-making and not too in-your-face, and there are so many ways to do it.
Most glitter ponytails feature the sparkles right at the ponytail's base. To get this look, concentrate your glitter spray a bit extra on one chunk of your hair, and wrap that around your ponytail base for a chic look.