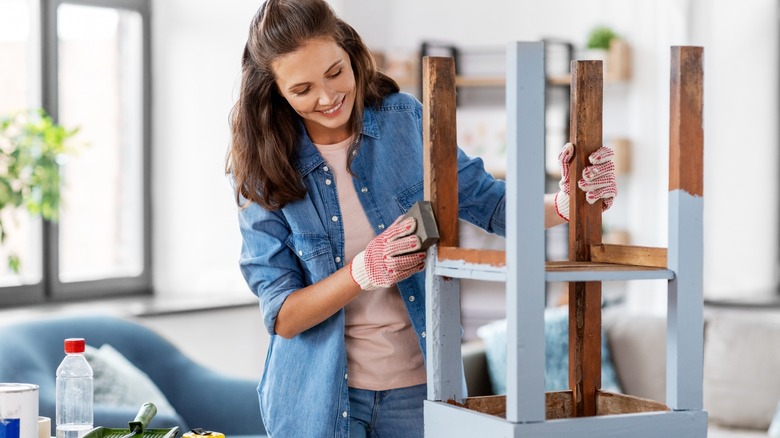 We all know Costco has great deals on bulk foods, but they might not be the first place you think about when it comes to DIY home decor. Surprisingly, Costco carries all kinds of home products that will give you a whole new perspective on shopping for DIY projects. Some of the benefits of doing your own decorating are things like saving money, learning new skills, having a fun hobby, and reducing stress and anxiety (via All Day Chic).
There's just something incredibly satisfying about coming up with home decor ideas and accomplishing a terrific look that's personal and unique. Plus, if you find you have a knack for it (and how do you know if you don't try?), you might just find your new side hustle! And really, no one knows the look you want to achieve better than you, and there are a zillion ideas out there to help guide you. So here are some of the best Costco home products hacks that will change how you DIY!
Turn overhead garage storage racks into laundry room storage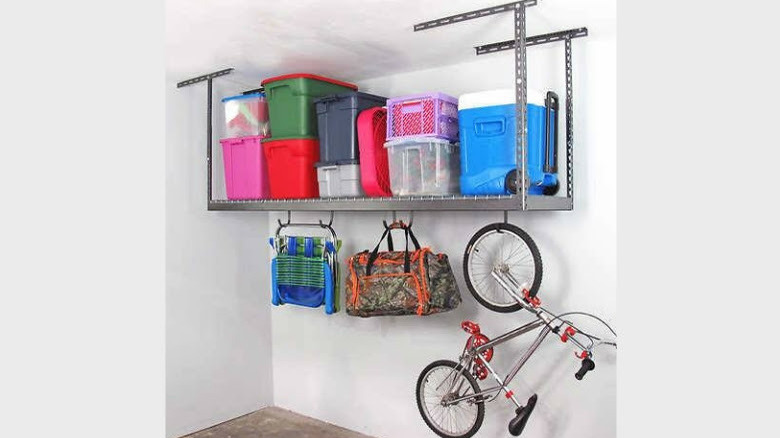 Overhead garage storage racks are great for their intended use, but even better, say, in the laundry room! They're long enough to stack clean laundry on at eight feet long by two feet wide, and have an adjustable height. Not only that, but there are hanging hooks on the bottom that you can hang dirty laundry bags from, or put clean clothes on hangers and hang them.
They come in white or gray and have a 24 to 45-inch drop-down range. They also come in different sizes and drop-down ranges, so you can choose the perfect one for your space. This one holds up to 400 pounds and it's made of steel, so they're also quite sturdy. Costco carries these SafeRacks starting at $179.99, and really, who doesn't need more storage? You can really utilize something like this and get creative with how you use it. Aside from holding folded laundry, a rack like this can also serve as storage for detergent, laundry baskets, and other items.
Trinity 3-Tier Shoe Bench makes a great plant stand
This handy bench can be used for shoes or other storage underneath, but also makes a great place for putting plants on top. The Trinity 3-Tier Shoe Bench sells for $59.99 at Costco, and the possibilities are endless with what you can do. It measures 36" wide and 18" tall and can hold eight pairs of shoes; four pairs on each of the bottom two tiers. You don't have to use it for shoe storage though, and we thought the top bench would make the perfect plant display stand.
It comes in bronze or gray and can support up to 300 pounds, so you can put practically anything you come up with on it without worrying about it collapsing. You could also put books on the lower shelves and make it a focal point inside a reading nook in your home. The racks are made of steel and the bench top is wood, and you can assemble it easily with no tools needed. It's a great start for making a unique display piece!
Buy ornaments like these in bulk for other DIY projects
Although you will likely have to wait for the holidays to come around, you can buy shatter-resistant ornaments in bulk at Costco and use them for other decorative DIY projects. Because they won't break, they're easy to work with and use in any kind of project you choose. You can use them indoors or outdoors, and these lovely ornaments are $12.97 for a set of 12. According to Design of Your Life, one idea is to make a beautiful outdoor arch made out of ornaments to frame your front door over the holidays.
It's quite involved, but you can store it and reuse it year after year. You need ¾" PVC pipe and connectors, about two feet of chicken wire, zip ties, about 100 feet of string lights, and up to 500 shatterproof ornaments. Depending on your own personal doorway measurements, the number of lights and ornaments you use may vary. To create your own holiday focal point, build a frame from the PVC pipe, then attach the ornaments to the chicken wire. Once you have the chicken wire covered with lights and ornaments, attach it to the PVC frame, and then fill in with more ornaments as needed.
When it's time to take it down, all you have to do is remove the decorated chicken wire, take the frame apart, and then store it all away for next year!
Turn a closet into a bed nook using curtains like these
If you have a closet you want to turn into a bed nook, these total blackout curtains from Costco could be just the thing. They come in multiple colors and are made from a luxurious 100% polyester velvet material. Each order includes two panels and costs $41.99. They're insulated and even help reduce noise, which will be great for anyone resting in the nook. Plus, they measure 52" X 84" so they've got plenty of coverage. According to Designer Trapped, transforming your little-used closet into a bed nook is easy.
As long as your closet has room for a twin-size bed, you're in business. You just need a screwdriver, some spackle, a putty knife, sandpaper, and paint. First remove the shelving, hardware, and door. Make any necessary repairs to the walls and repaint them in whatever color you like. Put the bed inside your new bed nook and decorate the inside of the nook. To finish it off. hang the blackout curtains for the door. You can part the drapes when it's unoccupied and cinch the panels for an elegant look. You'll be in love with this charming new space in your home!
Turn a plain round mirror into a DIY hanging display
On the surface, this appears to be a simple oval-shaped mirror, but upon reflection, you will glimpse a whole new image. Turn that vision into reality by creating a customized interior statement with this idea from Raspberry Flavoured Windows. This delightfully creative lady made a wood backing and a leather hanging strap for her simple round mirror out of a leather belt, and a hanging peg out of a wooden doorknob! The final results were chic and stunning.
Or how about making a sunburst display out of an oval mirror like this one by turning it sideways and adding sun rays like in an idea found on Joyful Derivatives? You can simply use measured pieces of gold twine and gold tacks. Stretch rays out from the outer edge of the mirror for a sunburst focal piece.
The Sarabelle Mirror from Costco is quite large, measuring 34.25" tall and 17.75" wide, and sells for $199.99. It has a black iron frame and an attached hanger for vertical hanging. It's not too heavy though, weighing only 13.9 pounds. So whatever you decide to do with it, it's going to be easy to handle.
Turn a blanket ladder into a small space plant display
This blanket ladder has a lot of potential, don't you think? This one measures 5 feet 9 inches in height and 17 inches wide and has five rungs. It's made of real tree wood and painted black, and is wider at the bottom than at the top. It's perfect for leaning against a wall and instantly creating a rustic atmosphere. Reviewers only had one major complaint: The rungs weren't wide enough to hang blankets on. If you live in an apartment or have a small space to fill, why not turn it into a small plant display?
This idea uses the top rungs for hanging a DIY planter (via Basically Liz). They used a Fintorp condiment stand, but you could use any kind of rectangular-shaped open container. This is because you want maximum plant space, and just the right size to accommodate the length of the rung. They used S-hooks, but you could also attach a short chain on each side and hang it from the rung as an alternative look. You could also place a vining houseplant at the foot and behind the ladder so it can "climb" the ladder (and save space).
Turn faux rugs like these into upholstery
If you have a worn-looking ottoman that could use a makeover or a storage bench that could use some dressing up, this hack might tickle your fancy. Try turning faux fur rugs into upholstery for a piece of furniture like an ottoman (via Bigger Than The Three Of Us). It's so easy and it looks great! If you have a staple gun and a faux fur rug, you can do this project yourself. Depending on the size of your rugs, you can cover a bench, an ottoman, a stool (or a set of stools), an end table — well, you get the picture. You can also use faux fur on walls, tables, shelves, and anything else your heart desires.
This faux fur rug from Mon Chateau sells at Costco for $59.99 and measures 5 feet 10 inches long by 3 feet 7 inches wide. It's got anti-slip backing, is ultra-soft and it's even machine washable. It's also got tons of good reviews, scoring 4.7 out of 5 stars overall. Grab a couple and experiment with them to get the look you want. You can even make your own custom DIY bench to upholstery with a faux fur rug.
Transform this modern shed into a home office space
The Suncast Modernist shed gives you 200 cubic feet of space and measures 6 feet by 5 feet. It includes four air vents for air circulation and four transom windows for natural light, making it a viable option for a workspace. This one looks good flush with the house, and also has double doors that have a spot for padlocking when you're not using it. It also has upper and lower metal latches, and has a steel frame, and resin-paneled walls. Reviewers said it stays dry and is sturdy, and the roof can handle heavy snowfall.
Keep in mind, however, that this space is fairly small, but they have all different sizes. And hey, if you already have a larger shed you'd rather use, who are we to stop you? Turns out that converting a shed to a home office space is a great DIY project and not too difficult to handle (via Countryside Sheds). For a more comfortable space, add better insulation and flooring, plus a bit of decoration and perhaps a space heater in the wintertime and a fan in the summer.
Turn EZ Flex Interlocking Rubber Floor Tiles for home gyms info safe play zone flooring in kids rooms
These EZ Flex Interlocking Rubber Floor Tiles are perfect for a home gym, but they also work great for kids' rooms, mud rooms, laundry rooms, or even in the entryway to protect the floor when people come in with muddy shoes. They're so simple to lock together and you can purchase more for whatever size space you need. Each tile measures two feet by two feet, and a set of six like this covers a 24-square-foot area and costs $99.99. They come in solid black or a pattern with the option of different colored speckles of gray, tan, blue, or red.
These tiles can also be used on concrete or unlevel floors with good results, according to the reviews. They're also easy to install. They don't slip or skid and can be used indoors or outdoors. These would be great to put in a safe play zone for kids, they'll protect your floors as well as little knees and elbows!
Turn shutters like these into a changing screen in the bedroom or a side table
Have you ever thought of turning old or new shutters into a table or a shelf? According to Create with Cynthia, you can do this innovative project yourself quite easily! You can use an old shutter you have in the garbage pile just as easily as one of these 24" by 36" Bali Blinds from Costco for $102.00. For this project, all you need is a shutter size, two table legs, a piece of wood cut to the same width as the shutter for the tabletop, leg mounting plates, shelf brackets, some paint, and a drill.
You'll want to clean and paint or stain and seal the wood first. To assemble the table, attach the hardware and the legs to the outside edge of the tabletop. The shelf brackets go on the other side to attach to the shutter, which provides the support for the other side of the table and sits against the wall. The end result is incredibly unique and different, you'll love your handiwork! Works great for small spaces too.
Costco membership rewards gives 2% back
Hopefully you've gotten some great ideas for new DIY projects with products you can find at Costco. Every DIYer knows the value of saving money, right? According to CreditCards.com, there's another way members can use the wholesale giant to get more money to use in the store for home products like the ones here! Assuming you already have a basic Gold Star membership, if you upgrade to an Executive Gold Star membership at $120 a year, you will automatically get 2% cash back on all your Costco purchases of up to $1,000 a year.
Another way to get 2% back is to sign up for a Costco Anywhere Visa Card, which you can use… You guessed it: anywhere! You get 2% back on all regular purchases, and 4% on gas purchases until you reach $7,000, when it changes to 1%. There are also 3% cash back rewards for using this card at restaurants and even certain travel costs. The main drawback to these perks is that you can only use them at Costco and you only receive them once a year, by mail, in the form of a certificate. Additionally, you need to use them within a year, and if you cancel your membership or it runs out, you're out of luck. All that said, it still gives you extra money to use for your DIY projects with great products from Costco!