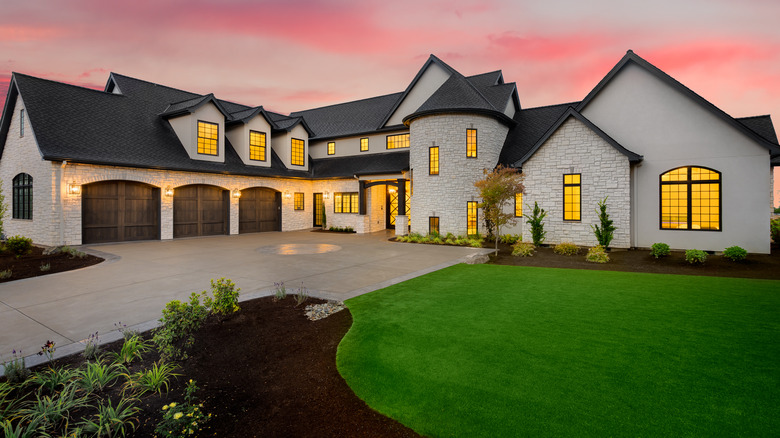 While we typically picture our favorite celebrities living out their days in Beverly Hills mansions — and many of them do — a select few have opted for more unusual towns, instead. Some prefer to spend time out of the spotlight and away from the paparazzi, while others have chosen scenic, peaceful areas to raise their children. Of course, just because these wealthy celebrities have moved to more secluded cities doesn't mean they don't own some truly incredible (and expansive) homes. These actors, performers, and singers have certainly put their money to good use.
From the secluded North Carolina mountains to the wide-open spaces of Montana, so many celebrities are ditching city life and embracing quieter surroundings. We decided to take a close look at where, exactly, these famous folks call home these days, rounding up 14 of the most random places you'll find your favorite stars living.
Keep scrolling to dive into this surprising list.
Taylor Swift enjoys striking waterfront views in Watch Hill, Rhode Island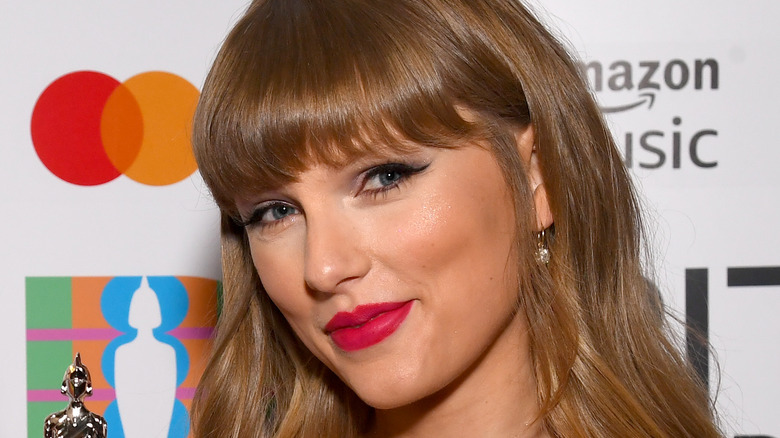 Taylor Swift's house in Watch Hill, Rhode Island, is merely one of many, but it's the only house she's ever written a song about (unless you count her one-time Cornelia Street rental). Known as Holiday House, this particular property has a unique history that dates all the way back to 1930, per Fancy Pants Homes. Swift tells the story of her Rhode Island home in the song "The Last Great American Dynasty," a track from her 2020 "Folklore" album. It's in this particular song that the past meets the present, and the history of Holiday House really comes alive.
According to House Beautiful, Swift's Watch Hill property "encompasses 11,000 square feet and sits on 5.23 acres." Built in 1930, it was originally home to Rebekah West Harkness (also known as "Betty") and her husband, William Hale "Bill" Harkness. In "The Last Great American Dynasty," Swift relays details from the couple's lavish life.
Fast forward to 2013 when Swift snagged the house and surrounding acres for $17.75 million, per Scene Therapy. According to Vulture, Swift's 2013 purchase "is the most expensive private home in Rhode Island." Considering the fact that it comes with waterfront views, eight bedrooms, and 10.5 bathrooms, it's easy to see why it cost the Grammy winner a pretty penny.
Justin Timberlake and Jessica Biel call the Yellowstone Club in Montana their home
Justin Timberlake and Jessica Biel have made their home in an incredibly unusual location: a luxury ski resort. The Yellowstone Club in Big Sky, Montana, offers private ski slopes, golf courses, and the chance to spot Timberlake and Biel raising their kids.
According to Hello! magazine, the couple bought the property in 2015, with the hope of enjoying a bit of privacy and plenty of activities for their family. At the time, their only child was son Silas, but Timberlake and Biel now have a family of four since welcoming another boy in 2020. While, per Hello!, the Hollywood A-listers "own homes in New York and Los Angeles," they reportedly spend quite a bit of time at the Yellowstone Club in 2020. That being said, having a home in a private ski resort isn't cheap.
According to Forbes, Yellowstone Club membership costs are incredibly high. Initial fees for membership are reportedly $300,000 — but that's not all. Per the outlet, annual dues hover around $30,000. Not to mention, that doesn't include the cost of actually purchasing a house in the area. Nonetheless, Timberlake and Biel have kept this location as one of their home bases. We only hope they manage to take advantage of the ski slopes often.
Glenn Close has cozied up in Bozeman, Montana
After selling two of her properties — located in Bedford Hills and Westchester, New York, per Architectural Digest — Glenn Close situated herself in a brick Bozeman, Montana, home. The house itself was built in 1892, per The Hollywood Reporter, and sits next door to Close's younger sister, Jessie. In fact, it was Jessie who lived on the property first after purchasing a lot on which to build her own home.
In an interview with Kelly Ripa and Ryan Seacrest in May 2020, Close said she didn't like the idea of a stranger living right next to her sister, which prompted her to move into the neighboring house on the property in December 2019, per Parade. The actor went on to explain that even though her Montana home isn't large, she loves it. "It's small, but … it feels very prairie and American."
Though, as of this writing, she has yet to give a full tour of her home, we've gotten a few peeks through virtual interviews. The house appears to be full of eclectic heirlooms, including one particular portrait seen on "TODAY with Hoda and Jenna" of Close's mother and uncle that she keeps prominently displayed. Judging by the location of her home and its decor, it seems like family is of the utmost importance to Close.
John Mayer resides on a Paradise Valley, Montana, ranch
Following a series of scandalous interviews about his dating life and a throat surgery, John Mayer decided to settle down in the remote city of Paradise Valley, Montana. The singer-songwriter originally moved to his 1970s-inspired log and stone cabin in 2011, per Bozeman Magazine, where he remains far from the tabloids. Additionally, he has the ability to grocery shop without anyone approaching him. "Really it's not about the house; it's about all of it," Mayer said. "I say they get bigger but they don't get better you know? It's not that big. I moved out in 2011 and slowly sort of, I hope showed my trueness of me wanting to live out there and it seems to have taken hold I hope."
Mayer had previously taken a hiatus from music and the spotlight, stating in an interview with Ellen DeGeneres that his past caught up with him. "It was a violent crash into being an adult," the singer claimed. After some time, Mayer transitioned his life to Paradise Valley, Montana, where he's even spent time helping the local community. The singer once hosted a benefit concert close by in Bozeman, Mont. for local firefighters, per SheKnows.
Per US Weekly, in 2020 amid the global pandemic, he provided a "generous" donation to the Livingston HealthCare Foundation, which helped medical facilities nearby purchase ventilators for patients.
Zach Galifianakis spends his days on his North Carolina farm
While many of us picture Zach Galifianakis carrying around a baby in "The Hangover," it seems he's a bit more relaxed outside of the movie theater. In fact, Galifianakis has made his home on a lush North Carolina farm just 60 miles from where he went to high school.
According to GQ, Galifinakis' farm sits off a gravel road, deep in a rural part of the state. The farm itself — which the actor calls "Farmageddon" — doesn't get cellphone service, and the house on the property is simply a small log cabin. Even though Galifianakis' home isn't particularly large, the farm still encompasses 60 acres, per Business Insider. Along with the house in which the actor lives, he's also built another structure. "That's not a barn. It's a goat house," he said in the GQ interview. At the time, Galifianakis noted that he planned on turning the second level of the "goat house" into a guesthouse for anyone visiting.
If that means sleeping alongside goats, we have a feeling he won't get too many guests.
Blake Lively and Ryan Reynolds put down roots in Bedford, New York
It isn't unusual for families to flock to the suburbs for peace and quiet — celeb families included. Case in point? Blake Lively and Ryan Reynolds have been raising their own family in the suburb of Bedford in Westchester, New York. According to People, the couple spends their time horseback riding and enjoying local restaurants in the quiet area.
Of course, they also have plenty of space to hang out as a family on their own property considering the fact that it covers 11.65 acres of land, per Hello! magazine. Built in 1860, the house itself consists of seven bedrooms and six bathrooms. Needless to say, all of that spaces comes at a cost. Lively and Reynolds originally forked up about $2 million for the house, per People.
We've gotten small peeks of the home through social media, including gorgeous French doors and a dressing room for Lively, but the couple seemingly prefers to keep their personal life private as they raise their kids.
Kevin Costner owns a 160-acre ranch in Aspen, Colorado
When he's not filming his next big hit, Kevin Costner spends his days at his expansive Aspen, Colorado, ranch. And, if you're lucky enough to find him away on set, you can even rent it for yourself.
According to Travel + Leisure, the property (called Dunbar Ranch) features its own private ice rink, dog sledding, and tubing track — not to mention access to incredible ski slopes, too. When the temperatures heat up, horseback riding, fishing, archery lessons, kayaks, and Costner's personal baseball field are all available. Talk about a dream location no matter the weather.
If you prefer to spend time indoors, though, you'll have plenty of options. Along with the six-bedroom, six-bathroom main house — which features a cozy, double-sided fireplace and a "massive mountain lion" on the wall, per CNBC – there are two other lodges in which to relax. The entire property covers 160 acres, and is a mere 10-minute drive from downtown Aspen.
Steve Martin spends his time in a secluded North Carolina home
While he owns homes in both California and New York, Steve Martin seems to have a soft spot for the South. Built in 2005, the comedian's Brevard, North Carolina, house sits secluded in the mountains. According to Variety, Martin's custom-built home is located deep amongst the trees between Greenville and Asheville, North Carolina. He originally purchased the land in 2005 for $185,000, and has since built a house atop it.
The comedian splits time between Brevard and his other homes, but tends to return to North Carolina often to collaborate with a local band called the Steep Canyon Rangers, per ABC News. According to The Transylvania Times, the comedian once included locals from the small southern town in a Christmas music video with other members of the band.
Martin may be one of the world's most well-known comedians, but there's no denying he has a taste for the simple life.
Morgan Freeman embraces his southern roots in Charleston, Mississippi
After growing up in the South — Memphis, Tennessee, to be specific — Morgan Freeman has made his permanent home in another southern city: Charleston, Mississippi. According to Southern Living, the actor feels a strong connection to the Mississippi Delta region. He told the outlet, "My ancestral home is Charleston, Mississippi [near Clarksdale]. That's where I live on my ranch … My wife, Myrna, and I were coming down to visit my parents pretty regularly, and we were looking for somewhere to settle. The Mississippi Delta is it for me."
Just because Freeman has chosen to live a small-town life doesn't mean he prefers a small piece of land. In fact, the actor's ranch sits on a whopping 124 acres, per Forbes. In 2019, Freeman converted much of his property into a bee sanctuary in an effort to help save bees from extinction. He certainly has the space for it.
Blake Shelton keeps it country at his Oklahoma ranch
With over 1,300 acres of land on Blake Shelton's Oklahoma ranch, you'd think he and Gwen Stefani would be satisfied. But that ranch is only one of two Oklahoma homes that the country singer owns. The first, Ten Point Ranch in Tishomingo, Oklahoma, sits on 1,382 acres, per Gossip Pop, and boasts a main house that encompasses 2,150 square feet. All across that property are smaller, rustic barn-like buildings (painted a classic red, of course).
The other property Shelton owns is also in Tishomingo, Oklahoma. That one, however, is a bit closer to Lake Texoma — waterfront, as a matter of fact. The manor features both Shelton's country style with Stefani's west coast vibe, and offers three additional guest houses within walking distance. And, just in case either Shelton or Stefani feel like laying down a few tracks at home, the house also comes equipped with a recording studio, per Hello! magazine. We're surprised they ever leave.
Demi Moore's western-themed ranch is in Hailey, Idaho
After years of starring in glamorous Hollywood films, actor Demi Moore has taken a more eclectic approach to her home. As of this writing, she lives in a western-themed ranch in the small town of Hailey, Idaho, according to Hello! magazine. Per the outlet, the actor has shared a peek into her backyard, which happens to be quite expansive.
Moore relocated from Los Angeles to Idaho in 2020 amid the global pandemic, though she has owned the ranch for several years. In fact, Moore is no stranger to the area, as she and ex-husband Bruce Willis lived in Hailey, Idaho, in the 1990s, per Ranker. Willis even opened a nightclub in the area at the time. And though it closed in the mid-2000s, the actor kept the property until 2018. The couple also owned a mansion in the area, which Moore used to house her 2,000 porcelain dolls.
Even now, Moore shares her ranch with Willis and his new wife — plus all of the kids, of course. It seems small towns have a way of bringing everyone together.
John Travolta soaks up the sunshine in Ocala, Florida
Danny Zuko has made his way down to the South, folks. Rather than spend his time in a big city, John Travolta has opted for sunny Ocala, Florida. In fact, the actor has lived in this particular small Florida town for decades, per Pop Culture. He originally bought the luxurious estate with his late wife, Kelly Preston, and Travolta still lives there now. The house is 7,000 square feet (a veritable mansion) that sits atop 9.5 acres of land. And as if that weren't enough, the property even features its own landing strip.
According to a feature Architecture Digest did on the home in 2005, the estate boasts a mid-century style. With large windows, murals, and posters from Travolta's films, there's no mistaking this is a movie star's house. If you manage to get a glimpse of the outside of the home, you might just see a jet (or two) parked in one of the property's plane pavilions. When the actor does want to leave his lavish home, he's got an easy out — and in.
Eminem has made a home in Clinton Township, Michigan
When it comes to homes, rapper Eminen has kept his purchases close to his heart. As of this writing, he resides in Clinton Township, Michigan, near his hometown of Detroit. Built in 1996, his house encompasses an astonishing 8,900 square feet, per Velvet Ropes. Eminem didn't buy the property until four years later in 2000, though. At that time, he reportedly paid over $1.4 million for it.
According to the outlet, Eminem previously owned two homes but sold one of them in 2017. At 17,000 square feet, this property was much larger than the rapper's current residence. In 2003, he bought it for $4.75 million but sold it for just under $2 million. It's now back on the market for $3.75 million, per the Detroit Free Press.
It doesn't seem as if Eminem will buy the property back, though. According to the Detroit Free Press, the rapper "has said he wanted [his daughters] to grow up not affected by fame, money and privilege."
Julia Roberts lives on a 30-acre New Mexico ranch
Opting for space and privacy — rather than the bustle of a busy city — actor Julia Roberts has been living on a massive ranch in Taos, New Mexico. In fact, according to Wide Open Country, Roberts and husband Danny Moder were actually married on the ranch in July 2002. At that point, she'd reportedly already owned the property for several years after purchasing it in the 1990s.
In an interview with Oprah Winfrey, fans gained some insight about the beauty surrounding the ranch. The interview mentions yellow and purple flowers lining the dirt road and purple mountains visible in the background. "I always say you can't be in a bad mood here," the actor told Oprah.
While Roberts spends much of her time with Moder and their three children on the 30-acre ranch, it's certainly not her only home. In addition to the sprawling New Mexico property, Roberts owns a house in Hawaii (for holidays and vacations, of course), three different apartments in New York, and a historic home in San Francisco, per Hello! magazine.