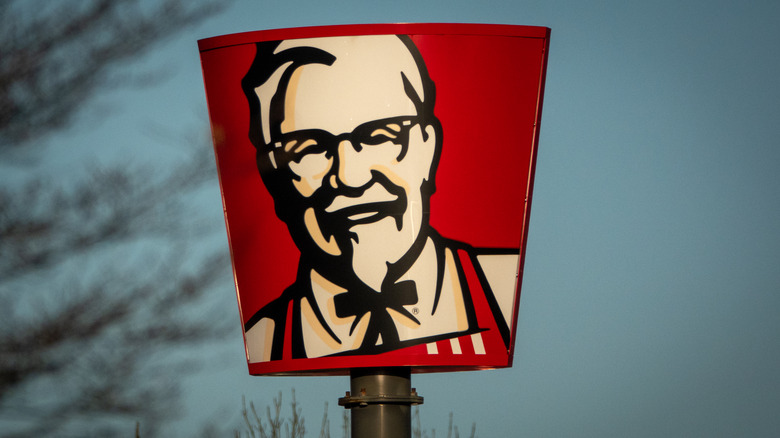 Beware of the advertisement touting "100% real chicken." Though not entirely false, it is a little misleading. Gone (thankfully) are the days of fast food restaurants using pink slime in their chicken nuggets, but that change didn't usher in a new era of franchises using only chicken. While the chicken they're using is (probably) real chicken, there are several other ingredients in your favorite fast food chicken meals that are decidedly not chicken. We dug through ingredient lists to find the culprits.
As it turns out, quite a few restaurants aren't serving 100% real chicken. Though it's not totally shocking, it is a little unsettling. But we're not suggesting you never eat at these restaurants again — we certainly won't be abstaining. We're just sharing some of what we've discovered in an effort to further educate fast foodies (and ourselves) on what they're consuming. On that note, here are 12 fast food chains that don't use 100% real chicken.
McDonald's has long been accused of serving fake chicken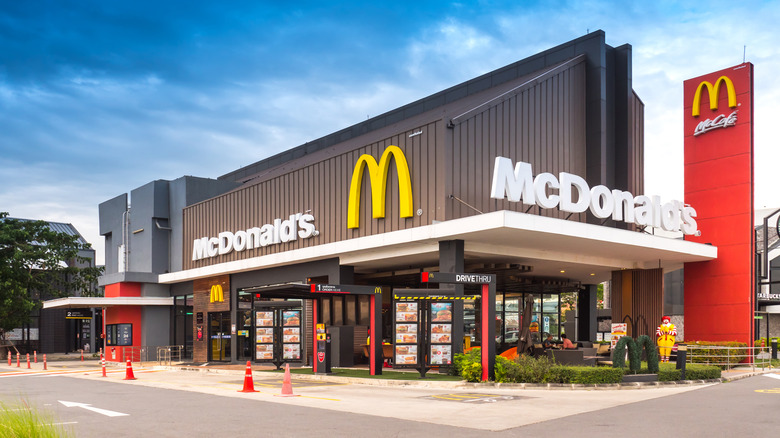 McDonald's has long been at the top of the fast food chain, outselling its competitors by leaps and bounds. And the company has survived its fair share of scandals, including the many accusations that its meat is not actually meat, but rather a pink paste or some hideous slime. In one of the more recent accusations, the CBC Marketplace in Canada conducted its own research to see what exactly is lurking in McDonald's chicken. Per the report, McDonald's grilled chicken shares just under 90% of its DNA with real chickens, leaving the other 10% or so open for ingredients such as vegetable oil and enriched flour, as noted in its ingredients list.
The fast food behemoth was quick to counteract this report with a statement of its own. "Our grilled chicken sandwich is made with 100% seasoned chicken breast […] We don't release the percentage of each ingredient for competitive reasons, but on the nutrition centre people can see that our grilled chicken includes seasoning and other ingredients, just like at home," a representative told CBS. As noted, this isn't the first time McDonald's has been accused of serving fake food, and in 2021 a manufacturer for the chain invited Insider inside to see how its burgers are made. The outlet reported that the burger patties are indeed made with beef, though each contains meat from several different cows, not just one.
White Castle Chicken Rings have lots of ingredients that aren't chicken
A fan favorite of the White Castle chain, Chicken Rings are one item that customers can't seem to get enough of. These tasty little offerings are discs made of chicken and coated in a breading. But don't order the entrée thinking you're about to consume 100% chicken -– the restaurant's ingredient list reveals that there are several additives in this menu item. Aside from chicken, the rings are made of: "Water, Salt, Sodium Phosphates, Modified Food Starch (Corn, Potato) and Carrageenan, Powdered Cooked Chicken, Sunflower Oil, Maltodextrin, Chicken Broth, Buttermilk Powder, Silicon Dioxide, Salt, Disodium Phosphate, Natural Flavor (Contains Milk), Mixed Tocopherols, [and] Ascorbic Acid." And those ingredients don't include what the rings are breaded and battered in.
Whether customers know exactly what they're consuming is unclear, but what's not unclear is the love patrons have for these Chicken Rings. The beloved White Castle food celebrated a milestone in 2022. Per PR Newswire, the item crossed an unbelievable threshold: over 3 billion units sold since 1995. As the outlet noted, that's enough Chicken Rings to circle the earth nearly four times. If our math is correct, that's many, many chickens, and it's a lot of salt and sodium phosphates, too. "To reach the 3-billion-sold milestone is an accomplishment the White Castle team takes significant pride in," the company's vice president said in the news release about its achievement.
Whataburger chicken strips contain a solution
Yum, here's our favorite ingredient: solution. If you love a good solution, too, hit up your nearest Whataburger for its chicken strips. Per Fast Food Nutrition, this menu item contains mostly chicken, but up to 12% of it may be a solution, the ingredients of which include: "Water, Isolated Soy Protein, Salt, [and] Sodium Phosphates." All things considered, these aren't the worst ingredients to add, and they probably serve a purpose in the recipe rather than just acting as filler. Per Healthline, sodium phosphates are often used to aid in thickening and to help keep meat from going bad.
Despite the Whataburger chicken strips containing some non-chicken ingredients, consumers are flocking to the restaurant, so much so that in early 2022 the chain announced its plans to open eight new locations across Georgia, including its first ones in the Atlanta area, in 2022 and 2023. But Georgians aren't the only ones in luck. Texans flying in and out of the Dallas Fort Worth International Airport, as well as anyone with a layover there, can now stop at a second Whataburger location in Terminal D, as reported by My San Antonio. Is there any way we can guarantee connecting flights through Dallas-Fort Worth from now on? Let us know (though we might avoid the chicken strips).
Dairy Queen chicken strips are made with soy
As it turns out, "solution" is an ingredient in lots of fast food chicken meals, and Dairy Queen is no exception. The franchise uses a solution in its chicken strips that includes: "Water, Hydrolyzed Soy Protein, Salt, and Sodium Phosphates," per its ingredients list, and that solution may account for as much as 18% of the strips. Dairy Queen notes that if you're allergic to milk, wheat, or soy, you shouldn't eat its chicken strips. If you're looking for something on the menu that's more wholly chicken and doesn't contain wheat or milk, opt for the Chicken Bites. Per the ingredient list, only 2% of the ingredients that aren't chicken.
But we all know you're not going to Dairy Queen for chicken. The real star of this show is the soft serve, and the chain is on a mission to outsell its frozen competitors, or so it seems. In 2023, Dairy Queen announced a new offering on its menu: the Under the Rainbow Shake. Per USA Today, it's a strawberry-flavored shake with vanilla soft serve, sprinkles, and a whipped cream topping, released just in time to celebrate St. Patrick's Day.
Domino's grilled chicken contains vinegar
When considering fast food chains that don't use 100% real chicken, a pizza franchise might not have been the first place that came to mind. But even Domino's is guilty of serving chicken with added ingredients. Per its ingredients list, the chain's grilled chicken is also made with "Modified Food Starch, Vinegar, Salt, [and] Sodium Phosphates." The company also notes that milk is an allergen in the grilled chicken, and that's due to the seasonings used. The blend contains ingredients such as whey powder and sodium caseinate, both of which contain milk. Some pizzas that contain Domino's grilled chicken include the buffalo chicken, the Cali Chicken Bacon Ranch, and the Memphis BBQ Chicken.
Don't be too turned off by the additives in Domino's chicken, though, particularly the vinegar. While you won't be consuming much vinegar while eating Domino's grilled chicken, it's still an ingredient that could yield health benefits. Per Harvard T.H. Chan School of Public Health, vinegar is good for your body and could potentially prevent cancer cells from growing, and some vinegar is known to be good for your GI tract, as some varieties act similarly to probiotics. We're not saying Domino's chicken is the end-all-be-all of health, but there are certainly other foods that are far less nutritious.
Burger King has lots of extra ingredients in its chicken nuggets
Burger King, despite its name, might have a greater reputation for its chicken dishes than its burgers. One of its most iconic menu items is its Chicken Fries, and its chicken nuggets are certainly in the mix as part of the great chicken nuggets debate. Be aware, however, that Burger King's chicken nuggets might have something some of its competitors don't: additives. According to Fooducate, the ingredients, aside from chicken, in BK's nuggets include: "Water, Flavoring [Potassium Chloride, Flavoring, Autolyzed Yeast Extract, Maltodextrin (Corn, Potato), Salt, Chicken Fat, Contains less than 2% (Chicken Broth, Citric Acid, Dextrin, Disodium Inosinate & Disodium Guanylate, Dried Chicken, Mannitol, Modified Cornstarch)], Modified Food Starch, Salt, [and] Sodium Phosphates." Autolyzed yeast extract is definitely not chicken.
What's far more egregious than including some additives in its chicken nuggets is a guideline the company adopted in over 1,000 franchise locations across the country in early 2022 involving its new piece count. Per MarketWatch, certain Burger Kings now offer eight-piece chicken nuggets instead of their prior 10-piece serving. A company executive noted that inflation in multiple areas is to blame for the shake-up. If chicken nuggets aren't even safe from inflation, nothing is.
Subway uses soy in its chicken products
No sandwich chain in the United States is as popular as Subway. Per the latest ranking from QSR, Subway ranked No. 8 behind the likes of McDonald's, Starbucks, Chick-Fil-A, Taco Bell, and others in overall sales in 2021. It's a poppin' place, and like its fast food superiors, it's no stranger to controversy. In 2017, the company was in hot water over the CBC Marketplace independent study that claimed the sandwich chain does not use 100% real chicken. Per CBC Marketplace's findings, Subway's oven roasted chicken shares just over half its DNA with real chicken. Its chicken strips, however, share less than half, and the other portion of its DNA is soy.
Subway had little time for the accusations and told Insider, "The accusations made by CBC Marketplace about the content of our chicken are absolutely false and misleading. Our chicken is 100% white meat with seasonings, marinated and delivered to our stores as a finished, cooked product. […] This report is wrong and it must be corrected." The restaurant's ingredients list begs to differ, though. While Subway's chicken is mostly chicken, up to 2% of both the oven roasted chicken and chicken strips contain ingredients other than chicken, such as potato starch, dextrose, yeast extract, and sodium phosphate. Almost 100% chicken, but not quite.
Wendy's was accused of serving fake chicken in its sandwiches
When the CBC Marketplace investigated the ingredients in certain fast food joints' chicken meals, it exposed a few of the nation's top chains, including Wendy's. The fast-casual juggernaut, known for its square patties and cool Frosty treats, reportedly serves a chicken sandwich that contains about 90% chicken DNA. Per its own ingredients list, Wendy's chicken sandwich contains chicken as well as "Water, WHEAT Flour, Starch, Palm Oil, Modified Starch, Salt, Yeast Extract (Contains BARLEY), Acidity Regulator (Sodium Carbonates, Lactic Acid, Calcium Lactate, Citric Acid), WHEAT Gluten, Garlic Powder, Spices (Contains CELERY), Onion Powder, Natural Flavourings (Contains MILK), Fully Refined Soybean Oil, Raising Agent (Diphosphates, Sodium Carbonates, Calcium Phosphates), Sugar, Dehydrated Chicken Powder, [and] Smoke Flavouring." Delicious.
Just like McDonald's and Burger King, Wendy's responded to the report denying the claims. "For our grilled chicken sandwich and other grilled chicken products (salads, wraps, etc.) we use a juicy, all-white meat chicken breast fillet, marinated in a blend of herbs. We do not provide ingredient percentages as we consider that information to be proprietary," a representative told CBS. While the investigation was conducted in Canada, it's reasonable to assume the ingredients are similar in the United States as the FDA says Canada's equivalent, Health Canada, is a "comparable" organization; therefore, standards that fast food chains must meet in Canada are similar to those in the United States.
Krystal's Chik contains a water solution
National fast food chains aren't the only ones guilty of adding ingredients to their chicken dishes. The regional chains are doing it, too. Krystal, a Georgia-based franchise, includes additives in its popular Chik sandwich. Per Fooducate, its Chik patty is made of: "CHICKEN, CONTAINING UP TO 15% SOLUTION OF WATER, SODIUM TRIPOLYPHOSPHATE, AND SALT." If you're craving a bit of that water solution, you can now find it in a second Chik sandwich, the Side Chik, which was announced in late 2022. "By now, every American probably has their favorite chicken sandwich, and we're not trying to take that away from them, we just want to give everyone the option for a little something special on the side," Krystal's chief marketing officer said of its cheekily named new sandwich.
The chain is keeping busy with other ventures, too. Per CoStar, in January 2023, Krystal opened its first location with only a drive-thru and no dining area. And in mid-2022, the brand hired rapper 2 Chainz as its head of creative marketing. One of 2 Chainz's first initiatives in the new role? A new tagline. Per PR Newswire, Krystal's new tagline, finalized in a vote by fans, is "Now You Know."
Jack in the Box puts soy protein concentrate in its chicken nuggets
Jack in the Box has a unique menu. It serves burgers and tacos as well as chicken nuggets. And its chicken nuggets have some unique ingredients. Per Foodcuate, Jack in the Box chicken nuggets are made of chicken and other ingredients, including soy protein concentrate. And what exactly is that? According to the book Functional Foods: Principles and Technology, "Soy protein concentrates are prepared by removing soluble carbohydrate fraction as well as some flavor compounds from defatted meal." It's essentially soybean powder, and it makes up a portion of Jack in the Box chicken nuggets as well as several other fast food chicken dishes.
But Jack in the Box's main concern doesn't seem to be chicken. In early 2023, the company announced its commitment to serving ethically sourced sows from its pork suppliers. "We are committed to moving towards the use of open pen gestation where sows are not confined in crates once pregnancy is confirmed," the company said in a statement. A commitment to ethics is nothing new in the fast food industry. A variety of other chains have released their own pledges as well, most vowing to reduce their carbon footprint. Per Reader's Digest, Chipotle, Taco Bell, and Pizza Hut are among those who've publicly shared their dedication.
Del Taco's grilled chicken taco isn't 100% chicken
People love Del Taco, and its grilled chicken taco is worshiped by loyal patrons. If you're one such loyal patron who also looks to avoid additives when possible, you'll be disappointed to know there are some in the beloved grilled chicken taco. Per Fooducate, some of the ingredients listed in the Del Taco grilled chicken taco (aside from chicken) are: "Water, Seasoning (Modified Food Starch, Salt, Garlic Powder, Spices, Dried Whey Protein Concentrate, Onion Powder, Soy Sauce (Naturally Fermented From Wheat And Soybeans), Sugar, Corn Syrup Solids, Maltodextrin, [and] Lime Juice Solids," among others.
If you haven't had the chance to try Del Taco, you might be able to soon. In early 2023, the franchise announced that it's opening a fourth location in Ohio. "The community really appreciates our dedication to serving high-quality food with a focus on value, and we look forward to being able to serve even more of the local community at the new Marion location," a Del Taco executive told NBC4 of its new addition. But Ohio isn't the only place in the U.S. getting more Del Taco locations. Per Q105, the Tampa area is about to have seven new Del Taco spots to dine at. Seven new places to have a taco made with chicken and corn syrup solids.
KFC's chicken tenders have sodium phosphate listed as an ingredient
KFC has a commitment on its website to serving 100% real chicken. However, per an ABC report, some of its chicken, like its tenders, contain extraneous ingredients like sodium phosphate. If you look at its ingredients list, KFC also uses a water solution in some of its chicken offerings. A company representative told ABC, "We buy our quality chicken from trusted companies and our restaurants receive fresh poultry deliveries throughout the week, where it is prepared by certified cooks. To ensure our customers have all the information they need, we provide complete nutrition and ingredient information on KFC.com."
No matter the exact ingredients in KFC's chicken items, not all of them are going to be available moving forward. Per Yahoo! Finance, the chain announced it's going to remove some menu items starting in 2023. "It's really to deliver our most popular products perfectly each time and to actually make room for new products," a company executive said of the changes. Some favorites on the chopping block include KFC's wings and popcorn chicken.