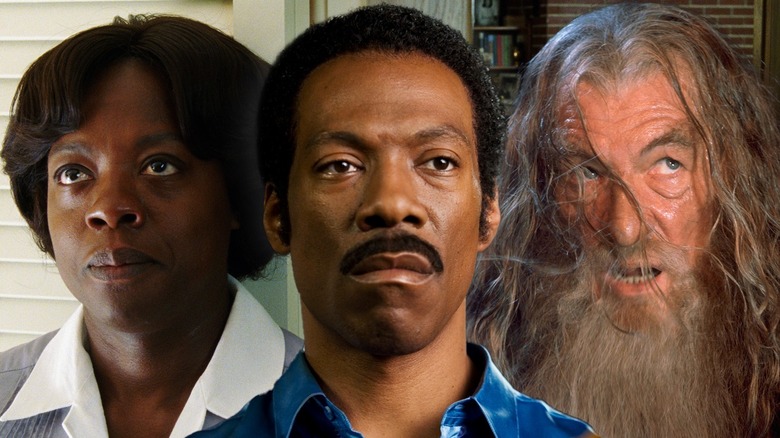 When trying to predict which actors are going to win Oscars, the Screen Actors Guild Awards are generally as good a barometer as any for how the Academy of Motion Picture Arts and Sciences is going to vote. Still, that doesn't mean they overlap perfectly. According to Gold Derby, years where both awards bodies completely match with the winners for the four individual acting categories are rare; the winners commonly match in three out of four categories, and occasionally that fraction goes down to two out of four or even one out of four.
The SAG Awards, which have been held since 1995, are voted on by a selection of 2,500 randomly chosen Screen Actors Guild members. These voters might overlap with the actors' branch in the Academy, which votes on the nominations for the acting Oscars, but overlap significantly less with the Academy membership as a whole, who all get to vote on the winners (via Digital Spy). Therefore it's understandable that the two groups would come to different conclusions sometimes. This list looks at some of the times SAG arguably chose better than the Academy — and the only two times SAG awarded performances that weren't even nominated for Oscars at all.
Idris Elba – Beasts of No Nation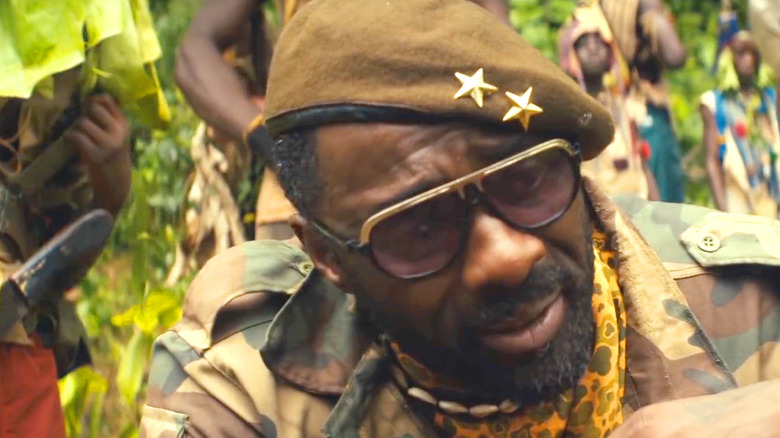 Cary Joji Fukunada's 2015 film "Beasts of No Nation," a drama about child soldiers in West Africa, has the historic distinction of being Netflix's first-ever original feature film. It's possible that Academy members were resistant to awarding a streaming release, which could partially explain why the critically acclaimed film didn't receive a single Oscar nomination despite significant awards success elsewhere — particularly for Idris Elba's performance as the Commandant.
Of course, another factor could also explain the snub, which CNN described as the Oscars' "most shocking": racism. 2016 was the second year in a row where all the acting nominees were white, resulting in the major #OscarsSoWhite controversy. In addition to Elba (and his young co-star Abraham Attah), other worthy contenders like Samuel L. Jackson in "The Hateful Eight," Oscar Isaac in "Ex Machina," and the whole cast of "Straight Outta Compton" were shut out from the Oscars.
Elba, SAG's only Black nominee that year, won the guild's best supporting actor award, despite his Oscar snub. The Screen Actors Guild was both recognizing an outstanding performance and making a statement about a recurring problem at the Oscars. The Oscar for best supporting actor that year ultimately went to Mark Rylance for "Bridge of Spies."
Emily Blunt – A Quiet Place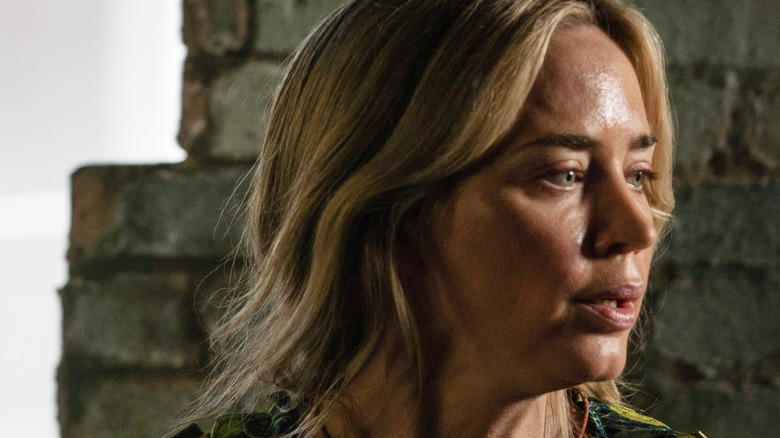 The second SAG winner in history to not even be nominated at the Oscars was Emily Blunt for her performance as Evelyn Abbot in the 2018 horror blockbuster "A Quiet Place." Those still feeling the stings of Oscar snubs for Toni Collette in "Hereditary," Lupita Nyong'o in "Us," and Mia Goth in "Pearl" know that the Academy doesn't always recognize great acting in horror movies, but "A Quiet Place" was such a popular success that it seemed like Blunt had a genuine shot at a nomination.
Category confusion was potentially an obstacle for Blunt getting an Oscar nomination: She and co-star/director John Krasinski were originally campaigned in the lead acting categories but switched to the supporting categories midway through the season (via The Hollywood Reporter). That Blunt was able to win the SAG award for best supporting actress speaks to SAG's own major snubs that year. Regina King, heartbreaking as Sharon Rivers in "If Beale Street Could Talk," was a highly deserving Oscar winner for best supporting actress who wasn't nominated at all by SAG.
Chadwick Boseman – Ma Rainey's Black Bottom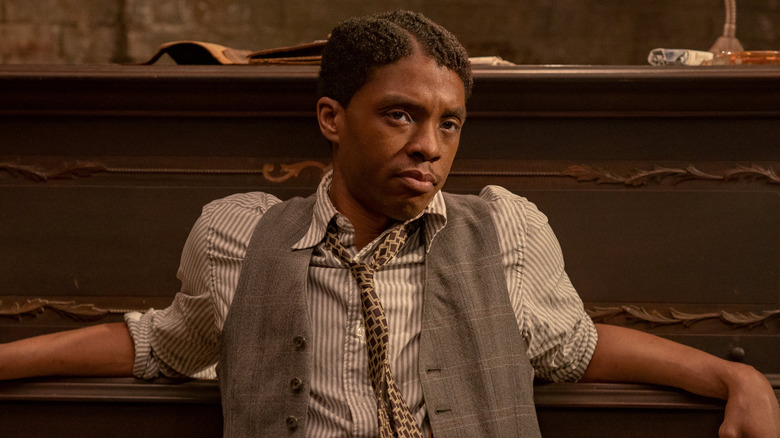 There are fair debates to be had over who most deserved the best actor Oscar in 2021. Both posthumous SAG winner Chadwick Boseman as musician Levee Green in "Ma Rainey's Black Bottom" and Oscar winner Anthony Hopkins as dementia patient Anthony in "The Father" delivered incredible performances. However, the way that the Oscars telecast handled Hopkins' victory places this among the most egregious snubs in recent Oscar history.
Boseman was seen as such a sure bet to win that Oscar attendees were given NFTs of his face. Whereas traditionally best picture is the final award of the night, this time best actor was saved for last, presumably to send viewers off on the emotional high of the gone-too-soon "Black Panther" star's family accepting the award. This send-off the whole night had seemingly been set up for didn't happen, resulting in serious backlash. To make matters even more awkward, Hopkins wasn't even there to deliver a speech, given that it was 4 AM in his native Wales and the Academy wouldn't let him give a Zoom acceptance speech, despite the ongoing COVID-19 pandemic (via IndieWire).
Viola Davis – The Help and Ma Rainey's Black Bottom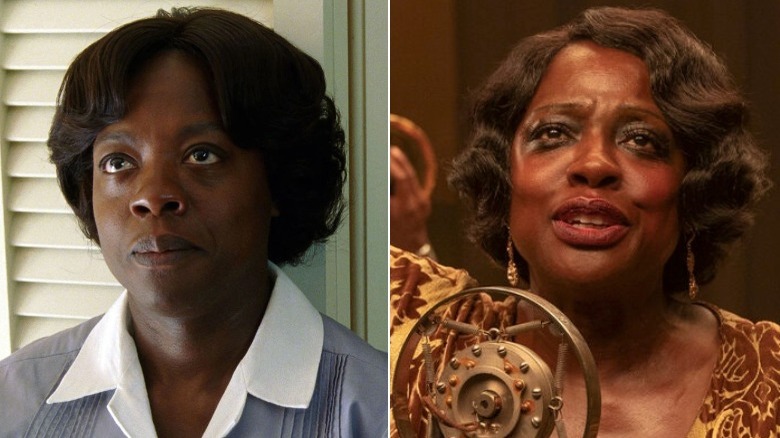 The Screen Actors Guild are clearly much bigger fans of Viola Davis than the Academy is. Both groups awarded her their best supporting actress awards for playing Rose Lee Maxson in Denzel Washington's 2016 adaptation of the August Wilson play "Fences." However, Davis has yet to win a best actress Oscar, despite having two such SAG awards for playing Aibileen Clark in 2011's "The Help" and the title character in 2020's "Ma Rainey's Black Bottom."
Davis's performance as a domestic servant in "The Help," a civil rights drama that Davis said in an interview with the New York Times that she regrets starring in due to its "white savior" narrative elements, lost out to Meryl Streep winning her third Oscar for her depiction of Margaret Thatcher in the otherwise mediocre "The Iron Lady." Davis in "Ma Rainey's Black Bottom" lost once again to a three-time acting Oscar winner, with Frances McDormand winning for playing the nomad Fern in the best winner "Nomadland."
It's also worth noting that the Screen Actors Guild was one of many awards bodies to nominate Davis for playing Nanisca in Gina Prince-Bythewood's 2021 historical epic "The Woman King." Davis's performance and "The Woman King" as a whole failed to get nominated at the Oscars.
Meryl Streep – Doubt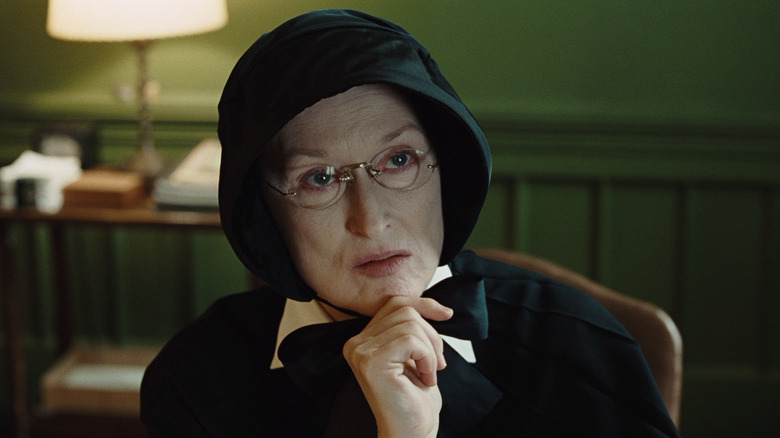 So why did Meryl Streep win for "The Iron Lady"? Well, "The Iron Lady" did have the backing of Harvey Weinstein at the height of his ability to bulldoze his way through most major Oscar races. A more charitable read of the situation, however, is that Oscar voters felt Streep was robbed three years earlier for her performance in "Doubt," John Patrick Shanley's adaptation of his own Tony-winning play. The justice-seeking nun and school principal Sister Aloysius is among the richest roles Streep has had the chance to play, and would have made a more deserving third Oscar win for the legendary actress.
Interestingly, the performance that beat Streep's for the best actress Oscar in 2009 was also a SAG Award-winning one — just in a different category. Kate Winslet's performance as the Nazi concentration camp guard Hanna Schmitz in "The Reader" won best supporting actress with SAG but was considered a lead role by the Academy, and ultimately won in that category. In retrospect, it looks extra bad that a movie that tried to sell an extremely questionable relationship between a teenage boy and a grown woman as a "very genuine love story" (via Digital Spy) beat out a movie about standing up to child abusers.
If you or someone you know may be the victim of child abuse, please contact the Childhelp National Child Abuse Hotline at 1-800-4-A-Child (1-800-422-4453) or contact their live chat services.
Kate Winslet – Sense and Sensibility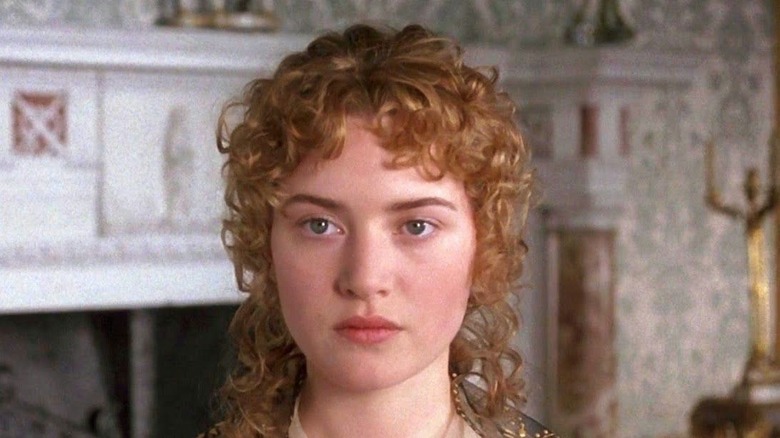 If Streep's 2012 Oscar victory over Davis was due to people feeling she was owed for "Doubt" (among other films, since her second win in 1983 for "Sophie's Choice"), then Winslet's 2008 campaign beat out Streep in large part due to the sense that she was owed for, well, her whole career up to that point. "The Reader" was Winslet's sixth Oscar nomination, and many felt she should have won for one of her earlier nominated roles such as Clementine Kruczynski in "Eternal Sunshine of the Spotless Mind," Rose DeWitt Bukater in "Titanic," or Marianne Dashwood in "Sense and Sensibility."
Winslet's acclaimed performance as the hyper-emotional middle child in Ang Lee's 1995 Jane Austen adaptation was only her second feature film role, following her debut in Peter Jackson's true crime drama "Heavenly Creatures" the previous year. Only 20 years old when "Sense and Sensibility" hit theaters, Winslet's best supporting actress victory made her the youngest SAG Award winner in history (via Gold Derby). At the Oscars, however, Winslet ended up losing to Mira Sorvino in the middle-of-the-road Woody Allen flick "Mighty Aphrodite."
Gloria Stuart – Titanic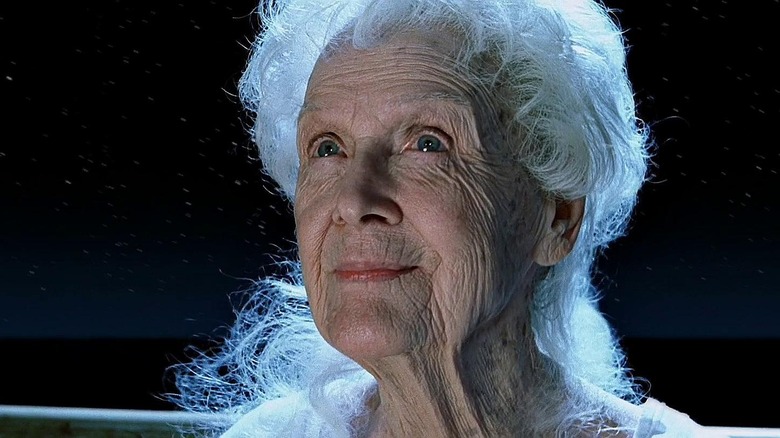 Ties can in fact happen at the Oscars, but they're exceedingly rare, having only happened six times in the awards' history (via The Wrap). One wonders how close the Academy was to another tie at the 1998 ceremony — the year the SAG Awards had its first and thus far only tie in the best supporting actress race. The dual SAG honors went to Kim Basinger as Lynn Bracken in "L.A. Confidential" and Gloria Stuart as Rose Dawson Calvert in "Titanic," with Bassinger ultimately winning the Oscar.
Stuart, who played Rose as an old woman, and Kate Winslet, who played Rose for the majority of the film, both lost their respective Oscar races; along with best makeup, these were the only Oscar races James Cameron's romance-disaster blockbuster lost (it won a record 11 Oscars out of 14 nominations). Basinger won for skillfully evoking Old Hollywood glamour in a gritty neo-noir, but Stuart, a legend who had been acting since the 1930s, was Old Hollywood glamour! Though awards ties come about as statistical anomalies, in this case, maybe they deserved to tie.
Ed Harris – Apollo 13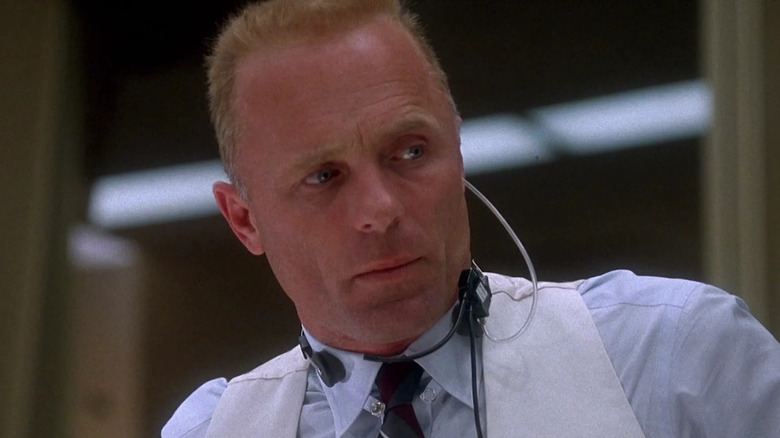 In 1996, the Oscars and SAG Awards couldn't agree on who gave the most worthy supporting performances of 1995. Not only did Winslet win best supporting actress at SAG yet lose at the Oscars, but Ed Harris as NASA Flight Director Gene Kranz in "Apollo 13" won best supporting actor at SAG only for the Academy to prefer Kevin Spacey in "The Usual Suspects." When it comes to the question of "Which performance would you actually want to watch today?" it kind of goes without saying that Harris beats Spacey easily.
But even if we ignore all of the sordid details we now know about Spacey, Harris would still have been a very worthy Oscar winner for his powerful depiction of heroism and professionalism under extreme pressure. This was Harris's first Oscar nomination; he was also nominated for best supporting actor for 1998's "The Truman Show" and 2002's "The Hours," as well as best actor for 2000's "Pollock." He's one of those actors who's been doing such great work for so long that it's strange to realize he hasn't won an Oscar yet.
Ian McKellen – Lord of the Rings: The Fellowship of the Ring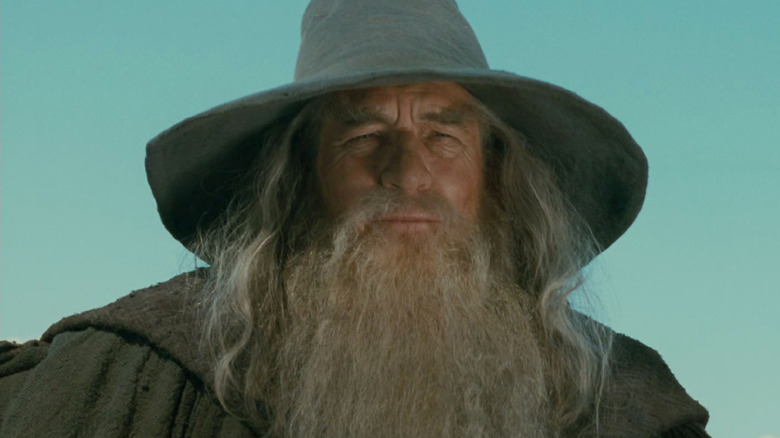 The two of the strongest performances in Peter Jackson's "Lord of the Rings" trilogy, Andy Serkis as Smeagol/Gollum and Sean Astin as Samwise Gamgee, weren't nominated by the Oscars or by SAG — though SAG did nominate all three films and award "Return of the King" for best ensemble. The questions of whether motion capture acting "counts" likely killed Serkis's awards chances, and the general ensemble nature of the trilogy made singling out individual performers difficult.
The one individual performance in the trilogy to get significant awards recognition was Ian McKellen as the wizard Gandalf the Grey in the first film, 2001's "The Fellowship of the Ring." He won best supporting actor at the SAG Awards and was nominated in the same category at the Oscars, ultimately losing to Jim Broadbent in "Iris." Had McKellen won, he would have been the first openly gay man to win an acting Oscar (via The Hollywood Reporter).
Comparisons can be drawn between McKellen's nomination and Alec Guinness's nomination for the original "Star Wars." The Academy might not take acting in fantasy movies seriously very often, but when they do, they seem drawn to wizened mentor figures played by beloved older actors.
Daniel Day-Lewis – Gangs of New York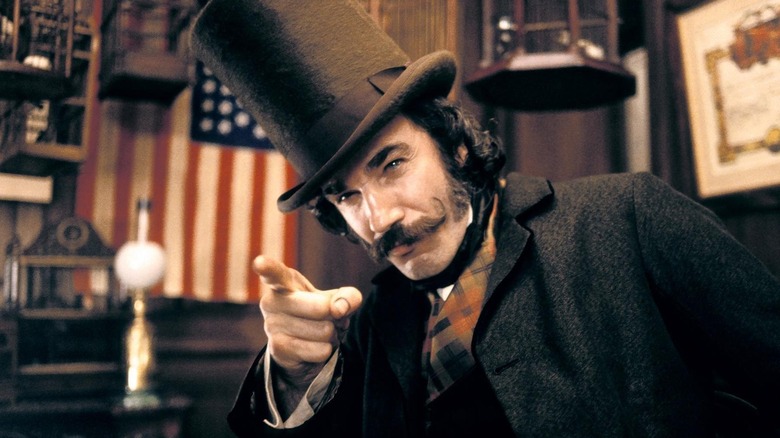 Martin Scorsese's 2002 historical crime epic "Gangs of New York" was nominated for 10 Academy Awards, but it didn't win any of them. In Oscar history, only 1977's "The Turning Point" and 1985's "The Color Purple" had more nominations (11) without a win; the total for "Gangs of New York" is tied with 2010's "True Grit," 2013's "American Hustle," and another Scorsese gangster film, 2019's "The Irishman." (via AMPAS) As one of Scorsese's relatively more divisive films, "Gangs of New York" seemed to have a lot of the Academy's respect but not much of its love.
Even critics who weren't as passionate about the film as a whole, however, were extremely enamored with Daniel Day-Lewis's performance as the xenophobic gang leader William Cutting, aka "Bill the Butcher." Ireland's favorite method actor eventually won Oscars for similarly transformative performances as Daniel Plainview in 2007's "There Will Be Blood" and as Abraham Lincoln in 2012's "Lincoln" (in addition to his 1990 Oscar for "My Left Foot," in which he played a man with cerebral palsy who has only the use of his left foot). The best actor Oscar that year ultimately went to Adrien Brody in "The Pianist" — the awards success of which remains controversial due to the actions of director Roman Polanski.
Johnny Depp – Pirates of the Caribbean: The Curse of the Black Pearl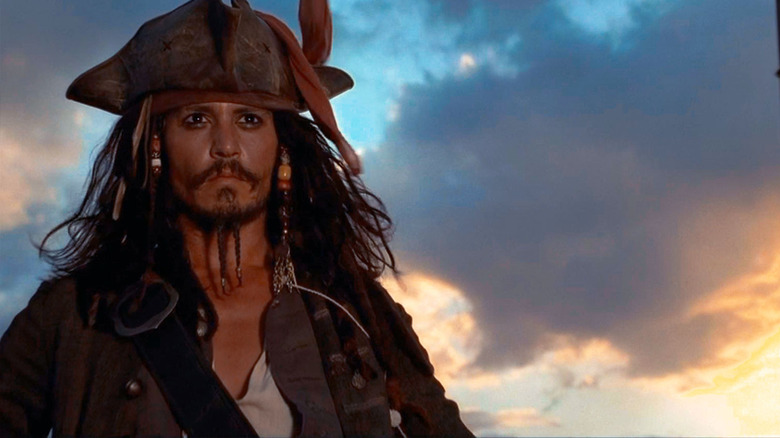 Johnny Depp may be a controversial figure, but it's difficult to argue against the fact that his performance as Captain Jack Sparrow in "Pirates of the Caribbean: The Curse of the Black Pearl," was a defining role in a career that has too often gotten bogged down in repetitive collaborations with Tim Burton that yield ever-diminishing returns. As Sparrow, he brings a unique energy to the proceedings,
The idea that "Pirates of the Caribbean: The Curse of the Black Pearl," a movie based on a Disneyland attraction, could be in serious awards contention at all – let alone against Sean Penn in "Mystic River" and Bill Murray in "Lost in Translation" — is entirely due to just what an incredible job Depp did with the role of Captain Jack Sparrow. All the more impressive that he got in on the strength of his chaotic comedic energy, given that awards bodies far too often overlook comedic roles.
Eddie Murphy – Dreamgirls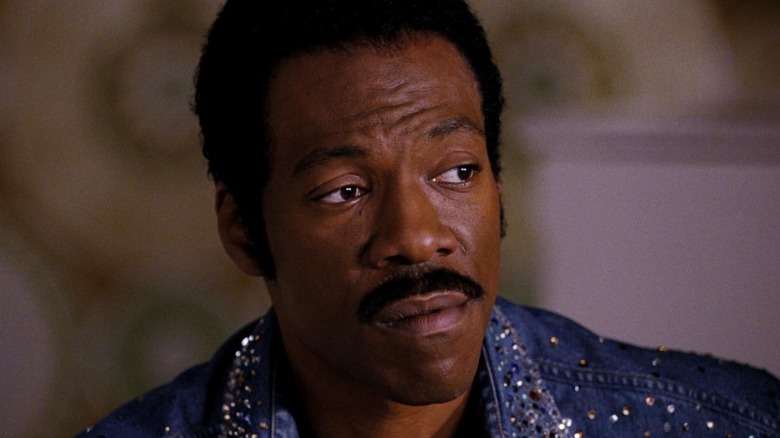 On paper, Eddie Murphy's performance as soul singer Jimmy "Thunder" Early in "Dreamgirls," Bill Condon's 2006 film adaptation of the hit Broadway musical, seemed like a clear lock for Oscar victory. It had everything that Academy voters love: A beloved comedic actor taking on a serious role, a character inspired by various real celebrities, a big dramatic drug addiction story, demonstration of surprising musical talent. And Murphy was great in the role, stealing basically every scene that Jennifer Hudson hadn't already stolen.
Murphy won the SAG Award for best supporting actor, amongst other awards including the Golden Globes and Critics Choice, but ultimately lost the Oscar to Alan Arkin as grandpa Edwin Hoover in "Little Miss Sunshine." How did Arkin's surprise win happen? Affection for "Little Miss Sunshine" as a whole definitely helped; the indie comedy was nominated for best picture, which "Dreamgirls" wasn't. And then there's the "Norbit" factor — starring in an utterly terrible movie while campaigning for an Oscar definitely didn't help Murphy's chances (though "Norbit" did get a surprising Oscar nomination for best makeup the following year).