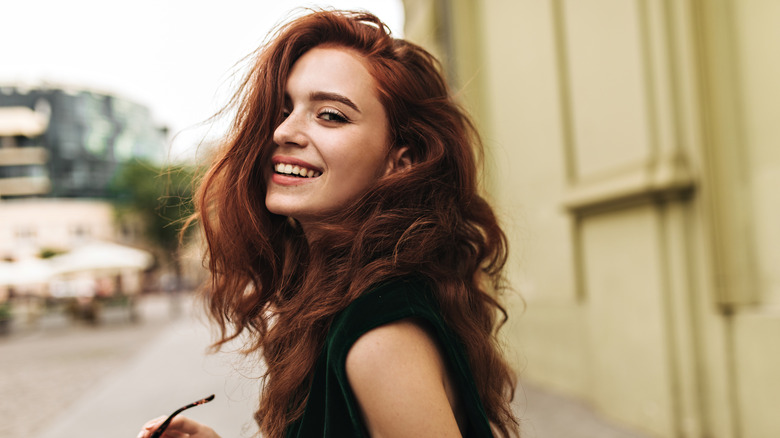 As your next hair appointment draws closer, you might be wondering about the newest hair colors and styles to pop off on Instagram and TikTok. From champagne blonde to white-gold platinum, there are several looks that are particularly popular right now, some of which are definitely worth considering if you're looking for a change.
Strawberry brunette is one trendy dye job that has been worn by celebrities and social media users alike, taking everything we love about the elusive strawberry blonde and combining it with well-known shades of brown (per PopSugar). As a result, berry-kissed brunette looks have been on the rise, flooding #strawberrybrown and #strawberrybrunette on Instagram.
While experts admit that red tones typically require a lot of maintenance, we can't help but fall in love with the beautiful red-brown hair colors filling our feeds. To find the inspiration for your own salon visit, we've gathered some of the most envy-inducing looks we could find.
Straight strawberry brown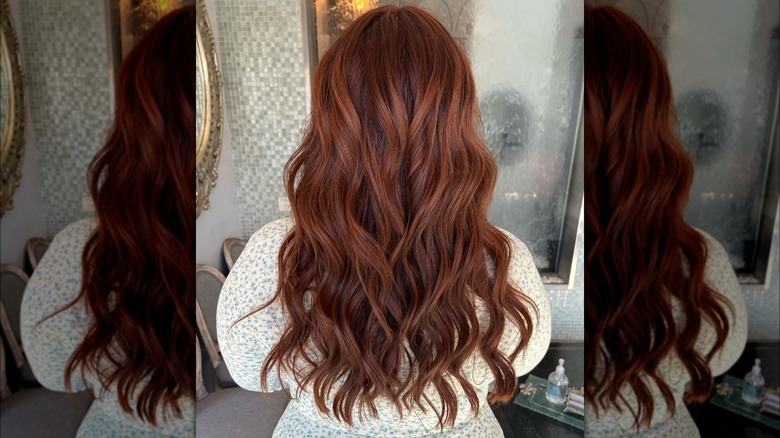 For natural brunettes, one of the best things about this trend is that the strawberry shades can be added to your base hair color to create a beautiful, custom look (per Allure). Instagram user @almanena1 provides an excellent example of a strawberry brown shade that perfectly mixes red tones with a beloved brunette color. This specific hue puts us in mind of one of Zoey Deutch's many takes on red while also serving as the perfect inspo for your own berry-infused dye job.
Vibrant strawberry ends
Strawberry brown makes for a great all-over dye color, but that's definitely not the only way to wear the shade. With a dynamic mixture of orangey-red hues, this look from @sarahcolormaker shows the versatility of the trend. Specifically, we love how vibrant the color looks at the ends of the hair, nearly creating an ombré effect.
For your own strawberry brown look, feel free to play around with how and where you feature your mixture of red and orange tones.
Orange-red tint
Speaking of orange tones, the strawberry brown title actually encompasses more colors than you might think. As Jason Lee, founder of hair care line Mela & Kara, told PopSugar, "While the term 'strawberry brunette' conveys the feeling of a 'pinky red' hue on brown hair, it's now more inclusive of a variety of red tones from burgundy to copper."
In this way, the orange tint of this look from @salonricardoplata is the perfect example of how you can play around with the tones and hues of this color trend.
Front-loaded strawberry
As mentioned, there's a lot of room to play around with the placement of your strawberry brown tones, with this look from @femmebeautylounge_orland being a solid example. We love how this gingersnap-inspired color sits close to the face, fading into the more subtle brown shades as it goes.
Although definitely more low-key, this style is reminiscent of the popular color-blocking technique, which uses partial dyeing in contrasting colors to produce an interesting, bold look (per L'Oréal Paris USA).
Strawberry on straight hair
Slightly curled hairstyles can really show off the dynamic tones of the strawberry brown color, but this trend works well on all hair types. For example, the orangey strawberry shade of this look from @wearelikely demonstrates how straightened, laid-back hairdos pair effectively with the color.
When combined with a hairstyle that accentuates straight hair, this popular color is fitting for those with natural or styled straight manes. If you're planning on a strawberry brown dye job, try experimenting with different styles and textures to create your own, unique look.
Fall-inspired tones
Strawberries often invoke spring and summer vibes, but autumnal color schemes also provide inspiration for strawberry brown tones. This can be seen in the Instagram photo from @_nuhair, who features an orangey brunette color on beautiful, voluminous curls. With its brunette undercurrents, this shade is definitely worth considering for those interested in combining red, orange, and brown tones for a strawberry look that gives all the fall feels.
For similar colors, check out the looks from @camilotv.estilista and @mindyhair_coloredwigs_kiki.
Orange-shaded strawberry brown
This look from @giuliadenicola_hair provides another example of a strawberry brunette dye job that leans into orange tones. Styled with effortless waves, this hairdo really shows how well the orange and red tones work with brown hues to create a striking strawberry appearance.
This particular shade puts us in mind of Lana Del Rey's auburn-colored hair, which basically guarantees that this will be an eye-catching look if you decide to try it out for yourself. Similarly, don't be afraid to play around with different orange and red hues to create a uniquely-you strawberry color.
Coppery curls
Copper-colored hair has been super trendy lately, so it makes sense that this is one shade that would be readily incorporated into the myriad tones that make up strawberry brunette dye jobs. We love how the copper-toned brunette looks in the photo from @beautyxsyd, which features the color on beautiful, natural curls.
Possibly inspired by Keke Palmer's own red-hued curls, which were featured on Glamour Magazine's Instagram page, this orangey-red color is sure to provide you with plenty of strawberry inspiration.
Shaggy strawberry
If you're looking for a trendy hairstyle to go along with your strawberry brown color, take inspiration from @luisdavid_estilista and pair the color with a shag cut. If you're unfamiliar, this fashionable hairdo features choppy, textured layers and fun fringe (per Allure). Seen on celebs like Ciara, Taylor Swift, and Maisie Williams, this nostalgic style has made a recent, modernized comeback.
With all its volume and movement, this cut really shows off the dynamic tones of the strawberry brunette color, making it the perfect pick for your next salon visit.
Short and strawberry
Many of these envy-inducing examples feature strawberry brown tones on long hair, but it's actually a shade suited to all lengths. This inspo pic from @hairloungehelsinki features a cute, choppy bob, and proves just how versatile the color is.
On top of that, this look reminds us of Barbie Ferreira's own strawberry brown hairdo, which is sported on a similar style. No matter what length you're going for, this red-tinted brunette color is sure to make your hair shine.
Crimped and coppery strawberry
Speaking of versatility, experts explain that this is one of the most appealing elements of the strawberry brunette hair color. As Shvonne Perkins, lead educator at Madison Reed, told Mane Addicts, "So many women have wanted to try reds but typical 'dyed red' hair scares some people away. Strawberry brunette (or blonde) is warm, inviting, and versatile."
The inviting, more subtle tones of this hair color can be seen in the photo from @ymsgirlhairstore, who features a coppery strawberry shade on crimped, tousled hair.
Red-brown curtain bangs
Curtain bangs have seen a lot of hype recently, being worn by celebrities like Priyanka Chopra, Daisy Edgar-Jones, and Kelly Rowland. For the uninitiated, curtain bangs are a type of fringe that frames the face just like curtains frame a window (per Vogue). Inspired by hairstyles of the '60s and '70s, the modernized version of these bangs is both flattering and versatile.
This fringe also works great with the strawberry brown hair color, which can be seen in this look from @dreamhairbycelaa. If you're wondering what hairstyle to pair with your new dye job, curtain bangs are definitely worth consideration.
Braided strawberry brunette
Braided hairstyles are another example of looks that can really accentuate the strawberry brown hair color. This is obvious in the featured photo from @styleme.b, which shows a vogue-ish red shade on box braids. According to celebrity hairstylist Gina Rivera, "Braiding or twisting is another great way to style and give this hair hue some pop" (per Byrdie).
Additionally, knotless box braids, as seen on Zoe Kravitz, are an effortless, trendy take on the classic hairdo that will keep you looking both stylish and strawberry (per Harper's Bazaar).
Beachy waves with rich reds
Beach waves are a classic, easy-to-do hairstyle that works on almost every texture and length, making it a great option for everyday looks. Infusing the hair with an easy-going, textured appearance, the beach wave is also perfect for showing off the many red, orange, and brown shades of the strawberry brunette hair color. For an example of this combo, check out the Instagram pic from @terezavlas.akova, which features a rich lovely red tint on gently tousled waves.
Roots and red
Another way to style the strawberry brunette hair color is by pairing it with dark or natural roots. One of the most controversial hair trends of recent years, dark roots have been worn by celebs like Rihanna, Kim Kardashian, Margot Robbie, and Dua Lipa (per Glamour Magazine).
Whether you love or hate the look, it's undeniable that the contrasting colors really make the red tones of the strawberry brunette color pop. This can be seen in the look from @destinies_curls, which features a red-brown shade and dark roots on curls.
Strawberry brown ombre
Using an ombré technique for your strawberry brunette dye job is also another interesting, stylish way to wear the trendy color. If you're unfamiliar, Jafra Bryant, celebrity and editorial hair colorist, tells Byrdie: "Technically, ombré hair color and word definition is a degradation of colors from dark to light or light to dark."
As an example, check out the auburn-inspired look from @number76_jack, which shows off the shade on loose waves. On top of looking cool, ombré designs are a good option for those who want to test out strawberry brown but aren't ready to commit completely.
Tousled strawberry hues
Similar to the beach wave style, tousled, slightly scrunched hair is also great for showing off the many shades of the popular strawberry brown color. We particularly love the look from @byheathermarie, which features orange and strawberry shades reminiscent of Bella Thorne's pink highlights.
If you're interested in a dye job that brings multiple colors together, as opposed to a more monochromatic shade, then this hairdo is definitely one way to show off all your vibrant hues.
Pinky-strawberry ombre
Speaking of pink, another way to approach the ombré look is by incorporating pink tones into your strawberry hair color. This is done beautifully in the photo from @lesciseauxde.fanny, which shows off a pink and strawberry ombré on top of a brunette color.
We already mentioned that ombré designs are great for trying something new, but it's also less maintenance than other dye jobs. "Ombré can last a long time depending on the type of highlights you start with and personal preference of how much root you prefer," explains hair colorist Jafra Bryant (per Brydie).
Rosy strawberry brunette
Rose gold has long been a popular hair shade for celebrities, worn by stars like Emily Ratajkowski, Lucy Hale, and Lana Condor. Many renditions of the strawberry brunette look similarly incorporate rosy tones reminiscent of these celeb looks, as seen in the photo from @hairbykatefrost.
We particularly love the light, blushing tone that the rosy hue brings to this color, which is only accentuated by the loose curls it's styled with. For something soft and fun, definitely consider a rosy strawberry brunette color for your next dye job.
Strawberry balayage
A balayage look is a great way to incorporate strawberry tones into your existing brunette color. As explained on Good Housekeeping, the term balayage refers to the technique used to apply color to the hair, which consists of a hand painting method that creates a soft, brushed look. According to hairstylist Desirae Blais, this technique "allow[s] for pops of brightness and contrast throughout the hair, while still keeping it looking natural."
For an example of well this hair dyeing method works with the strawberry color, check out this inspiration pic from @ashlbhair.
Pink-lover's strawberry brunette
While stylized approaches to pink-inspired strawberry hair colors are super fun, you can also opt for an all-over blush-infused color, too. For an idea of how this might look, Instagram user @wellapro_anz provides the perfect inspiration with this strawberry brunette color. Styled on simple, loose curls, this shade is both eye-catching and stylish.
With the recent rise of the Barbiecore aesthetic, we wouldn't be surprised if pink lovers begin jumping for this pink-tinted strawberry brown shade.
Layered strawberry and pink
If you want to incorporate pink more overtly into your strawberry brunette look, then @Jade__ly has the perfect inspiration for you. In this look, a peek-a-boo layer of bright pink is featured underneath a strawberry brown shade, adding both interest and style to the overall dye job.
For those unaware, peek-a-boo highlights, sometimes referred to as under-dye, is a coloring technique that places dye on the innermost layer of the hair, so that the color "peeks" through the top layer of your locks (per Hair). As you can see, the resulting effect is super eye-catching.
Blunt-cut strawberry
This look from @ziohair.salon shows another great way to style a strawberry brown dye job. Featuring a dark, burgundy shade, the sleek blunt cut really puts a stylish twist on the trending hair color. According to Sanya Keramen, the creative director of Nikita Hair, "Simply put, a blunt haircut is a cut without layers — sleek on women who have naturally straight and fine hair" (per Good Housekeeping).
In this way, a blunt cut is a great option for straight-hair girlies looking to show off their strawberry shades.
Deeply-colored strawberry brown
The next envy-inducing look on our list comes from @_pearcolor, who features a brunette shade enriched with dark red on a long-layered haircut. As mentioned in the TikTok from @missvivian.le, burgundy-inspired chocolate strawberry hair tones aren't uncommon in K-dramas, so it makes sense that this inspiration photo reminds us so much of Shin Hye Park's dark red color.
If you're looking for some more K-beauty inspiration for your strawberry brunette dye job, check out some of the looks from Bae Suzy.
Auburn-inspired
With stars like Jenna Ortega debuting auburn-inspired hair colors, it makes sense that the shade is being utilized in strawberry brunette dye jobs, too. We particularly love how the color looks in this photo from @_hairbycourt_, which features the tone in a light balayage over loose curls.
As mentioned on Nylon, auburn is one red tone that is expected to be trendy for quite a while, so it'll be the perfect addition to your equally fashionable strawberry brunette look.
Subtly strawberry brunette
While strawberry brunette can definitely be worn as a bold, eye-catching shade, you don't have to go for a special dye technique or bright color to rock the trendy tone. The potential subtlety of the color is brought to life in this Instagram photo from @wickedpixiehair, who features a slight red tint on a rich shade of brown.
For those looking for a more low-key take on the fad, this is definitely the inspiration pic for you.
Face-framing strawberry
Face-framing highlights are another way to wear the strawberry brunette color, as it not only creates an eye-catching look but is also super flattering. As mentioned on Glamour, there are many versions of face-framing highlights that are popular right now, ranging from money pieces to rebel streaks, but we particularly love how the strawberry brown color is featured in this photo from @hair.onfleek_.
Mixed in with more traditional shades of brown, the red color really pops here, accentuating the face in a really effective way.
Barely-there strawberry brunette
An additional subtle take on the strawberry brunette hair color comes from @hairxcflo, who features a barely-there look on a thick, slightly wavy hairstyle. This chocolate strawberry hairdo is even more light-handed than the other example, but still creates a beautiful, red-tinted look that is sure to catch the sunlight in a beautiful way.
If the beautiful color isn't enough for you, then you'll surely feel envious of the long, luxurious locks that it's featured on.
Subtle strawberry highlights
Highlights are a classic hair dyeing technique that adds dimension and interest to any hair color, as mentioned on Redken. In this way, highlights are a great way to integrate more strawberry brown tones into your brunette hair color. If you're wanting an example, check out the stylish look from @bellezabysumi, which shows eye-catching strawberry accents on a tousled, thick hairstyle.
If you're planning to ask for this red-brown style during your next salon visit, make sure that you research the different types of highlights to be fully prepared.
Strawberry brown with blonde
Money pieces are a type of face-framing highlight that are super trendy, rocked by stars such as Kylie Jenner, Lizzo, and Bella Thorne. Hair colorist Natalia Romaniuc explains the many appeals of this look, stating, "This technique works on any color of hair and really can suit everyone … the money pieces can pop when you choose a color three to four shades brighter to achieve the full impact" (per Glamour).
We love how @kacis_color_n_cuts integrates blonde money piece highlights into this strawberry brown hair color, creating a cool, fashionable contrast flattering to the face, just as the Romaniuc mentions.