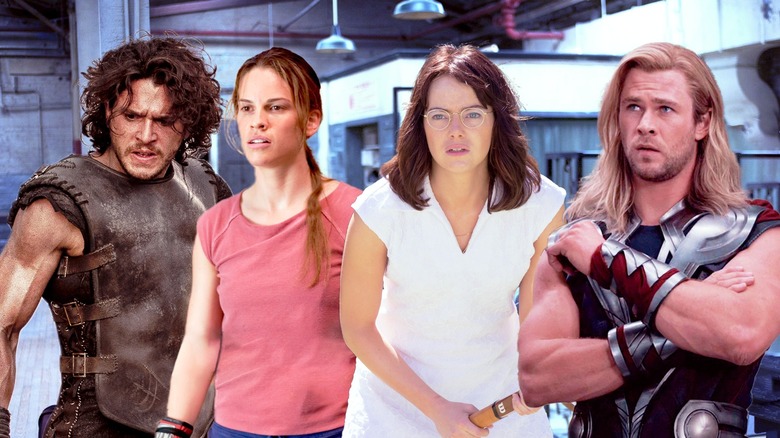 Acting is an inherently physical profession. A large part of the job deals with memorizing lines, tapping into extreme emotions, and bringing complex stories to life, but there's no denying that much of a thespian's life is spent physically embodying a wide range of characters. To convincingly portray another person, many actors spend a great deal of time perfecting the mannerisms, speech patterns, and physical charm of their roles, hoping to persuade the audience to suspend their disbelief and embrace the on-screen fantasy.
Occasionally, this transformation is as simple as a costume or a well-made wig. Other roles require a total body transformation, causing actors to spend months in intense training to build a physical framework that will allow them to fully tell the story. Christian Bale is known for these chameleon-like transformations and seems to remake his body for every new role he takes on. Though he has become the industry's gold standard for body modification, Bale is not the first actor to undergo a physical overhaul while preparing for a role. The following is a list of 14 actors who have dedicated a significant portion of their lives to intense workouts and rigorous diets to transform their bodies for particular films.
The following article includes descriptions of dieting and exercise.
Jonathan Majors — Magazine Dreams
"Magazine Dreams" is about a quest for immortality. The harrowing drama is based on the life of body-builder Killian Maddox, who hopes to capture an image of physical perfection that will live forever on the cover of a magazine. Maddox is played by Jonathan Majors in a gritty performance that explores mental illness, addiction, toxic masculinity, and the extreme world of bodybuilding.
Though his character abuses steroids, Majors insisted on a natural transformation and dedicated himself to multiple training sessions a day and a 6,100-calorie diet. This intensity initially concerned director Elijah Bynum, who warned his star to "take it easy." However, Majors insisted on verisimilitude and refused to film with fake weights, equating the props to fake tears or sweat. Major's dedication to the role won widespread acclaim after the film's Sundance premiere. His impressive physical transformation will be forever immortalized on screen like the magazine dreams the real Maddox once held.
If you or anyone you know is struggling with addiction issues, help is available. Visit the Substance Abuse and Mental Health Services Administration website or contact SAMHSA's National Helpline at 1-800-662-HELP (4357).
Emma Stone — Battle Of The Sexes
Emma Stone was fresh off her Oscar-winning performance as Mia in Damien Chazelle's "La La Land," when a new role called for a total body overhaul. Stone signed on to play Billie Jean King, the real-life tennis star who shocked the world by beating the legendary Bobby Riggs in a match dubbed the Battle of the Sexes. Playing a woman known as "the mother of modern sports" required a different sort of conditioning than her dance training for the Los Angeles-based musical and an altogether different kind of physical presence.
Stone worked with trainer Jason Walsh to bulk up, adding 15 pounds of muscle to her diminutive frame. Hoping to combat many women's misconception that heavy weight training can lead to a masculine physique, Walsh designed grueling workouts involving agility exercises like pushing a 200-pound sled and using heavy weights with various exercises like single leg squats, weighted pushups, and 185-pound deadlifts. Stone also bumped up her caloric intake with protein shakes made with ashwagandha, spinach, and protein powder. To play the woman John McEnroe described as "the single most important person in the history of women's sports," Stone not only challenged herself but long-held stereotypes about feminine fitness.
Jake Gyllenhaal — Southpaw
On-screen fights can be intimidating. Even the best actors sometimes get nervous when facing down a powerful opponent in the ring. Jake Gyllenhaal had this experience in the early stages of filming "Southpaw," the story of a boxer struggling to repair his shattered life. Gyllenhaal's trainer, Terry Claybon, recalled to E! News that the actor continuously complained about the wrapping on his hands while preparing for his first fight scene. Claybon believes this was a nervous stalling technique and notes that once filming began, he found it hard to get the rejuvenated actor out of the ring.
Gyllenhaal was in relatively poor shape on the first day of training, and Claybon remembers thinking they would have a lot of work to do. Work the actor did, beginning each morning with an 8-mile run and 1,000 situps before beginning one of two three-hour workout sessions. Gyllenhaal trained seven days a week, including bag work, advanced jump rope sequences, and repeatedly flipping a 350-pound tire. Although he added 28 pounds of muscle for the film, Gyllenhaal insists his gains insists his gains were more than physical. He described finding confidence in the daunting work and kept himself going with the belief that "freedom is on the other side of discipline."
Robert De Niro — Raging Bull
"Raging Bull" is the godfather of boxing movies. Martin Scorsese's black and white masterpiece is based on "Raging Bull: My Story," the memoir of boxer turned comedian Jake La Motta. The film was a passion project for De Niro, who embarked on a year of training and put on 20 pounds of muscle to play the legendary pugilist. He reportedly went 1,000 rounds in the ring with La Motta himself, who served as a technical advisor on the film. Part of De Niro's transformation included three professional fights, of which De Niro won two, causing his real-life counterpart to believe he could have become a professional boxer in another life.
Scorcese began filming La Motta's boxing career, then took a four-month hiatus during which his star underwent another dramatic transformation. De Niro traveled to Italy and began binging the rich local cuisine, packing on an additional 70 pounds to play the out-of-shape boxer in his later life. It was this weight loss and gain that ultimately drew De Niro to the role. At the Hollywood Reporter's Actor Roundtable of 2019, De Niro recalled, "I thought the graphic difference of being out of shape and then being a young fighter really was interesting. I thought I'd like to see if I could gain that weight."
Natalie Portman — Black Swan
Natalie Portman might naturally look the part of a ballet dancer, but the actress dramatically transformed her body to play a new prima ballerina in Darren Aronofsky's "Black Swan." Portman worked with Mary Helen Bowers to gain the poise and technical skills of a professional dancer and dropped 20 pounds from her already petite figure. Bowers told Us Weekly, "We combined swimming a mile a day with two hours worth of Ballet Beautiful exercises, toning, and resistance work. And another 3-plus hours of ballet class and point work." On a severely restricted diet of little more than vegetables and almonds, the actress trained for 8 hours a day, six days a week, to build the long and lean physique prized in the ballet world.
The program was so intense that Portman remembers feeling like she might die. She reportedly suffered a dislocated rib and told Entertainment Weekly, "It was the first time I understood how you could get so wrapped up in a role that it could sort of take you down." Having been asked to get as small as possible for "Black Swan," Portman approached her role as astrophysicist Dr. Jane Foster in "Thor: Love and Thunder" with a different mindset, finding the task of bulking up to be a refreshing change in an industry where women are routinely judged and defined by their weight.
Chris Hemsworth — Thor: Love and Thunder
While many of us were nursing backyard gardens and sourdough starters during the 2020 lockdowns, Chris Hemsworth was working out. With nothing else to occupy his time, the "Thor" actor took to swimming, heavy weight lifting, and martial arts. He supported this punishing activity by eating nearly 6,000 calories a day. As a result, Hemsworth arrived on the "Thor: Love and Thunder" set more muscular than ever.
However, Hemsworth noted that something about his eighth appearance as the Asgardian God of Thunder seemed different. Perhaps due to the grueling production schedule, a higher target weight than in previous films, or simply the fact that he's getting older, the MCU veteran noted that reprising his role for the film "was just exhausting… I don't know, maybe I'm getting old, but things just started to hurt more." Hemsworth's wife, Elsa Pataky, was reportedly not thrilled with his ultra-jacked physique. Hemsworth hinted to People that this could be the last time he commits to such rigorous preparation: "They can give me a fancy muscle-y costume next time. I'm done."
Zac Efron — Baywatch
Zac Efron burst onto the teen scene as a basketball player in Disney's "High School Musical," but another athletic role called for a massive transformation. The former heartthrob signed on to play lifeguard Matt Brody in the 2017 "Baywatch" reboot and dove into an exhaustive routine of varied activities, including swimming, running, endurance, balance, and agility training that nutritionist and trainer Patrick Murphy calls "the most dynamic program I've ever put together for a client." Beginning each day at 4:00 a.m., Efron would complete one or two sweat sessions five or six days a week, including a rigorous filming schedule that often stretched late into the night. Efron combined this with a meticulous low-carb diet of fully organic foods.
At the height of this training, Effron reported feeling "the physically strongest I've ever felt," but this transformation came at a cost. He has since revealed that a cornerstone of his regimen included the constant use of powerful diuretics to purge his body of water weight. Overuse of this medication reportedly led to insomnia, depression, and a six-month recovery. Now, Efron sticks to more moderate forms of mindful exercise and ice baths that he reports have become a favorite part of his day.
Hilary Swank — Million Dollar Baby
Of all the transformations on this list, few are as rigorous as Hilary Swank's preparation for "Million Dollar Baby." Making her breakout performance as the titular "The Next Karate Kid," the actress was no stranger to physical roles. To convincingly play a boxer, Swank was initially asked to add 10 pounds of muscle to her naturally thin frame. When this didn't produce the desired results, she added another 9 pounds to portray the lonely boxer, Maggie Fitzgerald.
With only three months to prepare, Swank began a highly orchestrated program, including four-hour workouts six days a week. Each session began with two and a half hours of boxing, followed by two hours of heavy lifting. This weight gain also required Swank to up her caloric intake and consume more than 200 grams of protein a day. She accomplished this massive increase by drinking egg whites and flaxseed oil. To build bulk, Swank needed to eat every 90 minutes and would wake herself up in the middle of the night to down additional protein shakes. Despite these frequent interruptions, Swank made sure to get nine hours of sleep per night to allow her muscles to rest and repair. Her performance earned Swank a second Oscar, and "Million Dollar Baby" remains one of the most devastating and beloved sports movies of all time.
Ryan Reynolds — Blade: Trinity
Ryan Reynolds has played a variety of action heroes, each requiring an impressive physique. However, it was his first dip into the Marvel Universe that resulted in the biggest physical change. As Hannibal King in "Blade: Trinity," Reynolds plays a snarky vampire hunter who teams up with the legendary antihero to destroy Dracula himself. Reynolds trained in martial arts and boxing to prepare for the film's impressive action sequences.
In addition to eating five to eight protein-packed meals a day, the actor worked out six days a week, beginning each day with a 30-minute ab session followed by weight training designed to work a different muscle group to exhaustion. This intense core work paid off, and Reynold's impressive abs were so well-defined that Muscle & Fitness magazine almost turned down an interview because they believed he created them with prosthetics. Thanks to a diet Reynolds comically describes as "drywall and wood chips" and workouts that left him begging for the "sweet release of death," he got down to 3.8 percent body fat. These days the actor stays in shape, but mostly to prevent injury due to his dynamic career. However, he will always be grateful for the role that changed his life.
Chris Pratt — Guardians of the Galaxy
One of the most dramatic Hollywood makeovers in recent memory is the stunning transformation of Chris Pratt. Before 2014, the doughy funny-man was known as the bumbling but loveable Andy Dwyer on "Parks and Recreation." After winning the role of Peter Quill (aka Star-Lord) in "Guardians of the Galaxy," Pratt shocked the world by posting a shirtless selfie, revealing a chiseled torso, having lost 60 pounds in just six months.
Pratt reportedly took to the program with gusto, noting that it gave him "a sense of absolute control." To achieve the body of a Star-Lord, Pratt teamed with personal trainer Duffy Gaver, who started the out-of-shape actor with bodybuilding exercises and then added high-intensity training, including a signature workout of just three body-weight moves. Pratt repeated a cycle of pull-ups, push-ups, and air squats, completing five reps of each as many times as possible within five minutes. In addition to diligent exercise, Pratt believes his rapid weight loss ultimately amounted to a series of small choices. He gave up alcohol for all six months of training and opted for lighter fare, reminding himself, "I eat that hamburger and that's 1,200 calories, and I'm gonna work out tomorrow and burn 800 calories. I may as well eat a salad here, still do that workout, and then I'm actually making progress."
Demi Moore — G.I. Jane
Demi Moore has never been shy about her body. In 1991, she shocked the world when the cover of Vanity Fair featured her in a gorgeous nude photo taken while she was seven months pregnant. She recently posted a selfie to Instagram, proving that at 58, she still has her "G.I. Jane abs." Though the lifelong dancer has always been in good shape, she toned her body to the extreme for this groundbreaking film. Directed by Ridley Scott, "G.I. Jane" follows the fictional story of Jordan O'Neill, the first woman to enroll in training similar to that of the U.S. Navy Seals.
Moore went all in for the role, shaving her head and completing a rigorous boot camp with 40 real servicemen. She also worked with personal trainer Gregory Joujon-Roche to build a soldier's body and master the advanced exercises seen in the film. Moore would start her day with a pre-dawn run in Central Park before a full day of filming and lengthy workout sessions that began with a one-hour treadmill/ab circuit routine. She followed this with one or two additional hours of intense weight lifting, with military presses, advanced chest flies, and those famous one-armed pushups.
Kit Harington — Pompeii
As it turns out, Kit Harington knows something about exercise. The "Game of Thrones" star shook off the fur cloaks and black regalia of the Night's Watch for the more revealing robes of a gladiator in Paul W.S. Anderson's first-century disaster film, "Pompeii." In addition to a highly specific 1,800-calorie diet, Harington dove into a grueling program involving two hours of fight training followed by an hour of weight lifting and another hour of cardio.
Harington committed to the role with an intensity that at times became scary, telling Vulture, "I became obsessed with it … to the point where I was going to the gym three times a day for six days a week." Fearful of body dysmorphia, his trainer intervened and set the actor on a more sustainable path. Harington enjoyed performing his own stunts for "Pompeii," and a "gladiator boot camp" provided unexpected benefits for his "Game of Thrones" character. After Harrington returned to Westeros with an impressive new set of skills, director Neil Marshall reportedly called Anderson to thank him for giving the show's star some additional training.
If you or someone you know needs help with mental health, please contact the Crisis Text Line by texting HOME to 741741, call the National Alliance on Mental Illness helpline at 1-800-950-NAMI (6264), or visit the National Institute of Mental Health website.
Linda Hamilton — Terminator: Dark Fate
One of Hollywood's most dramatic body transformations is that of Linda Hamilton for "The Terminator" franchise. In the original action classic, Hamilton plays a soft and sweet waitress protected by a time-traveling warrior from a murderous robotic assassin. Hamilton returned for the 1991 sequel with a jaw-dropping version of the character, reintroduced to audiences while attempting to escape from a maximum security prison. Returning to the franchise after 28 years, Hamilton wanted to recapture this muscular physique for her role in "Terminator: Dark Fate," but at 61, this transformation would be no easy feat.
After receiving a clean bill of health, Hamilton embarked on a year-long training program with Mackie Shilstone. Having eliminated carbs from her diet, she began exercising around two hours a day for six days a week to get as close to her "Terminator 2: Judgment Day" body as possible. In a home gym built specifically for this program, she worked on a variety of exercises, including one requiring her to slam a medicine ball into a wall and then catch it on the rebound. This difficult-to-master move led to a smashed wall Hamilton refuses to repair. She claims it remains a symbol of her hard work and commitment.
J.K. Simmons — Justice League
In 2016, 61-year-old J.K. Simmons set the internet on fire by posting gym pictures of himself lifting weights with impossibly ripped and veiny biceps and a bushy gray beard. Initial reports claimed this transformation was sparked by his casting as Commissioner Gordon in the 2021 film "Justice League." However, the Oscar-winning actor insisted that after years of dramatically fluctuating weight and health, he simply decided to live the rest of his life in what he calls "decent shape." It just so happens that director Zack Snyder is a "fitness maniac," and they found common ground in their various routines while filming.
Simmons worked out two to three times a week with his personal trainer Aaron Williamson using a technique called Cumulative Blood Volume Training designed to pump as much blood to targeted muscles as possible. Dual workouts include cardio and strength training, consisting of exercises like hammer curls, pushups, a variety of crunches, and ironically, a move called the Superman in which he lifts his body off the floor in an imitation of the caped hero flying toward danger. Simmons also revamped his diet to include mostly lean protein, fruits, and vegetables.