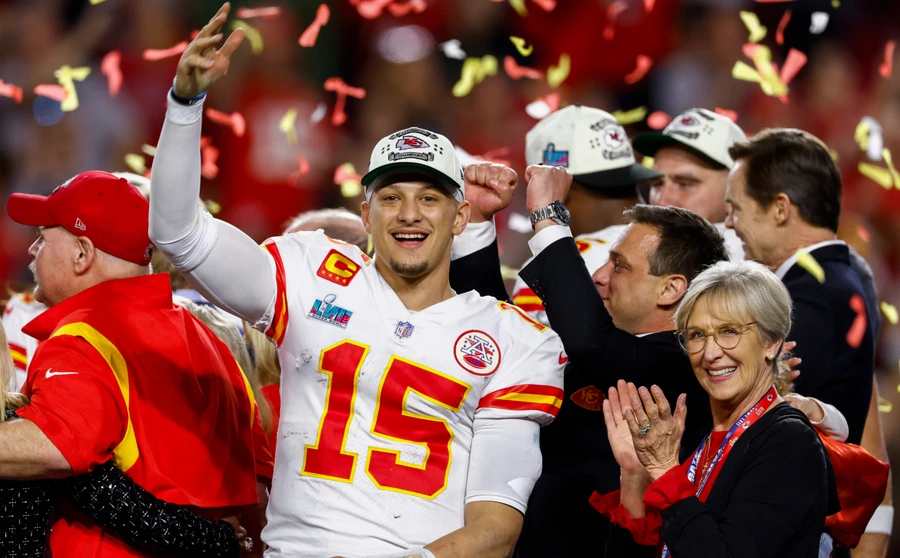 The night was packed with sensational comebacks.
Super Bowl LVII finally arrived, and MVP Patrick Mahomes led the Kansas City Chiefs to an electrifying 38-35 victory over the Philadelphia Eagles, marking the Chiefs' second win in four years.
Mahomes' triumph comes just three days after he won his second N.F.L. Most Valuable Player Award, crystalizing his position as the most accomplished passer of a new crop of quarterbacks dominating the game.
The 27-year-old, who sprained his right ankle just weeks ago, appeared to hurt it again in the first half but threw for 182 yards and three touchdowns.
"I knew I wasn't coming out of this game, even with that high ankle sprain, it kinda reaggravated a little bit," Mahomes told the NFL Network afterward. "I'll worry about that in the offseason."
"It was just all heart. We knew we didn't play our best in the first half," tight end Travis Kelcie said after he was told that Kansas City scored on every drive after intermission. He added that some players were playing out of character in the first half given the significance of the game, but got it together in the second.
"We were just able to regroup at halftime and figure it out," he said.
Kicker Harrison Butker made the winning 27-yard field goal with just 8 seconds to go, and a highly-contested defensive holding call against the Eagles called in the final two minutes proved decisive to the game's outcome — and prompted a flood of online backlash.
Despite a brief fumble that cost the Eagles crucial seconds in the second quarter, Eagles QB Jalen Hurts did himself proud, rushing for three touchdowns, and even setting a new Super Bowl record for the most rushing yards by a quarterback with 70.
"Jalen played the best game I've seen him play in the two years we've been together," Philadelphia Eagles head coach Nick Sirianni said per CNN. "I really thought he was in complete control. He did things with his legs in the run game, he did things with his arm in the pass game, made some unbelievable throws, unbelievable reads. I thought he played outstanding."
The Chiefs' Kadarius Toney also set a new record for the longest punt return.
Rihanna shines bright in the halftime show
Meanwhile, Rihanna marked her return to music with a halftime show packed with even more surprises.
The singer had hinted at a mystery guest in the run-up to the show, telling an interviewer last week: "I'm thinking about bringing someone."
Fans speculated whether she meant Drake, who she's collaborated with on hits like What's My Name and Work, or perhaps Jay-Z or Eminem.
But in her first seconds on stage — intro-ing with B*tch Better Have My Money — the 34-year-old pulled her red jumpsuit open to reveal an unmistakable baby bump.
This will be Rihanna's second baby with her boyfriend A$AP Rocky, who held their nine-month-old son as he watched on proudly.
The pair welcomed their first child in 2022, and Rihanna told Apple Music that he was a huge influence on her decision to perform at the Super Bowl.
"It feels like it could have only been now," she explained. "I mean, when I first got the call to do it again this year, I was like, 'Psst, you sure?' I'm three months postpartum, like, should I be making major decisions like this now? Like I might regret this. But when you become a mom, there's something that just happens where you feel like you could take on the world, you could do anything. And the Super Bowl is one of the biggest stages in the world.
So as scary as that was because I haven't been on stage in seven years, there's something exhilarating about the challenge of it all. And it's important for me to do this year. It's important for representation, it's important for my son to see that."
Rihanna famously turned down the offer to perform in 2019 out of solidarity with former San Francisco 49ers quarterback Colin Kaepernick. Kaepernick gained worldwide recognition in 2016, after he started kneeling during the national anthem in protest against police brutality.
"I couldn't dare do that," she told Vogue. "Who gains from that? Not my people. I just couldn't be a sellout."
"I couldn't be an enabler. There's things within that organization that I do not agree with at all, and I was not about to go and be of service to them in any way."
Seven years after she last performed solo, Rihanna decided to use the Super Bowl stage to make a statement.
"That's a big part of why this is important for me to do this show," she said ahead of her set. "Representation — representing for immigrants, representing my country Barbados, representing for Black women everywhere. I think that's really important. That's key for people to see the possibilities and I'm honored to be here and be doing this year."
Want more great content?
Sign up here to jumpstart your mornings with Katie's dynamic daily newsletter, Wake-Up Call.