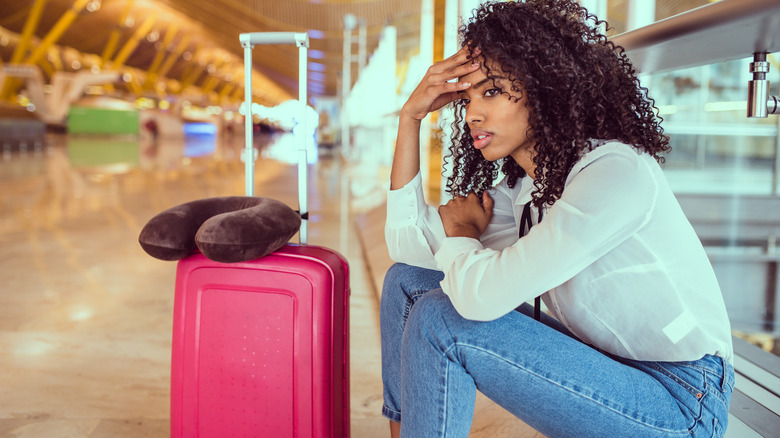 Two things are often true when traveling by way of commercial airlines. First, you're usually eager to arrive at your destination, and, on the opposite end of the equation, you're anxious to get home once all the hoopla of the trip is over. Sure, it's always best to have a direct flight, but realistically, it's not always doable — especially for faraway adventures. So, you'll have to learn to navigate the wonky — and sometimes frustrating — realm of connecting flights.
On the scroll-length list of things that can go wrong on commercial flights, missing a connecting flight is an issue that can become costly or even shorten your buzz-worthy Italian vacation. For example, a missed connection can easily upend your itinerary, and the U.S. Department of Transportation reports it's not uncommon. Looking at the March 2022 statistics, even the airline with the best on-time arrival record — Hawaiian Airlines — was at 84.6%. A good omen, but cold comfort for those in the 15% or so whose flights did not arrive .
These ongoing flight delays may result in arriving late to your destination, and you might end up paying for a hotel room you didn't sleep in or, worse — miss out on vacation excursions you scheduled in advance. And along those lines, if you miss a connection on your way home, you may need to use an extra vacation day or take an unpaid day off as a result. So, although some challenges are simply out of your control, there's one common mistake when booking a trip with a connecting flight. And the good news is, it's easy to avoid.
Want to arrive on time? Slow down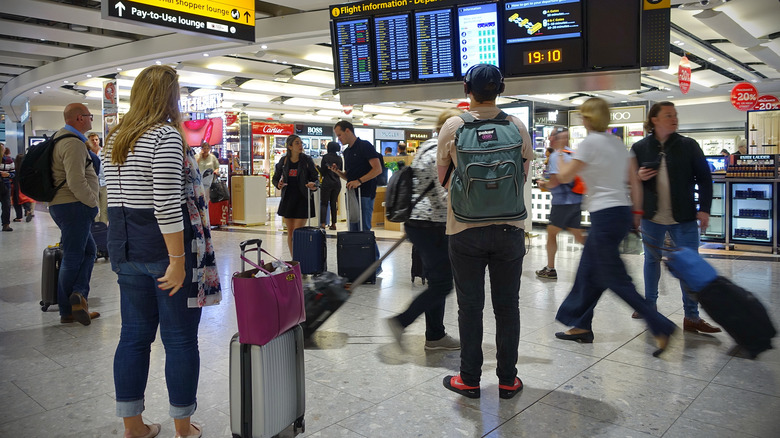 You're jazzed to get to your destination; there are immersive experiences, cultural excursions, and adventures of all kinds. We totally get it, but the experts agree — catch your breath, slow down, and be strategic with your flight selections. All airports are different; there's a Dr. Seuss-worthy array of layouts across the globe. You might visit a small one or a big one; this one will have you on the run, and the other might be rather hum-drum.
When booking a multi-leg flight itinerary, you'll want to consider the airport's size and the proximity of getting from one gate to another. It's important to remember that you might need to walk upward of ten or even fifteen minutes through the chaotic crowds, and there's no airport walking etiquette, folks. Even the travel pros at The New York Times know it's every man, woman, and wheelie bag for themselves in that jetlagged jumble of travelers. With that in mind, you might also need to take a tram or shuttle to your next gate.
Be strategic when booking your connecting flight
Gate locations and airport chaos aside, U.S. News and World Report is quick to point out that you may also experience a delay on your initial flight. This inevitably causes stress in trying to make your connecting flight. So all of this is to say that time is your most valuable resource when traveling. The vacation experts at USA Today advise travelers to look for layovers of 60 minutes or more, but you can extend that if you know that you'll want to brave the line at your airport Starbucks in between flights.
So, if you want to reduce the stress associated with the common mistakes when booking a trip with a connecting flight, be sure to plan your connections strategically. This should include reviewing the airport layouts and considering any bathroom, coffee, airport Cinnabon cravings, or meal breaks along the way.
Also, starting your journey early in the morning can also help reduce (but not eliminate) the potential for the ripple effect that happens as flights experience delays throughout the day. If the flight you're getting on is coming from an area with a weather issue, for example, you may experience a delay. So, to minimize that potential, you might consider starting your trip as early in the day as possible.