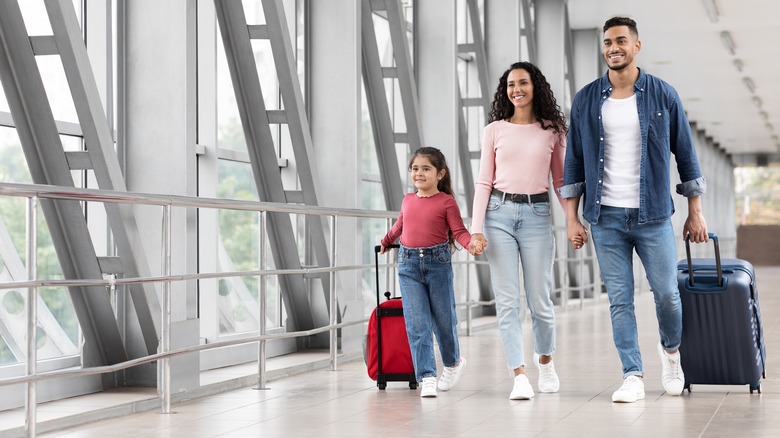 For newbie travelers and veterans alike, there are particular travel habits we all have. Whether it's getting to the airport ridiculously early or only buying a ticket on a certain day of the week, we all have our travel quirks. But, over time, some of those habits might become outdated and need to be swapped out — isn't that right, Mapquest? While some former travel habits just end up defunct over time, other travel tips might make your vacation more stressful than it needs to be.
The idea that you're doomed to always get jet lag, no matter your preparation, and the thought tat everyone will speak English wherever you travel are two things that Barefoot Nomad debunked in their exploration of travel myths. Even tried and true travel tips can fall out of fashion as we all continue to advance our daily lives with technology and other mediums. Actually, there are a ton of things travelers still swear by that aren't necessary elements of any adventure. So listen to folks like Nerd Wallet who insist you don't need to dress up in hope of a business class upgrade and take the following 10 tips as a sign that it's a good idea to let go of old habits.
Leave the guidebooks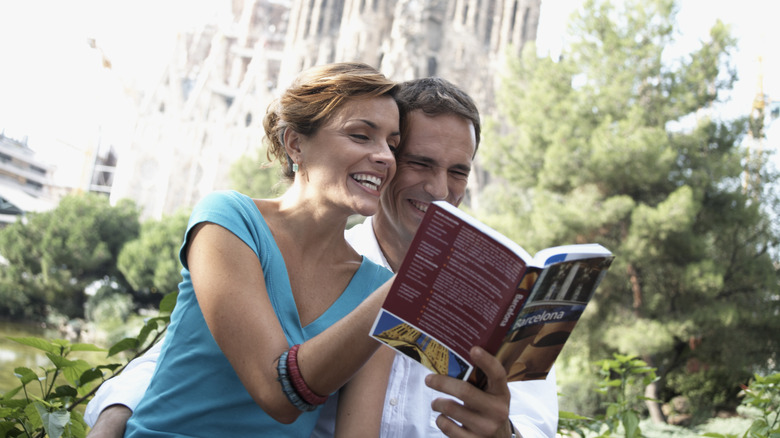 We love a guidebook. They can offer insights into a place you might not have gotten without them. You can learn all about what to do in a given city, what foods you absolutely must try, and how best to plan your trip. That said, guidebooks can also add unneeded weight to your luggage, become one more thing to tote around, or they might just be a waste of space on your trip. Experts speaking to The Washington Post affirmed that guidebooks aren't obsolete in themselves, but rather a piece of a traveler's puzzle in planning a trip.
"Guidebooks are now among a suite of tools people use," Grace Fujimoto, acquisitions director at Avalon Travel told the outlet. Fujimoto confirmed to the outlet that these books have been shifting to digital formats even before the COVID-19 pandemic. Lonely Planet's Chris Zeiher also told The Washington Post that the purpose of the books seems to be changing a bit, saying "guidebooks are evolving into this experiential, curated collection." Zeiher added that publishers like Lonely Planet are evolving with the cultural changes, too.
The Travel suggests swapping out heavy books with saved research on your phone for quick reference while you're traveling. Rather than lugging around a heavy guidebook, saved links on your phone are easier to access from wherever in the world you are. Plus, it's cheaper than buying a brand-new book every time you go somewhere new.
Booking a flight well in advance
Travelers generally know that booking a flight last minute will mean surging prices, though the same can be said for booking too early, as well. "There's no reason to look more than two months in advance," Seth Kaplan, Managing Partner of Airline Weekly, told CNBC. "If you're thinking, 'I just want to lock it in so at least it doesn't go higher,' that's what they want you to think! Less than two months out, they will drop the fares to fill the flight with more price-sensitive and patient people, before then raising them again for last-minute bookers."
Though Kaplan also added that there's nothing wrong with grabbing a fare well in advance if it's a good one, you never know when those deals will arise! Further, Kaplan explained that folks who are planning trips well in advance are usually doing so with a big event (like a honeymoon) in mind, so the price point might matter a little less for them.
AirHelp says the best time to book a flight is ideally one to three months before travel. The outlet explains that this is because airlines are trying to sell the rest of the seats on a flight during that timeframe, so the prices will tend to be better. In any case, it's usually a good idea to know the average price of a flight to your destination before deciding whether to purchase or not.
Visit places really early to avoid crowds
If you've ever been to a place like Versailles, you know the crowds can really ruin a good time. Part of traveling to a popular spot means knowing how to navigate the crowds effectively. To many travelers, that equates to getting somewhere super early in the hope that no one else has the same idea. Immihelp explains that thanks in part to guidebooks, a lot of visitors think going early will mean smaller crowds. But that just isn't true.
The outlet says it's often better to go somewhere in the middle of the day, as crowds are likely to drop a little. However, you shouldn't expect sightseeing spots to ever be totally crowdless. A site like Avoid Crowds can help plan out your day based on tourism data they have for any day of the year. So for Paris on December 1, crowds are likely to be very low. The site factors in events like school holidays, cruise ship dockings, and local holidays and events.
Avoid Crowds also offers other tips to consider for avoiding large groups. For one thing, the site suggests doing a bit of research ahead of time to not only avoid potential tourist traps but to know if there are alternative hotspots you can check out if another is too crowded. We suggest making use of the site's crowd calendar when planning a trip because it offers a pretty accurate estimation of crowd size.
You can't travel alone
Solo travel is really hitting its stride in the world of tourism, in part because of the swath of online communities that support solo travelers. While safety concerns will always be important to remember, it's possible to travel alone and have a wonderful time doing it. Travelers suggest a slough of practical tips for staying safe while abroad, including sharing your itinerary with loved ones, avoiding reckless behavior, and safely storing valuable items along the way. Solo travelers can also register their trip with STEP (Smart Traveler Enrollment Plan), which notifies the nearest U.S. Consulate or Embassy of your travel plans for an added level of security. Not only does the program help in emergencies, but it's also a way for folks on the ground to update you on advisories.
Travel experts spoke with Huffington Post about their go-to solo travel tips for staying safe no matter where you are in the world. Heather Heverling, president of Adventure Woman, told the outlet that some simple planning can make a big difference. "Make a copy of your ID and passport and pack these separately from your originals. Scan these and email yourself (and someone at home) a copy of these documents," she told the outlet. "This easy one-time tip makes a potential issue easier to navigate." Traveling alone might take a few more practical steps than traveling with other people, but some of that planning would help any traveler in any circumstance travel a little more safely.
Not booking flights direct
Booking flights can be an annoying part of travel planning, though it is often a necessary evil. Matador Network notes that online travel agencies or third-party sites would hope for your business to help cut the time cost of booking the flights yourself, but warns that using an agency might cost you in the long run. This is because, as the outlet explains, booking through an airline directly will probably be the cheapest option for finding a flight.
Zach Griff over at The Points Guy concurs, largely because these in-between sites charge transaction fees along with other additional costs. More than that, many of the sites don't have reliable customer support, per Griff. He explains that the main cause is that online travel agencies try to cut costs by having smaller staffs which means more hassle in trying to communicate with customer service reps. Booking directly through an airline often gives you more clear options if you need to change or cancel your plans. Many airlines offer free changes through their apps or websites so long as you booked through them and not a third party. So while booking flights can be a bit tedious, it's often your best option to save both money and time.
Avoid street food
When you're traveling, you can sometimes find the tastiest food in unexpected places. And no, we don't mean hole-in-the-wall spots. We're talking about food stalls and street food. There has been chatter for years that folks should avoid street food, but that isn't such a simple rule these days. Patrick Allan at Life Hacker suggests taking a few steps before departure to eat on the street to your heart's content. Allan suggests knowing what foods are common in different places, like egg waffles in Hong Kong or stroopwafel in Holland, as well as keeping an eye out for what places are busiest, since that can be an indicator of good eats.
However, Allan does suggest being careful about cutlery when eating around: "Some street foods require some kind of cutlery to eat, but be cautious of using the tools the stalls give you. They might be dirty; even if they're clean, they may have been washed with the local water your body can't handle." Sometimes it's best to bring along your own travel utensil set for times like these.
Nomadic Matt wrote a few key ways to avoid food poisoning while traveling for World Nomads. He recommended washing your hands thoroughly and frequently, eating where the locals eat, and making sure your food is cooked correctly. Mostly, it seems that if you pay attention and do a little bit of legwork ahead of a trip, you can enjoy plenty of cheap, local dishes while meandering the city streets.
Have your passport at all times
Losing a passport while abroad is one of those scenarios we have nightmares about. It seems even more likely to lose your passport during travel if it's constantly on your person. Luckily this is another one of those outdated travel tips to which we can bid adieu. One way to ensure passport security is to have copies of it in physical and electronic form, according to Uncornered Market. Another way to keep it safe while not carrying it around all the time is to hide it among your luggage or in a money belt or in a safe in your hotel room, the outlet added. The outlet also notes that it's worth researching whether or not your destination requires your physical passport for customs or if a photocopy will suffice–just in case.
Krista Gray at Insider also suggests leaving your passport in your room and treating it like a valuable item. Moreover, she suggests investing in a waterproof cover to avoid water damage or leaving it at home (or in your hotel), if you don't really need it. Clearly, there are myriad reasons not to keep your passport on you at all times as well as plenty of ways to keep it safe.
Taking advantage of duty-free
There was a time (pre-internet or very early internet) when duty-free shopping was a huge bonus for international travel. Although we're gotten our fair share of tasty snacks for the road, the allure of duty-free is not what it once was. Because of the availability of online retailers, it's harder for the shops to stay competitive with online stores selling the same wares. But whether or not to take advantage of duty-free shopping really depends on what you're shopping for.
Tony Richardson, founder of Duty Free Hunter, told The Washington Post that the best deals are often the alcohol-related ones. "The heaviest-taxed areas of all our lives are things like liquor and tobacco products," Richardson told the outlet. You can save big on these items when buying duty-free because you're cutting out some of the taxes you'd normally pay. Do be wary, however, of the marketing of those products. Richardson added that a lot of brands are vying for buyers' interest by making their products appear like an "unmissable" deal.
Scott Laird at TripSavvy concurs that so-called "sin taxes," which apply to products like tobacco and alcohol, will probably be the best duty-free offer. Laird also recommends keeping your luggage weight in mind before loading up on goodies, as well as remembering that different countries have different liquid rules (like not having more than 3.4 ounces of any liquids in a carry-on), which may force you to check your bags.
Avoiding anywhere with a travel advisory
Travel advisories exist for a reason, however, it's important to take them with a grain of salt. As Immihelp says, if travelers avoided every place with an advisory, you probably would miss out on a lot of places. Rather than taking advisories at face value, the outlet recommends researching more about a country's situation and making the choice to travel for yourself. Immihelp also suggests protecting yourself through travel insurance.
It's important to remember that all countries have their own travel advisory systems in place. CNN reminds travelers that countries issue these advisories about other parts of the world too, which includes the United States. It's vital to know the context of an advisory as well as have an understanding of how to protect yourself.
For example, CNN reports that the UK has an advisory around the U.S. that reads in part: "Violent crime, including gun crime, rarely involves tourists, but you should take care when traveling in unfamiliar areas. Avoid walking through less traveled areas alone, especially at night." Whereas Germany has an advisory that reads in part: "It is easy to obtain guns in the United States, leading to increased use of guns and occasional killing sprees. The number of arms and ammunition purchases has increased significantly during the COVID-19 crisis," CNN further reported. Like many pieces of travel advice, doing research ahead of time will make for a better experience. That includes knowing about the place(s) you are going to.
Not doing guided tours
When it comes to planned sightseeing activities, there are generally two kinds of travelers: guided tour people and very, very anti-guided tour people. Each has its perks, to be sure, but folks tend to have very strong opinions on them. Go Overseas considers guided tours to be a stress-free way to enjoy a place and get to know an area through specialty or niche tour options. Especially for solo travelers, guided tours also offer the opportunity to make new friends abroad, which can be an exciting part of traveling.
Geoffrey Morrison notes for Forbes that it's also important to differentiate between guided tours that are heavily guided versus the lightly guided. Although guides usually mean you won't see a lot of unique things, it's also a convenient way to get a lot done at once, per Morrison. He further explains that the biggest perk of a tour is that you pay one price for everything from the guide to transportation. Plus you may uncover some hidden gems along the way thanks to your guide. Guided tours can be an excellent way to get to know a place with someone on hand who knows it intimately and can hopefully provide an incredible experience for you.