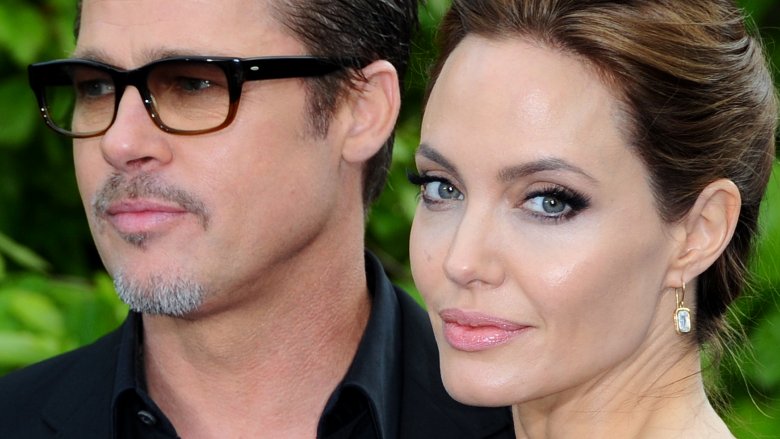 We may receive a commission on purchases made from links.
Scandalous love affairs have always captivated us. Like Paris and Helen of Troy, these tales of illicit love and deceit are built into the very fabric of our stories and narratives. So when a real-life scandal plays out in front of our very eyes, we are drawn to it like moths to a flame. When a celebrity's private life becomes more interesting than their work, the media and the fans flock to the more engaging story and devour it. And what's more captivating than an affair?
We've all heard about the nanny problem, and it's connection to the mass of unfaithful celebrity marriages. The stakes are raised, however, when both parties in the affair are famous. Considering that many of these affairs start on the set of a film, they bewitch fans even more as real life comes crashing together with our fantasy world. Hollywood history is littered with these types of sordid relationships — with the couples involved and the films that helped make them forever immortalized.
Here are the most scandalous love affairs in history.
Humphrey Bogart and Lauren Bacall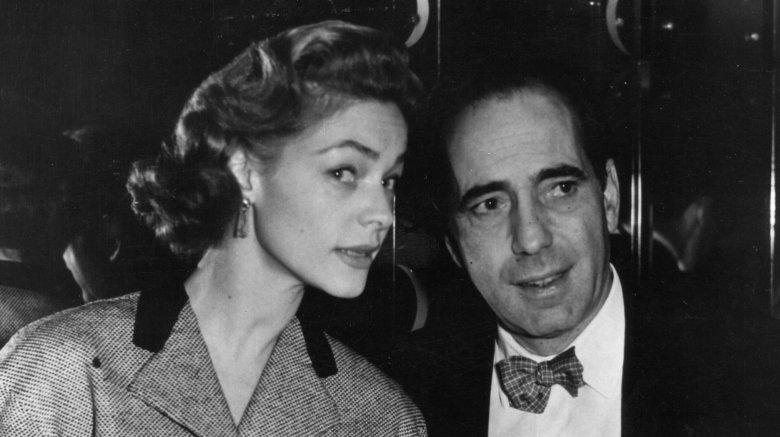 Today, Humphrey Bogart and Lauren Bacall are remembered as one of Hollywood's greatest couples, but their coming together wasn't without at least some victims. For one, Bogart was married to actress Mayo Methot when he first started shooting To Have and Have Not in 1944. Bacall wasn't exactly awestruck by Bogart right away either.
According to the actress in Bacall on Bogart (via The Frisky), it was Bogart's patience with her as a new actor that first caught her attention. "[He] believed in actors," she said. "And believed in actors working together." Their off-screen chemistry soon took on a new life and this led to changes in the script for To Have and Have Not, leveraging that blossoming relationship.
Despite his feelings for Bacall, Bogart apparently decided to try and work things out in his struggling marriage. Methot was battling alcoholism and would make a failed attempt at rehab before she and Bogart finally split. During this time, the private relationship between two of Hollywood's biggest stars made for some incredible gossip. In 1945, Bogart and Methot divorced, and Bogart and Bacall married.
Michelle Pfeiffer and John Malkovich
Before the film Dangerous Liaisons, John Malkovich was dedicated to the theater stage. It was that film that earned him his first major recognition as a film actor, and one which may have forever typecast him as the conniving villain.
During the shooting of that film, however, there were some parallels going on behind the scenes. While Malkovich's character was trying to seduce Michelle Pfeiffer's character, the two actors began an affair that would cause the end of Malkovich's marriage to Glenne Headly. After their split, Headly apparently called Malkovich "the root of all evil" (via The Age).
Although Malkovich and Pfeiffer's affair ended shortly after it started, it was a miracle it even occurred, according to Malkovich. "It's hard to believe Michelle Pfeiffer ever said hello to me," the Con Air star later told Rolling Stone. "Not that she's not memorable, God knows. But I sort of blocked it out. What I'm trying to say is, when I think of the other person, I don't think of me as involved with them. They're uncorrupted by me. As if they were never troubled by my existence."
Ingrid Bergman and Roberto Rossellini
The love affair between Ingrid Bergman and Roberto Rossellini began with a simple letter. "Dear Mr. Rossellini," she wrote (via The Criterion Collection). "I saw your films Open City and Paisan, and enjoyed them very much. If you need a Swedish actress who speaks English very well, who has not forgotten her German, who is not very understandable in French, and who in Italian knows only "ti amo," I am ready to come and make a film with you."
From this came the suggestion to make the film, Stromboli, together. As they pitched the movie to producers and secured financing, their relationship grew. They then traveled together throughout Italy prior to shooting, much to the dismay of Bergman's husband, Petter Lindstrom. According to the biography, As Time Goes By (via People), while shooting the film, Rossellini seemed open to creating a scandal, happy to be photographed holding hands with the beautiful actress and even giving the press inside knowledge of Bergman's broken marriage.
Before Stromboli was finished shooting, Bergman was pregnant with Rossellini's child, and the truth of the affair was all over the American airwaves. According to the Daily Mail, she was ostracized from the American film industry and denounced as "evil." She wouldn't return to favor for more than seven years. After winning her second Academy Award in 1957 for Anastasia, she famously said, "I've gone from saint to whore and back to saint again, all in one lifetime."
Angelina Jolie and Billy Bob Thornton
After Billy Bob Thornton won the Golden Globe for his work in Goliath, Twitter went wild commenting on what appeared to be an awkward moment between the actor and Laura Dern. Now, it may have been nothing more than one actor walking behind another, but the history between these two is hard to ignore.
Between 1997 and 1999, Dern and Thornton were an item. In a Men's Journal piece from May of 1999 (via Angelina: An Unauthorized Biography), Thornton said "I'm now happily involved with someone who's my best friend." The following month, in an interview with US Weekly, however, things had changed. "I want her to be happy," Thornton said of Dern. "But it was over. That's all." So what happened?
Well, apparently, Angelina Jolie happened. Thornton and Jolie worked together on Pushing Tin in 1999. At some point along the way, the two kindled a relationship together. By 2000, they were married.
For Dern, it may have been a bit too sudden to be a coincidence. Speaking to Talk Magazine, (via US Weekly), the actress said, "I left our home to work on a movie, and while I was away, my boyfriend got married, and I've never heard from him again." she added, "It's like a sudden death. For no one has there been any closure or clarity."
Frank Sinatra and Ava Gardner
Frank Sinatra was no stranger to affairs and adultery. Not only had he been arrested on charges of adultery in 1938, he had became somewhat known for his extramarital activities. The famous crooner married Nancy Barbato in 1939 and they had three children together. But in 1948, he and Ava Gardner started what would become a legendary affair. It wasn't until 1950 that the world found out about them, Sinatra labeled a cheater and Gardner a home-wrecker.
According to the Daily Mail, while Gardner was vilified for her role in the affair and considered a gold digger, the scandal hurt Sinatra's career most. As per the book, Sinatra: Behind the Legend, Sinatra's shows started suffering, he lost his recording contract, and his voice was failing. In 1951, after Barbato gave Sinatra the divorce he sought, the music giant married Gardner.
Their union, however, would be marked with great challenges. According to Ava: A Life in Movies, the couple battled publicly, was wrought with jealousy, and Gardner had two abortions. Their relationship ended in 1953, with the divorce finalizing in 1957.
Meg Ryan and Russell Crowe
When the tabloids spotted Meg Ryan and Russell Crowe holding hands during the time they were filming Proof of Life together, it created an enormous scandal. Beside the fact that both actors were huge stars at the time, Ryan was still married to Dennis Quaid.
Before the film was released, the two actors tried to avoid prying eyes, but the rumor mill forged on. According to the New York Post, they confirmed their relationship in July of 2000. But Ryan insists that her failed marriage to Quaid wasn't because of Crowe or the scandal. "It dissolved before it became sport for the press," she said in a W Magazine interview (via E! News). "The public and the press tuned in way after."
But that didn't stop people from talking. There were questions about Ryan's public image. Would her America's sweetheart shine wear off because of this? Even she had to question her status in the public eye. "I found myself in a hotel lobby in London a few months ago," she said to W Magazine, "thinking, all of a sudden, 'So this is what it feels like to be the Scarlet Woman. Oh! I'm having that experience now!'" Feeling incapable of beginning another long-term relationship, Ryan ended things with Crowe not long after.
Eddie Fisher and Elizabeth Taylor
When Elizabeth Taylor and Eddie Fisher married in 1959, they did so amidst one of the biggest scandals in Hollywood history. After all, Fisher was still married to Taylor's best friend, Debbie Reynolds, when they began their relationship.
According to Reynolds (via Daily Mail), a year before she married the crooner, Fisher, was warned about him by Frank Sinatra. She ignored the advice, and married the singer anyway. They had two children. Fisher's best friend was Mike Todd, the man who would soon become Taylor's third husband. Reynolds would be the Matron of Honor and Todd the best man in that 1957 wedding.
Sadly, Todd died in a plane crash in 1958, and Fisher moved in with Taylor as friendly support. One month later, however, Fisher left Reynolds for her best friend. A year later, they were married. In the memoir, My Girls, Todd Fisher (named after his dad's best friend, Mike Todd) wrote, "The world was stunned. … Eddie and Elizabeth were vilified. Eddie was declared a philandering, opportunistic loser, and Elizabeth was labelled a bad girl, home-wrecking sl*t. Debbie, the good girl, the innocent, unsuspecting victim and single mum, was globally embraced with love and sympathy."
Billy Crudup and Claire Danes
Billy Crudup and Mary-Louise Parker were an idolized Hollywood couple for many. They met while performing on Broadway and were together for seven years. In 2003, when Parker was seven months pregnant, however, they split. The next thing anyone knew, Crudup was with Claire Danes.
Danes and Crudup had just finished filming Stage Beauty, a film about actors who have an affair. According to the New York Times, "The tabloids had a field day. … Mr. Crudup was cast as the Hollywood cad, Ms. Parker as the abandoned mother." As for Danes, who later married fellow actor Hugh Dancy, she was young and unprepared for what drama might result.
"That was a scary thing," she said of the drama on The Howard Stern Show (via US Weekly). "I didn't know how to not do that. I just was in love with him and needed to explore that and was 24. I didn't quite know what those consequences might be."
Richard Burton and Elizabeth Taylor
The casting of Elizabeth Taylor in the titular role of Cleopatra was not without some controversy. According to Entertainment Weekly, she hadn't yet lived down her reputation as a "homewrecker" from the Eddie Fisher scandal, and some people at the studio were unsure if the risk was worth the price. They moved forward with casting Taylor in the end, but it turns out that their fears were grounded.
Even with Fisher on location in Rome (Vogue reported that he was on hand "trying to learn how to become a movie producer"), Taylor and her co-star, Richard Burton, started one of the most talked about affairs of the century while making that film. While taking a break from filming in 1962, Dick and Liz were snapped lounging together on board a yacht. The published photos sent the public and the paparazzi into a frenzy for more. According to Vogue, the Vatican publicly condemned the relationship. The scandal was inescapable. As per EW, members of the press followed them at every turn, even posing as extras to get inside information. By 1963, their relationship was public and the film was finally released. Early in 1964, mere days after she divorced Fisher, Taylor and Burton were married.
Brad Pitt and Angelina Jolie
Maybe the most famous of all rumored affairs, the alleged escapades of Angelina Jolie and Brad Pitt on the set of Mr. and Mrs. Smith dwarfed most celebrity gossip in the last 50 years. Jolie had already been involved in a similar scandal with Billy Bob Thornton years earlier, and Pitt was married to Jennifer Aniston. The setting was ripe for controversy.
While Jolie insists that no physical affair took place before Pitt's split from Aniston, telling Vogue (via People) it was "not as exciting as what a lot of people would like to believe," there was an emotional connection formed on the set of Mr. and Mrs. Smith. "Because of the film, we ended up being brought together to do all these crazy things, and I think we found this strange friendship and partnership that kind of just suddenly happened," Jolie explained. "I think a few months in I realized, 'God, I can't wait to get to work.'"
They apparently left the set "very, very good friends," but the following year, Pitt separated from Aniston and was officially with Jolie. And so began the 'Brangelina' supercouple.
Ali MacGraw and Steve McQueen
Steve McQueen was one of the biggest names in Hollywood in the early '70s, and Ali MacGraw was on her way to joining that group for her acting. Though her name would be uttered far and wide, it wasn't necessarily only for her work onscreen as much as it was for stuff going on off of it.
In 1972, shortly after being cast in The Getaway alongside McQueen, MacGraw and the action hero started a relationship that wore out the ink on tabloids across the country. MacGraw was a rising star who recently married producer Robert Evans. McQueen was Hollywood's iconic bad boy. But in spite of MacGraw's recent nuptials, according to a Vanity Fair, "theirs was one of the great love affairs of the past century"
"It was very, very passionate, and dramatic, and hurtful, and ecstatic," MacGraw told the publication. "It was pretty much a wipeout for both of us. But I think it's safe to say it would have been impossible not to fall in love with Steve." After the film, MacGraw divorced Evans, married McQueen, and "gave up her career" for him, according to Vanity Fair. It wasn't until after their 1977 divorce that MacGraw returned to the big screen with the 1978 film Convoy.
LeAnn Rimes and Eddie Cibrian
In 2009, US Weekly first reported news of an alleged affair between LeAnn Rimes and Eddie Cibrian. The two had been filming Northern Lights together and were spotted "holding hands and kissing" at a restaurant. Rimes was married to Dean Sheremet at the time and Cibrian was married with children to model Brandi Glanville.
According to the director of the film, Mike Robe, "LeAnn and Eddie honestly developed a really strong bond and a warm relationship" during the rehearsal and filming process. That appears to have carried on after the cameras stopped rolling. Eventually, the two would divorce their spouses and get married, a union they still hold on to, as of this writing.
In an interview with Giuliana Rancic (via Us Weekly), Rimes insisted that "nothing ever happened between [her and Cibrian]" outside of love scenes for the film, but she still expressed some regret with how the whole thing played out. "I wish I handled it differently," she said. "I wish it could've been better for me, for Brandi, for Dean, for Eddie and for everyone else. … I know in this situation it's gonna take some time, all I wish is that everyone that was hurt, that we hurt, that I hurt, can be happy."