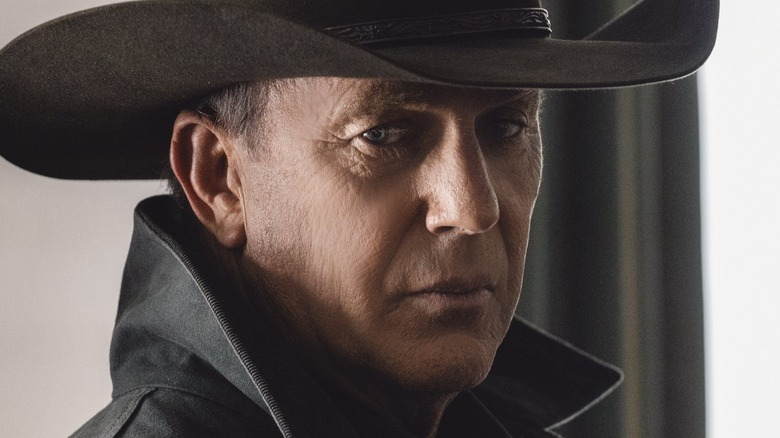 "Yellowstone" fills our screens with majestic vistas matched by over-the-top storylines. Outlandish plots and head-scratching character turns are par for the course, however, action, intrigue, and character development make up for any storyline shortcomings. The Duttons and their Yellowstone ranch invite viewers into a world of excitement, drama, and cowboy life, and we're all for it.
The series has broken TV ratings records; according to Entertainment Weekly, the Season 5 premiere brought in a 12.1 million same-day audience, accounting for its largest viewership ever. In 2020, "Yellowstone" was, as noted by Texas Monthly, the most viewed television show "across cable, premium, and broadcast" channels. In the years since, it has launched two spin-offs starring entertainment legends – "1883," with Tim McGraw and Faith Hill, and "1923," with Harrison Ford and Helen Mirren. Two more "Yellowstone" spinoff series are even in the works. According to Variety, series creator Taylor Sheridan has a staggering nine shows on air or in development with Paramount.
Rich characters and compelling storylines inform all of Sheridan's work, but his television empire began with the Dutton family of "Yellowstone." Throughout each season, the Duttons battle fierce enemies, fight with each other and endure trauma. "Yellowstone" may cause the Duttons to tread tangled paths, but their journeys are always entertaining and show no signs of slowing down. Because of this, we ignore the dumb things — the silly scenes and questionable plot holes — as we watch the Dutton family drama unfold.
Lee is rarely mentioned
In the first episode of Season 1, the eldest son and the heir-apparent of the Yellowstone ranch, Lee Dutton (Dave Annable), is killed in a gunfight. Ostensibly, his death should cause his family grief. Yet, after his death, Lee's name is rarely mentioned and he's given zero backstory. Family bonds run deep on the ranch; family causes Beth Dutton (Kelly Reilly) to move back home and is responsible for the career trajectory of Jamie (Wes Bentley). Even the Dutton's ranch hands take a "Y" skin brand to pledge lifetime allegiance to Yellowstone.
The tragic death of matriarch Evelyn Dutton (Gretchen Mol) leaves an indelible mark on her family, and she shows up in flashback scenes. As noted by Good Housekeeping, Beth carries the self-imposed weight of blame for her mother's death. Shouldn't Lee's more recent death play a part in the show? A Reddit commenter pointed out Lee's glaring omission from even old family photos shown in various "Yellowstone" seasons.
Dave Annable, the actor who portrays Lee Dutton, spoke to The Hollywood Reporter about his character's demise: "I knew my character was going to die right away and I was OK with that. But as we were shooting and practicing and I was at cowboy camp and learned to ride horses and we were in Montana, I thought, there is no way I want to die on this show," he said. Lee's demise could've shaped his family's character development, but instead, he's barely even an afterthought.
The Duttons get away with murdering the Beck brothers
In "Yellowstone," murder is a go-to move the Duttons use to rid themselves of the enemies who threaten them. Some of the killings committed by various family members are easy to cover up, and the power wielded by the Dutton name allows them to literally get away with murder. As noted by Outsider, when the Duttons take those who have double-crossed them to "the train station," this is double-speak for the execution of enemies. In Season 1, on behalf of the Duttons, ranch hand Lloyd (Forrie J. Smith) takes the problematic Fred (Luke Peckinpah) to the station. No one will miss Fred as he's a drifter without any public presence. However, the murders of the Becks should've at least raised the suspicions of law enforcement.
In Season 2, the Beck brothers — Malcolm (Neal McDonough) and Teal (Terry Serpico) — prove powerful adversaries to John Dutton (Kevin Costner) and his offspring. The Becks are real estate magnates who go to extreme measures to obtain Yellowstone for themselves. As noted on the Yellowstone Wiki Fandom website, Malcolm Beck also heads up the Montana State Liquor Board. Malcolm orders horrific strikes against his new adversaries — he has Beth viciously attacked and Kayce Dutton's young son, Tate (Breckin Merrill), kidnapped. Of course, the family retaliates: Kayce (Luke Grimes) kills Teal Beck while he sits on the toilet, and John executes Malcolm in broad daylight. However, no Dutton is even questioned about the murders.
No one looks for answers about Sarah Nguyen
Throughout "Yellowstone," Jamie Dutton feels worthless in his father's eyes, is the constant target of Beth's wrath, and he stuffs his anger and hatred toward his adopted family inside. He constantly acts in vengeful, cowardly ways. Wes Bentley, who portrays the character, spoke to The Hollywood Reporter about Jamie's poisonous personality: "Inside, he's boiling. And it will explode," he warned. We catch a glimpse of Jamie's potential for rash action in Season 2 when he murders journalist Sarah Nguyen (Michaela Conlin).
Sarah is a reporter who travels to Montana to work for Jamie's campaign for attorney general, but she sees the potential to expose the Duttons' shady and corrupt dealings instead. An angry Jamie vents to Sarah and spills secrets to her that could destroy his family. When Sarah threatens to publish Jamie's confessions, he feels remorse and begs her not to run the story. Sarah refuses to relent and a cornered, panicked Jamie strangles her.
With the help of Rip (Cole Hauser), the adopted Dutton stages Sarah's murder to look like a kayaking accident. Yet, any autopsy would quickly reveal asphyxiation as her cause of death. And Sarah's "drowning" alone should send the national press into a frenzy. The only mention of her death by anyone outside of the Dutton family comes from a short televised news report. Wouldn't someone from her magazine have had a conversation with Sarah about the huge story she stumbled upon?
Jamie instantly trusts strangers
Jamie Dutton is the family's black sheep and the fissures in his familial relationships run deep. However, he's also a Harvard-educated lawyer who ultimately becomes Montana's attorney general. He may be a coward, but Jamie's also an intelligent man. Nonetheless, if anyone sans the last name Dutton implores Jamie to trust them, he does so without hesitation.
In Season 3, Jamie discovers he's adopted. He sees finding his biological father as a way to finally "belong" — even after learning the man murdered his biological mother. Upon their reunion, Jamie quickly buys into the lies of his father, Garrett Randall (Will Patton), who tells Jamie that the Duttons must be destroyed, and Jamie laps up this stranger's affection. Granted, Jamie ends up murdering his biological dad, but he trusts him more than the family who raised him.
Jamie discloses his closely-guarded family secrets to Sarah Nguyen based on her warmth toward him. In Season 5, he jumps into bed with Sarah Atwood (Dawn Olivieri), who is out to destroy the Duttons, and she smothers him with sweet praise. Although he wonders aloud if he's just part of her agenda, Jamie eats up Atwood's cloying words and agrees to her plans to take down John Dutton. In an interview with ETonline, Olivieri discussed Atwood's true feelings for Jamie. "It's unclear because a person like this will only tell you what you want to hear," she said. Yet, if Jamie gets even surface approval, he instantly trusts anyone.
Beth's seemingly unaffected by third-degree burns
In the Season 3 finale of "Yellowstone," Beth Dutton lights a cigarette in the aftermath of an explosion that almost takes her life. The scene exemplifies Beth's fierce resilience and makes for great television. However, the explosion kills her assistant and leaves Beth with third-degree burns. The show displays continuity by leaving Beth with the scars of the violence she's endured and the facial scars she suffered in Season 2 remain a part of the character long after she's attacked. When the burn scars covering Beth's back are revealed in an intimate Season 4 scene between her and Rip, they again remind viewers of her trauma.
In an interview with Express.co.uk, "Yellowstone" make-up artist Abigail Steele recalled a conversation she had with Kelly Reilly about Beth's scars: "We should tell people about your scars and how they tell a story that's bigger than just something that's cool and looks cool … It's so much deeper and there's something so beautiful about scars that are worn and not covered up."
Nonetheless, Beth never spends onscreen time in the hospital, healing from her extensive burns, or undergoing surgical procedures. Reilly explained Beth's convalescence to Parade, "Taylor [Sheridan] said she's been in the hospital for two months … She's had all those skin grafts and she probably went to the best surgeon to get her face fixed." However, none of this occurs onscreen, and no one ever speaks about Beth's suffering.
Rip never forges a new identity
Rip Wheeler's backstory is revealed organically and helps to give his character depth. He comes to the Dutton's ranch as a broken, panicked teenager (played in flashbacks by Kyle Red Silverstein), and John takes the boy under his wing. According to Yellowstone Wiki Fandom, Rip killed his abusive stepfather after the man murdered Rip's mom and brother, causing Rip to flee from home. John gives Rip a choice between facing legal consequences for his actions and working on the ranch, and the boy chooses the latter.
In Season 5, Episode 7 ("The Dream Is Not Me"), John tells Rip: "There's a thing I could do, but if I do it, you don't ever leave this place. You'll be part of this ranch until the day you die and you will do for this ranch what I say do, no matter what that is. You understand me?" Rip becomes John's muscle and right-hand man; as such, he's involved in some criminal activities. However, John's powerful connections could forge Rip a new identity and allow him to live life.
Nonetheless, Rip tells Beth they can't legally marry, as he "doesn't exist." Rip is a vital part of the ranch's operations — wouldn't his lack of a driver's license, bank account, and Social Security number attract questions from those who have business with Yellowstone? A teenage Rip killed his stepfather in self-defense. Would he really need to live without an identity for the rest of his life?
John barely sets foot in the governor's office
Through the first three seasons of "Yellowstone," John Dutton is averse to politics. When his land is threatened — first by a casino and resort in Season 2 and then by an airport in Season 3 — John leaves the politics of prevention in Jamie's hands. However, in order to thwart Jamie's run for governor, Beth convinces her dad that he needs to announce his own candidacy. Although John has had his life threatened without ever entering into politics, he agrees with Beth's plan. When John's campaign is endorsed by his friend with benefits, Montana governor and candidate for U.S. Senate, Lynelle Perry (Wendy Moniz), his win is a foregone conclusion.
As noted by The Ringer, John and Beth's reasoning behind John's candidacy stems from their desire "to tear [Jamie] down, to put him in his place." Despite his lack of political expertise, in Season 5, John is sworn into office. However, the only time he's seen in office is when he fires his entire staff. John shrugs off his gubernatorial duties and heads back to the ranch. Surely his political adversaries and the press would blast him for his absence? A "Yellowstone" Season 5 premiere review in TV Guide stated, "John Dutton is a governor whose only platform is land. Apparently, in this world, Montana's two parties are Land and Anti-Land." John's only desire is to protect his own land. Can he remain governor sans an active in-office presence?
Kayce easily becomes Livestock Commissioner
In Season 3 of "Yellowstone," after a short stint as head of operations on the ranch, Kayce Dutton is named the new Livestock Commissioner by his father, John. Apparently, the office can be handed down from father to son, nepotism is permissible, and Livestock officers are permitted to carry firearms. Kayce's new role isn't clearly defined, but presumably, the Montana Livestock Commission is a government office that requires qualifications and at the very least, filling out an application. Kayce served overseas in the US Navy, so he's well-trained with guns. However, he has no experience in law enforcement, and in Season 1, he's arrested by the tribal police of Broken Rock Reservation.
Kayce, the youngest of John Dutton's children, doesn't even want the role of Livestock Commissioner and takes the position begrudgingly. By the end of Season 3, gunmen shoot up the Livestock Commission, and Kayce narrowly escapes with his life. As noted by Decider, Kayce turns in his badge in Season 5, and tells his father, "I choose [Monica] and I choose my son." He doesn't want to put his family in danger on a daily basis. Kayce doesn't follow any type of protocol while serving the Livestock Commission, and he quits simply by letting his father know he's done. In reality, Montana does have a Department of Livestock, and there are law enforcement agents (known as stock investigators) employed by the department. However, agents and commissioners don't inherit their positions.
Monica is used as murder bait
Monica Dutton (Kelsey Asbille), Kayce's wife and Tate's mother in "Yellowstone," is strong enough to stand on her own. She loves her family but isn't afraid to call out the dysfunction she sees in the rest of the Duttons. She and Beth have even forged a bond — in Season 2, Beth tells Monica she has "a kind soul." However, the more time Monica spends with the Duttons, the more she feels eager to do good in the world. Thus, in Season 3, when a serial killer eludes tribal police, Monica agrees to be used as bait in a sting operation set up by Chief Rainwater (Gil Birmingham).
Monica puts herself in harm's way and although sharpshooters are nearby, she must face a serial killer on her own. The thought that law enforcement would use a civilian to lure and capture a serial killer is preposterous. Indiewire called Monica "the Job of Yellowstone" as she is made to suffer almost as much as the Biblical character, and refers to her baiting a murderer as pointless trauma porn.
In an interview with CBR, Asbille said, "Taylor Sheridan definitely gives you some challenges of what new catastrophe Monica has to deal with, so I would say that heightened level of reality I feel really used to now." Yet these situations should act to propel the overall plot of "Yellowstone" forward: wife, mother, and civilian Monica baiting a murderer just doesn't make sense.
What happened to the bomb on the plane?
In Season 2, the Duttons go to war with the Beck brothers. The Becks are the biggest threat to the ranch the family has ever faced and the brothers prove they aren't afraid to draw blood or even pile up casualties. In the season's penultimate episode, Kayce knows his family must act first and need to strike hard. The Becks are scheduled to fly to Jackson Hole, so Kayce decides to act quickly. He teams up with Torry (Wolé Parks), the security guard of Dan Jenkins (Danny Huston), to drop a timed bomb in the fuel tank of the brothers' plane. However, the Becks don't end up taking their scheduled flight; Kayce and John execute the brothers shortly thereafter, and never mention the bomb again. As Express.co.uk points out, "This pivotal moment naturally left viewers scratching their head [sic], and could cause a lot of unnecessary concern."
The planted bomb didn't just disappear because the Becks were killed. It was rigged to a timer. Wouldn't it still go off? Alas, the loose threads of this glaring plot hole have been left dangling in the wind. Fans have taken to social media to wonder about the bomb and speculate about the subplot's reemergence in each subsequent season. In a "Yellowstone" Season 4 Reddit thread, u/MountainGOM asked, "Kayce put a bomb in the Becks plane. It looked like an altimeter set bomb. Will it come back into play?"
Monica's in full-blown contractions when she drives to the hospital
Poor Monica Dutton just can't catch a break in "Yellowstone." She's used as murder bait, her son is kidnapped, and in the Season 5 premiere, she experiences tragedy once again. A very pregnant Monica knows she may go into labor soon. She doubles over in pain from intense contractions and spends all day suffering. Yet, she waits to go to the hospital. Kayce isn't home … so she doesn't even want immediate medical attention?
Sadly, when Monica finally decides it's time to seek medical care, she's in such severe pain that she swerves all over the road. Kayce tells his wife he'll send an ambulance to meet her halfway, but Monica refuses to wait. Her young son, Tate, must drive them both. The mother and son are in a horrific car accident, and Monica tragically loses her baby. The driver of the other vehicle involved dies on impact. However, Tate only suffers a broken arm.
Frustrated fans took to Twitter after the episode to share their grievances. Shelly Kay tweeted: "Monica driving while in labor, this is so not a good idea! Hello!!!!" and a comment from Elena read, "…She [Monica] should have pulled over and waited for the ambulance. She was speeding and having strong contractions. Not smart." While the loss of her unborn son is tragic, Monica should never have been driving in the first place.