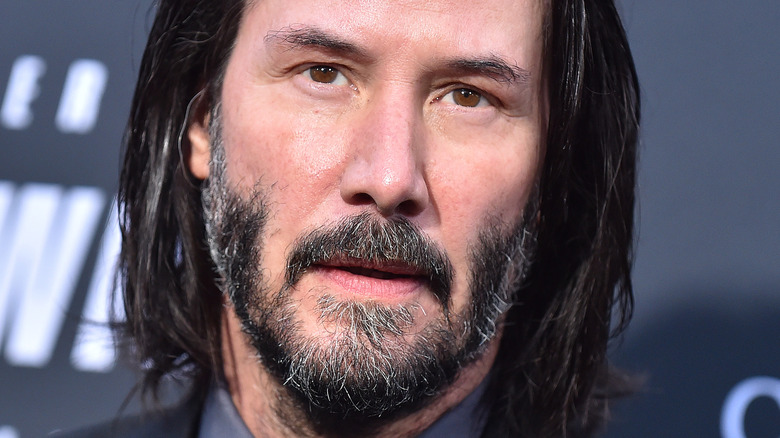 We have covered zaddies over 40 on another list — but capped the age at 55 due to the mass amounts of hot older men in Hollywood. Therefore, we absolutely had to craft a new list to celebrate Hollywood's sexiest zaddies over 55. After all, many of these men look just as good as they did in their 30s and 40s, and many look so much younger than their chronological years that it will leave you scratching your head. Some are just now being appreciated for their sexiness after decades in the business, while others have been considered heartthrobs through every stage of their careers, but all of them are worthy of their zaddy titles.
It is easy to be sexy at 30, but to look this good and have this much swagger at 55, 60, 70 or older — that's rarer. Per Dictionary.com, a zaddy is "an attractive man who is also stylish, charming, and self-confident." The term is most frequently used to refer to older men, and the men on this list prove that there is no age cap on hotness. Our list includes those who are just entering their mid-50s all the way up to full on senior citizens in their golden years, but every man on this list can still make fans swoon. And while a couple of them look their age, many don't. Here are 20 super sexy Hollywood men aged 55 and up that prove age is only a number when it comes to being a zaddy.
Brad Pitt is the template for a smoldering zaddy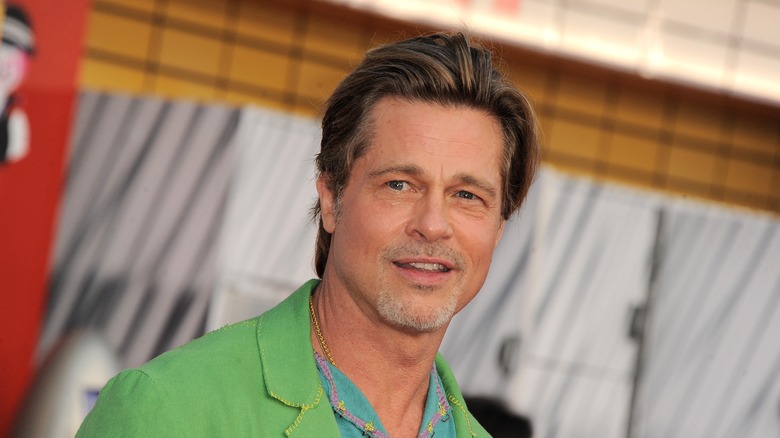 Brad Pitt has been an international sex symbol for over 30 years, ever since his breakthrough role in "Thelma & Louise" back in 1991. The Oscar-winning actor is one of the most famous people in the world, and there is much more to him than just his looks, but it would be naïve to say that Pitt's attractiveness did not help him get where he is. Pitt is one of the most handsome men to have ever appeared onscreen, named one of Harper's Bazaar's hottest all-time male celebrities. Pitt is also one of a select few to have been named People's "Sexiest Man Alive" on two separate occasions (in 1995 and 2000). His hair, his lips, his body — all of it is perfection.
Beyond his attractiveness, Pitt's charismatic personality and casual coolness have helped him become one of Tinseltown's top zaddies. British Vogue celebrated his style in 2022, and both Esquire and GQ have named him a best dressed celebrity within the last few years. These days, Pitt is still having fun on the red carpet. His 2022 "Bullet Train" press tour looks made waves, especially when he wore a skirt to one premiere. "I mean, we're gonna die so let's just have some fun before we get out," Pitt told Entertainment Tonight while dressed in a bright green suit.
Jeff Goldblum is a zaddy who blossomed at an older age
Jeff Goldblum has been in the public eye for nearly 50 years, but mainstream culture was not really lusting after him in his youth. It is as an elder that Goldblum has found legions of fans responding to his charming personality and unique sense of style. There seems to be consensus that Goldblum (born in 1952) is, in fact, now a mega zaddy. Countless outlets have all called him one, and even Goldblum is down with the label, as he made clear on Today. People's current obsession with Goldblum has led them to appreciate how hot he was in the past — there was even a sexy Goldblum statue erected in London in 2018.
Goldblum has always been handsome, but his slight geekiness and quirky charm kept him under the radar for a while. Nowadays, there are plenty of galleries — like HuffPost's "11 Times Jeff Goldblum Was The Sexiest" or PopSugar's "50 Photos That Will Validate Your Decades-Long Crush on Jeff Goldblum" — that will make you question why we all slept on his sexiness for so long. Goldblum's cool, quirky fashions are also a key to his zaddiness, as noted by Vogue Singapore, who called him "Hollywood's most stylish silver fox." As GQ UK said, Goldblum is "living proof that style has no age limit," and neither does Goldblum's zaddydom.
George Clooney has been a zaddy for decades
George Clooney has been a zaddy since long before the word came into existence. Clooney's looks, charisma, and chicness haven left the world smitten for decades, ever since his international breakthrough with "ER" in 1994. Clooney was named People's "Sexiest Man Alive" in both 1997 and 2006, and his sexual allure has only gotten stronger over the years. It helps that he still looks pretty great, too, as one might expect from one of Harper's Bazaar's most beautiful men of all time. In early 2023, Clooney was named the "Sexiest Grey" celebrity from a poll run by British firm Prospectus Global — though we think he could hold court with people of any hair color.
Clooney has said that he has mixed feelings about being a sex symbol earlier in his career, telling The Washington Post, "Quite honestly, I was objectified." He has since established himself as much more than just a pretty face, both through his work in Hollywood as well as his activist efforts. And frankly, Clooney is about as suave and sophisticated a movie star as we have left. His simple and classic style has remained the same for the past two decades (before that, there were some sartorial mistakes, but we don't need to get into that). Clooney is in his 60s, but we agree with Julia Roberts that he is one zaddy who could pull off a "Sexiest Man Alive" three-peat (via People).
Christopher Meloni is a zaddy with a booty fans love
There might as well just be a picture of Christopher Meloni in the dictionary next to the definition of "zaddy," because the man's raw sexual energy is unrivaled. Fans have been lusting over Meloni for years, throughout his time on "Oz," "Law & Order: Special Victims Unit," and basically every other project he has ever been in. But now that he is in his 60s and his attractiveness and allure should be fading, Meloni is a rare case of a man who just keeps getting hotter. He has been labeled a zaddy practically everywhere. "I've been called that a lot," Meloni told Interview. "And who am I to argue with it? Sure, I'm a zaddy."
Meloni has a gorgeous face, but it is often his body that gets a lot of the attention. "Christopher Meloni Knows His Butt Is Having a Moment," read one Vanity Fair headline, while Parade has a gallery called "Cake Cake Cake! Celebrate Christopher Meloni and All of His Gluteus Glory." Lucky for us, Meloni has no problem with nude scenes and Peloton even enlisted the actor to go naked in advertisements after he confessed in an interview that he likes to work out in the buff. He also likes being called a zaddy. "It's a gas. It's fun, Meloni told People in 2022. "Once it's bestowed upon you, you have to just ride that horse as long as you can."
Jamie Foxx is a multi-talented zaddy with flair
Jamie Foxx is an actor, producer, singer, writer, comedian, host, and big time zaddy. He rose to fame in the early 1990s due to his work on "In Living Color," after which he went on to have his own sitcom before becoming one of the biggest movie stars in the world. The Oscar-winning actor has more talent in his pinky toe than most people have in their whole bodies, so it seems almost unfair that he was also blessed with an affable personality and incredibly good looks. Couple those things with his easy swagger and impeccable sartorial taste and you have a zaddy who seems to be defying the aging process. In his 50s, Foxx is not only still posting sexy thirst traps, but they are still getting attention from outlets (and millions of fans).
Even fully clothed, Foxx can't seem to downplay his attractiveness — a picture of him in a regular orange t-shirt and sunglasses made The Shade Room declare "Jamie Foxx out here serving zaddy vibes" on their Twitter in 2021. His clothing choices only add to his zaddiness, since Foxx loves to experiment with color, prints, and styles. Even when he is just low-key living his life, fashion sites go bananas for his choices in simple hoodies, cool backpacks, and the like. While we may not be sending "thirst tweets" his way, we totally understand why others target the ageless zaddy, as seen in his Buzzfeed Celeb video.
Is Rob Lowe the prettiest zaddy on Earth?
Rob Lowe has been a hunk since his breakthrough in the 1980s, and we have a feeling the man will always be handsome, like some sort of genetically gifted wizard. Born in 1964, Lowe is still incredibly pretty, though that is at least partly because of how hard he works at staying fit and maintaining a youthful appearance. "Men deny having vanity — that's the greatest vanity," Lowe once told Men's Health. "Not me. I'm vain as f**k." Lowe's narcissism and attention to his looks is such an in-joke that even his "9-1-1: Lone Star" character is similarly obsessed with skin care, hair care, and fitness. While Lowe's face and body are about as close as one can get to the perfect male specimen, there are other reasons why the man is widely considered a zaddy.
Lowe has oodles of charisma and a healthy dose of arrogance, which we can't even really fault him for given what he looks like. His attractiveness and bravado together have made him a heartthrob for decades, and he has transitioned from boy-next-door to dad-next-door seamlessly (if you live next-door to a Ken Doll). The zaddy title is befitting — Fox News has him listed as a top Hollywood zaddy — and it is no surprise that Lowe is still getting noticed for his hotness. A 2023 selfie earned him praise from fans for "aging backwards," per Men's Health, and many outlets around the web have galleries devoted to Lowe's sexiness and stylishness.
Jason Statham is a sexy bald-headed zaddy
It might surprise you to see him on the 55+ list, but Jason Statham indeed hits that age bracket (he was born in 1967). It is understandable if you thought he was younger because of his face, body, or tendency to star in action flicks that require intense levels of physicality. The one-time professional diver was hoping to make the Olympics, but turned his back-up plan into a lucrative career when he retired and took up acting. His rugged good looks and innate swagger have made him an in-demand action star — appearing in flicks such as "The Transporter," not to mention "The Expendables" and "Fast & Furious" franchises — and have also earned him zaddy status.
Statham has many appealing physical qualities, but is best known for his bald head, which he once jokingly told People was perhaps the reason for his sex symbol label. He may actually be right, judging from his presence on lists like The Sydney Morning Herald's "Bald Sex Symbols" and the fact that he was named the world's "third sexiest bald man," per "Access Hollywood." Beyond his looks and self-assurance, Statham's fashion sense has also earned raves from various sites, who traced his sartorial evolution. We think Statham's zaddiness comes from the way he merges both that ruggedness and chicness, and if you don't believe us, check out PopSugar's "Sorry to Bother You, but We Need to Talk About How Hot Jason Statham Is For a Minute."
Keanu Reeves is known as the 'internet's boyfriend'
Keanu Reeves is almost 60 years old. No, really. It does not make sense on the surface, but it certainly tracks when you think about how long he has been famous. Reeves has been in the business since 1985 and a known name since 1989's "Bill and Ted's Excellent Adventure." Reeves has appeared in pretty much every genre, but much of his later work has been in action franchises like "The Matrix" and "John Wick." These movies have allowed his popularity to surge to the extreme, and even earned him the title of "The Internet's Boyfriend" because of his increased visibility. For instance, In 2019, Paper wrote, "'Lonely' Keanu Reeves Is the Internet's Latest Thirst Obsession," while Time published "Keanu Reeves Is the Best Internet Boyfriend. Here's Why."
Even if you don't buy that he is the Internet's soul mate, you probably agree that Reeves is a bonafide zaddy. People's article, "The 15 Hottest Keanu Reeves Throwback Photos to Ever Exist on the Internet," proves he has the good looks, and if you have seen him onscreen or even in an interview, you know Reeves also has the self-assurance required of a zaddy. Another thing he has is great style, at least according to expert fashion mags. Finally, one Marie Claire article from 2019 listed Reeves's "sexual aloofness" and "renegade charm" as evidence of his hotness — and we cannot dispute that part of his allure comes from his general nonchalance and low-key vibe.
Liam Neeson is still a zaddy action hero
Liam Neeson was born in 1952, but you would not know it from the way young fans gush over the movie star. And sure, he is a senior citizen, but he is also handsome, charismatic, and sexy — all things we expect of a prime zaddy. Neeson has had a long and acclaimed Hollywood career, but he seemed to enter a new era with 2008's "Taken." Since then, he has become a full-on action hero, appearing in movies like "The Grey," "A Walk Among the Tombstones," and "The Commuter." One needs swagger to play an action hero so convincingly, and that is something Neeson has in excess.
Then again, anyone would probably walk around with confidence if they were known for having one of Hollywood's biggest members, as noted by The Sun UK. As far as rumors go, that is not a bad one to have follow you around for decades. Beyond that, there are plenty of other reasons why Neeson is a sex symbol, just do not expect him to agree. "I don't think that I am a sex symbol, although it's very flattering. I'm 59, now, so I think I'm possibly past my sell-by date," Neeson told the Independent in 2012. More than a decade later, that expiration date is nowhere to be found. In 2020, Neeson was named the world's third sexiest 60+ actor in a poll by OnBuy.com, and he looked great in a 2022 cover shoot for AARP magazine.
Lenny Kravitz is the zaddiest rock star of his generation
Lenny Kravitz is another one of those zaddies whose actual age is almost hard to believe based solely on the photographic evidence. After all, the rocker looks just as good now as he did when his first studio album came out in 1989, and his sexual magnetism has not faded in the slightest. He has been named one of Harper's Bazaar's "50 Hottest Men of All Time" and inspired lust-filled photo galleries from many outlets. Kravitz also blesses us with many a thirst trap, be it him shirtless and cutting a coconut or completely nude in a crystal-blue body of water. Even celebrities are smitten with Kravitz — for instance, B. Scott labeled Kravitz a zaddy on Instagram, and Jennifer Coolidge gushed about his sexiness in a red-carpet interview.
Beyond his killer looks, Kravitz has the confidence and sexual allure needed of a prime zaddy, both of which he expertly couples with a truly unique sense of style. His fashion sense has been praised by everyone, and Esquire even called him a "King of Style" in 2021. American Vogue referred to him as a "menswear icon" the following year, which is around the same time that Kravitz was awarded the CFDA Fashion Icon Award, given out by The Council of Fashion Designers of America. Kravitz told Square Mile that he does not see himself as a sex symbol, but he might be the only one.
John Stamos is still one mighty fine zaddy
In "Full House," John Stamos' character Uncle Jesse used to groan "have mercy" whenever he was turned on — a catchphrase that Stamos says was inspired by the song "Pretty Woman." And honestly, "have mercy" is exactly what we want to groan whenever we see Stamos on screen or in a photo, because the man's hotness is palpable and undeniable. Born in 1963, Stamos remains as sexy as ever, thanks in large part to his sculpted jaw, amazing cheekbones, and cute smirk. And then there's the hair, which is still lush but thankfully no longer shaped in a mullet. Stamos has understandably been included on lists such as Harper's Bazaar's "50 Hottest Men of All-Time," and in 2020, was voted "Sexiest Zaddy" in a People reader vote.
Across the web, you can find galleries upon galleries of Stamos's sexiest photos, oftentimes referencing how well the zaddy is holding up. Take Good Housekeeping's "42 Photos of John Stamos Through the Years That Prove He Hasn't Aged a Minute," for example. You can also find plenty of thirst traps, which are typically so hot that they get picked up by many outlets. Stamos also has that coolness factor that is tough to fake, and he dresses in a way where he comes across as elegant and suave but not like he is trying too hard. Stamos's "thirst tweets" video from Buzzfeed Celeb proves he still has that special zaddy something.
Mark Ruffalo is a full-hearted activist zaddy
Mark Ruffalo is the best kind of zaddy, because not only is he sexy as heck but he is also intelligent and caring. An activist, Ruffalo is co-founder of The Solutions Project, which focuses on clean energy and environmental justice. Amongst other things, he has also spoken out to support women's reproductive rights, LGBTQ+ equality, access to education, and police brutality against people of color. While Splinter News labeled Riz Ahmed a "Social Justice Zaddy," we think Ruffalo deserves that same title. After all, according to Salon, Ruffalo is "the thinking woman's sex symbol" — though, we'd like to think Ruffalo would make that statement more inclusive and change "woman" to "person."
Beyond his activism, Ruffalo has earned the label zaddy because of his charming, almost goofy personality in combination with an especially adorable smile and a scruffy casual but very sexy vibe. When he posted a photo of himself in the bathtub, popular parody Instagram account officialseanpenn wrote, "is it weird that I would cut off my own finger to drink a bottle of zaddy mark ruffalo's bath water??" That's not a one-off kind of sentiment either, as we learned from Ruffalo's Buzzfeed Celeb "thirst tweets" video. And like most of the zaddies on our list, Ruffalo has been the subject of many sexy galleries, such as PopSugar's "Try to Keep Your Cool as You Look at These Insanely Sexy Mark Ruffalo Pictures," and style articles, like Esquire's coverage of one of his casual airport outfits.
Stanley Tucci is a sophisticated dreamboat zaddy
Sure, Keanu Reeves was the Internet's lover first, but Stanley Tucci has also earned the title "Internet's boyfriend," according to Esther Zuckerman's book, "A Field Guide to Internet Boyfriends." "Tucci represents a whole subset of Internet Boyfriends who are not your typical heartthrobs," Zuckerman writes. "With the rise of daddy and zaddy culture, offbeat types like the Tooch are finally being appreciated the way they should be." And Tucci is indeed being celebrated, with articles like Buzzfeed's "Stanley Tucci Is Insanely Hot In 'Easy A' And We Need To Talk About It" and Paper's "The Internet Is Horny for Stanley Tucci's Negroni Tutorial."
Paper's headline is a reference to a video Tucci posted on Instagram, which also got raves from eTalk, who called him a zaddy in their headline. It is a term Tucci should be used to, since he pops up on many lists of zaddies including one in Fashion magazine that also mentions his "infamous negroni." Tucci has an air of sophistication that people really enjoy, including in the way that he dresses. His style has been praised by just about every media outlet, but GQ Australia's "An ode to Stanley Tucci's irreverent style" is perhaps the most thorough overview of the zaddy's incredible taste in clothing and accessories. Tucci may be confused by his sex symbol status — "It's wonderful. I don't get it, but I'm very glad," he told People — but we are not perplexed in the slightest.
Anderson Cooper is a serious journalist and also a zaddy
There are other TV journalists who fit in the zaddy category, but perhaps none more so than Anderson Cooper. Cooper is handsome, fashionable, and classy — all qualities needed to be a zaddy. He also has a natural cockiness to him, but it never comes off as arrogant so much as someone who simply knows they are smart and talented. Let's start with his physicality, which is anchored by his trademark white hair and fair skin. He probably never envisioned it when he started getting white hairs at age 21 (as he told Wired in a video), but Cooper's hair has earned him "silver fox" status.
"I see myself as when you lift a rock and see a salamander who has not seen the light of day — that's how I view myself," Cooper once told People. "My silver hair is not something I'm all that thrilled about, but I know others seem to like it." This was in 2017, when Cooper made the magazine's "Sexiest Man Alive" list, and not much has changed in terms of this zaddy's allure. Though we rarely see Cooper in casual wear, let alone in the buff, his few shirtless photos out there on the web — like one his bff Andy Cohen posted on a vacation in 2020 — show that he has quite the hot physique under the suits and ties. Speaking of suits and ties, Cooper's fashion sense has been lauded, which is entirely unsurprising given that his mother was socialite fashion designer Gloria Vanderbilt.
Robert Downey Jr. is a quirky and fun zaddy
Robert Downey Jr. has been acting since he was a child, and he has been a household name for more than three decades. He had his personal and career ups and downs in his younger years, but he's currently riding a big high that started in the early aughts and has made no indication of stopping anytime soon. In his late 50s, Downey Jr. is more famous than he has ever been — thanks in large part to his role of Iron Man in the Marvel Universe — and he is also sexier than he has ever been. He still looks hunky, and he has the swagger of his younger years without the overconfidence and self-importance (or jail time).
Downey Jr. is a true sex symbol, as has been acknowledged by many mags. We love his sarcastic sense of humor and tendency toward self-deprecation, as well as his weird but still stylish fashions. He did not always dress well — that is clear from a GQ article that traces his style transformation through the years — but he is now one of the better dressed Hollywood men in his age range. Downey Jr. is not afraid to take a risk, and though his eccentric choices do not always work from a sartorial standpoint, he always pulls them off because of his unwavering self-assurance. He has even made something as throwaway as sunglasses a trademark, causing sites to write whole articles on his shade choices.
Denzel Washington is a zaddy whose appeal hasn't faded
Denzel Washington was a massive sex symbol in the 1980s and 1990s, and he is still one today. In fact, because of how great he looks, many people may not realize that Washington is nearing 70. He is living proof that age does not define one's hotness, and that guys can hold onto their swagger well into their senior years. Perhaps the secret is not taking all the hype to heart, which Washington told People he does not do upon his naming as 1996's "Sexiest Man Alive." "I don't take myself too seriously," he said back then. "I don't stop in the mirror and go, 'Hey, Sexy Man.'" No one would blame him if he did, though.
Washington has made many other lists over the years, including Harper's Bazaar's "The 50 Hottest Men of All Time," and his sexiness has been celebrated for decades now. Variety has called him "an ageless sex symbol," while the South Florida Sun-Sentinel once named him "a thinking woman's sex symbol." You can find galleries of hot photos of the star in various outlets, most of which highlight his muscled torso, winning smile, or both. Washington has been on the cover of Men's Vogue, and his 1990s fashions have been equally celebrated. He has even earned praise for what GQ has called his "dad style" and what British Esquire named his current "dadcore" look.
Jeffrey Dean Morgan is a sexy bearded zaddy
Jeffrey Dean Morgan won fans' hearts when he appeared as ailing Denny Duquette on "Grey's Anatomy," and he has never let them go in the years since. He has become quite famous due to his work in projects such as "P.S. I Love You" and "The Walking Dead," and has been labeled a sex symbol by many. With his cute dimples and sexy smile, the man has always been a stone-cold hottie, but now that he has some gray hair and a matching graying beard, he is very much a silver fox. In 2017, People magazine named him one of their "Hot Hollywood Guys Who Are Dads" as part of their Sexiest Man Alive issue, and the next year, PopSugar put Morgan on a list of "Hollywood Dads Who Are Also Total Daddies."
Because he did not find mainstream success until his 40s, Morgan already had that zaddy confidence and coolness to go along with his attractiveness by the time he made it big. Still, the idea that he could be a sex symbol seemed like a foreign concept to him, even after "Grey's Anatomy." "I didn't know I had any sex symbol status and I'm not really comfortable with the term but I'll take it and I thank you for bringing it up," he said in a 2010 interview with Metro UK. Morgan has had over a decade to get used to his heartthrob status, so let's hope he is cool with it now.
Zaddy Dylan McDermott needs to share his youth potion
It still astonishes us, but actor Dylan McDermott is a baby boomer. Yup, that sexy hunk who heats up the screen any and every time he appears is somehow in his 60s, despite the fact that he could pass for a minimum of a decade younger (if not two!). No wonder he makes lists like Goliath's "15 Celebrities Who Don't Age And Are Probably Vampires" on a semi-regular basis. The sizzling zaddy can play both heroes and villains with ease, because the sexual allure and cocky self-assurance he brings to his characters remains consistent no matter if he is playing a detective in "Stalker" or a rich criminal in "Law & Order: Organized Crime." It's not for show, either, as McDermott has proven to have tons of bravado and charm offscreen as well.
McDermott started acting in the late 1980s and his fame skyrocketed with "The Practice" in 1997, but it was not until "American Horror Story: Murder House" that the world noticed his full zaddy potential. Photos of McDermott shirtless and holding a baseball bat float around the Internet — it is the number one photo on Ranker's list of his hottest ones — and the nude scenes he filmed for the show are ingrained in many memories. McDermott himself even noticed the emphasis on his butt when he read "thirst tweets" for a Buzzfeed Celeb video in 2020. We have to mention McDermott's style, too, which includes lots of all-black outfits, dark suits, and especially leather jackets – so simple, yet so sexy.
John Corbett is the zaddy that Sex and the City fans deserve
John Corbett is another Hollywood hunk whose looks, vibes, and behaviors make it hard to fathom his boomer status. But, yup, Corbett is in his 60s, and he still looks darn good. Corbett is so sexy that he can appear in a teen romance and completely steal the show, appealing to a whole new generation of fans and causing headlines like Oprah Daily's "John Corbett Is the Real Heartthrob of To All the Boys I've Loved Before." He is so sexy that can be cast as Hillary Duff's love interest on "How I Met Your Father" despite being old enough to be her father — and yet, we totally get it. He is so sexy that, well, just look at that shirtless selfie Nia Vardalos posted from the set of "My Big Fat Greek Wedding 2."
Corbett became famous when he appeared as Carrie Bradshaw's sweet boyfriend and eventual fiancé Aiden Shaw on "Sex and the City," and fans were quite disappointed when his character did not show up in Season 1 of the sequel series "And Just Like That…". According to the New York Post, Corbett's character will be back in Season 2 of the show (as of this writing) and we can expect at least one kiss between Aiden and Carrie Bradshaw. We are excited, because Aiden is the zaddy that Carrie deserves (or better, depending on who you ask), and Corbett is the one that fans want. He has charisma, confidence, and sensualness — plus, he can rock a pair of tighty whities.
Sylvester Stallone is proof that zaddiness has no age limit
Sylvester Stallone is not a young man. In fact, in his mid-70s, he is the oldest man on our list. But when you got it, you got it, and Stallone has that special something in spades. He may not look exactly like he did in "Rocky," or even "The Expendables," but the man still looks darn good. Headlines like Daily Mail's one in 2019, stating, "Sylvester Stallone, 73, is still a Hollywood heartthrob as he steps out with his daughter Scarlet, 17," are no joke, as Stallone remains a bonafide sex symbol. When his 2022 show "Tulsa King" made its debut, even Slate ran a story about Stallone's attractiveness, despite also saying he looks "a little like a melting candle."
We won't jump on the candle bandwagon, but we will agree that Stallone looks great. He has clearly had plastic surgery, but it is not overdone to the point where he doesn't look like himself — and that self has always been a stunner. The ultimate 1970s and '80s (and beyond) action star, Stallone was already sexy when he made the "Rocky" and "Rambo" movies, but he was probably at peak hotness between the time of "Tango & Cash" and "Daylight." While his body is jacked, it's the confidence and charisma oozing out of every pore that has kept Stallone in the zaddy category. He also has surprisingly good fashion instincts, as noted by various men's sartorial mags.