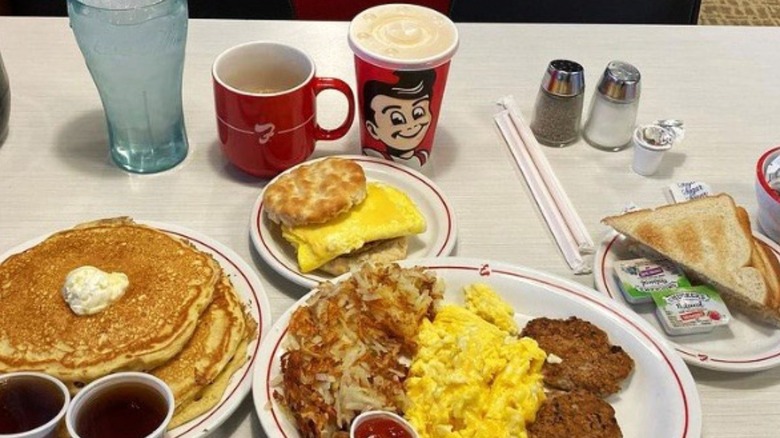 Although known for its burgers, Big Boy's hidden gem may very well be its extensive and indulgent breakfasts. Yet, your selection will depend on the restaurant's location. While you'll find that some have a more limited menu with traditional offerings, you will notice that others are capitalizing on the popularity of brunch with a breakfast bar and dishes that rival those at more upscale eateries.
Be aware that not only are not all Big Boy's created equal when it comes to breakfast, but this chain has gone through some changes over the years. According to the Washington Post, what started as a California burger joint back in 1936 became heavily franchised in the early '50s, before it was purchased by Marriott in 1967; the hotel chain eventually divested its franchised locations. The American Business History Center reports that the brand eventually morphed into two separate entities — Frisch's Big Boy, which owns the restaurant trademark and name in Kentucky, Indiana, and large portions of Ohio and Tennessee, and Liggett Restaurant Enterprises LLC, which owns Big Boy franchise rights in Florida, Texas, Oklahoma and Kansas.
Some Big Boy restaurants have opted in favor of a fast casual format
Who says a restaurant can't change its stripes, or service structure in Big Boy's case? In an effort to boost sales and traffic, a Detroit-area Big Boy's restaurant upgraded, going from a buffet-style format to fast-casual, emulating successful and more contemporary brands such as Panera. According to Restaurant Business, under the direction of Big Boy Restaurant Group co-owner and CEO David Crawford, the chain "grew up" when it debuted a new protype in the summer of 2019 that included a more substantial breakfast menu.
In addition to the classics, such as eggs and bacon, waffles and pancakes, you have your choice of more upscale dishes, such as steak with country sausage gravy and a side of eggs; four types of omelets; three hearty egg scrambles; and Southern fare including chicken and waffles and biscuits and gravy.
If you are a morning person with a heartier appetite, there's no doubt your hunger will be well satiated and tastebuds satisfied with the Blockbuster, which includes two eggs, two strips of bacon, two sausage links, hash browns or fruit and a choice of toast, hotcakes or biscuits. There's almost no morning favorite missing here. The chain also offers a range of senior selections including a smaller portion of pancakes, French toast and eggs, each with a choice of bacon or sausage.
Big Boy's nighttime breakfast bar has something for everyone
Have you ever had a hankering for breakfast for dinner or found yourself searching for an evening breakfast buffet? In the summer of 2016, those lucky enough to live by Frisch's Big Boy restaurants in Louisville could treat themselves to a "brupper" a moniker created by then CEO Jason Vaughn, according to FSR. First tested only in this location before being expanded to the chain's Lexington, Kentucky. and Ohio's Dayton, Cincinnati, and Columbus sites, the menu focused on Big Boy's fresh offerings, including house-made sausage, egg-battered French toast and fresh-baked biscuits.
Offering breakfast for dinner is nothing new, but it's not as widespread for fast food restaurants or burger-centric eateries. But maybe it should be. It turns out that 69% of Americans surveyed by OnePoll, UK, enjoy breakfast for dinner, reports Refrigerated Frozen Foods. This doesn't mean that breakfast for dinner always works well. You may remember that McDonald's had to pull its all-day breakfast menu during the pandemic due to operational inefficiencies, according to QSR Magazine. Meanwhile, brupper appears to still be going strong on Wednesdays at some Big Boy locations.
Farm fresh ingredients are a hallmark of one Big Boy restaurant's breakfast
There is no disputing that many people are looking to eat better, and the popularity of farm-to-table restaurants and ingredients are further proof of this growing trend. Chances are you are one of many who want to know where your food is coming from. And there are many other benefits to local ingredient sourcing, reports marketing group Next Restaurants, most notably the sustainability or environmentally friendly aspect.
According to Detroit business journal DBusiness, Big Boy restaurants in Michigan are capitalizing on locally sourcing ingredients, with its fresh meats, bread, and produce purchased from Detroit's Eastern Market as well as suppliers in the nearby city of Hamtramck. With breakfast the most popular meal in this state's Big Boy locations, you have a choice of dining in and customizing your meal with a wide choice of favorites from the extensive breakfast buffet or, if you're in a rush or just passing by, you can take the food to go. It's this versatility, along with the wide range of a.m. options, that have driven out other breakfast-centric chains from the region and made Big Boy's mark on the morning day part.
Big Boy's brunch buffet is a popular alternative to the plated menu
There is much evidence that brunch is trending, and why not? It has something for everyone, you definitely will not walk away unsatisfied and, if you're a big eater, you benefit, as it offers a good value for the dollar. That's nothing to sneeze at with today's inflation. Surprisingly, brunch has been around since the late 1800s, with the word, a combination of breakfast and lunch if you weren't aware, coined by a British writer. In Big Boy's case, its brunch buffet has been a popular addition at the Frisch's location. You're in luck if looking for breakfast at any time of the day, however not when it comes to the breakfast bar, which is only available on Saturdays and Sundays.
You'd be hard-pressed not to find your favorites in this smorgasbord of a breakfast bar. Along with the ubiquitous eggs, bacon, sausage and pancakes, you can indulge in more atypical items like churros, French toast sticks and goetta — a German sausage made of meat and grains. There are plenty of enticing components that encourage you to get creative with breakfast concoctions, such as tortillas, pickled onion, sweet potatoes, cheese sauce and caramelized pepper. Breakfast taco, anyone?
Big Boy's breakfast is more popular in some states than others
Although breakfast and brunch are quite popular at many Big Boy locations, specifically those located in Michigan where the offering is more extensive, according to Food Chain magazine, not all of its restaurants are seeing the same success with brunch and breakfast bars. Specifically, in California, it's still the Big Boy burgers that reign supreme. You'll find this to be the case at the very retro Bob's Big Boy. The oldest in the now fractured chain, (you'd swear you were transported back in time to the '50s) it was established in 1949 and is an offshoot of the original.
You'll find that this location's breakfast menu, while still pretty extensive, is limited to plated items as opposed to also being offered in a buffet setting. Yet, you can still enjoy the standard favorites — eggs and bacon, pancakes, French toast, waffles and even steak and eggs. There are a few departures though, that are highly recommended, namely the much-coveted ham steak, corned beef hash and, if you are among the growing number of diners seeking breakfast on the run as Fortune Business Insights reports, a breakfast sandwich and breakfast burrito.
You can have a burger designed for breakfast at some Big Boy locations
In the competitive restaurant breakfast wars, which has only intensified since the pandemic, according to QSR Magazine, restaurants have had to get creative to entice customers in the morning hours. Have a hankering for a burger for breakfast but still want your eggs, sausage and bacon? Big Boy had that covered back in 2019.
According to the Cincinnati Enquirer, the Breakfast Boy debuted in 2019 at Big Boy's Ohio locations. It piggybacked off the brand's two other new burger launches — the Farmhouse Boy with a quarter pound of beef, a fried egg, bacon and tartar sauce, and the Deluxe quarter pound burger with cheese, pickle, tartar sauce, lettuce and tomato. If you're looking for an a.m. twist, you'll find it with the Breakfast Boy, which has a morning-friendly sausage patty replacing the beef, in addition to a fried egg, bacon, tartar sauce, cheese, lettuce and pickle.
Big Boy's offering was definitely a unique take on the popular breakfast sandwich, which is now offered by around 10% of restaurants, according to a report by Tastewise. While these items typically include croissants, biscuits or English muffins are carriers, Big Boy set itself apart with its bun, and you'll find it better simulates a traditional burger.
Big Boy locations with drive-thru burritos provide portable breakfast solutions
More of us are stretched for extra time and seeking portable breakfast options in the a.m. hours. That has led to an increase in drive-thrus providing us with hand-held breakfast items that can be easily eaten on the go, according to Nation's Restaurant News. Although not all Big Boy's have drive-thrus or breakfast items that are easy to transport, those that do are gaining steam.
At Frisch's Big Boy's Ohio, Kentucky and Indiana sites, drive-thru orders account for 30% of its sales, reports Business Wire, not an insignificant amount by any means. When introducing its new portable breakfast burritos back in 2016, you would score a free coffee with your drive-thru purchase, an enticing promotion that many took advantage of. Yet, the chain noted that, according to its survey, 70% of its customers would order a traditional burger for breakfast. That number revealed that 82% of men versus 58% of women would go this route.
Keeping burgers on morning menus as a portable option is not unique for fast food chains; if you're a late shift worker, chances are you may grab a burger on the way home from work, even in the morning, according to the New York Post.
Despite the popularity of portable food, Frisch's Big Boy burritos are no longer found on its breakfast menu. However, Bob's Big Boy in Burbank, California has these available.
You can have Big Boy's breakfast buffet on Christmas if you live in northern Michigan
If you don't relish cooking up a storm on Christmas morning and would rather take the easier route by going out after the presents are distributed and unwrapped, there are options. If you live in northern Michigan, Big Boy can do the heavy lifting for your holiday breakfast. Open from 7 a.m. till noon, the breakfast buffet is a good option not only if you don't want to deal with cooking and dirty dishes but also if you have picky kids or other family members looking for variety. Considering the restaurant staff has touted the popularity of the breakfast buffet on Christmas morning, there are many who fit into this category.
This may be why an increasingly growing number of restaurants, including quick service, fast casual and even full-service eateries are open on Christmas to serve the masses, according to Newsweek. Although many of these are relegated to dinner hours, the fact that they are open at all on a day when most everything shuts down proves that there is opportunity — both for restaurant operators like Big Boy and for you when you don't feel like cooking on a holiday.
Some Big Boy restaurants no longer offer breakfast sandwiches
In 2017, according to the Dayton Daily News, the Cincinnati Big Boy introduced limited edition breakfast sandwiches, most likely as a way to test the waters in adding to its a.m. menu. The Primetime Breakfast Sandwich combo included eggs, American cheese and a choice of breakfast meat for just $5.99. Whether it wasn't a big seller or was not meant to ever be permanent, this morning offering is no longer on this menu as an option. This may be because of the continued focus on its signature Big Boy Breakfast sandwich, which has more of a burger format since it includes a traditional bun. However, those visiting the Bismark, North Dakota restaurant are in luck, as breakfast sandwiches are available here.
Although not always a staple on fast food menus, breakfast sandwiches have been around since the late 1800s, becoming popular in the '50s and '60s, according to The Huffington Post, which touts its beginnings in fast food with McDonalds adding it to their menu in 1972. You can see that it has now earned a coveted spot as a breakfast offering for the majority of eateries today.
You won't find breakfast at Big Boy restaurants in Japan
If you find yourself in Japan, not only will you find that its Big Boy restaurants are devoid of breakfast items, but you'll quickly notice that the chain's signature burger also is not an option. Instead, you can pick from hand-kneaded hamburger patties sans bun, grilled chicken, steak and bone-in pork. Sides are limited to fries, baked potato and broccoli. If you're seeking local fare, its Light Meal menu will be more your speed with its beef stew omelet rice with fluffy egg, Western-style demi-glace omurice and pepperoncino with seafood, among other dishes.
If Big Boy restaurants in Japan did offer traditional breakfasts, you would not find American fare such as eggs with bacon, pancakes, waffles, omelets or French toast. Rather, your choices would include rice, miso soup, pickles and natto, (a traditional Japanese breakfast dish made of fermented soybeans) according to Japan-Guide.com.
Despite the lack of breakfast menus at Japan's Big Boy restaurants, this meal is important to the Japanese, with 80% surveyed stating that they eat breakfast every day, according to a report by Savor Japan and the Macromill Group. Interestingly, a survey by Kellogg's found that only 34% of Americans ate breakfast daily.