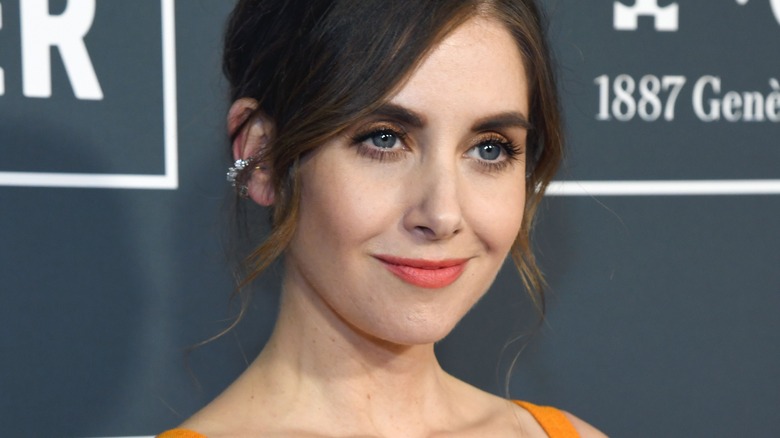 Few actors are more effervescently themselves than Alison Brie has been throughout her career. The actress burst onto the scene pulling double duty on AMC's "Mad Men" and NBC's tumultuous sitcom "Community" throughout the late 2000s to the mid-2010s. These roles helped Brie become a household name and showcase her incredible range as an actress capable of both prestigious drama and outlandish comedy. Once those shows ended, Brie would continue to surprise audiences with her career trajectory.
What could've been a simple, Steve Carell-esque transition from TV sitcom star to top billing in movies wasn't the case for Brie. She opted instead to take a more unconventional route, pursuing projects that felt unique to her as a performer rather than the ones that would garner the biggest box office draw. She soon headed back into TV to star in the Netflix series "GLOW," which garnered her some long-overdue award nominations.
Brie's career has only continued to move in unexpected directions, especially in the past few years as she's dived into screenwriting and directing. With "Somebody I Used To Know," Alison Brie demonstrates that she has become a much different performer than she was back in the "Mad Men" and "Community" days — but at the same time, she's different in a way that makes her more authentically herself than she ever has been.
Alison Brie was set free during her time at CalArts
Alison Brie Schermerhorn was born for the entertainment industry, having grown up in Hollywood during the '80s and '90s. During her high school years, Brie worked as a birthday clown while pursuing her dream of becoming an actor. She eventually attended the California Institute of the Arts, also known as CalArts, majoring in theater. Since the school was a performing arts school, Brie ended up experiencing quite a different college education than most young people are used to.
In between her classes on Tai Chi and clowning, Alison Brie's college years were a time of sexual exploration, as she described in an article for Nerve recounting such experiences. As Brie described in the article, which Vulture notes was also performed by Brie on-stage at Upright Citizens Brigade, at CalArts, "clothing was optional everywhere but the cafeteria." For Brie, college was an opportunity for her to experiment with not only her sexuality but with her willingness to try new things.
Alison wouldn't have to wait too long between graduating from CalArts and landing her first gig. She teamed up with a manager and agent after performing in a play during college, going in for auditions while also pulling odd jobs like yoga studio receptionist and student film actor. Eventually, her theater experience landed her an audition for a new show on AMC that would become her first big break.
A recurring role on Mad Men puts her on national television
In 2007, Alison Brie made her first prominent debut in the AMC series "Mad Men." The series, which ran for seven seasons between 2007 and 2015, starred Jon Hamm as the now-iconic advertising executive Don Draper who is as successful as he is elusive. Brie plays Trudy, the wife of Pete Campbell, an employee of Draper's played by Vincent Kartheiser. Though Brie's role was a supporting one throughout the series, she nevertheless drew the audience's attention as Pete's uptight and morally conscious housewife.
In 2009, Brie won a SAG Award for being part of the series' ensemble, but the role wasn't always a guaranteed success. Initially, the part was a guest appearance, so Brie didn't have the utmost confidence that it would be the big break it was for her. Nevertheless, Trudy was kept on the show in a recurring role, which gave Brie the credibility of being on one of the biggest shows AMC's ever had. As she told NPR, working on "Mad Men" was a privilege, even though she initially believed no one would watch it.
Years later, Alison Brie looks back fondly on "Mad Men" as a huge learning experience in terms of acting on-screen. She told Entertainment Tonight as much in 2022 while commemorating the series' 15-year anniversary — although she is skeptical of a reboot's chances.
On Community, Brie plays a type-A student whose life went off the rails
While "Mad Men" was quite a high for Alison Brie, she'd continue to rise in Hollywood after getting cast in NBC's "Community" in 2009. The sitcom was created by Dan Harmon and follows an arrogant ex-lawyer (played by Joel McHale) who attends community college to regain his law degree, where he befriends a group of misfit outcasts after forming a Spanish study group. Alison Brie plays Annie Edison, an 18-year-old type-A student who succumbed to an Adderall addiction and has become estranged from her family prior to enrolling in Greendale.
Though Annie initially played second fiddle to characters like Gillian Jacobs' Britta or Chevy Chase's Pierce Hawthorne, Annie quickly became a fan-favorite character amongst early audiences of the show. By the time Season 1 ended, Annie became a big centerpiece of the show's drama, sparking a "will-they-won't-they" relationship with McHale's Jeff Winger.
Despite spending most of her career up to that point doing dramatic work, turning to a sitcom was a natural fit for Alison Brie. She quickly bonded with the rest of the cast, including her trailer buddy Danny Pudi, as she explained to Vulture.
Alison Brie pursues movies after her success on TV
Both "Mad Men" and "Community" became great entries on Alison Brie's growing entertainment resume. Around the same time, the actress was scouted for several film projects. Though Brie made her film debut in the disturbing 2007 film "Born," Brie's first major film role was in the 2011 horror sequel "Scream 4." There, she partnered with franchise veteran Neve Campbell and becomes a victim to one of the franchise's best kills.
Some of Alison Brie's subsequent work would be more in line with her future, more center-stage performances. The 2012 film "Save the Date" finds her playing Beth, the sister to Lizzy Caplan's Sarah, who becomes engaged to Andrew, played by Martin Starr, while Sarah's life slowly and methodically falls apart. Vulture called the film "a charming romantic comedy, but it's a kind of horror movie, too," for its examinations of modern-day romance and commitment. Brie's other romantic comedy appearance in 2012 would be a much more optimistic view of love.
In "The Five-Year Engagement," Brie plays a similar role to hers in "Save the Date" as the newly-wed sister of Emily Blunt's Violet. The role required Brie to perfect a British accent to sound alike to Blunt, though in an interview with The Hollywood Reporter, Brie also commented that she tried to mimic Emily Blunt's speech patterns to make the two characters seem like authentic sisters.
Brie takes ownership of Annie's maturity as Community continues
As the years went on, Alison Brie's prominence in "Community" remained steady, though the show's survival was almost always in question. Season 3 was marred by controversy after NBC pulled it from their mid-season line-up, along with a highly-publicized behind-the-scenes feud between Chevy Chase and series creator Dan Harmon that led to Harmon's firing prior to Season 4. Thankfully, Harmon was rehired for Season 5 after Chase was fired for another on-set incident.
Season 5 of "Community" also marked a big change for Brie's role as Annie Edison. Following the graduation of the study group in Season 4, the group returns to Greendale to form the Save Greendale Committee to fix many of the school's various issues. After a brief, ironic stint at a pharmaceutical company, Annie re-enrolls in Greendale to study criminology. It was an important decision for Brie — as well as Harmon — that Annie's drive and maturity would be reflected in this big change.
While discussing Season 6 in a Q&A before its debut on Yahoo! Screen (NBC had pulled the plug after Season 5, with Yahoo! quickly reviving it), Brie mentioned how starting with Season 5, she and Harmon made sure to represent Annie's growth from being represented as a little girl in previous seasons. An important visual representation of this is seen in her wardrobe, as Annie trades in her skirts for pants in Season 5.
Brie stretches her acting talents with voice acting opportunities
While audiences were getting used to seeing Alison Brie all over their TV screens, the actress also began exploring her talents in voicework by 2014. That year, she voiced the character of Princess Unikitty in the animated "The Lego Movie." Princess Unikitty was a stand-out character in the film and the perfect vehicle for someone like Alison Brie. Similarly to early depictions of Annie in "Community," Brie described the character to ScreenSlam as having "quite a temper."
However, Brie's best known voice acting gig during this time period was her role as Diane on Netflix's animated sitcom "BoJack Horseman." The series follows the title character, a fading actor played by Will Arnett, and Diane is hired to ghost-write his comeback autobiography. For an animated series, it's quite a deep role for Brie, who plays a character battling depression, coming to understand generational trauma, and experiencing divorce over the show's six seasons.
Though the character of Diane was beloved by fans, the role is not one of Alison Brie's proudest in hindsight. In 2020, during a wave of white actors being called out for voicing people of color in animated shows, Brie took to Instagram to apologize for playing Diane, a Vietnamese-American character.
Alison Brie and Jason Sudeikis play complicated friends in Sleeping with Other People
While the early 2010s saw Alison Brie playing a supporting role in several romantic comedies, the actress would make her transition to potential rom-com star with the 2015 film "Sleeping With Other People." The film was written and directed by Leslye Headland, who told Elle she sought to make a movie about sex addiction which ended up turning into a "When Harry Met Sally…"-type rom-com. The resulting movie starred Brie and Jason Sudeikis as former flames who reunite as adult sex addicts and commit to a platonic friendship as they try to overcome their various issues.
Brie's character, Lainey, finds herself still obsessing over her now-married college crush, Matthew, played by Adam Scott. Through her friendship (and reluctant flirtations) with Sudeikis' Jake, Lainey becomes more open to seeing other people while continuing to deny her growing feelings for her close friend. By the movie's end, Lainey and Jake forego their insecurities to embrace a real, romantic relationship with each other.
"Sleeping with Other People" was released a year before "How to Be Single," another film starring Alison Brie as a single woman trying to plan out her romantic future. In an interview with Independent about playing single characters, Brie commented that she felt the films were easy for her due to being engaged at the time to actor Dave Franco, which was a feeling felt mutually by Sudeikis, who was also dating Olivia Wilde at the time.
GLOW becomes the role Alison Brie was born to play
Alison Brie wasn't keen on returning to TV so soon after the ends of "Community" and "Mad Men." However, when she came across the pilot for "GLOW," a Netflix series centered on the fictional cast and creators of a real-life mid-80s women's wrestling show, Brie was determined to nab the lead role of Ruth Wilder. However, Netflix executives weren't sold on Brie, with her having to audition several times for the part including a screen test with Betty Gilpin, who had been auditioning for the role of Debbie.
Brie described this arduous casting process to Sam Jones in an interview, although she would eventually land the role. Season 1 of "GLOW" centers strongly on Brie's Ruth, a down-on-her-luck actress who stumbles into the cast of the wrestling show led by director Sam Sylvia (Marc Maron). However, Ruth's work life is complicated when her best friend and fellow wrestler Debbie, played by Gilpin, discovers her affair with her husband Mark (Rich Sommer), making their TV show rivalry all the more realistic.
The show's first season received rave reviews, with IndieWire calling Gilpin and Brie's performances "the spirit of 'GLOW'," while The Hollywood Reporter praised Brie specifically for her "strong, ego-free performance" across the series' first 10 episodes. Season 2 received even better reviews, particularly for a scene that audiences found reminiscent of the #MeToo movement that centers on Brie's character.
Alison Brie shares the screen with her husband
While Alison Brie was enjoying plenty of success in TV and movies, she was also dating and eventually marrying fellow actor Dave Franco, who she met in 2011. The two didn't take long to begin acting together, making their official debut in a raunchy Funny or Die video titled "Dream Girl" in 2013. Soon enough, the two starred in two movies together in 2017, the same year they got married.
The first of their 2017 collaborations was "The Little Hours," a comedy based on the 14th-century text "The Decameron" with entirely improvised dialogue. Franco plays Massetto, a fugitive who is taken in by a convent, where he becomes the object of desire for three foul-mouthed nuns played by Brie, Aubrey Plaza, and Kate Micucci. While Plaza's Sister Fernanda has raunchy feelings for Massetto, Brie's Sister Alessandra, appropriately, falls in love with him, letting the two actors' real-life chemistry shine on screen.
"The Disaster Artist" was similarly an easy shooting experience, as Brie told Hello Giggles. The film is based on a book by Greg Sestero recounting the making of "The Room," what is considered one of the worst films ever made. Franco plays Sestero alongside his brother James Franco, who appears as the eccentric director and star Tommy Wiseau. Brie plays a bartender named Amber who becomes Sestero's girlfriend, though their relationship is strained due to Sestero's friendship with Tommy.
In 2020, Alison Brie transitions from actor to screenwriter
Alison Brie's aspirations would only grow as the years went on. As she continued her mainstream success with "GLOW" heading into Seasons 2 and 3, Brie also made a surprising transition into screenwriting. In January 2020, "Horse Girl" debuted at Sundance Film Festival, which she co-wrote with Jeff Baena, who also directed. Brie also starred in the film, which is quite a departure from her usual work. While she made a name for herself in comedy and comedy-adjacent projects, "Horse Girl" is a mind-bending psychological drama.
Brie plays Sarah, a crafts store employee who begins experiencing vivid dreams that bleed into her reality. Eventually, Sarah comes to believe that she's a clone who has been replaced by aliens, isolating herself from the people she's closest to. Brie told Vulture the film was inspired by her relationship with her mother and stories she heard about her grandmother, who had paranoid schizophrenia. Brie also channeled her own struggles with mental health into "Horse Girl," making it one of her most personal projects to date.
IndieWire, while having criticisms of the film's script, wrote that "Brie's delicate performance nearly rescues both Sarah and 'Horse Girl' from falling into the awkward traps it sets for itself." Variety also reserved praise for Brie's performance, as well as the film's subversion of what many critics may expect from a Sundance indie drama.
Alison Brie stars in Dave Franco's directorial debut
"Horse Girl" would be a step in a new direction for Alison Brie, though it wouldn't be her only foray into darker roles in 2020. She also starred in "The Rental," a horror film centered on two couples whose weekend getaway in a rental home goes awry when they suspect they're being observed by the home's mysterious caretaker. Brie plays Michelle, who remains mostly ignorant of her husband's suspicions until things take a dramatic turn for the worse. However, the intensity of the role was offset by Brie's more comfortable on-set experience.
Notably, "The Rental" was the debut of her husband Dave Franco as both writer and director. Brie spoke about the experience to Cinema Blend, calling her husband "the person I trust most in the world," while describing her profound confidence in him as a first-time director, saying, "it was validating to be his main creative sounding board on set." Franco had equally complimentary things to say about working with his wife, telling Entertainment Tonight she was a constant positive presence on set.
Fortunately, Franco's directorial debut landed well with critics. In their four-star review, Rolling Stone praised the "dynamite acting from the four leads" while also calling Franco's work the perfect film to watch for the COVID-19 pandemic.
The cancellation of GLOW breaks Alison Brie's heart
Sadly, as a result of the COVID-19 pandemic, "GLOW" was canceled by Netflix in October 2020. The show's creators, Liz Flahive and Carly Mensch told Deadline that the show's cancellation was due to the difficulty of continuing production with pandemic-era restrictions, given its large ensemble cast and portrayal of wrestling. Sadly, this also came as they had already shot the first two episodes of the show's fourth and final season.
In an interview with Decider in 2022, Brie called the premature cancellation of "GLOW" as "the great heartbreak of my career" and declared it her favorite project she's ever worked on. However, hope wasn't totally squashed by the show's cancellation, as Brie's co-star Marc Maron campaigned for a "GLOW" movie that would wrap up the storylines they had left off at the end of Season 3, especially given that Season 4 had already been written and planned out.
Sadly, despite Brie's deep affection for the series, her expectations for a "GLOW" movie were not as optimistic, telling The Playlist that she thinks fans shouldn't get their hopes up. Though it's not the same, Brie reunited with Flahive and Mensch for their Apple TV+ anthology series "Roar," which also featured "GLOW" cast members like Betty Gilpin and Chris Lowell in Season 1.
Spin Me Round takes Alison Brie to Italy with Aubrey Plaza
While "Horse Girl" tested Alison Brie's screenwriting talents with a psychological thriller, she'd return to more familiar territory with her second writing collaboration with director Jeff Baena. The two co-wrote the script for 2022's "Spin Me Round," which premiered at South by Southwest in 2022. Brie starred as Amber, a restaurant manager who is invited to a company workshop in Italy that turns out to be not quite what she expected.
Compared to the much smaller and intimate "Horse Girl," "Spin Me Round" is a more comedic affair with a stacked cast of comedy greats, including Molly Shannon, Fred Armisen, Tim Heidecker, and Aubrey Plaza, among others. It was a film that came together quickly due to these more familiar aspects, as Brie told Digital Trends, with most of the writing taking place over Zoom along with a quick shoot in Italy during the pandemic.
The film also featured quite a significant reunion for Brie and Plaza, who previously starred together in "The Little Hours," which was also directed by Jeff Baena (who is also married to Aubrey Plaza, if you're not having enough trouble keeping up). Although "Spin Me Round" required a lot more out of Brie and Plaza as co-stars, their familiarity with each other made for an easy dynamic. Plaza told The Hollywood Reporter that filming the movie with close friends "just makes the process more fun."
The Community movie is finally happening
During the height of the COVID-19 pandemic in 2020, Alison Brie and the rest of her former "Community" cast members, along with series creator Dan Harmon, reunited over Zoom to do a read-through of one of the show's episodes for charity. The live stream, complete with a Q&A, was an emotional experience for the cast but seemed to give Harmon the hope of making the "Community" movie, with even the elusive Donald Glover joining, a reality.
In 2022, the impossible finally happened. After many years of speculation, promises, and vague answers, Harmon confirmed to Newsweek in August 2022 that an outline existed for the "Community" movie, which he was preparing to pitch to studios. Variety reported that the movie was greenlit by Peacock a month later, with Joel McHale, Gillian Jacobs, Alison Brie, Danny Pudi, Ken Jeong, and Jim Rash confirmed to be returning. While Donald Glover was absent from the confirmed cast, Harmon told Variety the actor would likely return.
Even though this seems like a dream come true for Alison Brie, she still remains skeptical. Talking to The A.V. Club, she claimed that the cast was scheduled to film in summer 2023 but still feels "because of everything we went through on that show … I'll believe it when I see it." She reaffirmed in an interview with Variety that her schedule is currently clear to film, as is Danny Pudi's.
Somebody I Used To Know reunites Alison with her old Community pal
With Dave Franco's directorial pursuits and Alison Brie's continued screenwriting credits, it's no surprise that the two would collaborate on a movie someday. That opportunity finally came during the COVID-19 lockdown when the two co-wrote "Somebody I Used To Know," a writing process involving matching sweatsuits, as Brie told The A.V. Club. In the film, which was directed by Franco, Brie stars as Ally, a woman who returns to her hometown and ends up crashing the wedding of her one that got away, played by Jay Ellis, to see if their spark is still there.
If Alison Brie wasn't ready for the "Community" movie before, filming "Somebody I Used To Know" found her spending time on-set with Danny Pudi. Pudi also appears in the film as Benny, Ally's former best friend and a close confidante of the groom, making his allegiances during Ally's extended stay waver. In an interview with Salon prior to the film's release, Brie described being back on set with Pudi as just like old times, with the two of them "immediately back to our old antics."
Brie also had a lot of high praise for getting to work with her husband. Speaking to Vanity Fair, the two described the process of writing and shooting the movie as magical, with Brie saying, "For all the reasons that our relationship works, those are also the reasons why working together works."