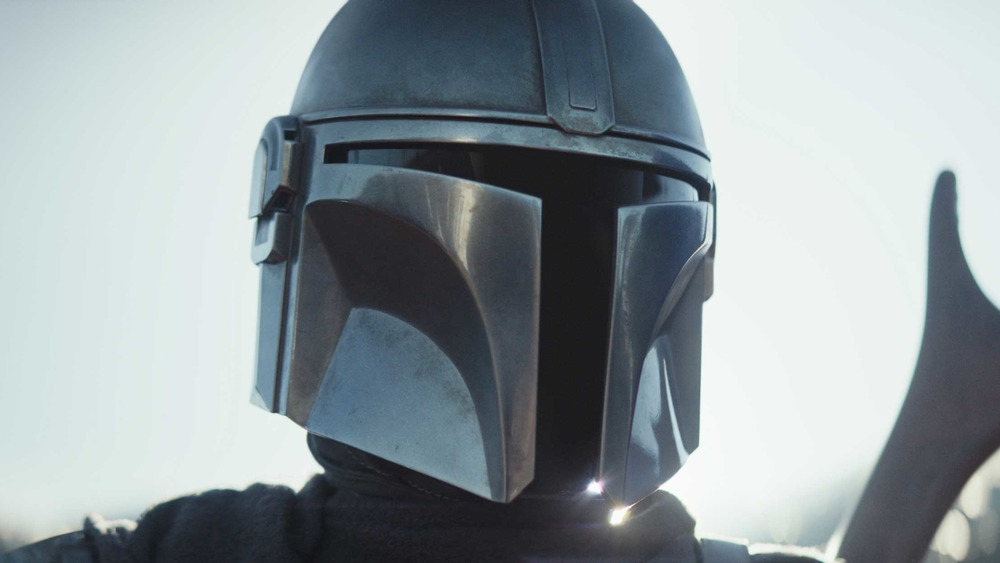 Disney entered the streaming wars in 2019 in a big way with "The Mandalorian," the first live-action television series set in the "Star Wars" universe. Set in the years after the fall of the Galactic Empire in "Return of the Jedi" and before the events of the 2015 franchise reboot "The Force Awakens," every episode of the cinematic, ambitious, and exquisitely realized series plays like a mini-"Star Wars" movie. It follows the exploits of a Mandalorian bounty hunter (Pablo Pascal), alternately known as Mando and Din Djarin, as he sees to the well-being of a baby version of iconic "Star Wars" character Yoda and along the way encounters all manner of clients, charges, villains, and allies.
With three seasons filmed — the third airing in March 2023 — "The Mandalorian" has built up its own suitably vast universe of "Star Wars" characters with a cast populated by actors both up-and-coming and well-known. Here's a look into the lives of the actors from "The Mandalorian" … and it hasn't always been pleasant for them.
Pedro Pascal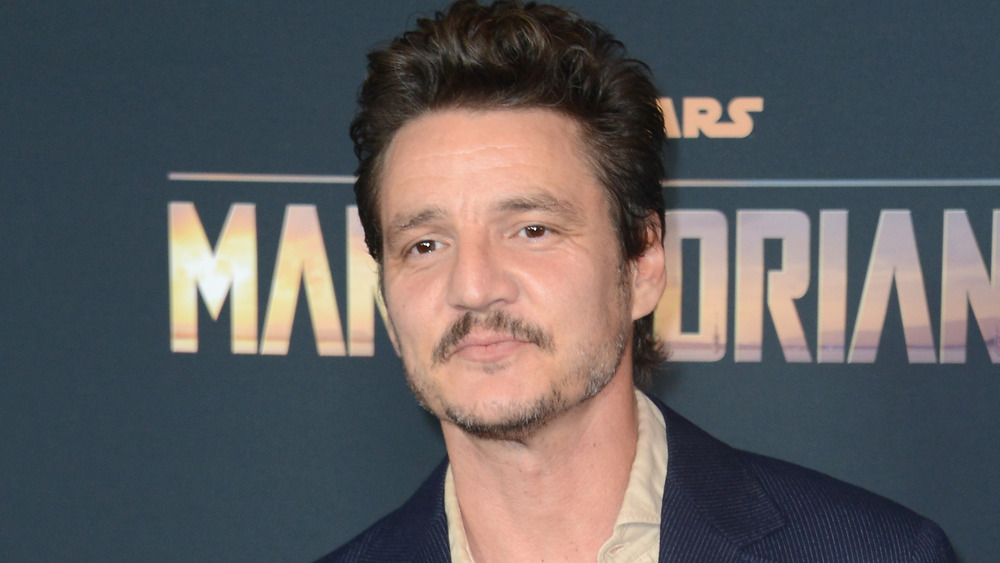 The Mandalorian on "The Mandalorian" rarely takes off his helmet, only occasionally revealing that he is, in fact, portrayed by famous actor Pedro Pascal, previously best known for his work as Oberyn Martell on "Game of Thrones." Pascal was born in Santiago, Chile, in the mid-1970s, not long after the country was taken over by the brutal military junta of Augusto Pinochet, who disappeared and executed thousands of his enemies, according to The Guardian.
Sadly but fortunately, Pascal's parents — philosophically and politically the opposite of Pinochet's regime — had to leave their home nation and not look back. "My family left when I was nine months old," he told Orange Coast. "My parents were young and liberal. It was a dangerous time, and they were lucky they got out with their lives."
Pascal and his family eventually moved to the United States, and he was particularly close to his mother, who passed away right after the young actor started landing small, breakthrough roles on '90s TV shows like "Buffy the Vampire Slayer" and "Undressed" (per IMDB). In tribute, he changed his professional name from Pedro Balmaceda (his father's last name) to Pedro Pascal (his mother's surname), according to Variety.
Werner Herzog
In the first episode of "The Mandalorian," a character known only as the Client gets the action moving. He's a sympathizer of the Empire (despite its recent demise) who hires the titular bounty hunter to bring to him "the Child," a creature of great gifts who turns out to be the lovable Baby Yoda. Lending airs of menace and mystery to the role of the Client is Werner Herzog, an occasional actor who is much better known for his often deeply unsettling films, including "Fitzcarraldo" and "Grizzly Man," per IMDB.
Herzog is keen on depicting the dark side of humanity, which he experienced firsthand as a toddler. He was born in 1942, right in the middle of World War II, in Munich, a German city under Nazi rule. According to The Independent, Herzog's father left early, leaving the future filmmaker's mother to raise three boys on her own in a war zone.
After a massive Allied bombing campaign on Munich, the family took refuge in a tiny, remote village in the mountains of Bavaria in a house without plumbing or running water. Herzog and his siblings stayed safe, but his mother still showed them the horrors of war. According to Rolling Stone, his earliest memory is of a time when he was about three years old, when his mother took him and his brother to look down on the city of Rosenheim after bombs had set it aflame.
Nick Nolte
It's easy to recognize in Din Djarin's ally Kuill the distinctive, raspy voice of Nick Nolte, star of big hit movies like "48 Hrs.," "The Prince of Tides," and "Cape Fear" (via IMDB), a three-time Academy Award nominee, and People's "Sexiest Man Alive" of 1992. Nolte is also an individual who struggled with addiction for years.
According to The Independent, Nolte began drinking during childhood, and his consumption steadily increased to the point where, when he became a leading man, he talked directors into making his characters heavy drinkers so that Nolte could consume real booze during shooting. His third wife, Rebecca Linger, helped him quit drinking in the '80s, but that period of sobriety lasted about a decade.
In 2002, Nolte went viral: His mugshot, in which he's dressed in a Hawaiian shirt and rocking disheveled hair, became infamous. According to CNN, police in Malibu, California, pulled over the actor when he was spotted "weaving and driving erratically" on the Pacific Coast Highway. He was charged with two misdemeanor counts, for driving under the influence and for having the drug GHB in his system. He later told People that this drug "was one substance I ran into that I shouldn't have messed with." A few days after posting bail, Nolte checked into a rehabilitation facility and got sober again.
If you or anyone you know needs help with addiction issues, help is available. Visit the Substance Abuse and Mental Health Services Administration website or contact SAMHSA's National Helpline at 1-800-662-HELP (4357).
Amy Sedaris
Peli Motto pops up in both seasons of "The Mandalorian," as she's the operator of a hangar at the Mos Eisley spaceport who helps Din Djarin with his ship, as well as looking after the vaunted Baby Yoda if needs be, even when it leads to her capture. It's the rare dramatic role for Amy Sedaris, an alt-comedy legend. From 1999 to 2000, she starred in the cult classic "Strangers with Candy," a Comedy Central show she co-created, as Jerri Blank, a narcissistic 46-year-old former sex worker with a drug addiction who re-enrolls in high school. In addition to voicing Princess Carolyn on "BoJack Horseman," she also stars on TruTV's surreal lifestyle parody show "At Home with Amy Sedaris" (per IMDB).
Sedaris grew up in a family of six brothers and sisters, among them bestselling humorist David Sedaris and Massachusetts-based artist Tiffany Sedaris, who passed away in 2013, according to The Somerville Times. David Sedaris later shared in "Now We Are Five," a piece that first appeared in The New Yorker, that his 49-year-old sibling had taken her own life. It marked an especially tragic end to the life of Tiffany Sedaris, one marked with substance addiction and mental health issues.
If you or anyone you know is having suicidal thoughts, please call the National Suicide Prevention Lifeline at 1-800-273-TALK (8255).
If you or anyone you know needs help with addiction issues, help is available. Visit the Substance Abuse and Mental Health Services Administration website or contact SAMHSA's National Helpline at 1-800-662-HELP (4357).

Sasha Banks
Professional wrestling involves more than a little acting, but a string of second-season episodes of "The Mandalorian" portraying a mysterious hooded figure marks the first time that WWE star Sasha Banks has played someone on-screen, besides her in-the-ring persona, per IMDB. Born Justine Mercedes Kaestner-Varnado, Banks experienced a childhood that was, at times, tough, scattered, and framed by her brother's health issues.
On the "Talk is Jericho" podcast, Banks explained that she was born on the West Coast but moved around a lot, including spells in Iowa, Minnesota, and Massachusetts, in search of schools and facilities to treat her brother, who was diagnosed as being on the autism spectrum and bullied for it.
Through it all, Banks' mother struggled to find gainful employment, and the family often lived out of hotels. When the future wrestler-actor was a teenager, her mother found a full-time job, leading Banks to quit traditional school and enroll in online classes so as to serve as her brother's full-time caregiver.
Horatio Sanz
In the very first episode of "The Mandalorian," viewers get a handle on the day-to-day of Din Djarin's bounty hunter lifestyle, as he pursues, painlessly captures, and transports a blue-skinned, scaly-faced man of the Mythrol persuasion. Despite the extreme makeup job, the actor playing the Mythrol is instantly recognizable from his famous face and voice: It's Horatio Sanz, a cast member of the illustrious "Saturday Night Live" from 1998 to 2006 (per IMDB). A standout star on the show, he created memorable characters like the vivacious Carol; Rick, the stepfather of hyperactive kid Kaitlin (with Amy Poehler); and Gobi, the always stoned co-host of "Jarret's Room" (with Jimmy Fallon).
In 2008, Sanz walked the red carpet of a Broadway event, where a reporter from New York magazine approached him about his dramatically changed appearance: Sanz had noticeably dropped a lot of weight. He'd actually lost somewhere in the neighborhood of 100 pounds, but he wasn't sure exactly how much because when he reached what he felt to be his heaviest point, he didn't have an exact number, precluded by fear from figuring it out. "I never weighed myself when I was at my fattest," he said (via HuffPost), "because I was scared I might die." He slimmed down with a healthier diet and more exercise.
Clancy Brown
Viewers of "The Mandalorian" might recognize the actor who plays Burg, the double-crossing mercenary and muscle working for Ranzar Malk tasked with transporting prisoner Qin. They might not be sure from exactly where they recognize Clancy Brown, but his face could be familiar from his work as Captain Hadley in "The Shawshank Redemption," Rawhide in "The Adventures of Buckaroo Banzai Across the 8th Dimension," or Sergeant Zim in "Starship Troopers" (per IMDB). It's also possible viewers recognize something in his voice, because Brown lends his pipes to a lot of cartoons and video games, most notably, prolifically, and successfully as money-grubbing Krusty Krab owner Mr. Krabs for 20-plus years of "SpongeBob SquarePants" episodes and in its spin-off movies.
Brown obviously worked closely, and for a long time, with "SpongeBob" creator Stephen Hillenburg, and when the cartoonist and writer passed away from a rapidly degenerative case of the neurological condition ALS in November 2018 (via Variety), it profoundly affected Brown. One day after Hillenburg's death, "SpongeBob" network Nickelodeon announced on Twitter that it would observe "a moment of silence to honor his life and work."
Brown shared that tweet with his own thoughts and commentary: "My moment of silence had to be at least a whole day. Steve's passing is so very sad but ALS is brutal, unrelenting. He was a sweet, humble dude," Brown wrote. "I owe so much to him, personally speaking. He never thought so. But I do."
Mark Hamill
"The Mandalorian" often reflects the "Star Wars" universe, with its title character encountering characters and worlds from the theatrical films. In the Season Two finale, "The Rescue," the Mandalorian entrusts a Jedi Knight with the care of Grogu, and he's revealed to be none other than "Star Wars" main protagonist Luke Skywalker. Original actor Mark Hamill reprised his role, but as "The Mandalorian" is set after the events of the 1983 film "Return of the Jedi" (per Entertainment Weekly), Luke Skywalker had to be young, so effects artist digitally de-aged Hamill, according to IndieWire.
That wasn't the first time Hamill's real-life appearance dramatically changed during a "Star Wars" production. His face looked noticeably different in 1980's "The Empire Strikes Back" because he was involved in a serious one-car accident after shooting 1977's "Star Wars: A New Hope," according to Insider.
"I was way out in the sticks somewhere and there were no cars and no traffic," Hamill said in an interview with Gossip Magazine (archived at Just the Best)."I was speeding, going too fast, and what happened, I think, was that I tried to negotiate an off-ramp and lost control, tumbled over, and went off the road. I fractured my nose and my cheek." Hamill awoke in a hospital, and when he saw his face in a mirror, he worried he'd been disfigured beyond recognition. "I just felt that my career was over."
Katee Sackhoff
A crafty Mandalorian warrior named Bo-Katan Kryze shows up just in time to assist the title character in Season 2 of "The Mandalorian." After saving the Mandalorian and introducing herself, she advises the bounty hunter to not trust the hardline traditionalists with whom he was associating. The two Mandalorians ultimately join forces to stage a weapons heist, with Bo-Katan impulsively deciding to just steal the whole ship and demand information from an officer about the powerful Dark Saber. She's a powerful ally, and Bo-Katan subsequently helps with the monumental rescue of Grogu at the end of the season.
After voicing the character in the animated series "Star Wars: Rebels" and "Star Wars: The Clone Wars," Katee Sackhoff (otherwise known for "Longmire" and "Battlestar Galactica") portrayed Bo-Katan in the live-action "The Mandalorian." When the future actor was 10 years old, her family dynamic dramatically and radically shifted. According to The Guardian, Sackhoff's father learned that he had another child, unaware that a woman he knew had given birth to a daughter 20 years earlier.
Despite the circumstances of how they found out so long after the fact, Sackhoff's mother welcomed the new and sudden addition to the family, but Katee Sackhoff didn't really get to see much of her newly emerged sibling. "We didn't get close until I was 25 and she was 35, and we had more in common," Sackhoff said.
Gina Carano
Before she played Cara Dune, a former Rebel soldier turned mercenary in the first two seasons of "The Mandalorian," Gina Carano was an accomplished mixed martial arts fighter. In 2009, she contended for a title fight and lost, according to ESPN, despite a major interruption in her career two years earlier. In May 2007, according to Sherdog, Carano voluntarily pulled out of a bout in the EliteXC circuit because she contracted a serious gastrointestinal virus.
While in Thailand to film the Oxygen Network documentary "Fight Girls," Carano felt sick but didn't think much of it before turning to Las Vegas to train for her upcoming fight. A few days later, she became so ill and fatigued because of what presented as a stomach virus that she had to discontinue her training and seek hospitalization. She was taken to a Las Vegas medical facility via ambulance, where she was treated for a significant period of time.
Temuera Morrison
A longtime fan favorite despite only brief appearances in "Star Wars" film and TV projects, masked bounty hunter Boba Fett finally got some substantial attention and character development during Season 2 of "The Mandalorian." In the series, Boba Fett daringly rescues the mercenary Fennec Shand from Tatooine, with whom he later teams up to help the Mandalorian recover Grogu from Moff Gideon.
Temuera Morrison portrayed Boba Fett in scenes filmed for "The Empire Strikes Back" and the spinoff "The Book of Boba Fett," in addition to his work in "The Mandalorian." Morrison is best known in his native New Zealand for the role of Jake "The Muss" Heke in the 1994 film "Once Were Warriors," according to the Sunday News (via Stuff). The film was acclaimed around the world, but it haunted Morrison — he portrayed an unemployed, brutally violent alcohol-addicted man who terrorizes his family.
Nearly 20 years later, he's still recognized for the film, and he doesn't always enjoy that. "Sometimes I feel like, 'Not today mate, not today,'" Morrison said. "Like when I am doing the washing, I don't feel like Jake the Muss." Nor was making the film very pleasant. "It was a lot of hard work and emotional mayhem," he said. "People go nutty doing movies like that." All in all, Morrison often felt like "Once Were Warriors," which brought him more work but in poorly reviewed films like "Speed 2" and "Barb Wire," was a "millstone" around his neck.
If you or someone you know is dealing with domestic abuse, you can call the National Domestic Violence Hotline at 1−800−799−7233. You can also find more information, resources, and support at their website.
Rosario Dawson
Rosario Dawson (of "Luke Cage," "Clerks II," and "Sin City") joined the world of "The Mandalorian" in Season 2 in the recurring role of Ahsoka Tano. Once a Jedi Padawan who mentored Anakin Skywalker (the future Darth Vader), the Mandalorian requires her help to return "the Child" to the safety of his species. The two-way psychic communication that ensues between Ahsoka and Baby Yoda reveals a lot of information about the mysterious precious cargo, namely that his name is Grogu and that a bad fate may await him.
In May 2017, law enforcement in Venice, California, told TMZ that Dawson went downstairs in her home and discovered her cousin and employee, Vaneza Ines Vasquez, lying on the floor and unresponsive. Dawson called emergency personnel, but paramedics dispatched were unable to revive Vasquez, and she was tragically pronounced dead at age 26. According to official reports provided to TMZ, Vasquez appeared to have died of natural causes, possibly related to a history of migraines and hypertension towards the end of her life.