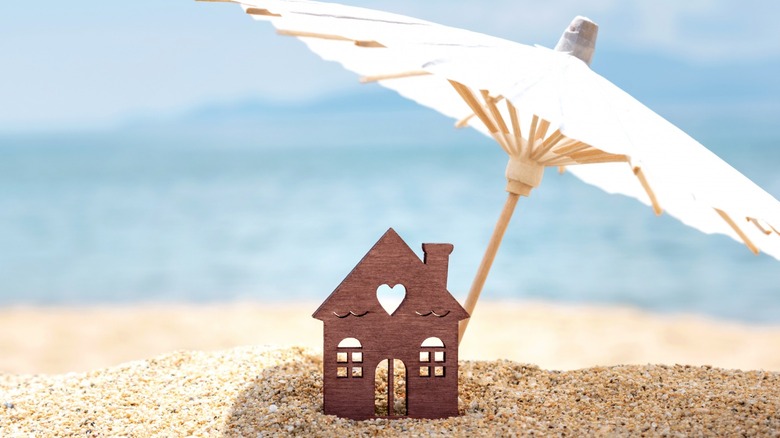 Buying a beach house is a major decision, whether it gets used only in the summer or enjoyed year-round. It's an investment that can reap incomparable rewards, but it's vital to understand what you'll experience at first and in the long term. The pros are obvious — enjoying the ocean and relaxing with family and friends. But the buying process, upkeep, and lifestyle can be quite different from what people experience with their other homes.
This information can prevent unwanted surprises and should not deter you from finding your dream beach house. These kinds of properties are almost always protected investments. That's because so many people have and will always want to live near the water. People who buy beach homes can also rent them out for extra money and this income stream can allow them to afford two properties.
Houses by the beach can be expensive because of the prime locations but if you're willing to go a little ways off the grid, you might be pleasantly surprised. MarketWatch claims that there are houses priced at $300,000 and under in some lesser- and well-known beach towns like Atlantic City, NJ, Myrtle Beach, SC, and Coos Bay, OR. Now that you know it might be affordable, it's time to switch gears and look at some important factors that can go into your buying decision. Here are things to consider before you take the plunge.
Finding the right place takes time
It can take months or even years to find the right beach house so plan on making several trips to scout out the possibilities, and expect to play the waiting game. The housing market is always fluctuating and it took unprecedented turns after the pandemic. Low-interest rates, the uptick in remote working, and a drastic increase in real estate investing drove up prices and ate into inventory. On top of all that, people were not traveling as much and didn't know when things would get back to normal while others wanted to move out of large cities. The idea of buying a beach house was more appealing than ever.
Aftershocks of that historic real estate market are still being felt through a record-low inventory of available homes. Prices have not returned to pre-pandemic levels and the frequency of buyers outbidding each other, paying in cash, and buying properties unseen may have cooled down a bit. Still, with less to choose from and still-high prices, that perfect beach home could quickly slip out of your hands because of the competition. A real estate buyer's agent can represent your interests and explain how to make the best possible offer. If the price is out of reach, they can explain options like being a few more blocks from the beach or making renovations.
Houses by the beach are expensive
When comparing beach homes it becomes immediately apparent that prices increase as you get closer to the water. An upscale, beachfront property can cost millions of dollars, which is out of reach for most of the population. The price of a beach house ranges from $300,000 to $885,000, but selling prices can increase by up to 10 percent depending on the season. Shopping for beach homes during the wintertime when demand and prices might be lower can get you a better deal.
Home sellers and lenders often require buyers to put down 20 percent of the sale price, so keep that in mind when shopping. Also, remember that interest rates impact a buyer's ability to afford a purchase. And just like any other home, there are ongoing costs associated with owning a beach house. Unless you pay in cash, you'll have a monthly mortgage payment, plus taxes, maintenance and repairs, furnishings, and homeowners' insurance.
Homeowner's insurance is more expensive
The beauty of mother nature is in full force at beaches but her wrath is also seen in high winds, hurricanes, and storms — this is why homeowner's insurance costs are higher in these areas. Standard policies are often not specialized enough for beach houses, so many people pay for coastal homeowners insurance that covers damage from hurricanes and storms. As you can imagine, insurance companies end up taking big losses after a major weather event, which is why they usually limit the number of available policies.
Another option is flood insurance. Many beach town homeowners must buy these policies because the properties are in low-lying flood zones prone to water damage. This is separate from a homeowner's policy. It's administered by the government's National Flood Insurance Program, and not all insurance companies offer this kind of coverage. Finding one can be challenging and even if you do, the premiums and deductibles can be pretty high. The Insurance Information Institute advises consumers to contact their insurance departments to ask about FAIR (Fair Access to Insurance Requirements) Plans when they are unable to get insurance.
Older beach homes need work
While vintage beach homes can seem charming at first glance, a home inspection can turn up unpleasant surprises. Beach homes are subject to weather damage because of their locations. Mold and mildew can also be problematic since there is so much moisture and humidity in the air. Add to that natural aging and the possibility of neglectful owners, and you might fall in love with an older beach home that needs significant, expensive renovations.
But what if there is structural damage? A beach home that has cracks in the slab or drywall, sloping floors, gaps around windows, and cabinets that seem to be pulling away from the wall might need foundation repair. The work required and price can be significant, so you'll want to get an estimate if your heart's set on buying that older home. Other costly work like installing a new roof or a new HVAC system should also be researched before you sign anything. Not only can these drive up the cost of your investment, but finding contractors takes time. Would you really want to spend your first summer in your beach house with a leaky roof or no air conditioning?
Too much travel time
Unless you are retired, have the summers off, or can take off a lot of time from work you might not be able to spend a lot of time in your beach house. And you don't want to spend just as much time in your car as you do at the beach house, plus kids usually hate long car rides. If your vacation home is several hours' drive or a flight away, you'll want your schedule to be flexible enough to go for around a week at a time. However, if you'll likely be able to fit in short trips of only a few days, you might want to look for options within an hour or two.
Having to travel farther also costs more, especially if you're buying plane tickets. And when you have a long, boring drive, it can get old very fast. And if you need to make extra trips to assess storm damage or deal with an uncooperative tenant, that's even more time and money. So before buying, be realistic and figure out how often you'll be able to use a beach house. And don't forget that you won't be able to hit the beach when it's pouring outside. Look for beach towns that offer plenty of indoor activities so you won't be bored on rainy days.
Natural disaster woes
It's hard to think about hurricanes on a perfectly sunny beach day when there's little wind and temperatures are hovering around 80 degrees. But NOAA (National Oceanic and Atmospheric Association) points out that on average, hurricane seasons have three major events. And that's not all — there are additional smaller hurricanes and about 14 named storms each year. According to The Conversation, tropical storms and hurricanes hit the North Atlantic coastline, the Gulf of Mexico, and the Caribbean. Cape Hatteras, NC, and Miami have a 48 percent chance of a storm striking each year. But why don't hurricanes hit the U.S. West Coast? According to KING-TV, the trade winds carry them away and the water is just too cold; it's much less likely for hurricanes to form when the weather is below 79 degrees.
However, purchasing a beach house on the West Coast comes with its own set of risks. This region has been plagued by catastrophic wildfires that have destroyed tens of thousands of structures. Plus, the San Andreas fault makes it susceptible to earthquakes that can cause significant property damage. Houses in that part of the country can also experience major storms that could lead to wind damage and flooding. So when you're in the market for a beach home, expect that there will be natural disasters and ensure that the property you bid on is structurally sound. These will give you needed protection when Mother Nature shows her scary side.
Salt corrosion
People rave about the brisk salt-laden air in beach towns, but it can wear on a beach house over time. Salt buildup leads to rust and corrosion, and you might see it on metal window frames, door frames, and bolts. Common symptoms of salt corrosion are windows that don't work properly, rusted aluminum siding, and rotted drywall. But that's not the only kind of damage that comes from salt accumulation.
Salt air coming from the sea can travel quite far and can cause corrosion on homes that are as far as 50 miles away, believe it or not. And even worse, ocean air rusts metal much faster than inland air. It also corrodes concrete, gets into HVAC systems, damages electrical components, and causes wear to wood. To prevent salt corrosion problems, you'll want to replace metal with vinyl wherever possible. You'll also have the added chore of regularly flushing other surfaces with fresh water. Time-consuming and annoying perhaps, but dealing with the effects of salt accumulation is part of owning a beach house.
It can be hard to find reliable help
Unless you're planning to be at your beach home most of the time and like doing these things yourself, you may need to hire people to mow the lawn, shovel the snow, and check on the premises from time to time. Pressure washing exterior surfaces and outdoor furniture every three months to combat salt buildup is also important unless you want to replace them often. Wood decks will also need to be resealed once a year. And if there's storm damage, you might not be able to complete the repairs without professional help. When the real estate market is booming and buyers are snapping up beach homes, it will naturally be harder to find reliable contractors. And when a major storm causes damage in a beach town, you can expect that homeowners will be clamoring to find workers. Extensive home repairs take weeks if not months so even when you manage to find a contractor, they might not be available for six months or longer.
Hiring a property management company that can keep an eye on your beach home when you're not there – they can also coordinate the maintenance and repairs for you. Vet potential management companies near any prospective properties. This will allow you to be more prepared to have a well-maintained beach house immediately after purchase.
Deciding to rent or not to rent is hard
This is a personal decision, based on the homeowner's financial needs and goals. It's not unusual for homeowners to feel very protective and particular about their properties, so this isn't an option for everyone. The rental income can be great but there are some cons. Renters often have complaints that you will have to address. The property will also need to be thoroughly cleaned after each rental. And if you adopt a no-pet policy, that could limit the pool of potential tenants.
Renters also cause wear and tear on beach homes, so you might need to replace appliances and other things more often. They also damage things sometimes and this creates the need for additional insurance. The Insurance Information Institute explains that homeowners who regularly rent their residences are considered to have businesses, so you'll have to spring for the extra coverage. And if you rent your beach home to someone for six months at a time or more, you'll have to get a renter dwelling or landlord policy. But if you have reliable, consistent rentals and are charging a good price, you may be able to earn a decent profit once those expenses are paid.
Feeling obligated to host
When you're looking for a beach house, keep in mind that your ownership can make you the go-to vacation host for friends and family. This can be a fun way to gather and welcome your loved ones. However, you'll have to remember that your frequent hosting can come with a hefty price. First, you might need to spend more to find a property that can accommodate your extended family. And if you want to host overnight visitors, you'll likely need to invest more in everything from beds and seating furniture to linens and electronics. After all, you want your guests to feel welcome so you'll want to plan on this initial expense.
The other consideration is how many people you plan to invite to the home. Do you have a relatively drama-free family that won't mind if others are invited when they aren't? Or, will you feel obligated to invite your entire extended family to avoid any riffs? This can leave you stressed, overwhelmed, and unable to enjoy visits to your own beach house. If this is the case, purchasing a home that's just large enough for your immediate family can eliminate your ability to host others — and the issues that can arise.
Loud, rowdy, inconsiderate neighbors
There's nothing worst than moving into your new retreat only to find that your neighbors are always loud and rambunctious. Keep in mind, some beach areas are just prone to partying. If you are looking for a more quiet and laid-back vibe, make sure to avoid these during your search. One good way to determine these party hot spots is by doing a little online research. Browse Airbnb listings in prospective areas on your list. If you see a pattern of reviews stating that the area was quiet, secluded, and private, you'll know that it's the atmosphere you're looking for. Also, check out the businesses that are in the neighborhood. If there are tons of party bars and nightclubs, it likely draws residents that are into that scene. However, if there are cute coffee shops and quaint local eateries, the neighborhood is more likely to have a chill vibe.
When you're narrowing down your list of properties, you might want to do a little more in-depth research. If possible, visit the property on nights and weekends (including holidays) to scope out the situation. Are there 50 cars parked on the street or is it peaceful? And if you see any neighbors outside, approach them and try to get a feel for the typical activity level. Find out if the municipality or HOA has noise ordinances that ban late, unruly parties. And, you can also check public records to see if there have been a lot of noise complaints made. Take any red flags seriously because you might want to eliminate the potential beach home from your list.
Sand, sand, everywhere
Even if you are painstakingly careful to not track sand into your beach house, those stubborn particles stick to everything and get into hard-to-reach and hard-to-clean places. Consider how you plan to avoid a build-up of sand inside your property. Integrated vacuum systems can be expensive to install. However, they can prevent damage to floors and furniture as well as make your home easier to clean long-term.
Carefully think about the layout and features of any beach homes you're considering. Is there a mudroom or laundry room that you can use to keep sandy clothing and towels contained? Does the flooring allow for easy removal of sand or is there tough-to-clean carpet where particles can settle into fibers?
If a prospective beach home has an outdoor shower, consider it a plus. However, if you love a property and it doesn't have an outdoor shower, it might pay to invest in one. You'll also want to evaluate the property for storage options to stash sandy items like beach chairs and toys. This gives you a dedicated spot that's convenient and reduces the amount of sand that can make its way indoors.