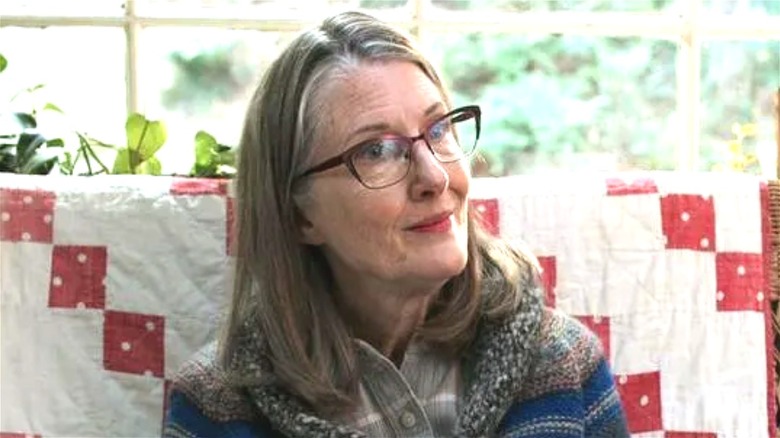 The mayor and resident gossip of "Virgin River," Hope McCrea, is nothing if not no-nonsense, outspoken, and opinionated. She's a voice of reason in the small Northern California town (and sometimes an agent of chaos — just ask Doc). Though some fans are divided when it comes to the character's presence in town, they can always credit her as the person who helped push Jack and Mel together.
Hope was missing as a physical presence during much of season 3 of the Netflix hit series due to Covid-19-related production measures which kept the actress from crossing the Canadian border in order to film (via Marie Claire). She's going to be back for season four of the show, however, and she's set to take on a whole host of new trials and tribulations, both personal and romantic.
But who's the actress behind Hope's signature glasses? If you're a sci-fi fan or just an admirer of good sitcoms, she's definitely a familiar face.
Annette O'Toole got her start as a child actress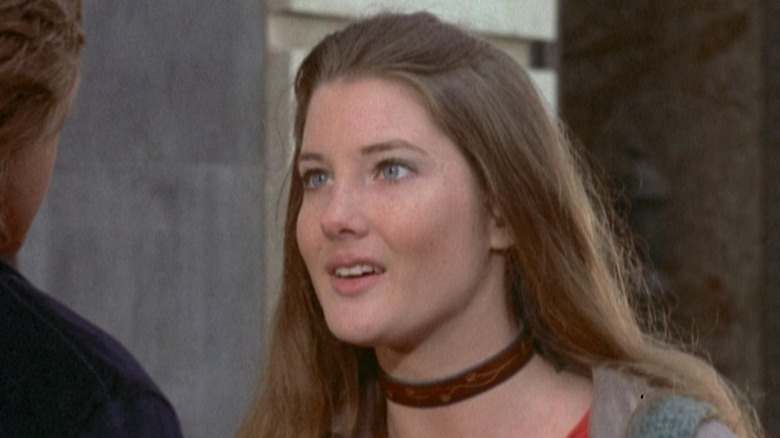 Annette O'Toole started her career as a child actress, performing onstage and on television in the 1960s. Her very first television appearance was on local television program in Houston, Texas: "Don Mahoney and Jeanna Clare with Their Kiddie Troupers." During a return visit to the show as a teenager (posted on YouTube), O'Toole recalled that she first performed on the show at the age of two-and a half, when she sang "Happy Birthday" to her grandfather.
Among the early roles she racked up during her first few years in the business included appearances on the hit sitcoms "My Three Sons" (her first credited role — she appeared on the show at the age of 15) and "The Partridge Family" (pictured above). She acted in several of the most popular dramas of the day as well — "The Virginian," "Mod Squad," "Gunsmoke," "The Rookies," "S.W.A.T.," "Policewoman," and the original "Hawaii Five-O." She scored the first of what would become many television movie roles with "The Girl Most Likely To…" in 1973. Bigger things were just around the corner.
'Smile'-ing helped her to break through to greater success
O'Toole's big break was the 1975 beauty pageant satire "Smile," in which she portrayed Doria — aka Young American Miss. She followed up her part in the ensemble film by featuring in the 1977 romantic teen comedy "One On One," opposite Robby Benson. She appeared as Sharon opposite Eric Roberts in the drama "King of the Gypsies" the next year, and the romantic comedy "Foolin' Around" with Gary Busey in 1980.
O'Toole had three quite notable roles back-to-back-to-back from 1981 to 1982. First, she won critical acclaim for portraying Tammy Wynette in the television biopic "Stand by Your Man." Then she took on the supporting role of Alice Perrin in "Cat People," an erotic thriller remake of the 1942 B-movie about a woman (Nastassja Kinski) whose sexual awakening causes her to learn she's one of a family of humans doomed to transform into a murderous leopard every time she has sex, and who can only transform back if she kills. Finally, O'Toole appeared as the female lead in the Eddie Murphy/Nick Nolte action-comedy hit "48 Hrs.," in which she portrayed Elaine. There was another career peak just around the corner for the actress.
That's her as Superman's sweetheart
In 1983, O'Toole portrayed Lana Lang in "Superman III." Lana, Superman's childhood friend and crush, meets up with the Man of Steel (Christopher Reeve) at their Smallville high school reunion. Lana's been married and divorced since they parted; she has a young son named Ricky. Together, they embark on a romance which quickly becomes complicated when Supes is exposed to Red Kryptonite. Though it takes some time, Clark Kent is reunited with his right mind.
While the movie strongly hints that Lana will become a regular part of Superman's orbit as the film franchise continues — she moves to Metropolis and becomes Perry White's secretary at the end of the movie and seemingly setting up a triangle between herself, Clark and the barely-present-in-the-third-film Lois Lane (Margot Kidder) for future films — this will prove to be O'Toole's only appearance in the Reeve version of the Superman mythos. "Superman III" underperformed at the box office (via Box Office Mojo) and met with critical disappointment (it holds a 30% approval rating at Rotten Tomatoes), which caused the studio to go in a different direction for the franchise's fourth film, scrapping many of the plots of "Superman III."
The actress' follow-up performances to the role were quite intriguing. She portrayed Miss Edmunds in the 1985 TV movie version of "Bridge to Terabithia" and showed up as Lola Lamar, the central figure in "Copacabana," a 1985 TV movie which dramatized Barry Manilow's hit story song. She co-starred with Martin Short in the 1987 romantic big screen sex farce "Cross my Heart," and was Rose Fitzgerald Kennedy in the 1990 miniseries "The Kennedys of Massachusetts." Her next role would cement her as a horror legend.
Annette was the first small-screen Beverly
That's Annette as Beverly Marsh in the 1990 ABC-TV movie version of Stephen King's "It." Her role as Bev, who goes from an abused daughter to a victim of domestic violence to a successful and independent fashion designer, all while facing down a cosmic and seemingly all-powerful evil from beyond the stars, was instantly memorable. As the only female member of the Losers Club, she immediately stands out from the pack.
O'Toole had worked with John Ritter, her "It" co-star, directly before the mini-series filmed; she had portraying Maud Baum, wife of "Wizard of Oz" series creator L. Frank Baum, in another miniseries, "The Dreamer of Oz," with Ritter as Baum. According to Yahoo's oral history of the production of the film, she was cast at his suggestion. "It was fun to refer to Annette as the 'It' girl when we went to restaurants together. She was the only woman with us and people thought it was kind of strange for six men to be out with one woman," Ritter told the website at the time.
After "It," O'Toole had the lead in the Danielle Steele adaption "Jewels," and put in guest appearances on series like "Dream On" and "Lonesome Dove: The Series." She co-starred as Lisa Bridges, Nash Bridges' (Don Johnson) wife on the CBS police procedural "Nash Bridges" for its first two seasons, and starred in "The Huntress," in which she played real-life bounty hunter Dottie Thorson, for a single season on the USA Network. Her next project would bring her back to her Superman roots.
From Superman's girlfriend to Superman's mom
For 136 episodes as a regular from seasons 1-6, and then for guest appearances in seasons 8, 9 and 10, O'Toole portrayed Martha Kent, Clark Kent's adoptive mother (and an eventual politician) in the CW television drama "Smallville." Martha was a staple of the series, always there to support Clark but not afraid to have wants and needs of her own. After the death of her husband, Jonathan, in the 100th episode and fifth season, she assumed her husband's position in the Kansas State Senate, developed a strong relationship with Lionel Luthor that intrigued fans, and temporarily haunted the town as the Red Queen. At the foot of season six, she ended up becoming a U.S. Senator and moved away from Smallville.
In between seasons of the show, Annette did a lot of theater work, starring in off-Broadway productions of "The Seagull" in 2008 and "Southern Comfort" in 2016, among others.
Between her work on "Smallville" and "Virgin River," O'Toole has made multiple guest appearances and taken on brief multi-episode stints. She portrayed Susan Emerson across six episodes of "Halt and Catch Fire" and showed up for a four-episode arc on Marvel's "Punisher" TV series. She portrayed Louise three times on the Jim Carrey Showtime series "Kidding" and popped up once each on "Grey's Anatomy" and "The Good Doctor."
Offscreen, she's just as busy as Hope
Offscreen, O'Toole's life is just as busy as Hope's. She has two daughters — Nell and Anna — from her marriage to actor Bill Geisslinger, which lasted from 1983 to 1993. She has been married to actor/director/musician Michael McKean ("This is Spinal Tap") since 1999. The couple, who had been acquaintances since the 1970s, got to know each other better while filming the Lifetime TV movie "Final Justice" in 1997. According to an interview with Broadway World, the chemistry between them was strong from the first date on. "I would have married him then," O'Toole says in the piece. She is the stepmother to Colin and Fletcher McKean, Michael's sons from his marriage to his first wife, Susan Russell.
O'Toole and McKean have acted together numerous times since "Final Justice"; they were two of several actors to portray Topanga's divorcing parents, Rhiannon and Jedediah Lawrence, on "Boy Meets World"; their characters, Perry White and Martha Kent, were eventually paired together during the last two seasons of "Smallville"; they co-starred in an episode of "Law and Order," and the Los Angeles Times reported recently that they did a reading of the play "Harold and Lillian" together.
The couple also co-composes music. Most notably, their song "A Kiss at the End of the Rainbow" from the soundtrack of McKean's film "A Mighty Wind" was nominated for an Oscar in 2004 (via ABC News). They also wrote "Potato's in the Paddywagon" and "Fare Away" (the latter with CJ Vanston) for the film (via IMDb). According to recent tweets, they have completed a stage musical which they had been working on together since at least the mid '00s.
"Virgin River" fans can catch up with Annette on her Twitter, where she frequently interacts with admirers and posts pictures of her knitting, gardening and cooking projects.