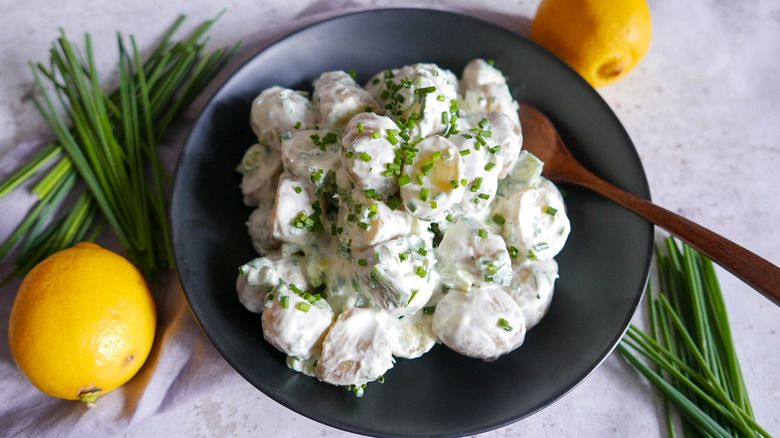 Do you love potato salad but wish there was a healthier version of it? While a classic potato salad is pretty delicious, it's loaded with quite a bit of mayonnaise, which isn't the healthiest condiment in the world. Luckily, we have the perfect solution with this healthy potato salad recipe. Featuring the same fantastic taste as your standard potato salad, this version is much lighter because it uses Greek yogurt instead of mayonnaise. It's a simple swap but makes a huge difference. According to Healthline, Greek yogurt is filled with protein and it can also help with bone health — not to mention that it provides that rich, creamy flavor that we crave in a potato salad!
Recipe developer Ting Dalton of Cook Simply came up with this quick and easy recipe in which she loves "the way you can elevate the humble potato to a fresh and lighter version to the heavy creamy mayo potato salad." As for her inspiration? It's kind of a funny story: "I actually ran out of mayonnaise once and only had yogurt, so I tried this with more herbs, and it was a hit!"
Gather the ingredients for healthy potato salad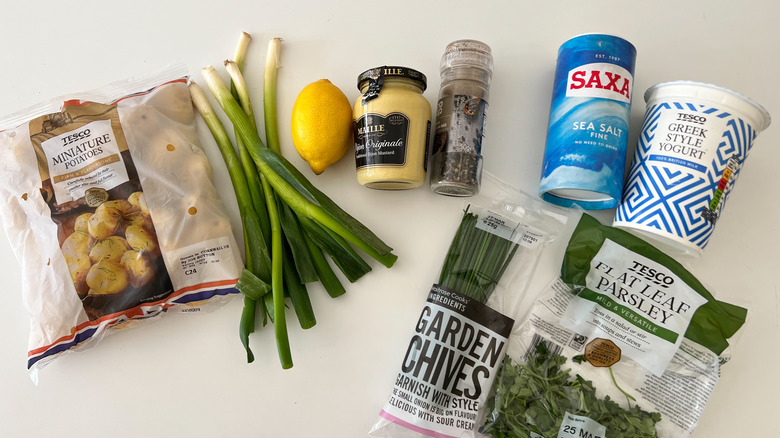 You will only need a few ingredients for this delicious and healthy potato salad recipe. Head to the store and pick up baby potatoes, Greek yogurt, green onions, fresh chives, chopped parsley, Dijon mustard, lemon, salt, and pepper.
Boil the potatoes
The first thing you will need to do is grab a pan and fill it with water and add a little bit of salt. Place the pan on the stove and turn up the heat to high.
Once the water starts to boil, add the potatoes and continue boiling for around eight to 10 minutes, or until fork soft. While Dalton uses baby potatoes in this recipe, she notes that you can use "new potatoes or creamers," and also notes that you can cut larger potatoes into cubes if that's all you have on hand.
Drain and cool the potatoes
Once you remove the potatoes from the oven, use a colander to drain the excess water. Let the potatoes cool completely, and then place them in the fridge for at least an hour.
Cooling is an important part of the process since you don't want to work with hot potatoes. "Otherwise, the yogurt will curdle or separate and slide off hot potatoes. It won't be nice," Dalton shares.
Make the dressing
While the potatoes cool, take out a bowl and spoon and make the dressing. Simply toss in the yogurt, Dijon mustard, and lemon juice. Stir to combine them well. "Instead of using mayonnaise, which can be heavy and unhealthy, this potato salad recipe uses Greek yogurt and lots of fresh herbs. It tastes zingy, light with a touch of heat from the Dijon mustard," Dalton notes of the flavor. "If you don't like too much Dijon, just add less."
Mix the remaining ingredients and serve
Add the potatoes, green onions, chives, and chopped parsley to the bowl with the dressing. Give everything a good stir to combine all the ingredients well. Now, you're ready to serve and enjoy this healthy potato salad! "This potato salad goes with absolutely anything — roasted meat, salmon, or fish," Dalton suggests, adding that "it's great with green salads, and perfect for serving at BBQs or when entertaining friends." And, should you have leftovers, you can store them for up to three days.
Healthy Potato Salad Recipe
Ingredients
1 ½ pounds baby potatoes, halved
2 cups Greek yogurt
2 teaspoons Dijon mustard
juice of ½ lemon
salt, to taste
pepper, to taste
3 green onions, finely chopped
¼ cup fresh chives, chopped
¼ cup freshly chopped parsley
Directions
Heat a pan of salted water on the stove until boiling. Add the potatoes and boil for around 8 to 10 minutes, until fork soft.
Drain the water and let the potatoes cool completely by putting them in the fridge for at least 1 hour.
To make the dressing, add the yogurt, Dijon mustard, and lemon juice to a bowl, and combine well. Season to taste with salt and pepper. Then add to the potatoes, the green onions, chives, and chopped parsley and give everything a good mix so that the yogurt, potatoes, and herbs are well combined.
Serve chilled and enjoy.
Nutrition
| | |
| --- | --- |
| Calories per Serving | 179 |
| Total Fat | 5.3 g |
| Saturated Fat | 3.2 g |
| Trans Fat | 0.0 g |
| Cholesterol | 12.8 mg |
| | |
| --- | --- |
| Total Carbohydrates | 24.8 g |
| Dietary Fiber | 3.2 g |
| Total Sugars | 4.4 g |
| Sodium | 531.6 mg |
| Protein | 9.8 g |