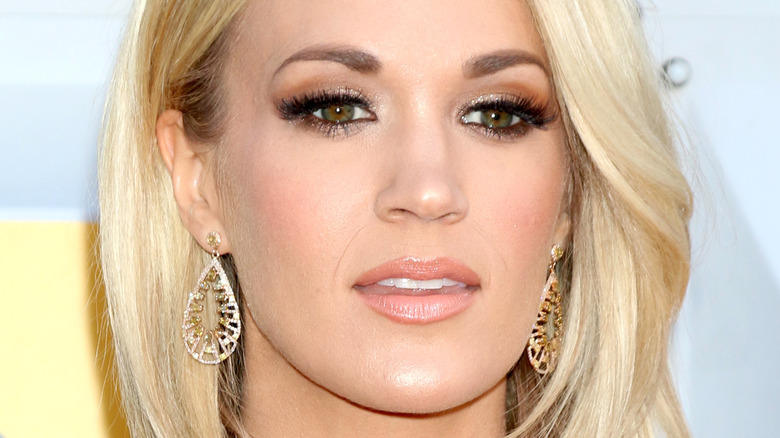 Country music lovers know Carrie Underwood as one of the genre's most well-known female singers in recent years. After finding fame as a contestant on Season 4 of "American Idol," she went on to release hits like "Before He Cheats," "Undo It," and "Blown Away." Underwood is one of the few lucky former singing competition show stars who maintained success and fame after leaving TV.
It seems that the country music singer is proud of where she got her start because she shared a heartfelt Instagram post in celebration of the 17th anniversary of her "American Idol" win. She posted a photo of a diary entry she wrote after being crowned the winner. "I took one look at the amazing crowd and let it sink in for a few seconds," the star penned in her diary. "Ryan [Seacrest] said something like, 'And your 2005 American Idol is … ' My heart beat fast, and I closed my eyes. CARRIE UNDERWOOD!!! The crowd went wild."
While she's mostly known for her many accomplishments, the shady side of Carrie Underwood is sometimes put on display. There are a few rumored feuds that helped us compile this list of the stars Carrie Underwood can't stand.
Tony Romo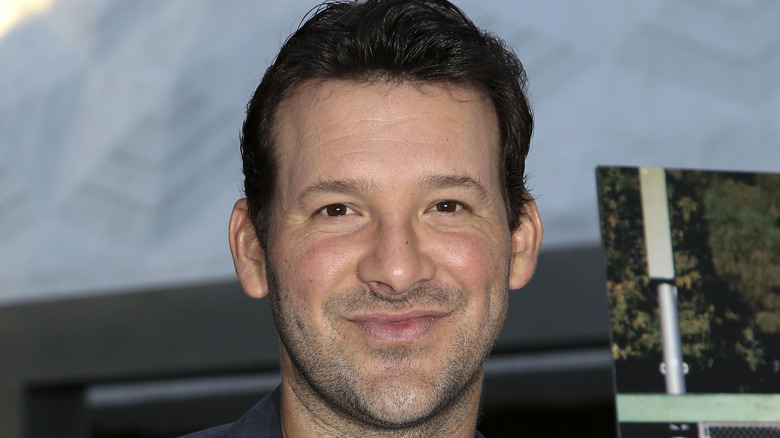 Carrie Underwood fanatics might recall the star's previous relationship with former Dallas Cowboys quarterback Tony Romo. According to Bleacher Report, Romo allegedly didn't think the relationship was all that serious. Yikes! Maybe that's why Underwood later shared a harsh statement about the athlete during a 2009 interview for Esquire. When asked if her song "Cowboy Casanova" was about Romo, the singer replied. "No. I would never immortalize a guy that did me wrong. I would never give him that much credit." Well … it might be safe to guess that this relationship didn't end on good terms.
As for Romo, he's shared very little about Underwood beyond labeling her as a "friend" in a 2007 interview with Sports Illustrated. "I've been lucky to get to know her," the former quarterback said of the "Somethin' Bad" singer. "We're friends. We've gone through similar walks in life, and we enjoy hanging out. Last year I watched American Idol for the first time." Romo isn't the only athlete Underwood has been romantically linked to. In fact, her husband is former professional hockey player Mike Fisher. Luckily, it appears that she and Fisher are a perfect match -– unlike her former relationship with Romo.
Chace Crawford
Carrie Underwood's relationship with former "Gossip Girl" star Chace Crawford also fizzled out early on. According to Cosmopolitan, the stars reportedly met in 2007, and things appeared to have moved quickly. Although the couple only dated for eight months, Crawford introduced Underwood to his parents and made time to see her during her tour. Underwood spoke to Cosmopolitan about their eventual breakup … which took place over text. "It was like 'peace out.' We both knew it didn't work and [have] no hard feelings whatsoever," she shared. The country music singer went on to share that she doesn't have a hard time moving on, so maybe she didn't mind that she and Crawford said their goodbyes via text. "I'm a suck-it-up-and-move-on kind of person," Underwood continued in the same interview. "Every day is a new day, and you'll never be able to find happiness if you don't move on."
So, if the split was amicable, why did Crawford make this list? It turns out that there might be a reason why Underwood didn't exactly seem heartbroken that she and the actor didn't work out. She spoke to Now magazine about what really went on in the relationship. "In my heart, I knew it wasn't right," the "Undo It" singer said. "You never really know why someone is with you. I feel like it was more of a publicity stunt." The star also shared that there were times when paparazzi would suspiciously swarm her and Crawford during public outings.
LeeAnn Rimes
Carrie Underwood's alleged feud with fellow country music star LeeAnn Rimes was a bit more publicized than the previously mentioned conflicts. Rimes had a lot to say after Underwood won a Country Music Award for Female Vocalist of the Year in 2006. Many expected singer Faith Hill to win the award. Even Hill herself seemed surprised that she was beat by Underwood, according to The Boot.
Rimes took to her website (via The Boot) to chime in on the matter, and she defended Hill's reaction to Underwood's win. "These awards shows are so political, and we all get fed up with them," the "Blue" singer penned. "We all work very hard and have for many years, so to see someone come in and win Female Vocalist that has been here for a very short time is a little disheartening. She probably felt, as I did, that Carrie has not paid her dues long enough to fully deserve that award."
Reports alleged that Underwood (unsurprisingly) wasn't thrilled about this statement. "Carrie saw it as a shallow and shameful welcome into the industry and showed LeAnn's true colors," an unnamed source claimed while speaking to Star. The outlet also reported that an "insider" claimed Underwood requested to switch dressing rooms after finding out she'd been placed next to Rimes at the CMA "Country Christmas Special." Of course, these revelations are only speculation. Underwood has yet to publicly speak out against Rimes, so we'll let you guess how she really feels about the star.
Jessica Simpson
After Carrie Underwood and Tony Romo split, the former football player later began dating Jessica Simpson. Underwood seemingly ruffled Simpson's feathers with a comment she made about Romo in a 2008 interview with Allure. "We were both small-town people doing very big things, and we relied on each other, dealing with fame," the country music star said of her ex. When asked about their relationship post-breakup, Underwood shared, "I don't know. The phone will ring, and it'll be him, and I'll maybe not answer."
Simpson shut down Underwood's claims during an appearance on the "Woody and Jim" show (via Today). "Tony and I both laughed at that," she revealed. "Yeah, we got a chuckle out of it." "The I Wanna Love You Forever" singer went on to joke that she even looked through Romo's call history to ensure it was free of Underwood's phone number. Simpson also took some time to end speculation regarding a shirt she wore that read "Real Girls Eat Meat." Some believed that the star wore the shirt as a jab at Underwood, who is a long-time vegetarian. "I wore it because I thought it was funny," Simpson said of Underwood. "I don't know what Carrie eats. I didn't know she only eats vegetables." In a later interview with Elle (via In Touch Weekly), Underwood revealed she had no intentions of feuding with the former reality TV star.
Kim Kardashian
Carrie Underwood, Brad Paisley, and Eric Stonestreet's banter at the 2011 CMAs became a tad unfriendly after they made a few jokes about a number of celebrities, including Kim Kardashian. While the trio was on stage, Stonestreet told Underwood and Paisley (via Us Weekly), "I think you forget to sing a song about what's weighing on everyone's mind in this room. The divorce of Kim Kardashian and what's his name!" The two country music superstars then began singing, "I'm going to love you forever, or 72 days Amen, as long as Justin Bieber is not a conceiver, as long as Taylor Swift is with her current boyfriend. I'm going to love you for 20 million dollars, for a hit TV series or pics in Us Weekly, for 72 Days, Amen."
Although it appears that Underwood took a jab at the reality TV star, we're hoping that the song was nothing more than a shady joke meant to entertain audiences because Kim Kardashian is actually a huge fan. In 2007, she told MTV, "I'm, like, into Carrie Underwood. I like her last album -– I have that in my car right now."
Kanye West
Kanye West was also the subject of one of Carrie Underwood and Brad Paisley's infamous comical CMA performances. Back in 2009, the duo teamed up to reference the moment West interrupted Taylor Swift's VMA win that year. You might remember that the rapper was quite a hot topic after jumping on stage during Swift's acceptance speech to exclaim that Beyoncé should have won the Best Female Video award. "Yo, Taylor, I'm really happy for you, I'mma let you finish," West said at the time. "But Beyoncé had one of the best videos of all time! One of the best videos of all time!"
The viral moment resulted in a great deal of backlash, and West even faced criticism from his own peers. The Guardian reported that musicians like Pink and Kelly Clarkson spoke out against the rapper. Carrie Underwood and Brad Paisley may have joined the long list of stars who didn't seem to be too fond of West's bold move with their joke on the CMA stage. They sang, "Mamas don't let your babies grow up to Kanye. Let them pick guitars and drive them old trucks 'cause cowboys have manners; they don't interrupt." Swift was actually in attendance that night, but unfortunately, it appears that her reaction wasn't caught on camera.
Kelly Clarkson
Kelly Clarkson and Carrie Underwood both won their seasons of "American Idol" and went on to become super successful musicians. They have a lot in common –- but they allegedly can't stand each other. Let's first note that the stars insist there's no bad blood between them. In fact, the singers once walked the red carpet together at the Radio Disney Music Awards. Clarkson spoke to Entertainment Tonight about why she and Underwood decided to accompany one another. "Everybody always tries to pit me and Carrie against each other," she said. "So, when I saw her, I was like, 'You know what? Let's just end this right now and get a picture together because we are never in the same place.' And, like, it never happens. And people always try to put it together like we're enemies. And I'm like, 'We don't even know each other well enough to be enemies.'"
Despite the former "American Idol" contestants' efforts, reports insist they're in competition with each other. An anonymous source told Star (via OK!) that Underwood was allegedly upset when Clarkson released her "Kellyoke" EP around the same time that her own album, "Denim and Rhinestones," dropped. Star also once claimed that Reba McEntire once had to get involved in the singers' feud. We'll let you decide whether or not these rumors are actually true.
Billy Eichner
It might be safe to say that Carrie Underwood isn't fond of Billy Eichner because she has him blocked on Twitter. Let's rewind, because you're probably wondering what Eichner did to upset Underwood that much. In 2021, Eichner took to Twitter to share a screenshot that showed he had been blocked by the "Before He Cheats" singer. He simply captioned the screenshot, "ICONIC." The "Billy on the Street" host didn't offer any additional explanation at the time.
He finally spoke about the events that led up to the "iconic" moment during an appearance on "Watch What Happens Live" with Andy Cohen in 2022. "Carrie Underwood blocked me on Twitter, yeah, which I consider a great honor," Eichner joked. "You know, it was one of the great thrills of my life." The "Bros" star went on to share that he believes he was blocked because he poked fun at Underwood after she retweeted a post that was against children wearing masks at school during the COVID-19 pandemic. The country music star has yet to speak out about Eichner's statement or why she blocked him.
Taylor Swift
Taylor Swift was also the subject of one of Carrie Underwood and Brad Paisley's comical CMA songs. As previously mentioned, the country music duo took the stage alongside "Modern Family" actor Eric Stonestreet at the 2011 awards show to take jabs at both Swift and Kim Kardashian. Underwood and Paisley joked about Swift's love life once again at the 2012 CMAs (via Us Weekly). "Just look at sports," Paisley said on stage. "I can't keep track of all these trades. The greatest trade of the year had to be the Kennedy family. They somehow traded Arnold Schwarzenegger for Taylor Swift. I mean, what they got for that."
This banter later escalated into rumored drama between Carrie Underwood and Taylor Swift. An unnamed source told RadarOnline (via OK!) that Underwood allegedly commented on Swift's relationship with Calvin Harris. "There has never been any love between Taylor and Carrie," they claimed. "But things have become icier than ever between them because Taylor overheard back-stabbing snickers that Carrie disrespected Calvin and called her relationship with him a fauxmance!" Underwood claims that she has nothing against the "Anti-Hero" despite the rumors. She even shared she's a fan of the singer's music during an interview for "CBS This Morning" (via E! News).