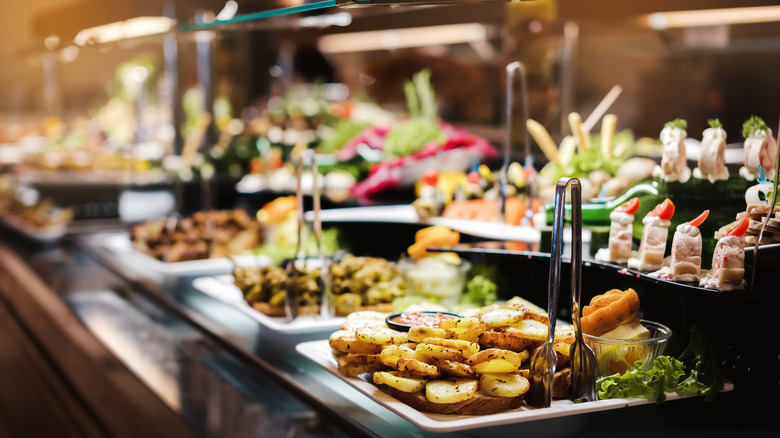 While buffet restaurants — or any overabundance of food — tend to be labeled as an American concept, the modern buffet actually has its roots in a Swedish dining trend (via VinePair). The idea of a "smorgasbord" started with the Swedes, who set aside a side table that featured pre-dinner drinks and snacks. The commercial practice of a buffet started in 1912 at the Stockholm Olympics. Smorgasbord, which translates to "butter-goose table," arrived in the U.S. in 1939 by way of New York's World Fair. By the 1940s, a Las Vegas restauranteur had adopted the idea and created America's first buffet, the Buckaroo Buffet (via VinePair). Within a few years, the idea spread, and the buffet became an American icon — that is, until the start of 2020.
In the wake of COVID-19, buffet restaurants across the country quickly closed their doors (via Today). What were once popular spots for filling up on a wide variety of foods became hotspots for germs and transmission of the coronavirus. From the shared spoons to the close contact with other diners, for nearly two years, it's been tough to imagine a world with buffets — but that may be slowly changing.
Popular buffet restaurants and chains are reopening their doors, most with new health and safety measures in place. Whether you're looking to fill up on cheap eats for an affordable price or want to nosh on all-you-can-eat delicacies, here are the absolute best buffet restaurants in the U.S.
Bacchanal Buffet, Caesars Palace – Las Vegas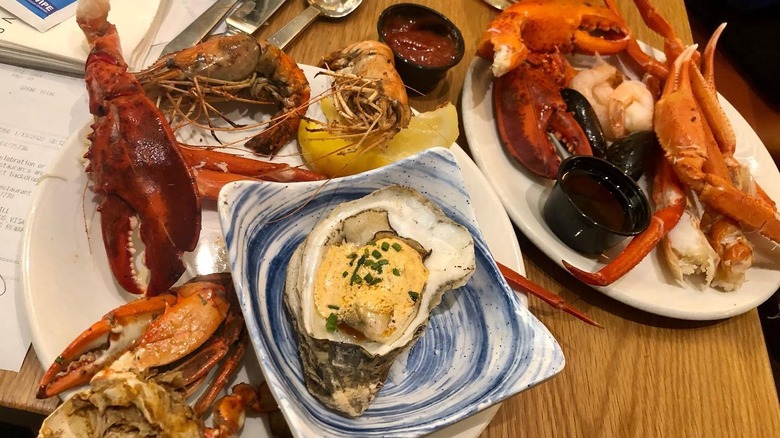 Given that Las Vegas is the birthplace of the first American buffet, it's fitting that it's home to one of the nation's top buffets today. The Bacchanal Buffet is located in Caesars Palace. It's not only one of the best buffets in the city, but it's also the largest. The buffet is serviced by a whopping nine kitchens and features 15 daily chef specials in addition to dozens of side dishes, meats, salads, desserts, and more. The spread covers a variety of cuisines, including seafood, sushi, Asian, and Mediterranean. Some of the best dishes include prime rib, sweet corn chowder, and duck carnitas quesadillas.
For many buffets, more dishes usually go hand-in-hand with food that's less than fresh. But here, both the variety and the quality of the food shine. Reviewers rave about the fresh seafood and unique, upscale dishes, like mussels in fennel sauce, lamb T-bone, and fresh-caught Atlantic salmon in a wasabi potato puree (via Las Vegas Then and Now).
In March 2020, the buffet underwent a major renovation (via Eater Las Vegas). While health and safety measures are in place, the Bacchanal Buffet is open again as a traditional buffet. If you've never dined in a Las Vegas buffet, the cost might shock you. At $64.99 per person for dinner, it's not the most affordable buffet on this list, but it's certainly one of the best.
Red Apple Buffet – Chicago
Unlike Las Vegas, Chicago isn't known for its buffets. But amongst the famous deep dish pizza joints (via Choose Chicago) and upscale steakhouses is a historic buffet serving up a unique offering: Polish and European cuisines.
The Red Apple Buffet opened in the Chicago neighborhood of Avondale in 1989 (via Block Club Chicago). For 30 years, it was known for offering cheap, delicious Polish cuisine, among other European dishes. The family-owned restaurant opened a second location in Norwood Park a few years after the first. But, in 2019, the original location closed, citing trouble with managing two locations. Then, at the start of 2020, the second location was forced to temporarily close as well. But, after 16 long months and endless demands from loyal and hungry customers, it resumed its typical buffet operations.
If you've never tried Polish food before, you might be surprised to see so many familiar dishes in the spread. Classic pierogies are a staple. But herb-baked chicken, tilapia, roast beef, and chicken noodle soup are also popular choices. You won't find the fancy dishes of a Las Vegas buffet here. But, at $30 per person, diners find that the spread (via Yelp) offers good quality, great variety, and excellent service.
The Buffet at Wynn – Las Vegas
Rivaling the Bacchanal Buffet at Caesars Palace, this next Las Vegas buffet is located in the Wynn Las Vegas resort and casino. Similar to the other popular all-you-can-eat restaurants, The Buffet at Wynn Las Vegas is known for its extensive spread and delicious dishes. At the buffet, you'll find more than 90 different dishes. There are even 16 "live food" stations, where chefs cook, assemble, or cut a variety of meats and made-to-order dishes right in front of diners' eyes. Of course, you'll also find tons of sides, including a variety of breads and starches — but don't fill up on these when there's so much else to try!
While dinner features a wide spread of seafood, Latin favorites, decadent desserts, and more, the buffet is also a popular spot for breakfast. Among pre-prepared breakfast and brunch dishes, you can get omelets, pancakes, eggs Benedict, and other popular items, all made-to-order with your choice of fillings and toppings. The price of this buffet varies depending on the day and time that you dine.
While some reviewers (via Tripadvisor) have observed that the buffet isn't the same quality it was pre-pandemic, others rave that it's still one of the best buffets on the Las Vegas Strip.
Jacob Restaurant – New York City
Since opening in 2009, Jacob Restaurant has become a go-to spot for soul food in Harlem, New York. The restaurant's buffet features a wide spread of soul food classics, like Southern fried chicken, collard greens, and candied yams. But that's far from all you'll find at the buffet — the restaurant blends a mix of Southern, Caribbean, and Continental dishes. This means it's packed with dozens of dishes, divided between the cold salad bar and the hot bar. Unique options like oxtail and smothered turkey wings are offered alongside comfort food like pork chops, meatloaf, spaghetti with meat sauce, and more.
But, while the hot bar might be known for decadent, classic meat dishes, Jacob Restaurant prides itself on also offering healthy, vegan, and vegetarian-friendly dishes at its cold salad bar. Avocado salad, deviled eggs, fresh sliced fruit, and chickpea salad are just a few of the dozens of options. Finish your meal with a selection of cakes and pies.
One unique feature of this buffet is how you'll pay. Rather than paying a set price, Jacob Restaurant diners pay by the pound after scooping what they'd like. Diners rave about their delicious meals and warn eager diners that lines and crowds are the norm at this popular establishment (via Yelp).
North Country Steak Buffet – La Crosse, Wisconsin
This next buffet is a far cry from the fancy seafood and sushi-covered buffets of Las Vegas. At North Country Steak Buffet in La Crosse, Wisconsin, steak, chicken and other meats, and hearty sides are king. This country-style buffet is known for offering a wide array of options (though probably not the healthiest of options) at affordable prices.
On the spread, you'll find a selection of hot buffet items, including a taco bar, cold salads, and their famous homemade soup, as well as a dessert bar. The crowning jewel is the grill, where you can order sirloin steaks and burgers, chicken, or pork chops, grilled to order. At just $14.99 for adults for dinner or Sunday brunch and $12.99 for lunch, this meal will cost you less than a single steak at most steakhouses.
While many reviewers rave (via Tripadvisor) about the delicious food, others say it's just okay, but that it's well worth the affordable prices, especially for families.
Captain George's – Various locations
Seafood lovers visiting the East Coast will want to make plans to visit this famous buffet. Captain George's is a decadent, nautical-themed buffet known for its large selection of fresh seafood. There are four locations of this popular restaurant in various tourist hotspots along the East Coast, including Williamsburg, Virginia; Virginia Beach, Virginia; Kill Devil Hills, North Carolina; and Myrtle Beach, South Carolina.
Popular menu items include the snow crab legs, steamed clams, shrimp, mussels, crawfish, deviled crab, and stuffed clams. While each buffet focuses primarily on seafood, other entrees and a wide variety of sides are available, including smoked beef brisket, sirloin steak, soup, salad, rice, mac and cheese, and more. All that fresh seafood does come at a price, though — the buffet is $47.99 per adult.
Alongside their large buffets, restaurants are also known for their massive dining rooms — the largest Captain George's location, in Myrtle Beach, can seat up to 1,050 guests at once! Even the smallest location can seat up to 500. While most reviewers rave (via Tripadvisor) about the delicious food and great selection, the occasional diner found the food overcooked or cold.
Honey Pig Korean BBQ – Rockville, Maryland
Located in Germantown, Maryland, Honey Pig Korean BBQ is a popular buffet featuring a unique spread: Korean BBQ. The all-you-can-eat buffet features a selection of some of their most popular, authentic dishes like beef brisket, bulgogi, spicy chicken, pork neck, and spicy squid. While the main meat and seafood dishes are all-you-care-to-eat, additional sides, like steamed eggs, noodles, and soybean paste stew, do cost extra.
This buffet varies in price depending on when you dine and the types of mains you're planning to eat. Their lunch menu is $18.99 for each adult, while dinner costs between $25.99 and $29.99 per adult. Honey Pig Korean BBQ has several locations in Virginia, Maryland, and Texas, but only their Rockville, Maryland, location offers the all-you-can-eat buffet.
Reviews for this Korean BBQ buffet (via Tripadvisor) are mixed. Diners who love Korean food enjoyed the chance to eat all they could of their favorites. However, others complained about the lack of selection and commented that there is actually a two-hour time limit for diners enjoying the all-you-can-eat menu.
King Buffet – Los Angeles
If you've ever found yourself stuck deciding between your favorite Chinese dishes, this next buffet is for you. If you're in the Los Angeles area, plan a visit to King Buffet. This large, modern buffet offers a wide spread of Chinese dishes, as well as plenty of seafood, sushi, and other dishes. King Buffet is popular for more than just its extensive spread, however, as its affordable prices are also a draw. During the week, the lunch buffet costs just $10.99, while the dinner buffet costs $15.99. On Saturdays and Sundays, the price rises to just $16.99.
The dining room also features plenty of long tables that allow for groups to dine together. From birthday parties to get-togethers with friends, opting for a buffet is one great way to ensure that everyone in your group finds something they like. While some diners have called the food standard Chinese restaurant fare, others love the variety and affordability (via Tripadvisor).
Charley's Buffet – Lincoln, Missouri
If you ever find yourself driving through the quiet town of Lincoln, Missouri, you might be surprised to see a line of people wrapped around the outside of this non-descript restaurant (via Visit Missouri). But locals and visitors alike know that this is one of the region's best-kept secrets.
Charley's Buffet serves up a large spread of hot and fresh American favorites. You'll find plenty of comfort food and Southern-style dishes, including sides like green beans and macaroni and cheese, along with main dishes like fried chicken and pork chops. There's also a spread of cobblers, puddings, and pies for dessert (via Tripadvisor).
Right now, Charley's Buffet is only open on Fridays and Saturdays from 4:30 to 8:30 p.m. These limited hours will no doubt only increase the lines, so plan to arrive early or wait for a table. If you're planning a future visit, it's also important to note that the restaurant closes for a period during the winter season, usually from December to early March of each year (via Facebook).
Wicked Spoon Buffet – Las Vegas
Yet another Las Vegas buffet has won over diners with its inventive and delicious spread. Wicked Spoon Buffet, located in The Cosmopolitan resort and casino in Las Vegas, this restaurant claims to put a "wicked twist" on the traditional buffet.
At the oversized buffet, guests will find creative dishes like tuna crudo, Cajun shrimp and cheddar grits, forager pizza, green chile tamales, and more (via the Wicked Spoon menu). There are also plenty of Las Vegas buffet classics, like steamed crab legs and an assortment of desserts.
Wicked Spoon is currently available for breakfast and lunch throughout the week along with brunch on Saturdays and Sundays, though it comes with a hefty price tag compared to some of the other buffets on this list. Breakfast is $38 for adults, while lunch is $45 per adult. On the weekends, the cost of brunch is $49 per person. For guests looking for even more indulgence, a $21 add-on provides bottomless mimosas, Champagne, or Bud Light packages.
Borgata Buffet – Atlantic City, New Jersey
While many of the best are located in Las Vegas, this isn't the only place where you'll find delicious casino buffets. Visitors to Atlantic City, New Jersey, can experience their own delicious spread at the Borgata Buffet. This bright, elegant buffet restaurant serves up daily breakfast, lunch, dinner, and weekend brunch.
Located in the Borgata Hotel, Casino & Spa, like many other buffets across the country, this one closed for over a year because of the pandemic (via NJ Gambling). However, it reopened in 2021 and continues to serve casino goers and tourists alike. At the buffet, you'll find a variety of fresh seafood, pasta, comfort food, carving stations, desserts, and more.
Most diners rave about the large selection of dishes available at every meal, as well as the freshness of the spread (via Tripadvisor). At this time, the buffet is open from Friday through Tuesday and is closed on Wednesday and Thursday.
Brooks Shaw's Old Country Store – Jackson, Tennessee
Located part way between Memphis and Nashville, Tennessee, Brooks Shaw's Old Country Store is home to the best — and one of the only — restaurants in tiny Jackson, Tennessee. In this country-themed store, you'll find a buffet that specializes in serving up Southern-style comfort food that brings to mind memories of "Sunday dinner at Grandmother's home" (via Casey Jones Village).
The Old Country Store buffet is open for dinner seven nights a week and for breakfast on Friday, Saturday, and Sunday. Fill your plate with homemade chili, chicken pot pie, baked cinnamon apples, sweet potatoes, and more. Many of the dishes change seasonally, so there's always something new.
Visitors to this popular restaurant love the delicious food and the number of options (via Tripadvisor). Open since 1965, the restaurant also offers a gift shop and an a la carte dining option for those who want something lighter or faster than the buffet (via Tennessee Vacation).
Shady Maple Smorgasbord – East Earl, Pennsylvania
This next restaurant has more titles than just being one of the best buffets — it's also the largest one in the U.S. (via Discover Lancaster)! Considering the roots of the American buffet in the Swedish tradition of a smorgasbord, it's fitting that the nation's largest spread has the same name.
Shady Maple Smorgasbord is located in Lancaster County in Pennsylvania, right in the heart of Dutch country. So it's no surprise that the buffet features plenty of authentic Pennsylvania Dutch classics, like family recipes and comfort foods. The buffet is spread over 200 feet and features carving stations, fried seafood, omelet stations, and more. Every night of the week offers a different menu feature, which means that options for diners are constantly changing.
The price for the buffet also changes depending on the night. Prices range from $20.99 per person on Thursday nights for Shrimp, Steak & Rib Night to $26.99 on Tuesdays for Seafood Night. Lunch and breakfast buffets are cheaper, ranging from $11.99 to $15.99 per person, depending on the day and meal.
Farmers Fishers Bakers – Washington, D.C.
While Georgetown-Washington Harbour offers plenty of beautiful waterfront restaurants to choose from, you won't find a brunch spread like this anywhere else. Farmers Fishers Bakers is known for its urban decor and made-from-scratch dishes, with a focus on sustainability.
While diners usually order from a menu for a la carte dishes, on Saturdays and Sundays from 9 a.m. to 2 p.m., the restaurant becomes a delicious — and popular — buffet. It's stocked with a variety of fresh and healthy dishes, as well as plenty of indulgent options. Try their Farmhouse sushi or buttermilk biscuits. Pay a visit to the French toast table, or keep your eyes peeled for the traveling trays of Bakers pizza. There's also a Butchers' table, taco station, and carvers' table. Finish with desserts like Farmers donuts and Whirley Pop kettle corn. There's also a full bar available, along with the restaurant's own blend of coffee.
Farmers Fishers Bakers often draws a crowd for its weekend buffet, so you'll want to consider reserving a table ahead of time to avoid a long wait.